November 30, 2017. Webmaster Note: We've got about 25 names on the list that want books, and it doesn't make economic sense to print less than 50-60. And, there have been so many additions, changes, etc., on the website over the past 6+ years that an 'updated' edition would make more sense. Maybe, but no time, and no plans in the near future. BUT - IF ANYONE WOULD LIKE TO TURN IN THEIR COPY LET ME KNOW!! I KNOW SEVERAL PEOPLE WHO WOULD LIKE TO BUY IT!!! CONTACT RONBREAULT@CS.COM
************************************
November 27, 2015. Click here to see the Mystic Seaport, Blunt Library letter to Miriam O'Day acknowledging receipt of the Dolphin24.org website book, copy #1 - in Home Section/Book
November 24, 2015. Late last week I received from Miriam O'Day her copy of our book, Book #1, and a very nice note. Click here to see a copy and other correspondence we have had with her.

Five years ago we made a 'deal' that, if ever the time came for her to part with the book, the Mystic Seaport Museum had advised that they would take care of it for us. On November 23, I met with Paul O'Pecko, Curator and Vice President, Collections and presented the book. The Olin Stephens Collection is here and it seems fitting that our book, Miriam's book, get Olin and George O'Day back together.

Olin Stephens

December 8, 1958

"I have just had a phone conversation with George O'Day, who is very anxious to get going on two new boats to be built of Fiberglass, which he would like to have built according to our designs.

The smaller boat he has in mind would be a Junior Ocean Racer.."
*********************************
May 4, 2014. Dolphinites will be pleased to know that the Old Lyme Library has had its copy of the Dolphin 24 Website Book hard covered. The work was done by Paul Weissman of Redding, Connecticut. The cost was $40 plus shipping. The book will now be better able to withstand the anticipated heavy usage over the coming decades....Of course, with a hard cover, the book loses its unique Chapter 11 feature - the ability to update by downloading and incorporating additional pages from the website.
| | |
| --- | --- |
| The old (original) cover | The new cover |
March 25, 2012. Some had expressed interest in the financial side of this publishing event, and a recap was provided in Newsletter #8 back on March 11, 2011. It was an oversight not to have the numbers on this page as well. The short summary was we lost a little - revenue from sale of 56 books was $2754, costs to print/package/mail 60 books $2990; net loss $246. There were some minor additional learning curve costs but altogether, not bad. The webmaster, acting as as editor/author, waived his customary 5 figure honorarium...
The biggest variable cost was printing - $2324 to print 60 books, including $76 for a proof copy - about $39/book. If we could have printed 100 books the per book price would have been about $10 less.
We gave away two books - one to Miriam O'Day, George O'Day's wife, the other to John Shumaker, founder of Yankee Yachts, and we have one archive copy plus the proof copy.
January 13, 2012. We have been slowly working on the mechanics and financials for converting existing 'soft cover' Website Books into hard cover versions. After some fits and starts it seems like a quality job might be quite expensive. The prototype conversion (below) cost $75 and doesn't look bad in the photo but has some problems. So, for now, we have suspended work on this.
Regarding another printing, current thinking is that it would be better to have another edition as there are many updates since the last edition cutoff date - October 25, 2010. There is a lot of work involved in an updated edition so this is off in the future. Enterprising Dolphinites that can't wait can always download pages from the website and create their own book version. Anyone needing technical assistance on such a project please contact me RonBreault@dolphin24.org.
January 6, 2012. Your webmaster spoke with Miriam O'Day regarding the status of her copy of the book (copy #1). Click to go there.
Sept 30, 2011. We now have 14 names on the 'interested in a book' waiting list - should we have a 2nd printing. To get on that list email me at RonBreault@dolphin24.org.
The 'Author' has been playing around with a hard cover retro fit to his book. This has some potential, and if the details can be worked out at a reasonable cost per book, buyers of the already published book might be able return their copy for this conversion. Here is a picture of the prototype: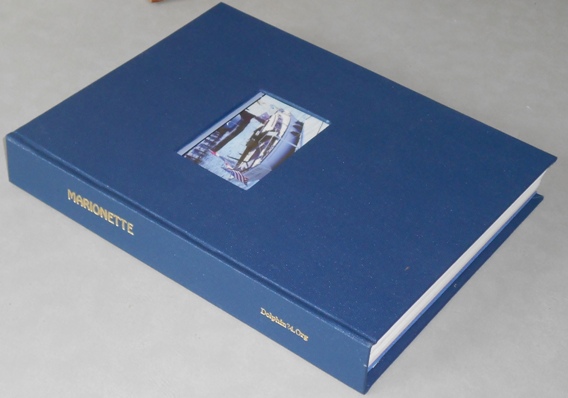 The book is hard bound with simulated leather and a cutout window so that the cover picture shows through. The concept is that each book would be 'individualized'. I would replace the original picture of Marionette on the cover page with a similar sized picture of the owner's boat, and the spine would be embossed, in gold of course, with the particular boat's name, and the words Dolphin24.org.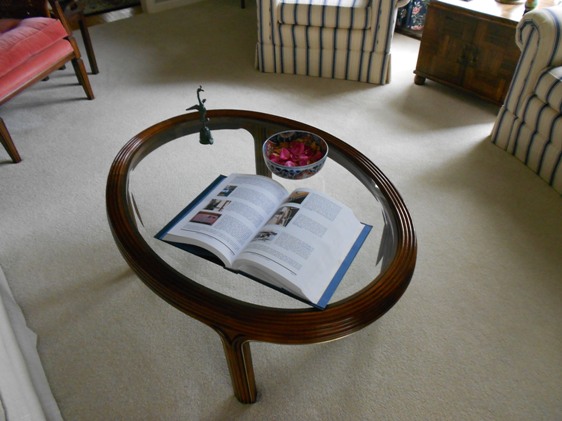 This prototype, while not perfect, opens nicely and the new binding does not interfere with viewing the pages. With my Chapter 11, the book has nearly 500 pages, and there was some concern that it was too thick to lay open properly on the coffee table.
Finding a small local hand binder willing to do this at a reasonable cost may be a challenge. This version cost me $75. In addition, except for those living nearby and can hand deliver/pick up, there would be both way shipping costs - about $15 each way - so this project will probably end up at $100+ (real leather might cost $300+!!)
I'd like to know if there is any interest, by current owners of the book, in this project. If so, please contact me at RonBreault@dolphin24.org. If we do another edition sometime in the future, I think a hard bound version could be an option.
Also, a reminder about Chapter 11. I know several owners have downloaded additional pages of their choice to make up their own Chapter 11. Anyone hesitant about doing this let me know. I'll be happy to provide technical assistance
*****************************
May 5, 2011. We may have a 2nd printing of the Book as there seems to be continued interest. There are now 7 on an interested/waiting list. If we get to 25 we will go for it, probably with some updating. Anyone interested in being placed on the interested list please advise RonBreault@dolphin24.org.
March 4, 2011. I am pleased, and saddened, to report that the Dolphin24 Website book is SOLD OUT! Thanks to all the buyers - who should not forget that Chapter 11 is theirs. And a special thanks to the website content contributors who made it possible. There are 2 'file copy' books, one of which will be used as a demo book and the other is the 'archive' copy. Two books were gifted - one to Miriam O'Day, and the other to John Shumaker, founder of Yankee Yachts.
There are no immediate plans to print additional books but, if in coming months, there is sufficient interest to order at least 25 books we will. At this quantity the price is still $50 including shipping. A six book order minimum is possible but the book price is $80! Anyone wanting to be placed on the "interested" list should email the Author :-) at RonBreault@dolphin24.org.
For those interested in the minutia of book economics, in coming days I will provide a recap. It was a learning experience. Stay tuned.
February 19, 2011. Books Remaining - The two books remaining on January 22 have been sold, but we had 2 cancellations in January, so 2 books still remain to be sold. To order see below.
Chapter 11 downloads. This feature of the book has been popular. We are aware of at least 18 book owners who have 'customized' their book with additional website page downloads inserted in Chapter 11 - from 6 pages to 87! Any questions on how to do this see below on Chapter 11 Additions. Further questions, or for technical assistance, contact the Webmaster at RonBreault@Dolphin24.org.
January 22, 2011 - Book # 1 was given to Miriam O'Day in recognition of her husband's primary role in conceiving the Dolphin 24. Click here for an exchange of letters. Book # 2 was given to John Shumaker, founder of Yankee Yachts who built 175 Dolphins. Your webmaster spoke with John and a short summary appears on the Comments page. Click to go there. There are 2 books remaining. Details of how to order are below.
December 30, 2010. We have had one cancellation and 2 new orders - 2 books remaining. We have had a number of nice comments about the book. Click here to see them.
December 2, 2010 - We now have orders for 57 books, 3 remaining. Its beginning to look like we may get more orders than we have books. If we do get more than the 60, and if people are willing to wait a few weeks, I will order 25 more books as soon as I have 15 orders. Same price, $50 a book, including shipping. If I order only 6 books (the minimum) the price per book goes to $80.
December 1, 2010 - 31 books shipped today
November 30, 2010 - The books have arrived from the printer, one day early. The distribution department will start re-shipping today. We have book orders for 55 books, 5 remaining.
November 24, 2010 - 7 books remaining
November 22, 2010 To date we have 52 book orders, 8 remaining. Books have been printed and bound and were shipped today, one day early. New replacement book boxes received...
November 20, 2010. To date we have 50 book orders, 10 remaining. Printer advises the job has started. Shipment scheduled November 23. Dog chewed up 7 book boxes. Had to order more...
November 17, 2010 - To date we have 49 book orders. I have ordered 60 books which should arrive by early the week of November 29. Shipping individual books should start that week.
By email to the ordering list, I have asked that those ordering books send their checks, payable to Ron Breault, 162 Four Mile River Rd, Old Lyme, CT 06371. Also, they should advise their shipping address. Any questions on this please email me at ronbreault@dolphin24.org.
With luck, the remaining 11 books will be 'claimed' in due course. These can still be purchased for $50 while available. New book orders require a 6 book minimum from the printer, and a much higher book price - about $80 or so.
********************
November 3 - 2010. The Proof Copy of the Dolphin 24 website book has arrived from the printer! A quick thumb through indicates we are about there. Only a few minor typos, I hope.
Below are pictures of the Proof Copy - and further down are scanned copies of the Cover Page, Author's Notes, Index, the most important Chapter 11 first page, and the "not to be missed" last page. This is our 2nd edition of a book version of the website. Edition #1 was presented to Olin Stephens in January 2008.
The Author's Notes and the Index below more fully describe the book's content.
Consistent with most Dolphin 24 projects this is a DYI effort. The book is self published by the Author, and printed and bound by an online printer. It has 432 pages and is full color with pages printed both sides. The printed/bound cost for the book comes out to about $42 a copy, in lots of 25 - about .095 a page. The work is being done by an online printer - Docucopies.com in Minnesota. Shipping in bulk to Old Lyme, CT is included. Shipping to individuals (book rate) from Old Lyme anywhere in the US is about $4. There were some other costs like converting the initial files to a PDF format for the printer, printing a Proof Copy, and packaging - so I have set the price per book, delivered to a US resident, at $50.
I need some idea of how many books to order. Our target publishing date is on or before Nov 21, just in time for Christmas! Anyone interested in a copy please let me know by November 15. No money needed now. Email me at RonBreault@dolphin24.org to get on the list for this edition. (Note: your webmaster will be waiving both his customary six figure up front Author's Honorarium, and his per book royalties as well!)
These are scanned copies of printed pages off my home color printer so they are a bit faded here. The actual printed pages on the Proof Copy are clear.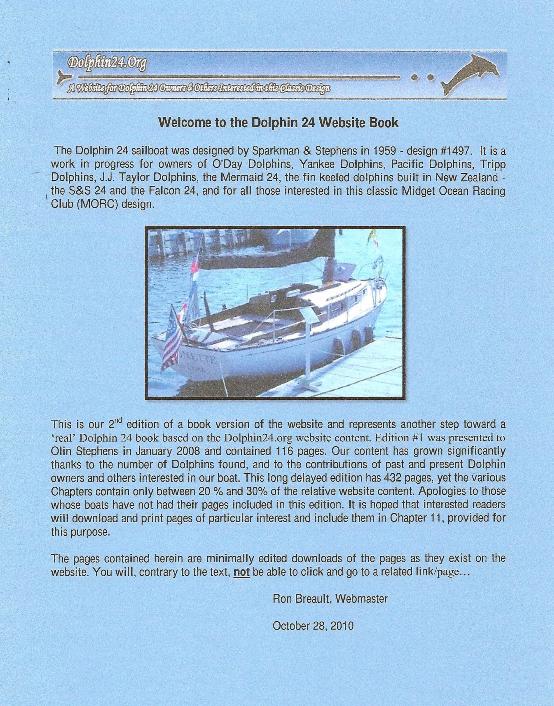 The cover - look familiar?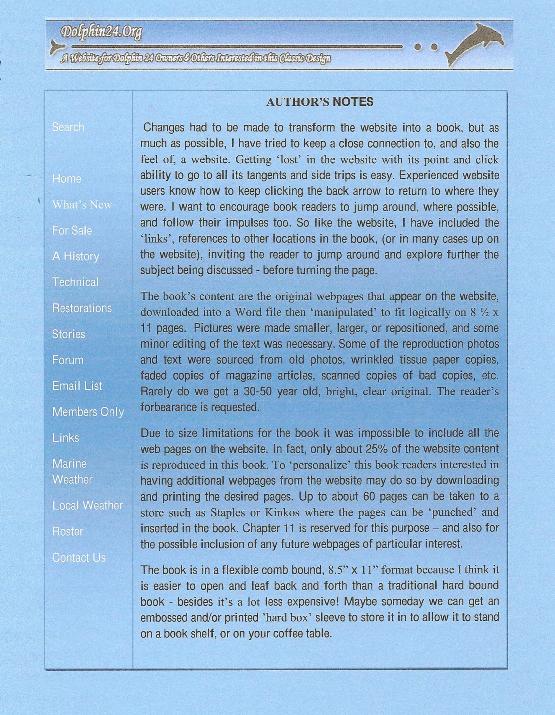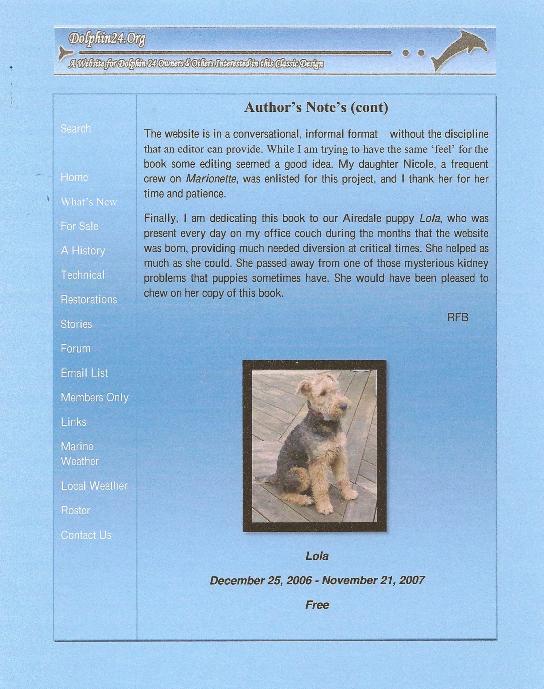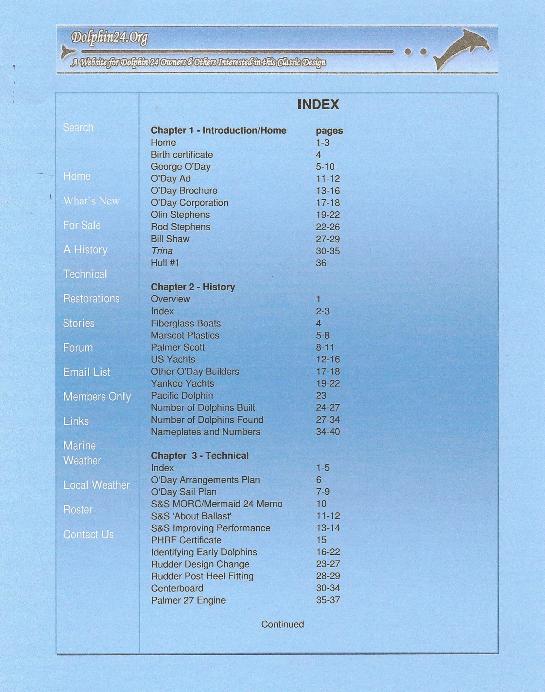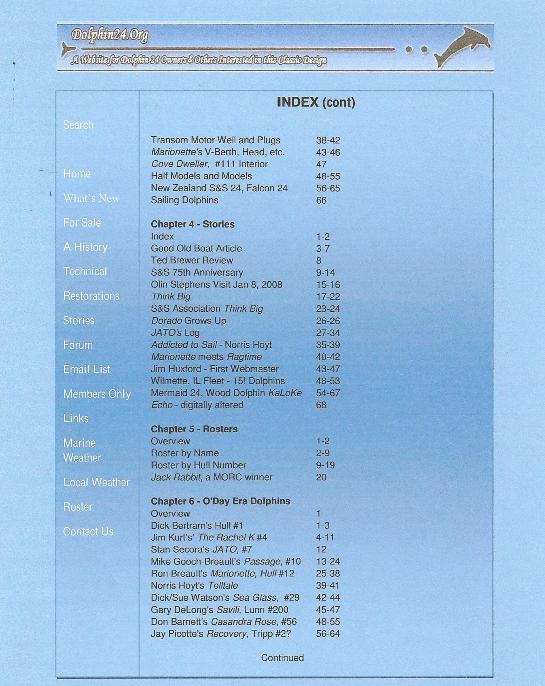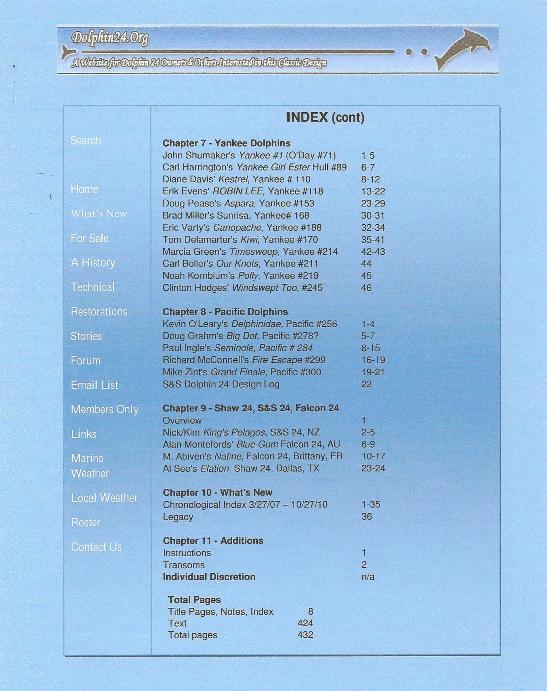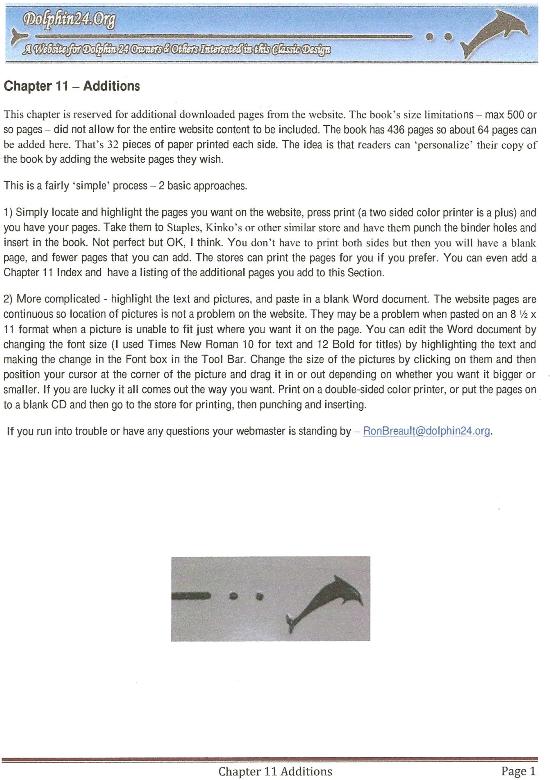 Had to end the book somehow. sleepless nights, then -
I've got it! The 3AM solution below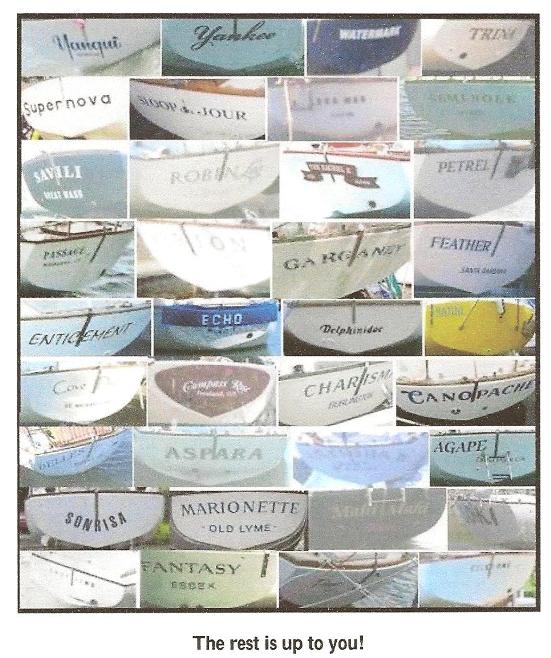 *********************
| | |
| --- | --- |
| November 13, 2010. The books will be mailed in a protective white 'book box'. The book, if not left open on the coffee table, can be stored in your book box, or even placed prominently standing on a book shelf with our familiar banner on the spine to help you identify it among your other heirloom books. The book box, with book inside, will be mailed in a protective Tyvec mailer bag. | |