November 24, 2015. Late last week I received from Miriam O'Day her copy of our Dolphin 24 Website Book, Copy #1, and a very nice note.

Five years ago we made a 'deal' that, if ever the time came for her to part with the book, the Mystic Seaport Museum had advised that they would take care of it for us.

On November 23 I met with Paul O'Pecko, Curator and Vice President, Collections and presented the book. The Olin Stephens Collection is here and it seems fitting that our book, Miriam's book, get Olin and George O'Day back together. Click here to get to that part of the story.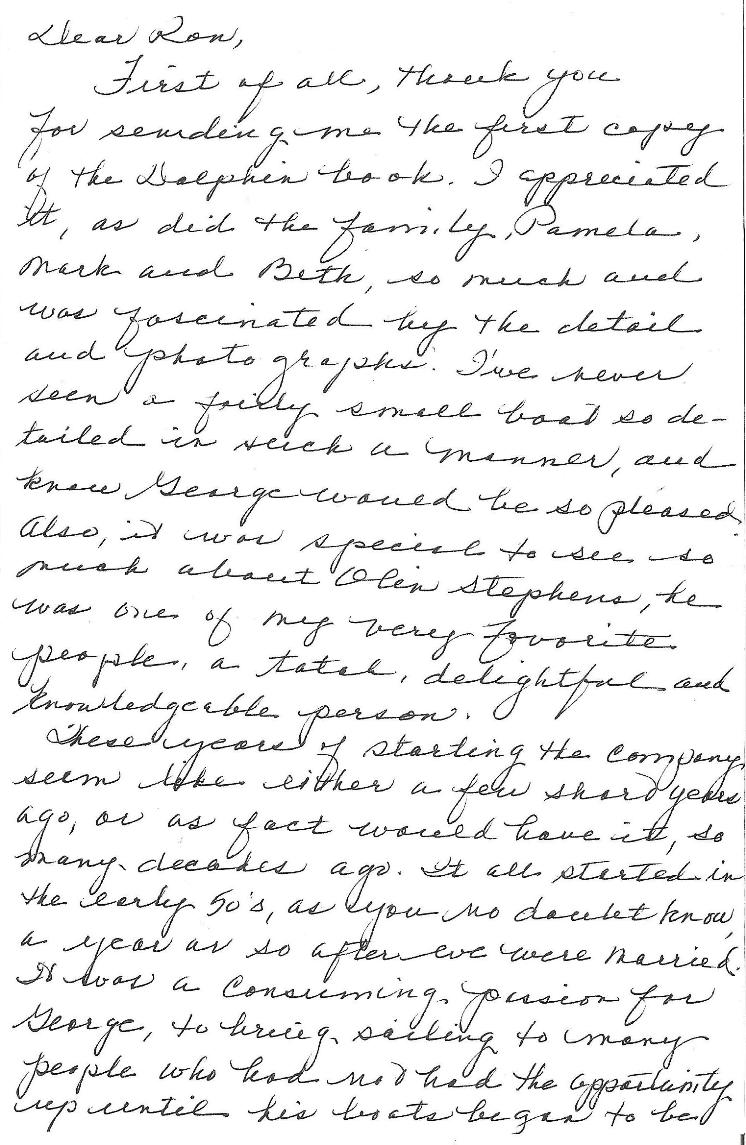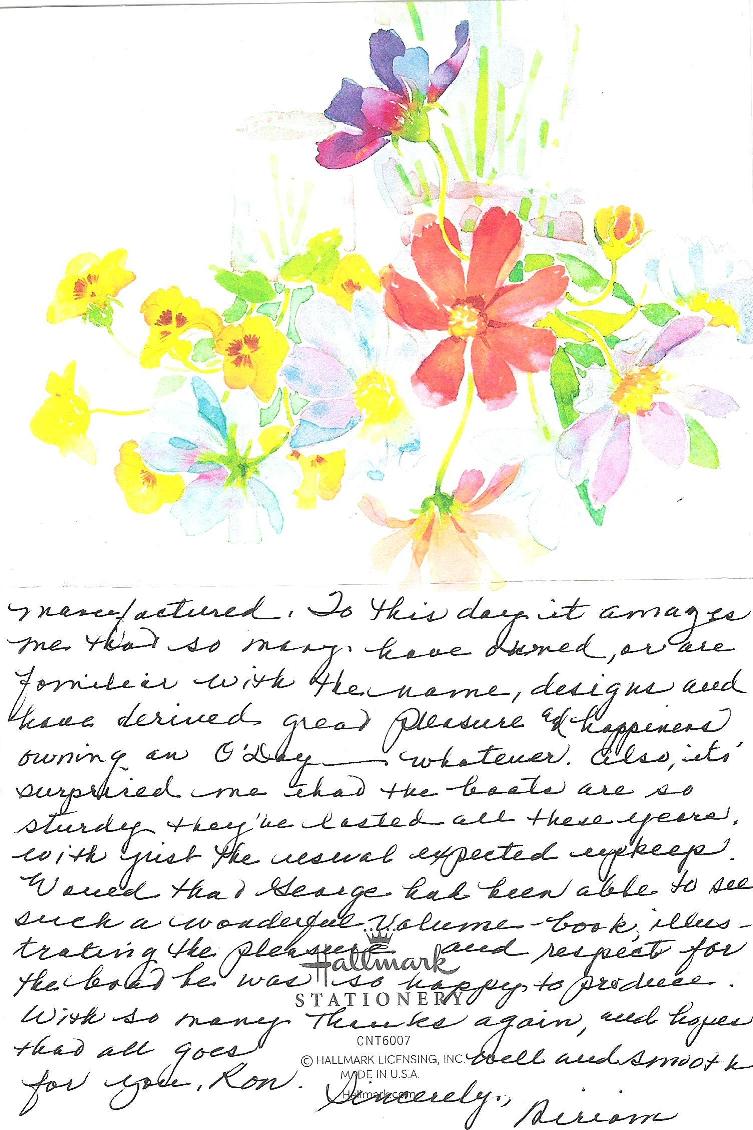 *******************************************
This is how we got here
January 6, 2012. Your webmaster had a follow up note to call Miriam O'Day in a year's time to not only check in with her but to ask what she had decided to do with her copy of the book. She advised that son Mark, who has a collection of items from his father, is building a new home in New Hampshire and will take it with him, along with a wooden stand that his father built. She has included a note in with the book that, should he ever decide to part with it, that the Mystic Seaport Collections Library, home to the Sparkman & Stephens Collection, has told us that they would take care of it.
Back on January 5, 2011 we received a note from Miriam O'Day regarding the Dolphin Website Book #1 which was sent to her last month. The letter that accompanied the book appears later on this page.
Miriam's words were hand written on a small, folded note card that in reproduction might be hard for some to read clearly, so your webmaster has taken the liberty of transcribing them - that transcription appears at the end of this page.
Here is her very touching note (a 'transcription' is below).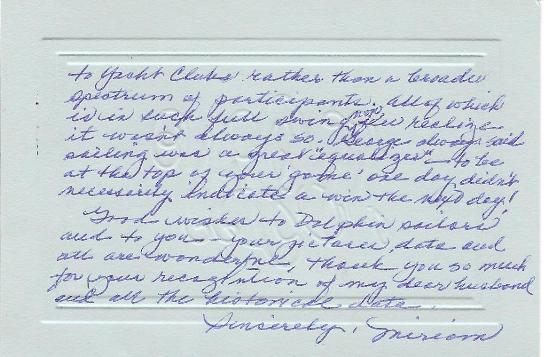 Here is our letter (on Dolphin letterhead, of course) that accompanied the book.
December 16, 2010

Dear Mrs. O'Day:

We spoke a few months ago about our search for a specific scale model of the Dolphin 24 sailboat that your husband had commissioned be built by Bob Baker, and which was written about in Norrie Hoyt's book, Addicted to Sail. I very much enjoyed talking with you about the search, and the Norrie Hoyt connection.

Enclosed is a copy of our recently published Dolphin24 Website Book. A primary reason for writing this book was that many of our Dolphin 24 website contributors are getting along in years and are not 'web friendly'. They had no convenient way to read about the boat, and the contributions they and others have made to create, and preserve, its history.

Your husband was the prime motivator in the creation of the Dolphin 24, and it seemed that, in his honor, you should be the recipient of Book #1. I hope you and your family enjoy it.

I realize that "George's Closet" probably has many treasures that are difficult if not impossible for you and your family to part with. Should you ever decide that this particular copy of the book needs to have a formal place to rest, I know that Paul O'Pecko, the curator at the Mystic Seaport Collections Library, home to the Sparkman & Stephens Collection, would love to have it.

I hope you and your family have a wonderful holiday.

Sincerely,

Ron Breault, webmaster, Dolphin24.org
****************
The following is a transcription, by your webmaster, of Miriam's note above.
Dear Ron

The heavy white box was puzzling until opened, and what a surprise! I'm amazed at all the detailed information, and very touched by mention of me, and your inscription. Thank you very, very much.

At this time of year, to my dismay, not all of it has been read - I have shared it with Pam, Mark and Beth when they have been here. They are equally quite overcome and so impressed with the time and data that it covers. Each family member - son-in-laws, nephews have been awed. What remarkable records have been kept, then to compile it all is just great.

I have always been particularly happy, and proud, that George's aim and ideal was to bring the sport of sailing to the American public - to those who wouldn't have had the opportunity before, and he surely accomplished that with resounding success. Sailing is a wonderful sport, adapting to such a variety of ages, abilities, interest, income and situations - he felt it a shame it be limited to yacht clubs rather than a broad spectrum of participants. All of which is in such full swing now - few realize it wasn't always so. George always said sailing was a great "equalizer" - to be at the top of your 'game' one day didn't necessarily indicate a win the next day.

Good wishes to Dolphin sailors, and to you - your pictures, data and all are wonderful. Thank you so much for your recognition of my dear husband, and all the historical data.

Sincerely,

Miriam

******************
November 10, 2018. A phone call with Miriam O'Day planning a possible get together later this month prompted your webmaster to review this page and he saw something missing. Below photos of her accepting her husband's award in 2014 for his entry into the National Sailing Hall of Fame.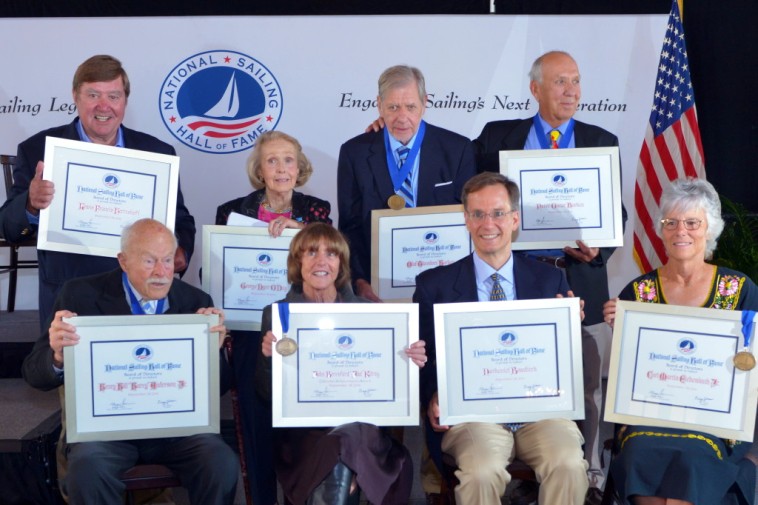 Left to right, 1st row: Harry Anderson, Trice Kilroy (accepting for father Jim Kilroy), Nat Bowditch, Jean Eichenlaub. 2nd row: Skip Gmeiner (accepting for L. Frances Herreshoff); Miriam O'Day, Olaf Harken, Peter Harken
***************************************
To those of you who have not been to George O'Day's page in a while, and need to refresh, click here to go there
***************
November 19, 2018. This past weekend your webmaster and his wife Chris met with Miriam and her son Mark at her retirement home complex in Exeter, New Hampshire. We spent time reminiscing and clicking thru the website in the library computer room. And then, at Miriam's invitation, we joined them for Brunch, followed by a visit to her apartment, which had 'bits and pieces' from George's Closet on display. Besides the memories we came away with a couple of photos.
*******************************