Dan Spurr, the author of the book Heart of Glass, Fiberglass Boats and the Men Who Built Them wrote an excellent article about George O'Day in 2002 for Good Old Boat Magazine with the title The Man Who Loved to Sail. I think it tells this man's story very well. With the permission of Dan and Karen Larson, Founder and Editor of the magazine, you can Click Here to read the article. George died in 1987.

There has been a lot written about George O'Day. From a Dolphin 24 owners perspective he was the guy with the ideas that made the Dolphin 24 happen. Olin Stephens, Bill Shaw, Palmer Scott and others were critical to its birth, but it was George O'Day who wanted a good junior ocean racer, built in fiberglass, that good sailors of modest means could afford - to race seriously, and to cruise with their families.

George O'Day started O'Day Corporation that went on to become one of the most important boat builders in the US.
In researching the web archives of Jim Huxford's old Dolphin 24 website we came across an excerpt from "Addicted to Sail" by Norris D. Hoyt. Norris and Kitty Hoyt had a Dolphin (Telltale, click here to go to it) which they enjoyed for many years. Norris sailed on Bolero and other famous yachts with the Stephens brothers and was a veteran of more than twenty transatlantic passages.

In the book Norris is recounting a meeting he had with George O'Day and Bob Baker, a well known model maker, whose name and work has often appeared in Wooden Boat Magazine. George had just received the drawings of the Dolphin 24 from Olin Stephens and wanted Bob to build a scale model that could be exhibited at an upcoming boat show.

This story about the model tells a lot about the kind of man George was. A partial excerpt is reprinted below.
The Very First Dolphins
From "Addicted To Sail" by Norris D. Hoyt
George O'Day called Bob Baker one day and asked him to come to his office, and to bring Norris Hoyt with him. George unrolled the plans for a twenty-four-foot keel centerboarder, the Dolphin, from Sparkman & Stephens. For a wonder, she was beautiful, even to Baker. She had a swing to the sheer, a tender bit of hollow in the bow, and a real personality -- not soap-dish anonymity, and not the sort of character-boat overstyling that looks like a cross between a movie pirate ship and an Adidas sneaker.

"Bob," George said, "There's a boat show in a week, and I need a model that shows the interior and exterior by then. Can you do it?"

"Gosh, George," Bob said, "in a week? I'd have to work nights!"

"Right! Then it's a bargain?"

"O.K."

"Alabama a minute," I said, "what's the fee?"

"How do I know until I see the boat and Bob knows how many hours it took."

I wondered why I was there, and soon found out. George had the idea that fiberglass hulls could be marketed with all the bits and pieces cut to fit at the factory, and the owner himself could do the expensive hand labor, thus preserving the profit and eliminating the Union. I was to buy a kit at cost from George, and rewrite his foreman's instructions to make the whole enterprise look like a piece of cake. We'd sell the instructions separately, possibly as a come-on. I said maybe. We drove home.

Four days later, after two phone calls from O'Day, who couldn't locate Bob for a progress report, Bob showed up in Newport, had a placid lunch without saying much, and then took me out to the car and showed me the model. He had gone to ground in Westport, taken the phone off the hook, and gotten hooked by the model to the extent that he only dozed now and then. It was, of course, more affection-generating than the real boat could ever be, with an elegant eggshell finish and all the wee handrails, footrails, hatches, and trim in varnished mahogany. The wooden mast was bright, wire rigging with tiny turnbuckles. There was a wee working compass in the bridge deck. The winches on the mast and cockpit were aluminum pushpins, filed exactly to appropriate size. The deckhouse lifted up with the mast, and there was the interior, also white and varnished mahogany. The whole thing was on a wood base chocked and blocked, as if it were in a boatyard. It was so great that I resolved then and there to have a real one.

We called George, parked again on Newbury Street (after three times around the crowded block). I carried the boat upstairs as reverently as The Holy Grail, set it on George's desk, and sat down. Bob lifted the deckhouse. George tried it himself, with the awe with which a bachelor touches a baby. "Christ" he said, "that's bea-oo-tiful!"

W. W. Norton, 1987, ISBN 0-393-03316-3

**********************
August 5, 2010. Your webmaster finally got his hands on a copy of Norris Hoyt's Addicted to Sail. The full excerpt from the book about this model, plus another excerpt about his Dolphin 24 is reprinted on Norris Hoyt's page in the History Section. Click here to go there.
Later, I had an opportunity to speak to George's wife, Miriam O'Day regarding our search for that model. I had written to her explaining what we were up to with the website and enclosing copies of the the full excerpt from Norris Hoyt's book. Last night she called and we had a simply delightful conversation. She knew Norrie Hoyt but had no idea what happened to that model. We both enjoyed talking about George and her recollections of those happenings 50 years ago. She recalled Palmer Scott (Marscot Plastics) and she mentioned the O'Day family stayed for a week at the Hoyt's house in Newport during one of the America's Cup trials - and she recalled meeting Olin Stephens in Newport while she was there - simply 'the most charming man"!
Miriam has a George 'closet' with a lot of his records and she will discuss our search for this model with her son Mark. Dan Spurr used Mark as a source for O'Day related information for his book, Heart of Glass - see above for link
Webmaster Note: October 15, 2011. In December, 2010 Miriam O'Day was given the Dolphin 24 Website Book, Copy #1 in recognition of the primary role George had in conceiving the Dolphin. This involved an exchange of letters you can see by clicking here.
*****************
John Shumaker, the man who founded Yankee Yachts, told your webmaster the following little story. At the New York Boat Show in 1967 - Yankee's first show exhibiting the Dolphin - George O'Day walked up to the Yankee booth to congratulate him on the boat and wish him luck. Then he said to John pointing to the cove stripe "See those two dots up there behind the Dolphin? They are not dots - in the original molds they are the initials O and D"!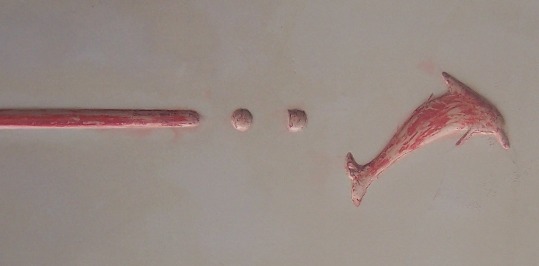 This is a photo of the cove stripe, Dolphin and "O D" on Jim Oppy's WISP
**************************************
September 28, 2014. George O'Day is being inducted into the National Sailing Hall of Fame today at an induction ceremony at the Detroit Yacht Club, Detroit, Michigan. Here is the announcement article by Roger Vaughan
2014 National Sailing Hall of Fame
George Dyer O'Day
May 19, 1923 – July 26, 1987
Birthplace: Brookline, Massachusetts
"Stay on the wave as long as possible."
Boats for the People
When it comes to sailboats, the name O'Day is iconic. The boat company started by world class racing sailor George O'Day in 1958 produced more than 30,000 of nearly 60 different models before it closed in 1989.

These were mainly small, family boats like Javelin, Widgeon, and Osprey – all inexpensive, easy to trailer and sail. Chief among them was the 16' 9" O'Day Daysailer, designed by Uffa Fox in the UK, of which 12,000 were sold. For many years, O'Day was the largest producer of sailboats in the U.S.

The O'Day Corporation was launched on George O'Day's reknown as a sailor. His record, from Harvard where he skippered a McMillan Cup win in 40-foot yawls, through half a dozen national championships in as many classes – culminating in an Olympic Gold Medal (1960, Rome, 5.5s) – is admirable.

Taking a cue from Uffa Fox, the father of the planing dinghy, O'Day made sailing downwind into an art form. The company became successful under O'Day's aggressive, charismatic leadership.
Mike Horn (Webmaster Note Avellar 2, Yankee #73) was a Harvard dinghy sailor in the early 1960s when O'Day's company built the school a fleet of Interclubs. "He was held up as an example of what a college sailor could accomplish," Horn says, pointing out that O'Day also served a term as president of the Intercollegiate Yacht Racing Association, and helped write the team racing rules with Bill Cox and Harry Anderson.

O'Day sailed on both Weatherly (1962) and Intrepid (1967) as assistant helmsman and tactician for Bus Mosbacher in successful defenses of the America's Cup. "He had a real presence on board," says George Hinman, who raced on Intrepid. "His delivery was strong. When he spoke, people took notice. It was Bus' show, but he had respect for George's opinions."
This is the direct link to the National Sailing Hall of Fame article
http://www.nshof.org/index.php?option=com_content&view=article&id=897%3Aoday-george-dyer-2014-hall-of-fame&catid=189%3Ahall-of-fame-2014&Itemid=305
Postscript: The following is excerpted from Craig Leweck's report on the induction event in Monday's edition of Scuttlebutt
Detroit YC, whose history dates to 1868, located in Belle Isle State Park, was the setting for the formal Induction of the class of 2014, which was full of laughs, as well as tears.

As Gary Jobson, NSHOF President, pointed out, the common thread uniting the eight Inductees – including a mathematician, a historian, an engineer, a naval architect and an Olympic Gold Medalist – was their service to the sport. "They made sailing better for so many people," said Jobson.

The eight sailing legends celebrated for their impact on the sport: Yachtsman, historian and senior statesman of the sport Henry H. "Harry" Anderson, Jr. (Newport, R.I./Mystic, CT); mathematician and navigator Nathaniel Bowditch (Salem, MA); boat builder and U.S. Olympic Sailing Team boatwright Carl Eichenlaub (San Diego, CA); brothers Olaf Harken and Peter Harken (both Pewaukee, WI), respectively, boat builder and sailing hardware designer; naval architect and prolific writer L. Francis Herreshoff (Bristol, RI/Marblehead, MA); 1960 5.5 Metre Olympic Gold Medalist and boat builder George O'Day (Brookline, MA/Dover, MA); and Grand Prix yachtsman John B. "Jim" Kilroy (Marina del Rey, CA)
This is a photo from the National Sailing Hall of Fame of the 8 inductees or their representatives.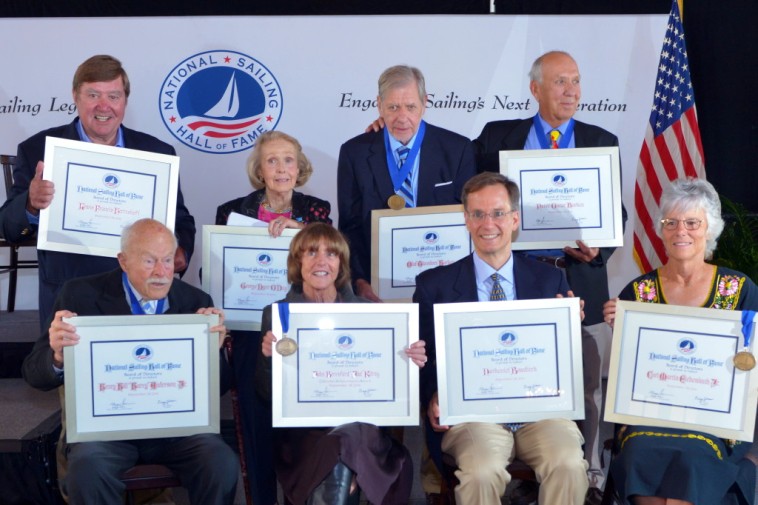 Left to right, 1st row: Harry Anderson, Trice Kilroy (accepting for father Jim Kilroy), Nat Bowditch, Jean Eichenlaub. 2nd row: Skip Gmeiner (accepting for L. Frances Herreshoff); Miriam O'Day, Olaf Harken, Peter Harken
***************************************