| | |
| --- | --- |
| | Palmer Scott was born in 1898 and had a degree in Naval Architecture from MIT. He passed away in a 1970 swimming accident. Information regarding his impact on the start of Dolphin 24 production in 1960 is sparse. According to Dan Spurr's book Heart of Glass - Fiberglass Boats and the Men who Built Them Palmer decided that he would rather build boats than design them so in 1935, after a few years working in various boat building related jobs, he bought the famous William Hand boat yard in Fair Haven, Massachusetts. An uninsured fire destroyed this yard in 1936 but Palmer, who seemed predestined to overcome major catastrophes in his career, restarted his business at a new location in New Bedford, Massachusetts |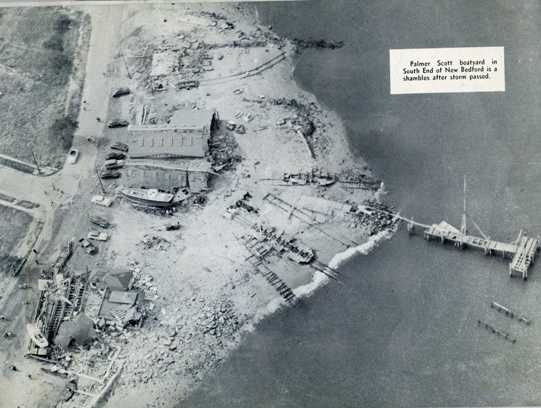 The Palmer Scott Boat Yard, shown above after the 1954 Hurricane Carol that devastated so much of the New England coast, was a well known wooden boat builder and built some spectacular sail and power boats for the 'rich and famous". At the end of this section is an interesting article written by his daughter, Tolly Cartwright, about a Phil Rhodes design built by Palmer Scott named Merry Maiden.
In the late 1940's Palmer started making small fiberglass boats, initially using a vacuum system known as the Marco Method, later switching over to the layup system. According to Tolly Cartwright, the Marco process was developed by Dr Herbert Muscat, a "typical Einstein sort of person" and involved drawing up the resin through the glass fiber matrix. Today, vacuum formed construction is a standard in quality boat construction. In 1954 Hurricane Carol wiped out his wood boatyard and all that survived was his Marscot Plastics division.
Around this time Palmer started producing the famous Beetle Cat, still an active sailing class. Some sources report he bought the Beetle New Bedford boatyard and business of Carl Beetle, another small fiberglass boat pioneer. The Beetle website

http://www.beetlecat.org/history.php

reports that what actually happened is that Concordia Yachts fell heir to the Beetle Cat business in 1946. At some point they received many more orders than they anticipated and turned to New Bedford boatbuilder Palmer Scott for help. Leo Telesmanick, who had worked many years for Carl Beetle, was then working for Palmer and was put in charge of the building operations. In November, 1960 the entire operation, including Leo and his crew, were transferred to Concordia, which set up a separate Beetle Cat operation. What's important about this little tidbit of information is that Leo J. Telesmanick (1915-2001), who built the wood Beetle Cat for over 50 years, became involved in the early production of the Dolphin. Leo was a well known and respected craftsman, and was the foreman responsible for the assembly, wood details, interiors and final commissioning of the early Dolphins.
Other small fiberglass sailboats Palmer built, and still active classes, are the Wood Pussy, a 13 1/2 ft catboat and a small keel boat for the Southern MA Yacht Racing Association (SMYRA) that became the forerunner to the Rhodes 19. This involvement with small fiberglass sailboats led to George O'Day's relationship with Palmer Scott. O'Day was selling small sailboats for various companies, including Marscot Plastics, and he was an enthusiast about the future of fiberglass boats.
George O'Day had no manufacturing facilities when he commissioned Uffa Fox to design the O'Day Daysailer, or S&S to design the Dolphin 24 in 1958. It appears he initially contracted Marscot Plastics to build the Dolphin for him. In 1958 he purchased a mill building on Stevens Street in Fall River, MA for $10,000 About this time Palmer Scott moved Marscot Plastics from New Bedford to this building, and brought with him his experienced fiberglass production personnel,. According to Bob Larson, an early investor in O'Day Corporation, George made a deal with Palmer Scott to swap stock in his new company, O'Day Corporation, for Palmer's Marscot Plastics business.
We do not have much information about the start up and production of Dolphin 24s. We do know that the Dolphin's fiberglass components were molded at the Marscot Plastics Fall River, MA plant and then the shells trucked to the old Carl Beetle Boat Yard in New Bedford where the fiberglass parts were assembled, and all the exterior woodwork and interior fitting out was done. Phil Zerega who built Teal on Marscot built Hull #12 took several pictures of the plant, including a couple that may well include Palmer Scott. Click here to see them as well as more information about the plants that built the first Dolphins. Based on your Webmaster's research to date, it seems that in 1960, possibly as many as 29 complete or partially complete boats were built by Marscot Plastics at their Fall River plant with finishing done at the Beetle New Bedford yard.
Roy Berg, former chief engineer at Lunn Laminates, and the first owner of " Black Dolphin" (click here to go to her) recalls that the Marscot plant had a fire in 1960 and that Lunn was contracted to build 25 boats starting in early 1961. Lunn was a family owned fiberglass laminate subcontractor who had made parts like torpedo parts and periscope housings for the US Navy, and had built other sailboats under contract.
What happened after the contract was finished and the the tooling returned to Marscot/O'Day is still uncertain. The "big" Dolphin did not easily fit into O'Day's primary business scheme of smaller, high volume boats. The company contracted other builders like F.L. Tripp & Sons and J.J. Taylor & Sons to finish boats made with major fiberglass parts supplied by them out of the Fall River plant. Other competing boats like the S&S designed Tartan 27 (with headroom!) introduced in 1961 took potential buyers. Over the next 5 years only 15-20 more Dolphins would be built by O'Day before production was stopped and Yankee Yachts in Santa Ana, California became the major builder.
The first nameplates indicate that the two companies, at least through late 1960, were seperate corporate entities. This nameplate is from

Passage

, Marscot Hull #10.

The first O'Day brochure

indicates Marscot Plastics is a division of G.D. O'Day Associates. The nameplate for

Tiki, hull #28

indicates O'Day Manufacturing Company built the boat. Late 1960 was a time of major changes affecting the Dolphin - Leo Talesmanik leaving, the stopping of Dolphin production in favor of a contract with Lunn Laminates, the formation of a new company,

US Yachts,

to sell and market the Dolphin, and not least, the retirement of Palmer Scott at the end of 1960.
A couple of interesting side points. Palmer Scott also built small fiberglass fishing boats called the Angler 18 and 23. Allen Tripp, of F.L. Tripp & Sons in Westport, MA, told your webmaster that after Palmer retired he came to work part time for their company, bringing with him a wealth of knowhow on building fiberglass boats. In the late 1950's Tripp purchased the molds for the Palmer Angler 23 which became the basis for the famous Tripp 22 bass boat still in production and now known as the Angler 22! Here is Jay Picotte's Angler 22,

Waterlily,

built by Tripp in 1983.

Click here for a larger image

.

Webmaster Note January 21, 2012

And for a fascinating side trip

click here

for a little known about Palmer Scott built, 23 ft deep-V powerboat named

Aqua Hunter

that finished 2nd to Dick Bertram's

Moppie

in the famous 1960 Miami-Nausau race!! Jay's Dolphin 24,

Recovery

is also a Tripp built boat.
The following is an excerpt from the Merry Maiden website (click here to go to this site) written by Tolly Cartwright, daughter of Palmer Scott.
"Palmer Scott & Company was established in 1935 in Fairhaven, Massachusetts and after the fire that burned it to the ground in 1936 the business was relocated to north end of New Bedford, Massachusetts on the Acusnet River.

"After the fire in 1935 and the reestablishment of the company in New Bedford the company built several rather fabulous wooden yachts. I remember one, I believe a power boat that had a spiral staircase down to the main cabin with a snake as the banister which ended with the head of a cobra. Another yacht had a mahogany tiller carved in the shape of a muscular man's arm with rolled up shirt sleeve ending with the hand curled around a ball. It took a full case of scotch to keep the carver lubricated enough to finish the project. As soon as war was declared Palmer Scott & Co., went into full time government work. During this time, my father was sent to South America to see if he could find sources of lumber. He did find some trees suitable for boat construction in the jungles of Brazil but each tree took from 6 months to a year get out. At the end of WWII there wasn't much call for 'gorgeous' wooden yachts and P. Scott was approached by a crazy chemist (that's tongue in cheek, the man was brilliant) to construct fiberglass boats. Between the two men they came up with a method to build the first vacuum molded fiberglass hull. The old time wooden boat builders were incensed and one of them said that 'the company now sucked boats.'

I doubt there is anything left that might be of interest to you and the Merry Maiden. Out here in 1954 we had a vicious little hurricane 'Carol.' My father lost pretty much everything at the north end yard...an LCVP went through the office distributing files to the winds. Some 24' air/sea rescue craft were found up to 9 miles away in a farmer's field. The entire plant went under water pretty much sounding the death knell to Palmer Scott & Company. Marscott Plastics survived and everything eventually became George D. O'Day Associates. I understand some blueprints survive and I'm trying to locate them in case they be of interest to you." T. S. C
Webmaster Note: Merry Maiden was a beautiful boat and she caught the eye of Morris Rosenfeld in a race her owner might remember. This photo is from "A Century under Sail" by Stanley and Morris Rosenfeld is certainly memorable. Click here to see it in larger scale.
*******************