In 1958 George O'Day had no manufacturing facilities when he commissioned Uffa Fox to design the fiberglass O'Day Daysailer, or had S&S design the fiberglass Dolphin 24. He contracted Palmer Scott's Marscot Plastics initially to build the Daysailer, and later the Dolphin for him. He knew Palmer from having sold several of the boats Palmer built, including the Rhodes 19. In 1958 O'Day purchased a mill building on Stevens Street in Fall River, Massachusetts for $10,000 and arranged to have Palmer Scott move Marscot Plastics from New Bedford to this building, and bringing with him his experienced fiberglass production personnel.
According to Bob Larson, an early investor in O'Day Corporation, and president of US Yachts, the company which marketed and sold the Dolphin 24 for O'Day, George O'Day made a deal with Palmer Scott to swap stock in his new company, O'Day Corporation, for Palmer's Marscot Plastics business. This became O'Day Manufacturing Company in late 1960.
The following pictures were supplied by Mark Zerega, taken by his father Phil Zerega in conjunction with his purchase in 1960 of a bare fiberglass hull, #12, on which he built a wood boat named Teal. Click here to go to Teal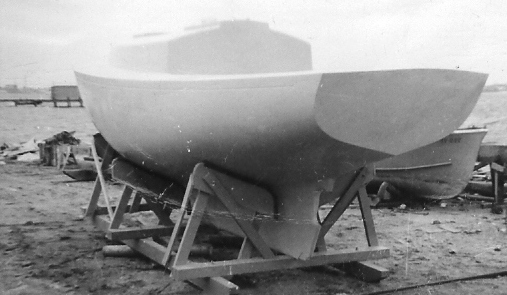 This is the original plug used to make the molds for the Dolphin. We need to exactly place the location of this picture, possibly the yard outside the Fall River plant or maybe the 'old Beetle Cat' facility in New Bedford where the boats were assembled and fitted out. Looks like a marine railway in the foreground. And we know that the New Bedford yard had a marine railway. (see update below)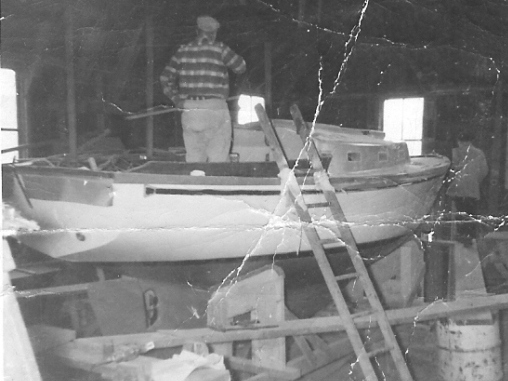 Who's the guy in the checkered shirt - Palmer Scott? Seeing this photo got your webmaster thinking about another, unrelated checkered shirt mystery. Click here to to check out that mystery
We know that the Dolphin 24 was molded at the Fall River Marscot Plastics plant in 5 separate laminates, the 2 half hulls, a deck, a cockpit, and house. The parts were then shipped by truck to 'the old Beetle facility' in New Bedford where they were bonded together and the rough shell finished into a boat by a team led by Leo Telesmanick. The above picture must have been taken in New Bedford. More on this story to follow.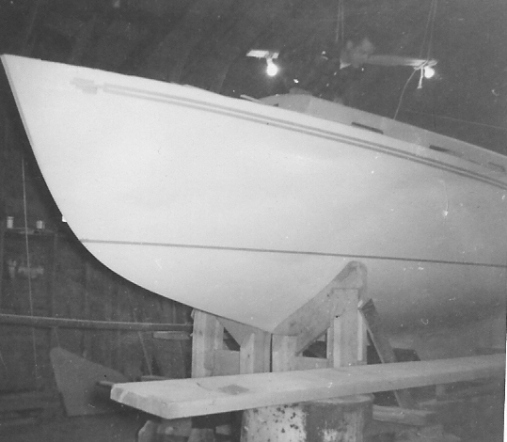 Dolphin's have such beautiful lines...I wonder whose boat this was?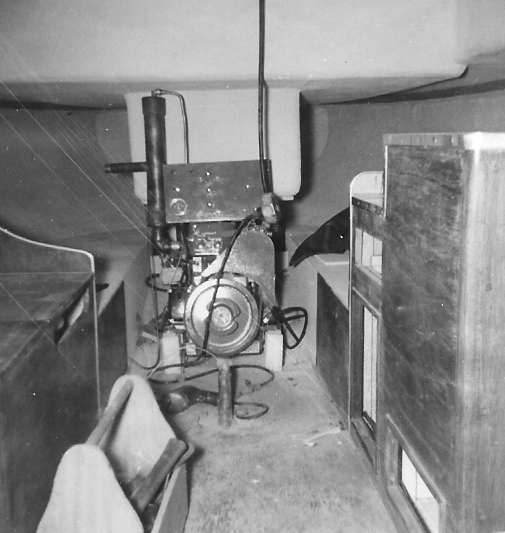 The Palmer inboard being installed. You can see the starboard head locker and the port side galley set up.
******************************
May 22, 2009. We are continuing to work on finding out exactly where the two Marscot Plastics facilities were located - the original one in New Bedford, and the later one in Fall River - and fill in some of the murky holes in this story. This is the nautical chart of the area.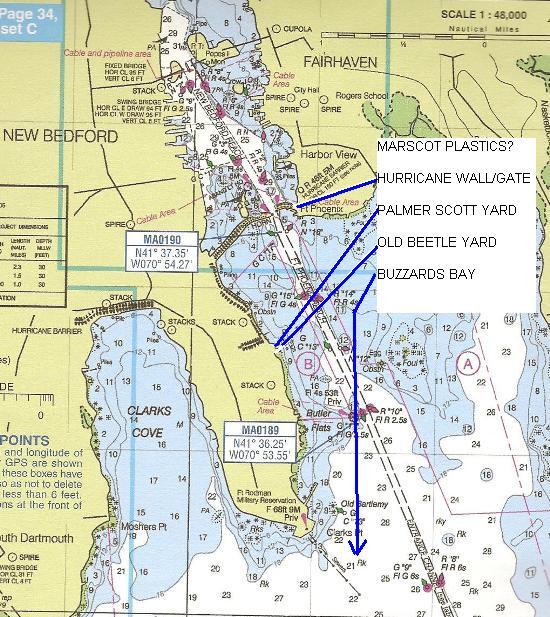 ************************************
September 2, 2013 The Palmer Scott Boat Yard was located in New Bedford for many years. In 1954 Hurricane Carol struck the area with 100+ mph winds, gusts to 125 and a 14ft surge. This destroyed the north end of the yard that contained the wooden boat section, and only the Marscot Plastics operations survived.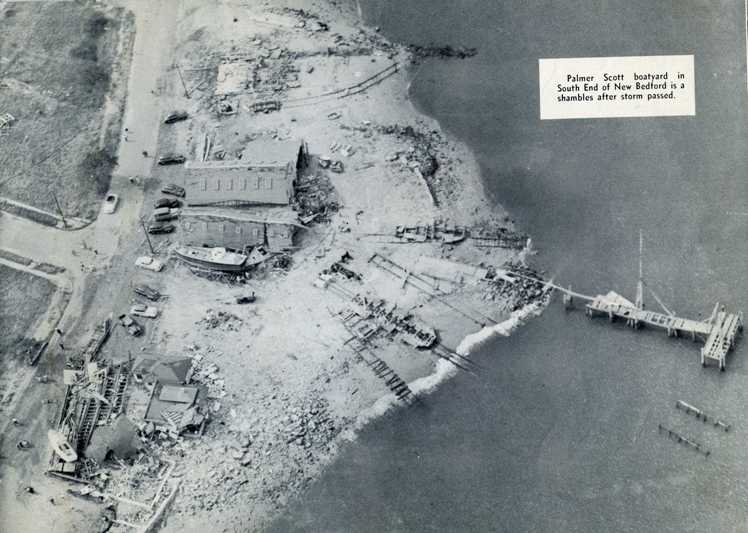 Part of this story is recounted in the Merry Maiden story by Tolly Cartwright, Palmer's daughter. For more on the Merry Maiden and Palmer Scott - click here to go there.
Note that the inset note on the above picture "Palmer Scott boatyard in south end of New Bedford....". There is a quote by Tolly Cartwright in the Merry Maiden article ""Palmer Scott & Company was established in 1935 in Fairhaven, Massachusetts and after the fire that burned it to the ground in 1936 the business was relocated to north end (!!!) of New Bedford, Massachusetts on the Acusnet River." We have the following from Laura Pereira, Librarian, New Bedford Whaling Museum "The old Beetle boatyard would have been nearby in the south end of New Bedford at 1555 Rodney French Blvd"
Here again, the history is murky. It seems the 'old Beetle facility' may have been a Beetle facility that Palmer Scott took over when Concordia Yachts bought the Beetle Cat business in 1946 and moved it to South Dartmouth, Massachusetts.The 'old' Beetle Yard was located at 1455 Rodney French Blvd, and practically next door there was a Palmer Scott facility located at 1482 Rodney French Blvd. This Palmer Scott facility might have been the Marscot Plastics operation that was subsequently moved to Fall River?
Thru the 1940's and 50's Palmer Scott had a close, and competitive, association with Carl Beetle and his wood Beetle Cat. According to the website BeetleCat.org, Concordia Yachts fell heir to the Beetle Cat business in 1946, and at some point they received more orders than they anticipated, and turned to Palmer Scott for help. Leo Telesmanick, a near legendary New England wooden boat craftsman, and who had worked at Beetle Cat for many years building the Beetle Cat, was then working for Palmer Scott, and was put in charge of the building operations.
This minutia is interesting because there were late season business storm warnings up during the Dolphin 24's start up year 1960. In November of that year, O'Day formally bought Marscot Plastics, changing its name to O'Day Manufacturing Corporation; Palmer Scott retired; Leo Telesmanick and his crew went to work for Concordia Yachts in South Dartmouth building Beetle Cats; and O'Day decided to have the next 25 Dolphin 24s built by Lunn Laminates with marketing and sales handled by US Yachts.
These had to be serious business storm conditions for our Dolphin, which continued until late 1964 or early 1965 when Olin Stephens went out to Santa Ana, California to talk to John Shumaker, and Yankee Yachts was formed. It was good that she was well designed, and well built!
| Beetle Cat above, Leo Telesmanick left | |
| --- | --- |
| | |
| --- | --- |
| Merry Maiden | Palmer Scott |
Palmer Scott was a pioneer in the new fiberglass boat game building not just dinghies and but converting the Rhodes 19 from an all wooden boat to fiberglass. Besides this fiberglass boat business Palmer had over 20 years experience building large wooden yachts like Merry Maiden above before losing most of his boatyard in the 1954 hurricane Carol. Leo Telesmanick was a recognized wooden boat craftsman who has a memorial at the Mystic Seaport Museum in Mystic, Connecticut. While the Dolphin 24 was designed as a fiberglass boat she had a lot of wood structural and trim components, and a wood interior.
Together, Palmer and Leo were the two people that built the first Dolphins - Palmer producing the fiberglass parts - and Leo who supervised their assembly, finishing and fitting out.
| | |
| --- | --- |
| | Someday we will mark on a map the two exact locations that were involved in building the Dolphin. An interesting tidbit - the picture at left is the hurricane sea wall built in the early 1960's to protect the inner harbor. It is over 9000 ft long, 20 feet above mean sea level, with 2 massive 440 ton gates in the center that can be closed in a storm. Built by the US Corps of Engineers, it is the largest stone structure on the east coast. |
We stand by for more on this story
*************************