Teal was built by Phil Zerega in his back yard in Southport, CT on a bare fiberglass hull. He borrowed a trailer and picked up the hull in the Fall of 1960 at the Marscot plant in Fall River, Massachusetts. He propped her up on poppits under a ridgepole and tarp behind his house. Then over the next year he built a beautiful wood boat on that shell - to me an amazing feat. She is now your webmaster's Marionette. This boat was one of 3 Dolphins built at the same time by 3 friends, Dick McCauley's Windsong, and Clark DuBois's Peridot. For some interesting background go to Peridot for Clark's recollections. (Webmaster Note: December 20, 2011. Excerpts of an interesting email from Clark are below)
Teal was launched August 12, 1961. Phil's son Mark stopped by to deliver some pictures of Teal and her construction. He found them in an old scrapbook.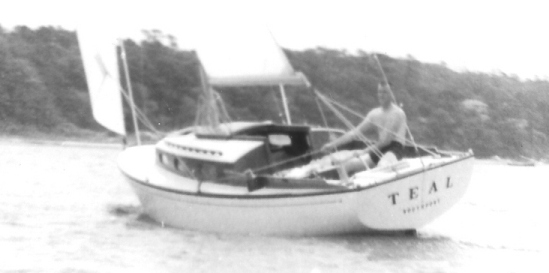 This is Phil single handing Teal
With no boat building experience but a strong technical background, a craftsman's skill in working with wood and a facination with the potential of fiberglass as a building material he set up the home boatyard you see below.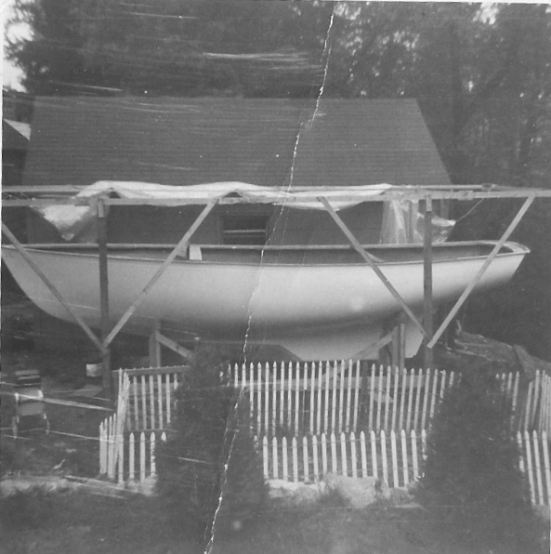 Notice the infamous sheer clamp. Phil heavily encased this wood clamp with fiberglass tabbing it to the wood deck. Many Dolphins have had wood rot problems with this clamp due to water getting to the wood via the toe rail track bolts and stanchion base bolts. After 50+ years Marionette has had very few problems.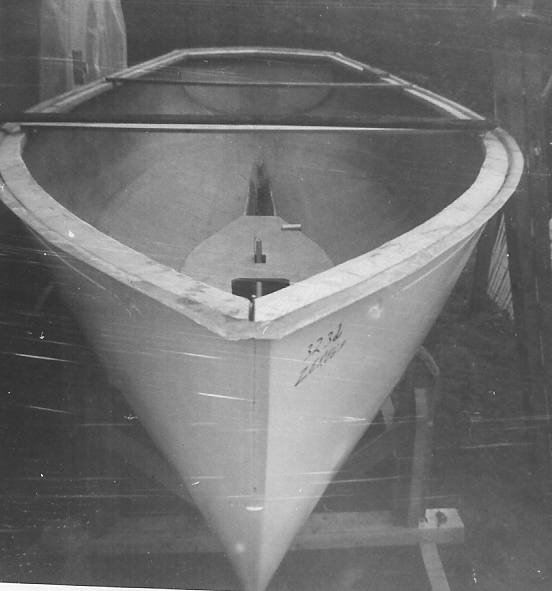 This is Teal's hull at the O'Day plant. Note Zerega written on the port bow. This is a good look at the infamous wood clamp.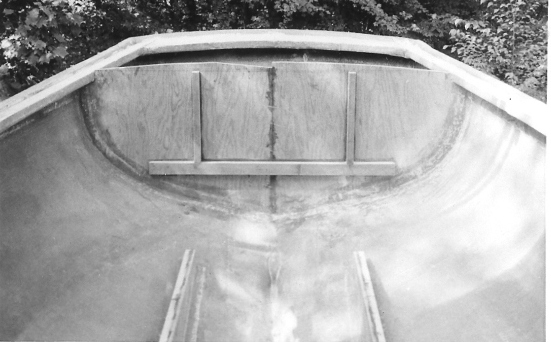 This photo shows the transom locker bulkhead. Notice the fiberglass tabbing of the bulkhead to the hull. The stringers are for mounting an inboard but from the very beginning Teal/Marionette had an outboard in the well. Teal had a 10hp motor with reverse.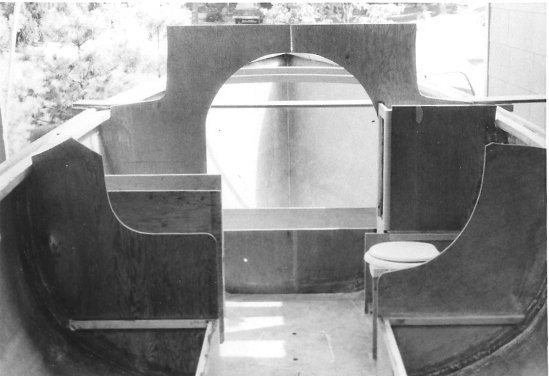 These are the main bulkheads looking forward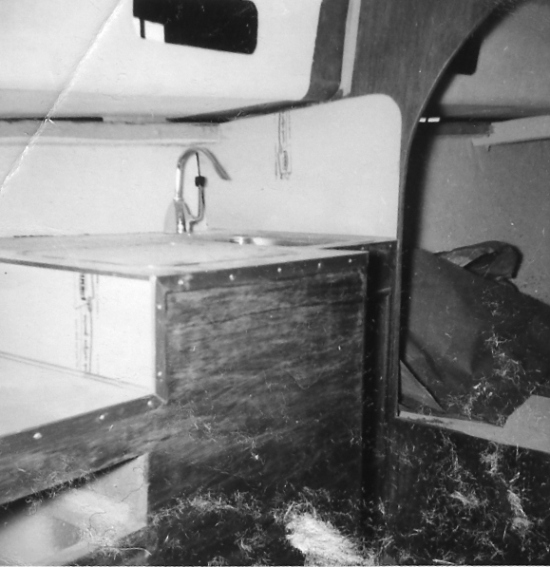 This photo was damaged. Looks like they just lowered the deck and house on to the hull.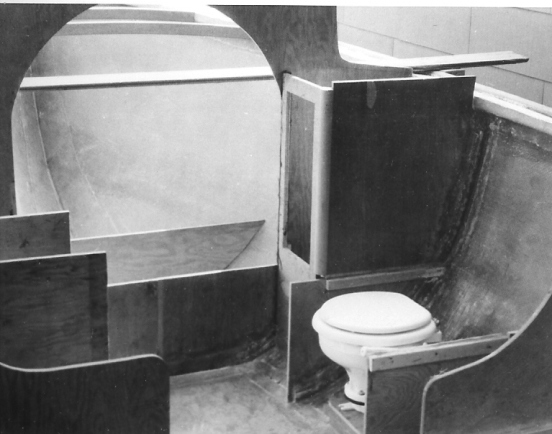 A close look at the hanging locker woodwork and bulkhead tabbing. This quality work is visable today and is responsible for Marionette's excellent condition today. Phil, is that a cinderblock wall in the background? Did you build a barn? The head now sits in Marionette's V-berth but that beautiful hanging locker is still there - converted to shelves.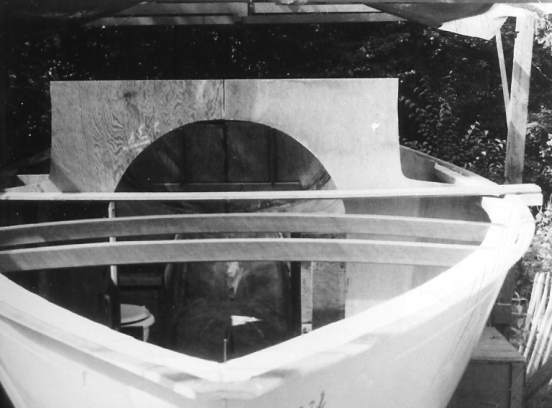 The deck beams...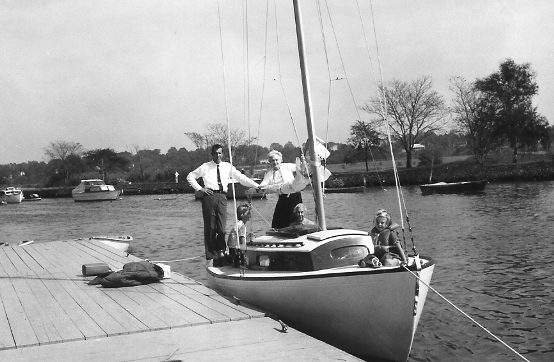 Look - no stanchions, bow pulpit either! Mark told me his dad had a wood cradle for Teal. When it came time to move her from the backyard to the local boatyard he jacked up the cradle, fitted a single axle under it and built a trailer! We need to find out more about this project. Many years later, your webmaster converted the steel cradle on which Marionette was stored to a trailer too! Click to go there
********************
Mark provided more pictures that were taken in the late summer of 1960. They are shown on the O'Day/Marscot's Fair Haven, MA plant page. Click here to go there
**********************
August 2, 2009 Teal was sold to Jim Rice of Essex, CT around 1965. Jim named her Dubhe.
****************************
December 20, 2011. Excerpts of an interesting email from Clark DuBois (Peridot) - are below
The project started with friends who were starting their lives and families. We all wanted small cruising sailboats. The group was 6-9 people who often met at my house. Most were engineers. McCauley and I were MIT class of 1948 in Mech. Engineering. Phil was a well educated and talented Industrial Designer from the R.I. School of Design, I think. We had a friend (Poor memory – call him "C") who was building a Cutlass of strip planked wood. She was 24' LOA and at that point upside down with a near-finished hull. We had permission to use this as a plug to make a MFG mold and then pull hulls. We could have done it!

But then I thought that there were builders with molds who might like to make $ soon by selling raw hulls. Much talk and I found Bob Larsen and his interest in George O'Day. When it was time to put money up only 3 of the group were still in. We borrowed "C's" trailer, made three trips to Fall River and put a boat hull in our three yards, all in Fairfield CT. I also got the one piece deck/house/foot well piece.

We had the paper outline of all the internal wood parts for bulkheads, etc. to be made of 5/8" plywood. We three talked a lot and purchased as a group under my Fairfield Sailing Supplies letterhead at full yard discounts. For one year we were an active yard - in 3 places! Few other yards made three boats at one time.

None of us liked a dirty engine between the two big quarter berths. We all added a sealed bulkhead just aft of the foot well and put an outboard within the hull. Mine was off center, port side, and big enough for an 18 HP Johnson. I started with a 10 HP, went to an 18, and then to a 6 HP. On the starboard side was room for gas tanks, oil, and other gear that could get wet from rain leaking past a simple hatch. I cut a notch up the transom so the motor could tilt up. Phil could not accept this and had a center motor and only a hole in the bottom. When sailing the bottom holes were plugged by the piece we cut out.

We purchased the three masts from (?) - it was one of the first orders for a Connecticut company (Dwyer?) that became big in that business. They were new at it when they got our order. The 31' mast (a guess) was made from a 32' extrusion they ordered. They cut off a foot to get it right. As it happened the extrusions they got were oversized by about a foot and thus we got masts a foot too long. I kept it and Phil and Dick had it corrected. Years later, when I got my second set of sails, I added area and got the boom down where it was planned. 2. At the head of the mast were two large sheaves (about 8" in diameter) in the mast at a slight angle so the jib and main halyard pull was on center. There is a well accepted custom that the main halyard end comes to the starboard side and jib to the port. They got it wrong on all three! I lived with it and the other two had it fixed. GOOD to have the extra foot of mast!

We used a friend's flat bed trailer to carry the boat and its wood cradle to a launching ramp at Southport. Some "I" beams, blocks, and small jacks got the boats on the trailer. We all had town moorings at the entrance to Southport Harbor. I had a Thistle before the Dolphin - we used it as a picnic boat. Both daughters were sailing with us often before they were a year old in a basket in the bow of the open boat! The Dolphin was a BIG improvement!

**********************
August 6, 2019 A website reader, George B, sent in the following email. We have reprinted Phil's obituary below.
I have been a fan of your website and Dolphin 24's for a couple of years now, since a friend bought a Dolphin 24.

On the most recent What's New section of the website, and following links, I read about the man who built Marionette and thought you might be interested in knowing more about him. This link will take you to his obituary www.legacy.com/obituaries/ctpost/obituary.aspx?n=john-philips-zerega&pid=138289698&fhid=4716

He was quite an accomplished person and clearly did a good job on Marionette.Keep up the good work on the website! I'm addicted.

George B.

John Philips Zerega Obituary

John Philips (Phil) Zerega, age 81, of Fairfield died peacefully on January 6, 2010 at the Carolton Convalescent Hospital. Phil was born in Plainfield, NJ, attended the Taft School, the Georgia Institute of Technology and received a BFA in Industrial Design from the Rhode Island School of Design in 1952.Phil was a direct descendant of Lucas van Uytendale who was knighted Baron von Bretton by the King of Denmark in the early 1700's and later appointed Governor of the
island of St. Thomas. His flying buddies often referred to Phil by his title- Baron von Bretton. In the mid-1800's Phil's great-great grandfather, Augustus diZerega, operated the "Z Line", a fleet of clipper ships sailing out of New York to Europe and the Orient. Zerega Avenue in the Bronx was named for Augustus

A noteworthy ancestor on his mother's side, Joseph Hewes, signed the Declaration of Independence and was the first Secretary of the Navy. Phil's real love was flying and he earned his pilot's license at age 16. He was commissioned 1st LT in the USAF and trained to fly B-26 bombers at the time of the Korean War. Instead of Korea, he was sent to Europe and assigned to NATO as an AT-6 instructor pilot in Landsberg, Germany retraining German, Italian and Danish pilots. After his discharge Phil, his wife Cecily and son Mark moved to Fairfield where daughter Libby was born.

He was employed by Sikorsky Aircraft as an engineer designing cockpits, often working directly with Igor Sikorsky. He built dozens of helicopter models for engineering studies and display.Later he did design consulting and built industrial models for several local engineering companies. Phil attended the Oshkosh Air Show for many years, often flying there in a friend's airplane. Phil built his own airplane, a single-seat Star Lite, in 1988 for which he won a "Best Homebuilt" award at an EAA fly-in.

As a licensed glider pilot, he often took his son Mark soaring and taught him to fly. During his school years, Phil was a soccer player and gymnast. A lifelong skier, sailor and tennis player; he also enjoyed golf and bowling. He sailed in the Newport-Bermuda and Halifax ocean races. He was a member of the Fairfield Beach Club, Bachelor's Comfort and Married Men's Retreat and the Pequot Yacht Club.

His avocation was messing about in boats, construction and remodeling projects, and diagnosing and fixing anything broken. In 1962 he built a 24' Dolphin class sloop, which the family sailed for many summers. He also built catamarans and restored many storm-damaged boats which he bought from insurance companies. Phil will be remembered as a quiet friend who was always willing to lend a hand on any project, especially if it had to do with boats

.In addition to his wife of 57 years, Cecily, he is survived by his sisters Virginia Lloyd of Newton, PA and Elizabeth Brown of Mount Pleasant, SC; son Mark Zerega and his wife Ceci of Yarmouth, ME; daughter Libby Williamson and her husband Jack of Villa Park, CA; and his grandchildren, Katie Zerega of Marblehead, MA, Megan Zerega of Yarmouth, ME, Katie Williamson, Jack Williamson, and Sam Williamson of Villa Park, CA; as well as many in-laws, nieces and nephews.

The family wishes to express their gratitude to Dr. Peter Tortora, Dr. Joel Kunkel, the staff at Carolton Hospital and Evie Craighead for their care and compassion. A memorial service will take place Saturday, January 16 at 1:00 p.m. at The Greenfield Hill Congregational Church. In lieu of flowers, memorial contributions may be made to Mercy Learning Center, 637 Park Ave., Bridgeport, CT 06604 or Grasmere by the Sea Adult Day Service, 1 Post Road, Fairfield, CT 06824.

Arrangements are being handled by the Spear-Miller Funeral Home of Fairfield.