May 1, 2010 We have known about this boat for nearly 3 years but have neven been able to get any detail. We finally decided to get her up on the Roster and maybe someone will tell us more.
She was one of 3 O'Day 'kit' boats sold in 1960 to 3 guys who lived in Southport, CT. These kits varied in content - this particular boat was sold to Dick McCauley as a bare fiberglass hull. She had an outboard in a well. Webmaster Note: Clark DuBois, who is one of those 3 guys - he built #14 - has some interesting recollections about this project. Click here to go to his boat, Peridot, to read them. The 3rd guy was Phil Zerega who also had a bare fiberglass hull, #12, Teal, later to become your webmaster's Marionette.
Dick McCauley's boat was named Windsong, and at some point, Dick moved to Essex, CT and took her with him. The boat was reported lost in the Essex Marine Railway fire on March 14, 1971. Webmaster Note: We now believe that this boat was salvaged.
********************
September 13, 2010. Your webmaster spoke with Mark Chramaic (Windsong #66). Before his current Dolphin, which he co-owned with Jim Kyle, he had another Dolphin 24, also named Windsong, that, today, we found out he bought from a 'guy' in Essex, CT!!!! That boat had an outboard in a transom well! Mark he kept her in Newport, Rhode Island. Mark is fuzzy on the dates but his wife Leslie recalls that the boat was sold to a Nancy Harley. We are working on this - stay tuned
****************************
September 13, 2010. Nancy Harley checked in with a lot of information about Windsong. Back in the 1970's she crewed for Mark and ended up buying Windsong in 1981/82. She renamed the boat Bella Donna, and when she had to move out to Colorado, reluctantly sold her in 1988 to John and Paula Buehler who renamed her Sloop John B (John's name).
Nancy has pictures and will send them in. Stay tuned.
***************************
July 26, 2011. We now suspect (know!!) that a just found Dolphin, Kitty C might be this boat. Stay tuned
*******************
August 21, 2011. Kitty C was Windsong!!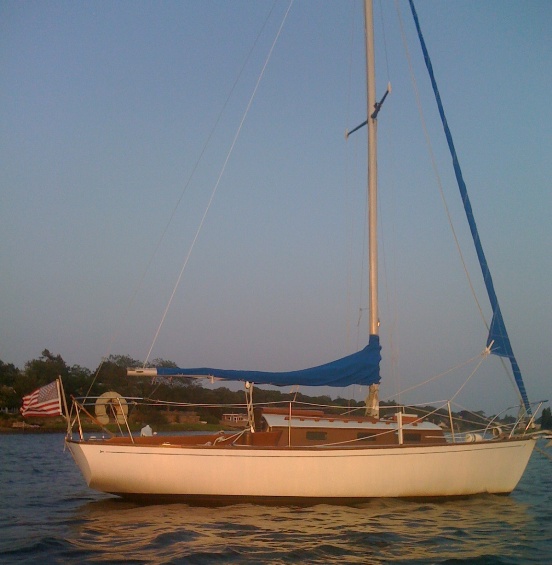 Kitty C, nee Windsong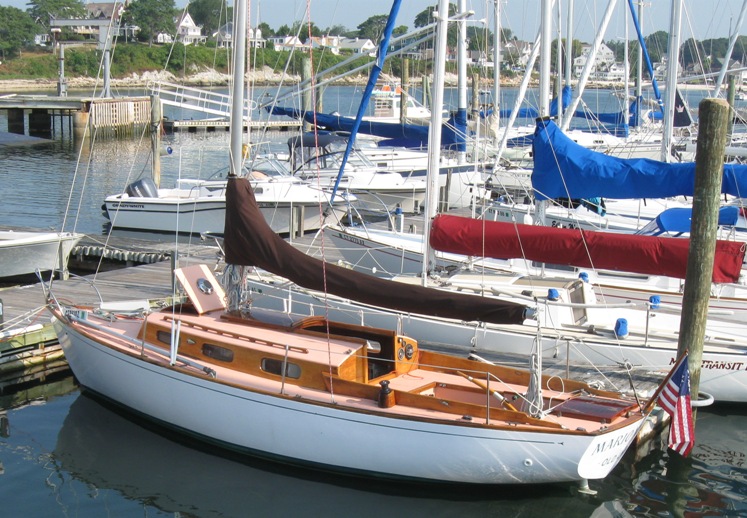 Marionette and Kitty C, above, are sisters
***************************************
April 29, 2012. In an investigation/discovery of a Shaw 24 named Bequia owned by Lew and Deb Weinstein of Essex, Connecticut the following tidbit emerged in a short email from Deb Weinstein (minor edit)
Ron

You did a fine job of updating the information on Bequia. The only correction I would offer is that we chartered Dick McCauley's Dolphin, not Clark DuBois'. We were friends of Clark's and he put us in contact with Dick, who was willing to charter his boat.

Deb

************************************