April 26, 2012. After nearly seventeen years I finally spoke again to the guy who sold Marionette to your webmaster. Lew Weinstein was the guy at the Connecticut River Museum who told me that Marionette was going to be sold at her offering price and not a penny less - because he used to own one of these boats and someone was going come along and understand she was worth it! He was right about that - she was worth it! The story is on Marionette's page - click to go there.
I had a delightful conversation, too short, with Lew and Deb Weinstein, and they will follow up with more info and pictures. In the 1966 they bought a Shaw 24 named Bequia from a Walter Idema in Grand Rapids, Michigan. She was built by the yard Brodrene Larvik's Battbyggeri, Son, Norway. They almost renamed the boat Devil's Den, but had her less than year so never actually got around to it.
OK,first, lets get this out of the way - Shaw 24 owners like to think Dolphin 24's are simply fiberglass Shaw 24's - close, but wrong - a Mermaid 24 is a wood Dolphin. Dolphin owners like to think that Trina, Shaw 24 hull #1 is the primary gene donor to the Dolphin 24 - see birth certificate - along with Finisterre and Ray Greene's boat the..........enough, this conversation is better held with feet up on the edge of the cockpit seat and a beer in hand....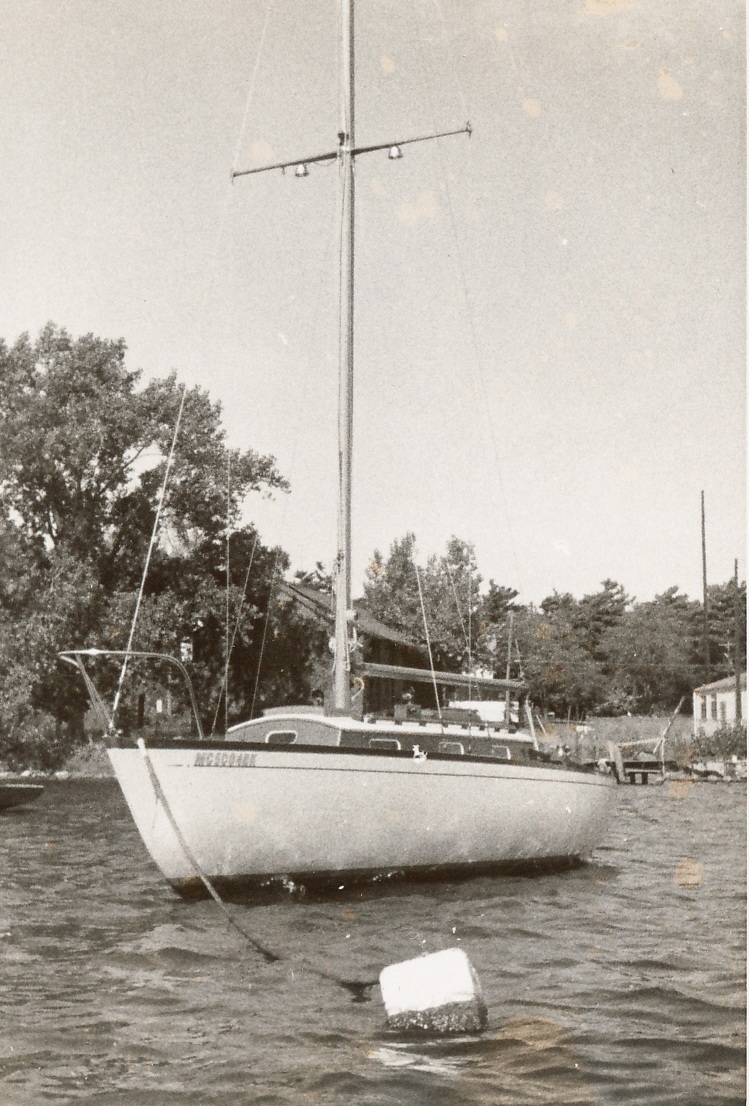 Bequia - Note that she is built as a sloop, not a yawl.
We received two emails from Deb Weinstein on April 28, 2012 (minor edits/consolidated).
Dear Ron,

It was great fun talking with you recently about Dolphins and Shaw 24's. I located the material that we still had from our purchase of Bequia and thought you would enjoy having them for your records. Attached is the 2- page contract between Norge Boats, Inc., in Stamford, CT and Walter Idema, Grand Rapids, Michigan, (he was the chairman of Steelcase Co., a well known office furniture company, and had had many larger boats in his younger days) for the construction of a Shaw 24 Sloop to be built in the yard of Brodrene Larvik's Battbyggeri, Son, Norway.

The two pictures of Bequia in the water were from Mr. Idema and the one in the boatyard with the child on the stern is of our son in Dutch Wharf Boat Yard, Branford, CT. after we took possession. We purchased her in November, 1966, but she was not delivered until the spring of 1967. We chose Dutch Wharf Boat Yard because the owner, John Jaques, had an excellent reputation for work on wooden boats and, I believe, had just finished the restoration of "Trina" at that time.

We knew she needed work because she had sat in a shed for a couple of years and had dried out, but it turned out to be more than we anticipated. We were never able to close a leak in the garboard strake and since it was a shallow bilge, the water was always going to be a problem. And so, sadly, we traded her that same summer (July 3, 1967) to Milford Boatworks, Milford, CT. I do not remember how much we paid for her and our bill of sale only says for "one dollar and valuable considerations", but I can tell you that we received a trade-in amount of $4,700.

We believe that one of the principles in the Milford Boatworks yard by the name of Barry Peal wanted the boat for his own use and was in a position to do the work on her. However, we do not know where she went from there. Even though we talked about changing her name to Devil's Den, I am not sure we actually did it (partly because of the superstition associated with changing a boat name and partly because we did not keep her long enough!).

If you ever locate this Shaw 24, we would love to know the owner and would be happy to give them any of the documention that we have.

Good luck in your search and best wishes,

Deb and Lew Weinstein

ps You did a fine job of updating the information on Bequia. The only correction I would offer is that we chartered Dick McCauley's Dolphin, (Windsong) not Clark DuBois'. We were friends of Clark's and he put us in contact with Dick, who was willing to charter his boat.

I am not sure we ever had any pictures of the interior of Bequia but if I come across them, I will send them on to you.

| | |
| --- | --- |
The construction contract that Deb refers to is a fascinating document - click here to go to it.
For more on the Shaw 24 go to the Trina page - click here
Staff will work on trying to find Bequia. Stay tuned
***************************