| | |
| --- | --- |
| | There has been some confusion on this but a Mermaid 24 is a Dolphin 24 built in wood, not fiberglass. Here is Kerry Lange's Mermaid 24 Kaloke in a 1973 photo pulled up at Mattituck Inlet on the south side of Long Island, NY. It is built to S&S design #1497 with construction details in wood. |
The following is from a S&S job list I found in the S&S technical files. The copy was poor so I restated the information. The word in parenthesis after Dolphin Class in the Name/Class column is FRP - fiber reinforced plastic. The second item is1497.1 Mermaid Class (wood). The third item is the Yankee Dolphin and the 4th for a New Zealand client, Douglas Bremmer, is a 'keel version" which was sold in New Zealand as the S&S 24.
Sparkman & Stephens Designs
Design Date Client Name/Class Job Description
1497 1960 Various DOLPHIN CLASS (FRP) Aux. C/BD Sloop
1497.1 1960 Various MERMAID CLASS (wood) Aux. C/BD Sloop
1497.2 1966 Yankee Yachts DOLPHIN CLASS Aux. C/B Sloop
1497.3 1969 Douglas Bremner DOLPHIN CLASS Keel Version
The following specification is for a 1497-S design for the Midget Ocean Racing Class was issued on December 10, 1959. The dimensions given are the same as a Dolphin. Toward the end of the 4th paragraph you will see "Structural members are white oak; recommended planking and trim, mahogany..."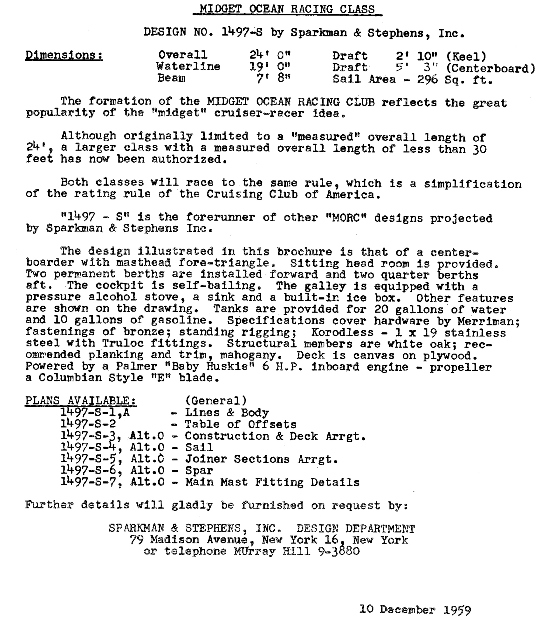 Interestingly, the Mermaid 24 drawings were used by some Dolphin 24 buyers who bought their fiberglass boats as unfinished boats, or by builders who bought "Kits" from O'Day and finished the interiors using the Mermaid 24 plans. The following letter dated 14 February 1964 from Rod Stephens to Lyman Bullard, President of O'Day is interesting from several perspectives. The "Mr Shumaker" referenced was S&S's first Mermaid 24 client on the west coast He eventually purchased at least 4 Dolphin Kits from O'Day, and later became the founder of Yankee Yachts in 1966/1967! The referenced Shumaker letter was lost.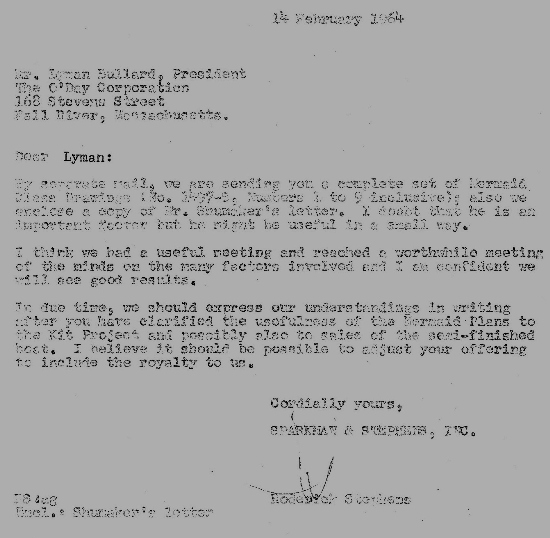 We need more information on the Mermaid 24 - ie., we have no idea how many were built.
*******************