July 8, 2010. Norris Hoyt, who died in 2004 (click here to read his obituary in the Newport local newspaper) at the age of 90, was the owner of Telltale, an early Marscot/O'Day Dolphin, and also an author, photographer, and avid sailor. In his 1987 book, Addicted to Sail, published by Norton, he talks about a meeting he attended with George O'Day and Bob Baker, a well known and accomplished model maker, about building a model of the Dolphin 24 that he needed for a boat show. The date, not clear from the text, but probably sometime in 1959 as the Dolphin 24 plans were not issued from Sparkman and Stephens until April, 1959.
How Norris Hoyt came to get his own Dolphin 24 is part of this story. It seems that from the very beginning of the Dolphin 24 George O'Day had in mind that, in addition to selling complete boats, he would build components, or 'kits' that customers could buy and finish the boat at home. He needed a 'writer' that could take the builder's construction plans and develop a 'do it yourself' set of instructions.
We are still trying to find out more about the whereabouts of this very special model that George O'Day commissioned, and inquiries with the Baker family and Hoyt families are pending. In many ways, it was The First Dolphin(s). In Jim Huxford's Dolphin 24 website Jim had an excerpt from Addicted to Sail with this title - that excerpt appears on the George O'Day page. This is an apci.net web fragment Click here to go to the original Huxford web page.
It is not clear whether or not a set of building instructions was ever developed, but we know kits were sold. Early S&S 1960's file correspondence with O'Day mentions the sale of kit boats. Your webmaster has a special interest in this matter as his Marionette, started life as one of 3 kits sold to 3 'home builders' in Westport, CT in 1960 - in her case a bare fiberglass hull, with all the other components built of wood.
In the meeting mentioned above George O'Day says to Bob Baker "Bob, there's a boat show in a week and I need a model that shows the interior and exterior by then. We're not building this unless we get at least 10 orders. Can you do it?"
The excerpt from the book appears on pages 182-184 in the chapter entitled My Days with Bob Baker. Here it is - starts at end of page 182.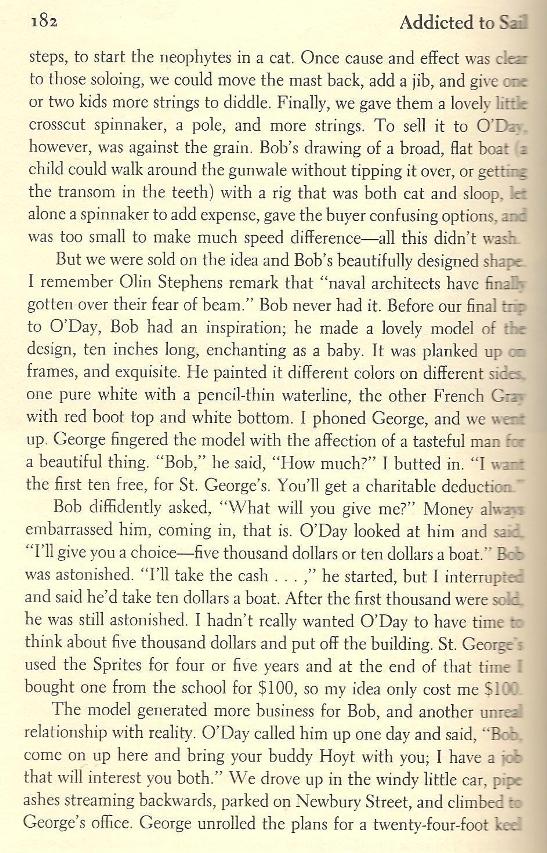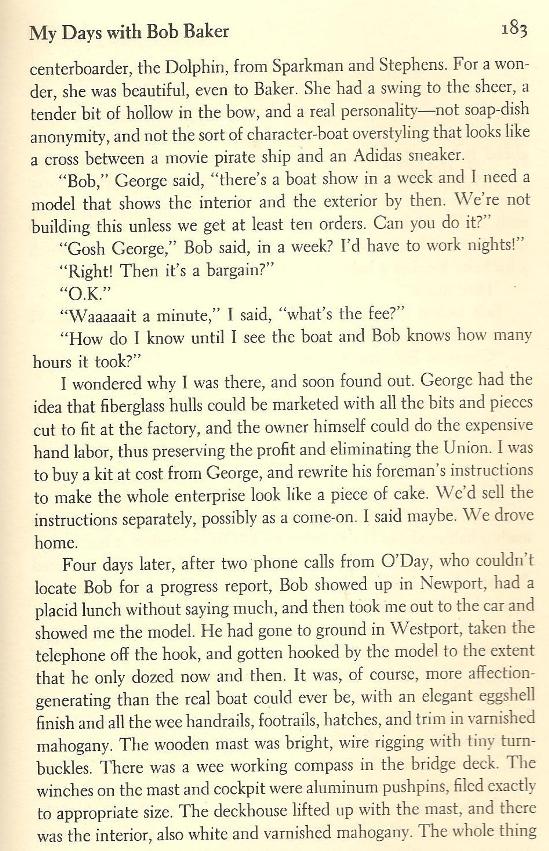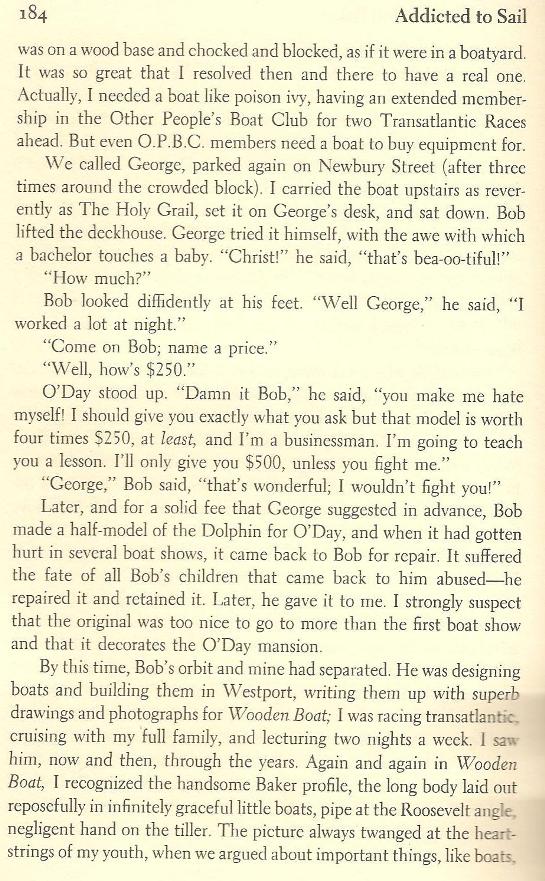 The timing of this meeting is unknown but interesting. The Dolphin 24 birth certificate, dated December 8, 1958, indicates that Olin Stephens was going to get preliminary drawings done with in a couple of weeks for Geoge O'Day's review, with the idea that they could be available in a 'more finished condition' for the Motor Boat Show. The final drawings were issued on April 16, 1959 so the Motor Boat Show that Olin was referring to, and that George O'Day says he needed the Bob Baker model for must have been the January, 1959 New York Boat Show.
There is another excerpt in the book that is interesting. Telltale was in fact a kit boat that Norris was finishing himself. With all his other sailing activities, work on the boat was slow, and Norris discovered he had allergic reactions to the glass and resin work. It seems that his friend Francis Ballard (who was also a partner in Quartet, later High Times, and now Fred Croft's Flipper), was the caretaker of this boat up in Sorrento Harbor, Maine for 3 years.
Sturgis Haskens, the local Sorrento Harbor historian, took a picture of the harbor from the steps of his mother's house, he thinks, in 1972, and sent in a copy - there they were, the 2 Sorrento Dolphins. In the picture at left Telltale is the boat with the light blue house, Quartet is off her transom. For more on the Sorrento Dolphins, and larger pictures, click here.

We are gradually getting more of Telltale's story. In his book Norris talks about her on pages 112 and 114 (page 113 is an unrelated picture). Here are copies of the pages.
We are gradually getting more of Telltale's story. In his book Norris talks about her on pages 112 and 114 (page 113 is an unrelated picture). Here are copies of the pages.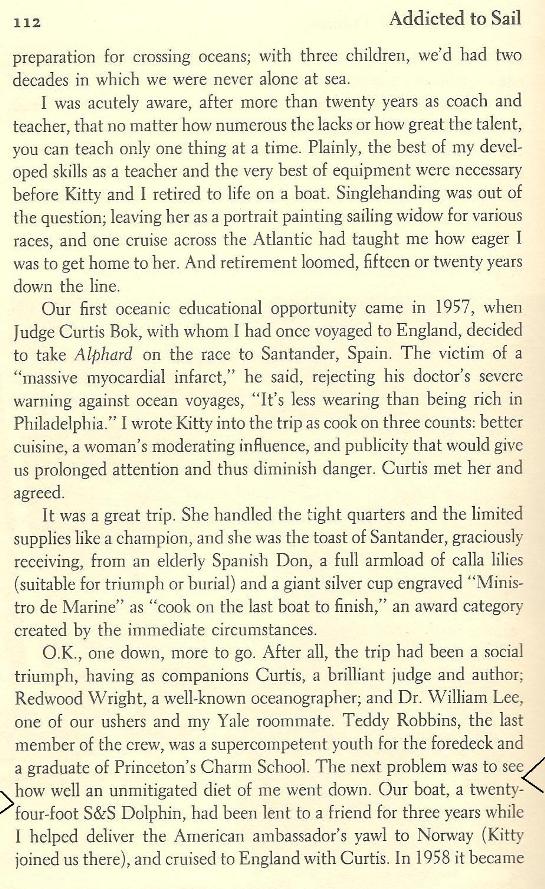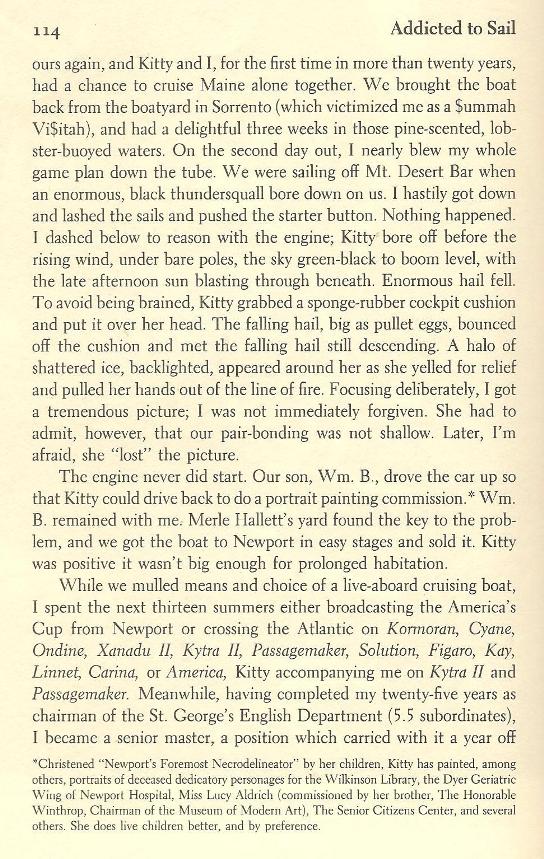 Note that the bottom of page 112 the words/date "In 1958..." it seems impossible that this date is correct since the Dolphin 24 was conceived in late 1958 in a discussion between George O'Day and Olin Stephens (see Birth Certificate), the design completed in April, 1959, and the first boats delivered in 1960. Could this be a misprint and the actual year is 1968? It seems yes, according to Norris' 'kids' William and Minnie - 1968 is probably right.
************************
August 5, 2010 Your webmaster, still in the hunt for that "First Dolphin" model that Bob Baker built for George O'Day back in 1959, wrote to Miriam O'Day a few days ago explaining what we were up to and enclosing copies of the above. Last night she called and we had a simply delightful conversation. She knew Norrie Hoyt but had no idea what happened to that model. We both enjoyed talking about George and her recollections of those happenings 50 years ago. She recalled Palmer Scott (Marscot Plastics) and she mentioned the O'Day family stayed for a week at the Hoyt's house in Newport during one of the America's Cup trials - and meeting Olin Stephens in Newport while she was there - simply 'the most charming man"!
Miriam has a George 'closet' with a lot of his records and she will discuss our search for this model with her son Mark (Dan Spurr used Mark as a source for O'Day related information for his book "Fiberglass Boats and the Men who Built them")
****************
August 14, 2010. I finished Addicted to Sail and near the end on page 210 found this tidbit about the connection beween Norrie Hoyt and the Ballard family that eventually led to Telltale's 3 year stay with Francis Ballard at sorrento Harbor, Maine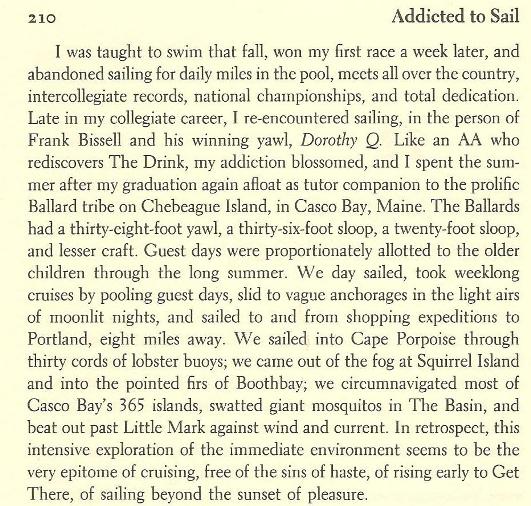 Stay tuned
August 21, 2010. Al See, Elation, a Shaw 24 in Dallas, Texas, adds some info and perspective on Norrie(y) and Telltale.
Ron
Saw the bit on Norry Hoyt and the Dolphin 24 "Teltale"on the site. Small world. I am a member of the class of 1968 at St. Georges.

Norry was my advisor, springboard diving coach and taught me Black & White photography form load bulk film into cassettes, to developing the negatives, to enlarging the negatives, to serving as a photographer for the yearbook for which he was the advisor.

I distinctly remember 'a boat' under a tarp on the north side of his apartment attached to Dimon North dorm. I also remember mention, at one or more of the many yearbook sessions at his house, of Norry being allergic to fiberglass.

The boat was there when I arrived in the fall of 1964. I regularly walked past it on my way from my room in "20 house" to classes in the "New Schoolhouse". I'm fairly certain, it was gone by my graduation in June 1968.

In 1978 I was back for a Reunion and had a sail with Norry on a 40 footer he was sailing all around also named "Teltale". I remember, returning to the mooring after the sail, that he was recently arrived in the harbor and uncertain of exactly which mooring off Ida Lewis was his. So he dropped the jib, sheeted the main in hard and cruised the boat as if she was under power. That was Norry - don't bother with the engine when you can do it under sail.

If you run into Wimby or Minnie Hoyt again please tell them I say hello.

Best regards,
Al See
Shaw 24 "Elation"