September 2, 2014. We have set up a new page for O'Day #41 - now that her name is Paper Moon. Click here to go there.
**************************************
Flipper
November 28, 2009. Stay with us - this is a little complicated. We first heard from Fred on April 23, 2009 with the following email
Hey Ron,

Nice site. I've got an O'Day 24 built in 1961 that I sort of cleaned up and escaped Maine on. It's a continuing saga. Sign me up.

Fred Croft
Five months later we got an email from Zack Beatty and dutifully logged in another Dolphin contact, with no connection made to Fred's April email.This initial contact got lost, and no follow up connection established, because the email originated from Fred's friend Jim Wallen's email address - and was 'filed' that way. A copy of this email surfaced in our Dolphin loose ends database a few days ago. Only then your webmaster realized that Fred was the guy escaping Maine with the Dolphin, not Jim.
*******************
September 7, 2009 DFI (Dolphin Field Investigator) Zack Beatty reported a Dolphin sighting at the harbor in Menemsha Pond on Martha's Vineyard. The boat 's name is Flipper and hails from Rockport, Maine.
Your webmaster was at this very (small) harbor in early August, camera in hand, but missed Flipper - maybe she was out. The following is a composite (edited) of Zack's 3 emails and the pictures he got.
Hi Ron

Great website! I'm on Martha's Vineyard, and I had never heard of a Dolphin 24 until I saw one here. The owner mentioned that name, and so I did a Google search, and found your site. It's docked in the water at Menemsha Harbor in Chilmark, Mass (west side of Martha's Vineyard). I presume it's just for the summer. You missed it because the boat is docked on the other side of the jetty/dock, towards the main channel. Instead of turning right on Dutcher Dock Rd., you would continue straight past the Homeport Restaurant and the General Store. The road ends at the bike ferry, and this sailboat is docked next to it.

I had my camera, and managed to take some shots! However, I was not able to meet the owner. I'm not sure if this boat is already cataloged on your site, but on first glance, it seems like this might be a new one.


I left the owner my business card, and I hope to hear from him soon. I also left my contact info with the Menemsha Bike Ferry operator, who is friends with the Dolphin owner. He promised to pass on the word. When I hear back from him, I will be sure to pass on his info to you.

Best,

Zack

capped fiberglass combing - a key indicator for year and builder

Stay tuned
October 29, 2009 (updated/corrected November 28, 2009). With the help of harbormaster Denny Jason, assistant habor Master Virginia Jones, and friend Jim Wallen we finally tracked down Fred Croft. He and Flipper were still tied up next to the bike ferry at Menemsha Harbor, trying to decide whether to haul at Martha's Vineyard, or sail her back back to Maine.
Fred has had the boat for about 5 years. He bought her from a Dr. Rick Renner of Kittery Point, Maine who kept the boat in his yard at Kittery Point. When Fred got the boat it was at Dions Boatyard in Kittery. One piece of history is that this boat spent 25 years of her life on Lake Winnepesaukie, New Hampshire. She did not have a name on the transom when Fred got her.
Flipper has an Italian made diesel engine - brand name Arona. And Fred told us the hull number, # 41 - reading it right off the nameplate. We asked for a picture.
We're looking forward to more info about this boat - and Fred's adventures with her. Stay tuned.
********************
November 28, 2009. We have heard from Fred. He and Flipper have left Menemsha and are safely tied up in Patchogue, Long Island, NY - good thing - there has been a gale blowing in this area the past couple of days!! They are leaving Monday, November 29 - heading south!! for sunnier climes. Next major stop is Delaware. Fred promises to stay in at least sporadic touch and is working on how to share his log with us.
We are standing by - bon voyage, Fred!
****************
December 6, 2009. Fred and Flipper have checked in. They are now in Barnegat Bay, NJ waiting for the weather to clear - rain and snow flurries in NYC on Dec 5. Here is his email
Ron, We made Shinnecock Inlet on Long Island in exactly 24 hours and then travelled westward on the bays there until exiting at the Fire Island Inlet about eight days later. Arrived at the Barnegat Inlet in New Jersey on Dec. 2nd after another 24 hour slog to weather. The boat is holding up nicely. We have been meandering southward on Barnegat Bay ever since waiting for the weather to lighten up. Will keep you posted. Fred
We are working on a chart view that can track Flipper's voyage - patience
*****************
Here's some pictures taken by a friend of Flipper leaving Martha's Vineyard, and Flipper's track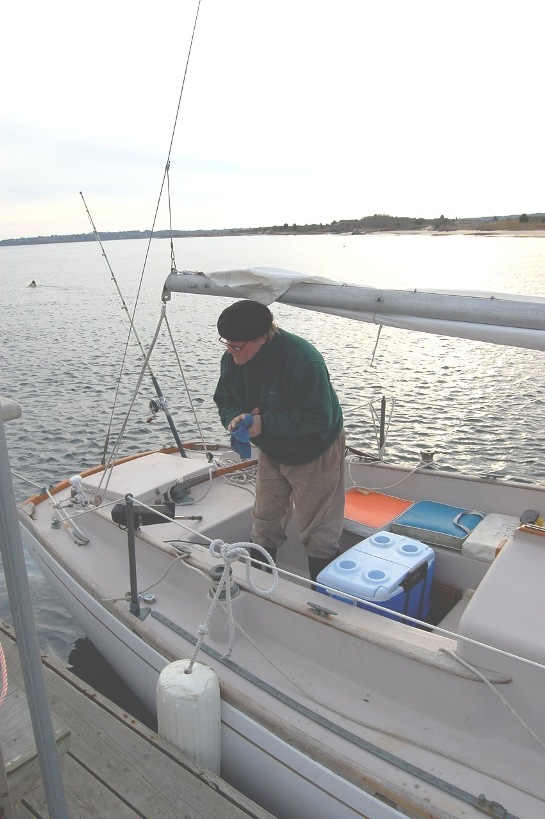 Lets see, fishing rod, autopilot, beer - we're ready!
Leaving Menemsha, you take a left heading SW on Vineyard Sound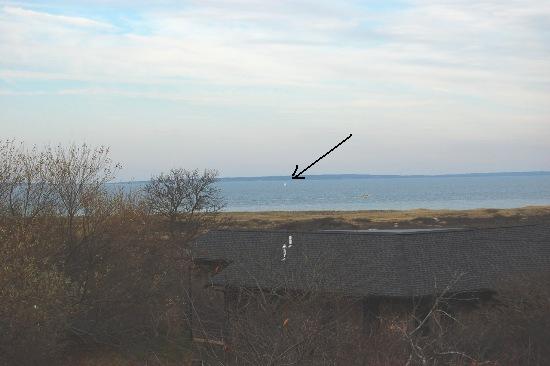 On Vineyard Sound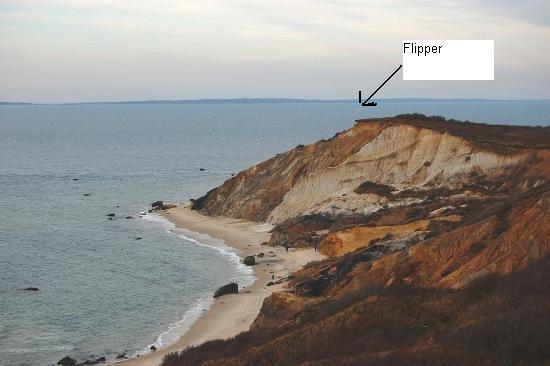 Flipper off Gay Head, Martha's Vineyard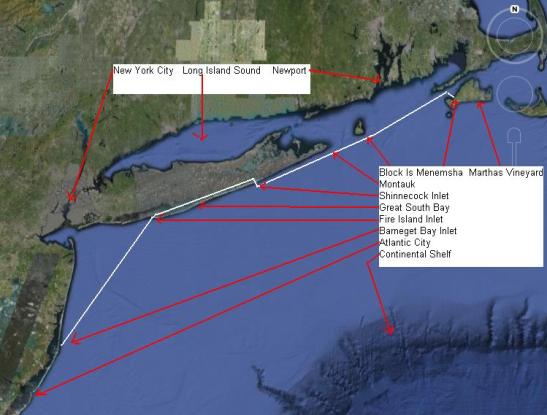 We'll be better at this by the time Fred reaches Antigua, or wherever he's going
Click here to go to a larger, clearer view
*****************
December 16, 2009. Fred has checked in again, this time from Chincoteague, Virginia (this is near where the wild ponies roam the dunes). Originally he was intending to make for Delaware Bay, then up to the Delaware/Chesapeake Bay Canal for a cruise down Chesapeake Bay, past Annapolis, mostly, hopefully on a nice reach. Not to be - a strong SW breeze changed that plan. He left Beach Haven Inlet, about 12nm north of Atlantic City, NJ on December 7 and reached Ocean City, MD at 4PM the next day. His email (minor edits) follows, as well as another attempt at a Google Earth course overview.
Hey Ron,

Since my last missive we have departed Barnegat Bay by the Beach Haven Inlet on Dec. 7 in the teeth of a 30 knot SW breeze trying unsuccessfully for the Delaware Bay but could only fetch Ocean City, Maryland at around 4 pm on the 8th. So much for cruising the Chesapeake. But Chincoteague Bay is not without it's charms. Especially the island and village of Chincoteague. I've never seen such middens of oyster shells.

The weather has turned decidedly worse both in terms of temperature and storm frequency. There were two mornings I woke with ice coating the interior of the cabin roof and sides. Brrr. The starter hasn't turned over since Ocean City and I am here in Chincoteaque until I solve the problem.

Fred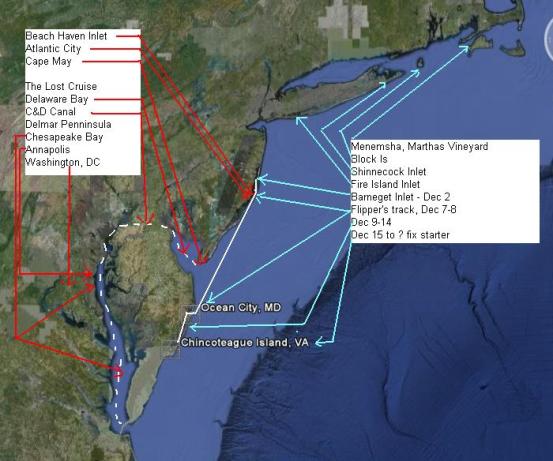 not much better graphically but... Click here for a larger view
For some reason Google Earth has 'blacked out' the detail of Chincoteague Bay which is the 25 mi +/- inside passage from Ocean City, MD to Chincoteague island in Virginia. The barrier islands of Assateague and Chincoteague are National Seashores and Refuges

*****************
December 18, 2009 - email update from Fred, re his engine trouble and weather...
Hey,

The Arona (an Italian made diesel) appears to have seized itself up somehow. The last time it ran (at Ocean City Inlet) I turned it off with the engine stop and it's been stuck ever since. I'm looking on line in the Norfolk (VA) area for a cheap, used ,running, take-out like a Volvo MD2 or something. I knew this would happen eventually. I'm waiting out a major winter storm due to hit tonight and last until tomorrow night. Snow expected!!

Fred

Marine Weather Forecast, Fred's area, copied from our website link

ANZ650-652-190500- COASTAL WATERS FROM FENWICK ISLAND DE TO CHINCOTEAGUE VA OUT TO 20 NM- COASTAL WATERS FROM CHINCOTEAGUE TO PARRAMORE ISLAND VA OUT TO 20 NM

352 PM EST FRI DEC 18 2009 ... GALE WARNING IN EFFECT FROM LATE TONIGHT THROUGH LATE SATURDAY NIGHT ...

THROUGH 7 PM... N WINDS 15 KT...BECOMING NE. SEAS 2 TO 3 FT...MAINLY NE SWELL WITH A DOMINANT PERIOD OF 6 SECONDS. A SLIGHT CHANCE OF RAIN.

TONIGHT... NE WINDS 15 TO 20 KT...INCREASING TO 25 TO 30 KT WITH GUSTS TO AROUND 40 KT. SEAS 4 TO 5 FT WITH A DOMINANT PERIOD OF 6 SECONDS... BUILDING TO 8 TO 10 FT WITH A DOMINANT PERIOD OF 5 SECONDS. A CHANCE OF SNOW EARLY IN THE EVENING. A CHANCE OF RAIN IN THE EVENING...THEN RAIN AFTER MIDNIGHT.

SAT... NE WINDS 30 TO 35 KT WITH GUSTS TO AROUND 45 KT. SEAS 10 TO 13 FT WITH A DOMINANT PERIOD OF 8 SECONDS. RAIN.

SAT NIGHT... N WINDS 30 TO 35 KT...BECOMING NW 25 TO 30 KT AFTER MIDNIGHT. GUSTS UP TO 45 KT. SEAS 8 TO 10 FT. RAIN WITH SNOW LIKELY.

SUN... NW WINDS 20 TO 25 KT WITH GUSTS TO AROUND 30 KT. SEAS 5 TO 7 FT. A CHANCE OF SNOW IN THE MORNING.
We'll be thinking of you, Fred. Take Care
*****************
December 21, 2009 Fred checked in with a couple of short emails and some good news from Flipper tied up at the municipal dock (behind the American Legion hall - see below) in Chincoteague - consolidated and minor edits.
Ron

We only got about an inch of snow here on Chincoteague. Talk about dodging a bullet. It did blow about 50 though, sleet blowing in under the companionway and rocking....

Fred

| | |
| --- | --- |
| Chicoteague Island | Town dock - center left |
*********************
January 4, 2009. We got the following report from David Baumer, Yankee # 81. Flipper is now at Cobb's Marina on Little Creek in Norfolk, Virginia, arriving on Christmas Day from Chincoteague. Island, without the help of her engine. Dolphinites are following Fred's and Flipper's adventures and we thank David for his report. .
Hi Ron

I talked to Fred Croft before the Holidays while he was holed up in Chincoteague. I was headed south to Spanish Fort, Alabama to spend Christmas with family; but suggested to Fred that he try and make it to Cobb's Marina on Little Creek in Norfolk, Virginia to either repair or replace his Arona two cylinder diesel which has seized up on him. Upon my return to Virginia Beach I found that Fred had made it safely to Cobb's Marina on Christmas Day. Cobb's is a quite place between Christmas and New Years; and I found Fred in one of the transient slips working on his engine. I really did not know how to help him mechanically, so I brought him home to show him a Yankee Dolphin and feed him a little southern New-Years food. We looked for a replacement engine with out any luck. But tomorrow he will have access to more people that should be able to help.

David Baumer, Yankee Hull 81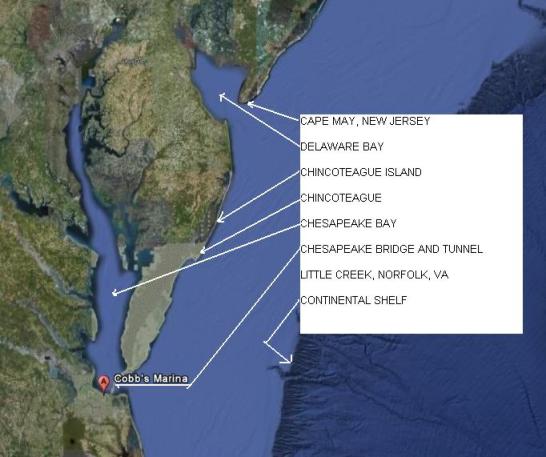 From Chincoteague to Cobb's Marina, Little Creek is at least 100 miles on the rhumb line outside - longer probably longer weaving inside Virginia's eastern shore islands, see below. We'll be interested in hearing from Fred about this trip! For some reason Google Earth does not give good detail on Virginia's eastern shore. The following map gives a better idea - Chincoteague is at upper right corner, the start of the Chesapeake Bay Bridge Tunnel is at the bottom.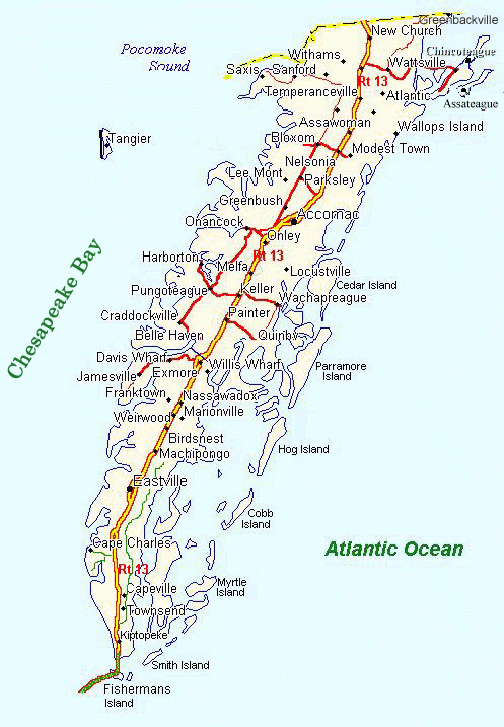 Looks like a great cruising area - but maybe not in December?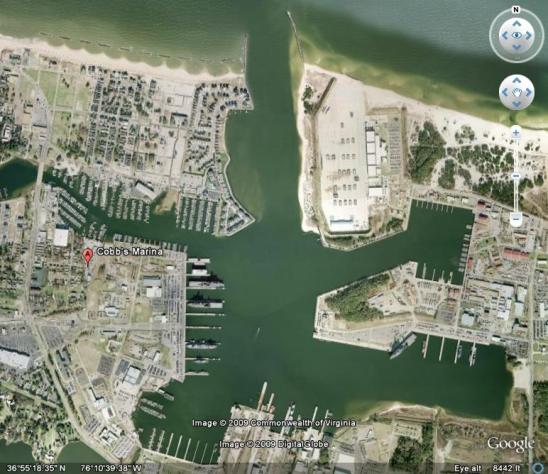 Flipper will be well protected in this harbor - and not just from the elements! Little Creek/Norfolk is part of the US Navy's Hampton Roads complex and home of the Navy Amphibious Task Force units. Those larger Navy ships are helicopter carriers center and center right. Cobb's Marina is upper center left.
********************
January 17, 2010 Well, we heard from Fred so those of you who have emailed me about what's up with Fred can relax. At least I don't have to develop another chart! Here's his email:
Hey Ron,

I have re-surfaced. There's been nothing of importance to report since arriving here with the notable exception of David Baumer who, along with his wife and kids, have provided me with untold generosity and merriment.

The good news is that I have finally located and bought a Yanmar YGM8 one cylinder eight hp running take-out that I will be replacing the ill-fated Arona with. I kind of hate to see the Arona go but, heck, it's just dead weight the way it is and we don't need any of that on a Dolphin. I'm scheduled to re-power next week. I'll keep you posted.

Fred

September 3, 2019 Webmaster Note: Eufrasio Volpe, the new owner of #41 gave us the following update on this motor.

I want to make a correction regarding the replacement diesel engine that Fred installed some 9 years ago. As the young mechanic whom I had hired to start the engine and replace the belts and impeller did not complete the job; I began to look for a Yanmar engine manual. Originally it was stated that the engine Fred purchased was a YGM8.. I can assure you that there is no such thing, however the correct model is: YSM8-R Built by Yanmar in 1990.
One question your webmaster gets often from readers is 'how is Fred keeping warm' when on Flipper. So I asked him.
I bought a brand new, still in box, Pelonis electric heater at the thrift shop on Martha's Vineyard last spring for ten bucks and it has been (literally) a lifesaver. Shore power comes with the slip rental. When off-shore I rely on goose down and the cook stove. Will send more later.

Fred
Undercover DFI (Dolphin Field Investigator) "MGH" checked on Flipper this afternoon. Fred was not aboard but Flipper looks like a 24'er being being lived on..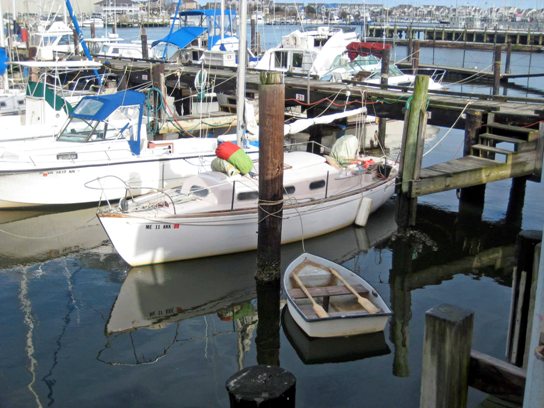 Flipper at Cobb's Marina, Little Creek, Norfolk, Virginia
**************
January 18, 2010 Fred checked in with the following email.
The situation here at Cobb's, while comfortable and congenial, is not exactly ideal. For some reason they won't haul me without insurance on the boat. I've always felt that insuring a boat just invites disaster; hence no insurance. The yard across the creek will haul me out to replace the engine.

It's the rigid centerboard pennant tube that throws the wrench in the works: it's right in the way. I'm going to replace it with hose. Also when I careened the boat in West Basin, Aquinnah (Gay Head, Martha's Vineyard) to paint the bottom, I couldn' get the very bottom of the keel. Plus the centerboard is good and stuck from going aground so often. The sounds I sailed in look like they're full of water but, trust me, they're pretty shallow pretty much everywhere but the marked channels. The board is slightly bent and sticks in the trunk at any opportunity. I'm going to address that problem probably with a 16lb sledge. It's interesting that Cicerone has a one-cylinder Yanmar. I guess they work in Dolphins.

I have to walk up to McDonalds to get on-line. They call 'em McCafes now. Internet hot spots. Pretty savvy move really. I have to say the cappaccino isn't half bad. But I missed Mona ("MGH", the afore mentioned undercover DFI) while I was there. I should leave a note when I go off. Anyway, I'm getting a digital camera so I can record the salient points of the rest of the voyage. (Good News!)

I'll be in touch.

Fred

*******************
February 3, 2010 (updated Feb 12, 2010) . David Baumer, Yankee #81, filed the following report on what's going on with Fred and Flipper. Fred is showing those of us with our feet up in front of the fire how its done...
Hi Ron,

My sons and I checked in on Fred Croft today. I wanted to go this weekend, but Hampton Roads had a little snowfall and that created dangerous driving conditions. Coastal Virginia drivers are a little scary on icy roads. I stayed home for three straight days. Today brought temperatures of around 42 degrees and late afternoon rain that fell on icy neighborhood streets. The major roads are clear. I just hope the streets dry before it freezes again.

We found Fred hauled at Cutty Shark Marina across the creek from his last reported location on Little Creek. He continues the installation of his new a one cylinder Yanmar YGM8 diesel (8 hp). I took photos of the new and old engines and we went to lunch. Fred was waiting for a new and longer shaft from Bay Propeller Co. as the one cylinder Yanmar is much shorter than the old two cylinder Arona.

| | |
| --- | --- |
| | A tight sqeeze |

Despite the unseasonable weather, Fred has taken advantage of being on the hard. He cut off the fiberglass tube for the centerboard pennant and is going to replace it with some soft walled exhaust hose. This measure allowed the old Arona diesel to swing out of the boat in one piece. Fred also put a fresh coat of gold paint on the dolphin cove stripe, and Cetol on the toe rails. The bottom and centerboard got a coat of antifouling paint. It looks like Fred will be chugging down the Intracoastal Waterway soon.

David Baumer

******************
February 7, 2010. Last night Fred sent in an update which appears below
Today, David Baumer (Yankee Dolphin #81) drove me out to the specialty lumber store (Yukon Lumber in Norfolk) to buy two pieces of white oak that I will use to bridge the engine logs and better fasten the motor mounts. We then went to the Home Depot for stainless fastenings and tools; barely escaping the brunt of the current nasty weather. We are hunkered down here in his house in Viginia Beach and preparing a shrimp gumbo to help ward off the chills. Life could be worse.

Fred
Norfolk/Little Creek, Virginia, where Fred and Flipper are located, dodged most of the blizzard bullet that hit Washington, DC today, as local temperatures were higher and they had rain. This was turning to snow flurries Saturday night. Here is the webcam in Norfolk at 6:40PM, Feb 6, wind at 23 knots.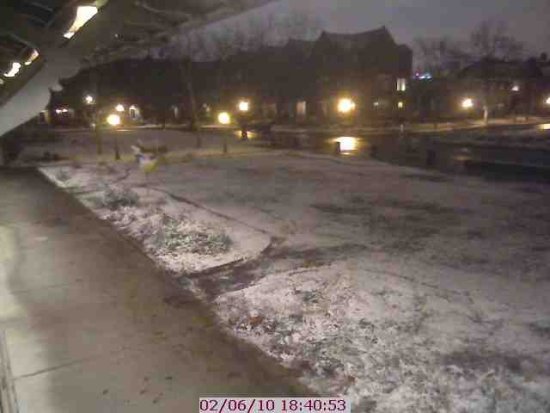 ********************
February 10, 2010 (updated February 12). Rick Renner, Kittery, Maine, who owned Flipper for 28 years, checked in with some history. When he had this boat her name was High Times. He bought her in Sorrento, Maine from 2 couples who had named the boat Quartet. Below is his email with minor edits. We are following up with Rick and contacts in Sorrento for more information, and hope to get Rick to send us a couple of a pictures. Click here to go to High Times
********************
February 11, 2010 (updated Feb 12, 2010) Fred Croft has successfully test driven his new camera and sent us the following photo and email - minor edits.
I'm gonna try and do it now!! I'm sending a picture of the nameplate that you asked me for last summer. Here goes nothing. Let me know if you get it. I have subscribed to a 3G thing so now I can access the web wherever there is Verizon coverage. I'm slowly making it into the 21st century. No rush.

I was thrilled to see you've found Rick Renner and got some history of the boat that I didn't know.

Fred

**************************
February 11, 2010. This page has been getting totally out of control and needs reorganization - this is in progress. However, In the meantime, a new Dolphin Field Investigator (DFI) has surfaced. He is Sturgis Haskins of Sorrento, Maine. With blizzard Barbara raging outside it seemed to your webmaster that a few calls could and should be made to sunny Maine to find just the right person to help track down the history of Flipper/High Times/Quartet. These all ended up with Sturgis being the guy to talk to! When I spoke with him, he said yes, he remembered Quartet and gave me some information that will lead, hopefully, to a more fully developed history of this boat.
After some recollecting time Sturgis mentioned that he recalled that there were 2 Dolphins in the harbor back in those days - the other boat was named Telltale and it had a light blue deck. He promised to look through his pictures file and get back to me. He did. We call the pictures the Sorrento Duo/Dolphins.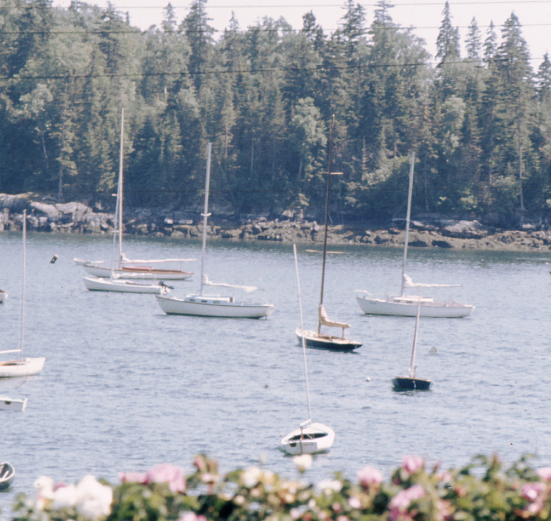 This picture was taken from the porch of his Mom's house. In the center right is Quartet, and in front of her, center left, is Telltale. We are waiting to get more information about both these boats. In the meantime click here to see more of Sturgis' pictures of these boats.
We have started up a page for Quartet - click here to go to it , and a page for Telltale - click here to go to it
**************
February 15, 2010. Fred has sent in a couple of updates, edited and consolidated.
Hey Ron,

I was browsing through the site the other day and saw where someone had rebuilt the original Palmer engine in his 24. I can't seem to find it again but I have removed the original Palmer instrument panel from Flipper and if the guy needs it I will send it to him. It's been "behind glass" and is in mint condition. Free, of course, in keeping with site protocol!! If you know who I'm talking about you could ask him.

Thanks, Fred

P.S. The Yanmar is bolted down!! I've begun re-installing the woodwork and pennant tube and such down below and getting antsy to move on.

Thanks, Fred
Webmaster Note: March 1, 2010. After some study we have found that someone who had rebuilt the original Palmer 27. The panel is on its way to Gary DeLong, Savili, up in Bar Harbor, Maine.
*****************
February 24, 2010. Caroline Huber, who with her husband Michael, co-owned this boat with Frances and Jane Ballard in the 1960s and 70s, advised us a few days ago that she had a model of Quartet in a glass case that the first owner, George Scott, either built personally, or had built. She wanted to give it to the current owner of Quartet, Fred Croft, if Fred would like it. He was very interested!, and asked that the model be shipped to your webmaster for safe keeping as he and Flipper are not ready to receive and care for a delicate model.

The model has arrived in Old Lyme. CT. She is a beauty! There is more on this model on Quartet's page, and posted on the Models page in the Technical Section.
******************************
February 25, 2010 Fred sent in the following picture of Flipper ready for launch, and the following comment on his new model.
"The model is a thing of beauty and a joy to behold!! I have set the photo as my desktop background so it is the first thing I see when I open my computer. The next best thing to being there"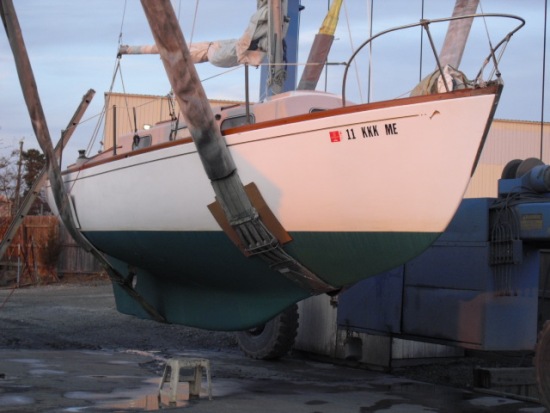 March 1, 2010. Fred reports Flipper's launch last week exposed a leak in the newly glassed centerboard line tube requiring attention and she went back up on the hard. Now that's been done and Flipper is scheduled to relaunch today headed for the InterCoastal Waterway. Stay tuned.
Webmaster Note: Click here for another approach to the leaking pipe issue....
*******************
| | |
| --- | --- |
| | March 3, 2010. Fred and Flipper are now deep in the ICW on the North Landing River just south of the Pungo Ferry Bridge near mile marker #43. The 'new" Yanmar is working well - more on that later. The following is an attempt to chart their progress from Little Creek through Hampton Roads, (mile marker '0" at left between Portsmouth and Norfolk), down the Elizabeth River, through the Albemarle & Chesapeake Canal and down the North Landing River to Currituck Sound. |
Probably, most of us have not made this trip down the ICW. It has a fascinating history, and its own set of challenges. Click here for a link to a descriptive summary from the US Army Corps of Engrs. Click here for a mile marker guide from an unknown author.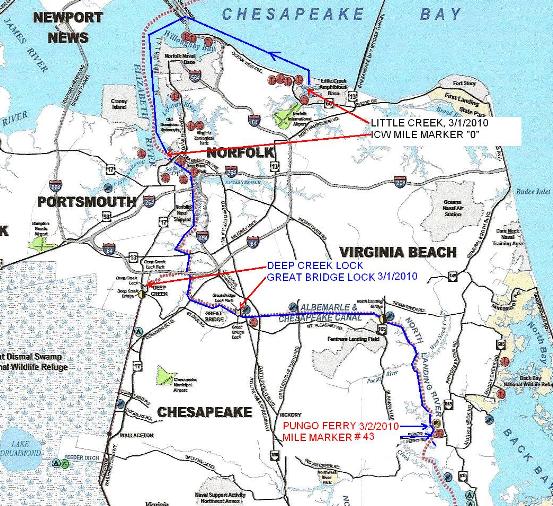 Click here for a larger image - click the back arrow on your browser to return here
Flipper's route on March 1 and March 2 is in blue. The ICW, in red, has 2 options south of Norfolk, the Albemarle and Chesapeake Canal to the east and the Dismal Swamp Canal to the west. Both ending up at Albemarle Sound.
Fred sent in the following email (minor edits) with a report on his motor and some pictures taken at Great Bridge - mile marker 12 just south of Portsmouth..
The new motor is running like a well oiled Swiss watch. The thing is I have no tachometer so it's impossible to calibrate speed to rpm's. By ear I'm guessing about 2500 rpm to about 4.8 knots towing a six foot hard shell dinghy. I did hit 5.1 today in the river but there could be tidal factors. There was definitely a moderate headwind. Any input I can give you is very un-scientific but I must say this older YSM8 is pretty smooth for a one-lunger. Apparently the newer Yanmars have a smaller and lighter flywheel and vibrate more..

I'm typing his by the light of a kerosene lamp. Just a bit of low-tech irony there. I had to wait for the Great Bridge bridge and took some shots I will attach. I am presently aground in a cypress lined marsh just south of the Pungo Ferry Bridge waiting out this next weather insufference. It's starting to sleet now.
March 4, 2010. Fred's latest report - three emails consolidated and edited below.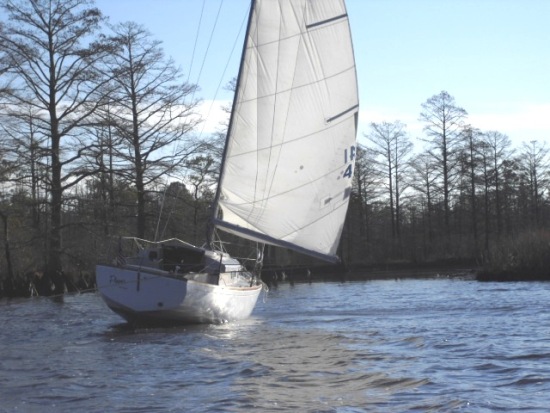 Hi Ron,

The bad news is I'm still aground. The good news is the water that was blown out of the North Landing River by the Nor'easter has begun to return and the angle of heel has dramatically improved. I was visited by the Virginia Beach Marine Police yesterday around 5:00 pm (helicopter and three men in a rubber boat!). I am located at the mouth of that little creek to the upper right. (Click here for a larger view of the picture at left , use your browser back arrow to get back here)

When I came in here the water was pretty high but the northerly wind has blew the water away. I am just East of the green marker 43 in the little horseshoe channel south of the Pungo Ferry Bridge where the chart said 7, 9, 11 feet of water. It lied. Don't envy me!!

I'm actually in the horseshoe inlet at the mouth of the creek at the easternmost part of it. I have to say there's good clamming in that little creek. Linguini and clam sauce tonight! The wind is still howling out of the northwest at about 25 and will continue until tomorrow so there's little to be done. I've lead a line to a cypress stump that's connected to the main halyard to heel her over and set another anchor out that will keep the bow from swinging towards the shore.

I got a quote from Towboats USA for $1,050. Yeah, right. We'll see what tomorrow brings, less wind I hope.

Fred
Click to see where this is on a larger scale
use your browser back arrow to get back here
March 8, 2010 Fred got Flipper free of Clam Creek on March 5, crossed the Virgina/North Carolina state line and entered Currituck Sound. A close encounter with a tug and barge behind them, at ICW Mile Marker #50, Coinjock Bay, they went back 'inside' and spent the night anchored at Buck Island at ICW Mile Marker #57.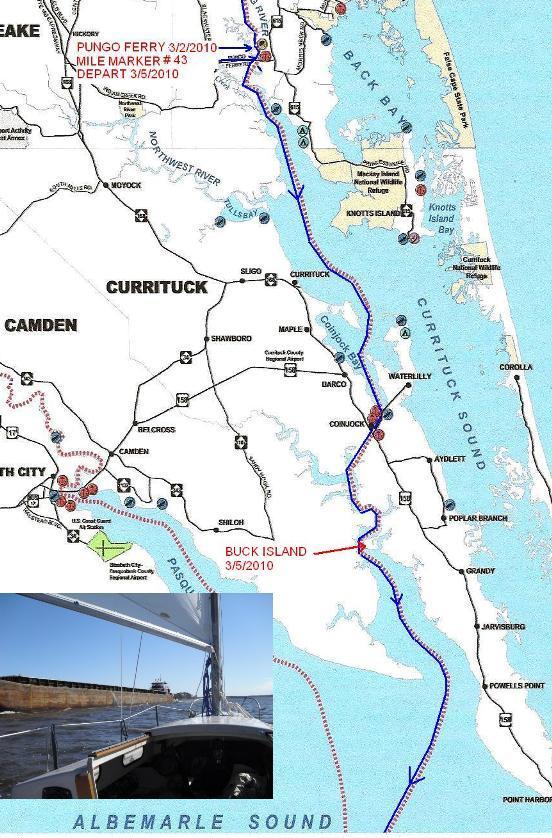 We now move to our next 'chart'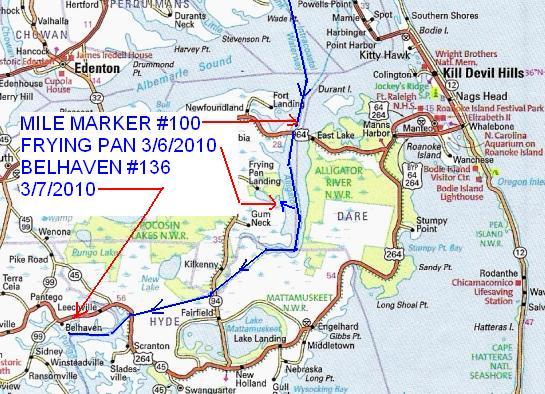 After crossing Albemarle Sound the ICW enters the Alligator River at Mile Marker #100. Fred and Flipper spent the night of March 6 inside the entrance to 'The Frying Pan" lake on the western side of the Alligator River. Then they entered the 23 mile long Pungo Canal to the Pungo River and Belhaven at ICW Mile Marker #136 - where Flipper is now. We're working on a better chart/map....
Fred's email this morning follows :
Hi Ron,

Friday night I anchored between markers 147 and 149 just northeast of Buck Island right up against the shore of the marsh. Saturday night I anchored in the lake at Catfish Point which is on the western side of of the Alligator River at 35 degrees 46 minutes and76 degrees 04 minutes.. An idyllic spot if there ever was one.

Last night I anchored to the south of Belhaven in Pantego Creek where I hope to find some diesel fuel this morning. The weather is beautiful; in the fifties and bright sun. Warmer tomorrow!! Finally!! I'm attaching some random shots for your perusal; close encounter with a tug and barge just north of Coinjock, a huge flock of swans south of Coinjock and sunset at Belhaven.
March 10, 2010 - Fred and Flipper are now in Oriental, ICW Mile Marker # 181, the sailing capital of North Carolina, tied up at the town dock. Fred reports 70 degrees and spring cleaning time for Flipper.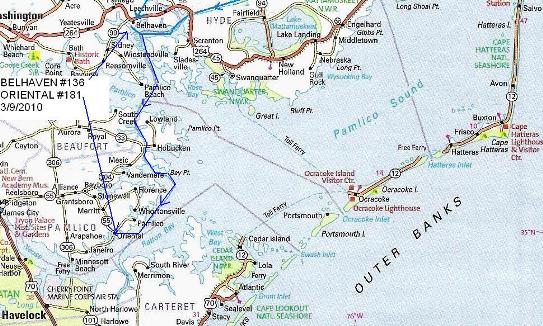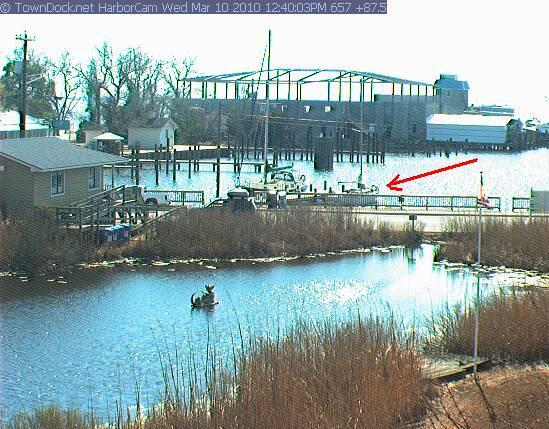 This is a long shot but the above picture is from the Oriental Harbor Web Cam, 12:40 PM Mar 10. Is that the Town Dock? Is that a Dolphin? YES! That is the Town Dock!!! The web cam updates every 10 minutes, maybe we can get Fred to wave...
******************
March 14, 2010 Fred and Flipper are now in Beaufort, ICW mile marker # 204 waiting for more favorable winds for the next leg south.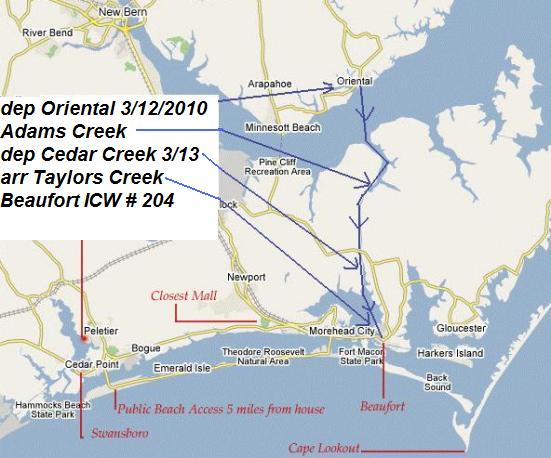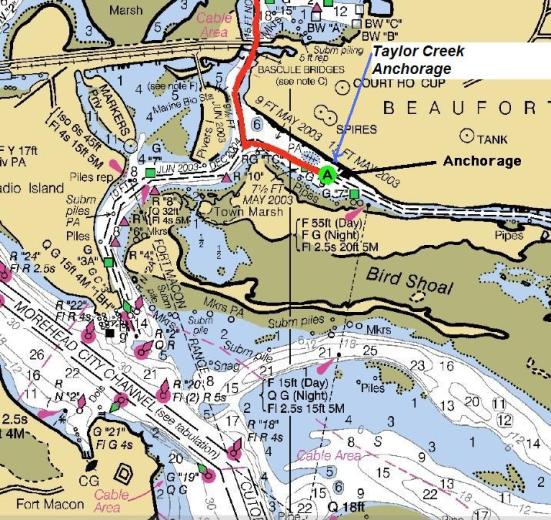 March 15, 2010 Fred's email...
I am anchored in what I believe they call Taylor's Creek. My lat/long is34 degrees 42.766 mins/ 76 degrees 39.615 mins. Two nights ago I anchored in Cedar Creek (off Adams Creek) at 34 degrees 56.075 mins, 76 degrees 38.460 mins. I hope to go outside from here but I need for the breeze to lighten and move to the north some before I go out there
March 18, 2010. Flipper is on the move between two of the three North Carolina Great Capes - Cape Lookout and Cape Fear. Current position and Fred's email (minor edits) below: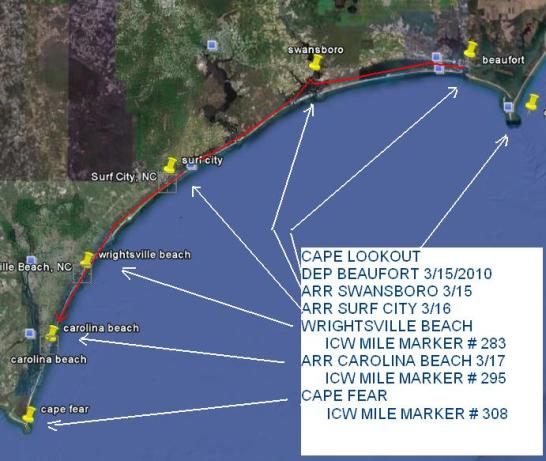 Hey Ron,

Let's see... where am I? This is all becoming a blur. I left Beaufort and motored to Swansboro where I anchored for the night and fueled up in the morning. I managed to find kerosene for my lamps and beer for the cooler. Bought my first ice since leaving the Vineyard. I believe my co-ordinates were: 34 26.065'N by 77 32.792'W. Last night I anchored north of the Surf City bridge (34 25.87'N by 77 32.98'W) because they close at 7pm. Went to Wrightsville Beach and then continued here to Carolina Beach (34 02.969'N x 77 53.313'W) where I need to find some propane and a chart. Will sit out the rain tomorrow and leave on Saturday. Engine is running strong.

Fred
March 28, 2010 After leaving the ICW at Cape Fear and a long offshore sail to Sullivan's Island near Charlston, Fred and Flipper are now in balmy Charleston harbor in one of the anchorages below. Our cartography staff is still working on the chart presentations covering Fred's route from Carolina Beach, NC to Charleston, SC - this is what we have right now.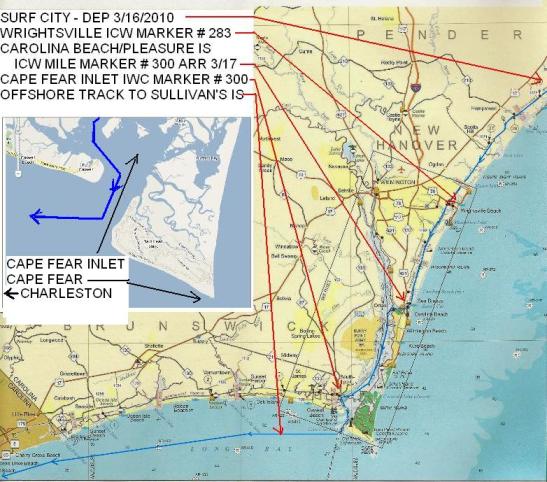 Click on the subtitle for larger images - use your browser back arrow to return here
Here are Fred's consolidated and edited emails
Sorry, I've been meaning to check in but I'm just being lazy here in Charleston. So far so good. I'm anchored by the City Marina in Charleston - it's positively balmy here. Lousy anchorage, though. I've run into several old sailing buddies that I didn't even know were here and it's been like old home week.

My position here is: 32 46.490N and 79 56.838W. At Carolina Beach (Pleasure Island) an old family friend found me a wonderful slip in a great little marina where I rested for a couple of days. Position roughly 34 02.75N and 77 53.50W. From there I exited Cape Fear inlet and sailed down to Sullivan's Island for the night and then motored and anchored near the City Marina. The leg from Cape Fear to Sullivan's Island was a very pleasant reach, 10 to 15 knots of wind with a gentle off-shore swell. It was like real off-shore sailing but on a Dolphin scale. The Charleston breakwater is a little scary.

I have a kitchen timer that I set during the night for 20-25 minutes and "power nap" between ringings. I also nap during the day so as not to be too tired at night. This system is not fool-proof but so far so good. Knock on wood. I only made about 4 knts during that leg.

Right now, it's blowing like stink and I've already dragged once today so I'm going to sign off to keep watch. I WILL keep DolphiNation better posted!!
********************
April 11, 2010. If all went according to plan Fred and Flipper left Charleston last night heading for Georgia. Here is his email.
Hi Ron,

I'm leaving Charleston on the falling tide this evening for Cumberland Island, Georgia (or points in between) so I thought I'd file a brief report on my stay here.

To begin, the city of Charleston is, as most people know, filled with old gracious homes that take one back to the Old South. The Historical Society here does a great job and the people are justly proud of their heritage.

That being said we now turn our attention to the City Marina near which I have been anchored for about two weeks. It's an impressive facility with robust concrete floating docks and a Mega Dock that stretches about 1/4 mile along the shore of the Ashley River. They will rent you a golf cart to get from A to B. Almost any voltage electricity is available along wth telephone and fax lines. High speed internet is just a click away. The showers are immaculate with endless hot water and the laundry room is a real plus. This is all available if you are actually tied up there. If you're anchored out the only thing they offer is a dinghy dock for five dollars a day. No shower, no laundry facilities, no nothing. I have managed to circumvent these stringent policies but, still... Not only that but there are no grocery stores or shopping of any kind near-by. Add to this the fact that the anchorage is deep mud and subject to the tidal currents (4 knots) and you have what basically boils down to something left to be desired. I'll send pics later.

Fred
*******************
April 18, 2010 Fred and Flipper arrived at Jekyll Island, Georgia last night after a boisterous sail from Doboy Sound. Here is an edited compilation of his posts, and an updated course chart. That Charlestown/DoboySound leg is over 120 nm.
Re: Georgia Landfalls

The leg outside from Doboy Sound to Jekyll Island was excruciatingly painful. The forecast sounded ok but it was about 20 knots on the nose. Big mistake; 14 hours of misery. My position here is: 31 05.691'N and 81 26.270'W. Anchored just outside of Jekyll Creek. Too dark to go any further. And too tired. I'll be on Cumberland Island tomorrow.

Landfall at Doboy Sound was absolutely great. Doboy Sound is something else!! What made it exhilarating was the 15 knot breeze over the port quarter which propelled us along at better than six knots. Flipper and I entered at Doboy Sound Friday night at 8:00 pm an danchored at: N31 3.598 and W81 19.009 in a small creek after an exhilarating ride from Charleston.

Fred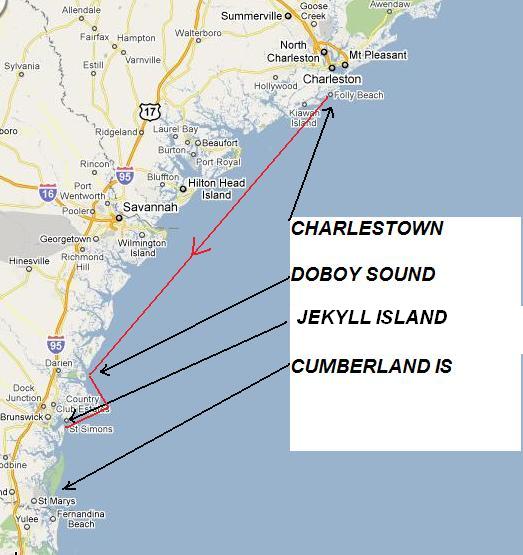 Click on the subtitles for a larger image - use your browser back arrow to get back here

*************************
April 20, 2010. Fred and Flipper arrived at Cumberland Island yesterday. "I'm on the west side of Cumberland in the Brickhill River. This may well be heaven"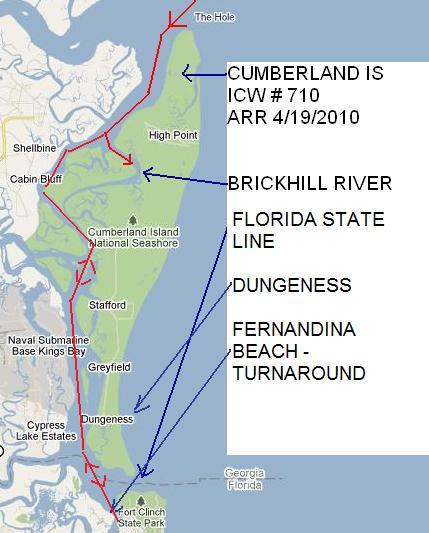 ICW MILE 710, CUMBERLAND ISLAND
Excerpt from Atlantic Coast ICW Guide. "Now famous for the JFK Jr. wedding. Excellent anchorage just off the National Seashore wharf in about 11 feet MLW (go east and then north from R "40", favoring the eastern shore. Dinghy to pier and walk through the woods trails and across to the ocean. Gorgeous place to lie over for a day."
*******************
April 26, 2010 It looks like Florida was the goal and Fred and Flipper got there! And now they are heading back. Here is Fred's email and some pictures - a couple of details to fiil in still...

Flipper and I have made it to sunny Florida. We nipped over to Fernandina Beach for fuel and provisions the other day and I must say the town marina there has it all over Charleston's City Marina. We are currently back at Cumberland Island. 30 53.764N and 81 26.716W. Toured the Dungeness ruins and hit the beach. Now it's time to head her back north. I hope it doesn't take five months to get back to point A!!

Fred's variety store was a real hoot.

Fred



Tree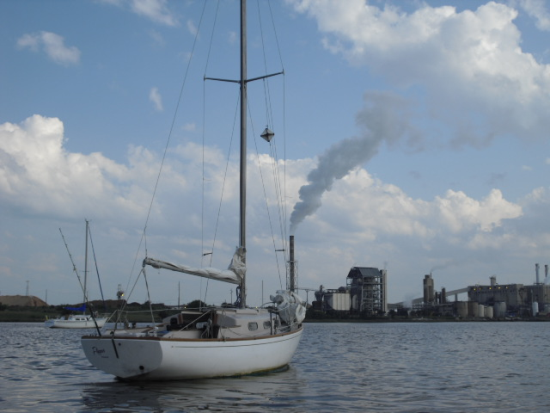 Paper Mills at Amelia Island?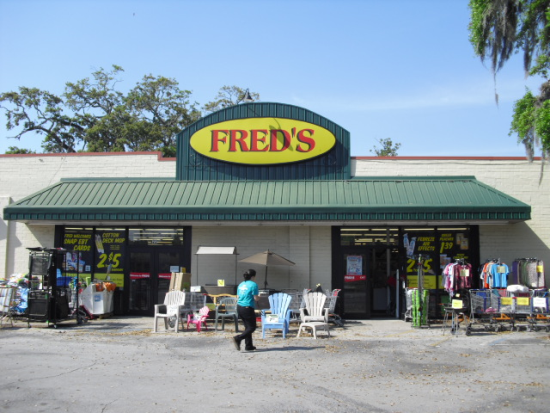 Fred at Fred's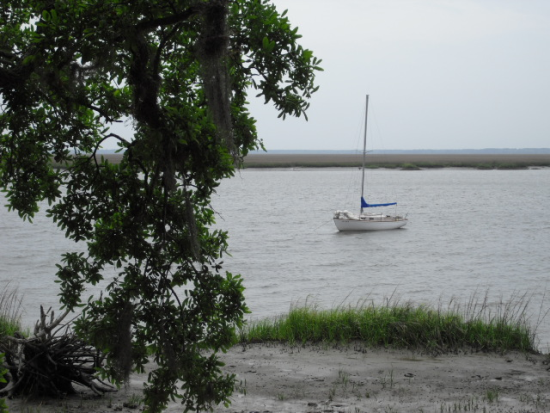 Where?
*****************************
April 28, 2010 Fred and Flipper checked in from Gascoigne Bluff on St Simons Island, Georgia. Here is his email and some pictures.
I'm tied up at the town dock at Gascoigne Bluff on St. Simons Island, GA. Lovely spot. Read the plaques in the pictures. 31 10.084N, 81 24.692W. Nice and hot today.

Fred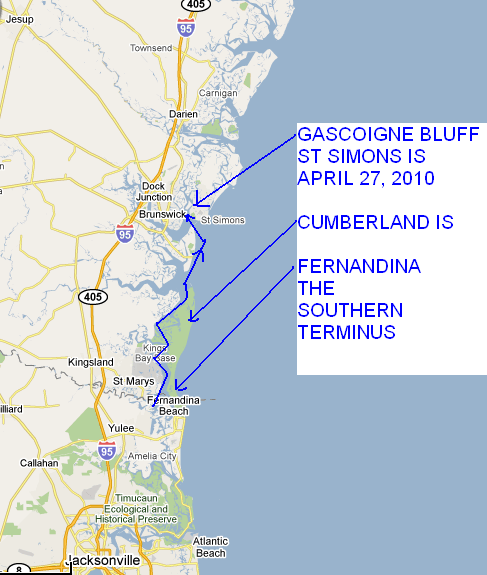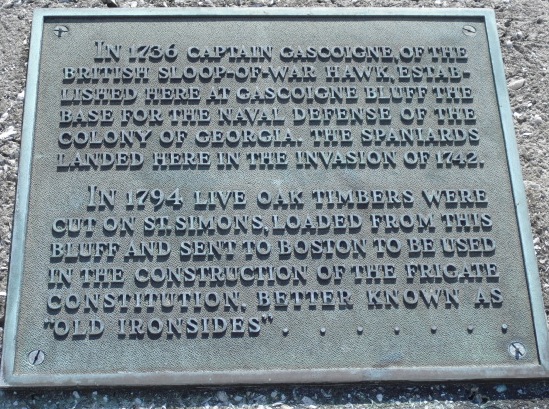 A Bit of History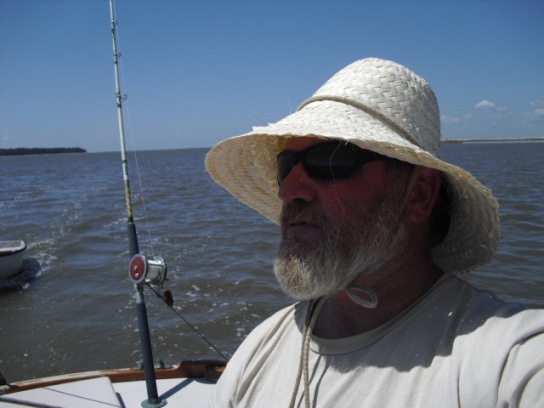 Who's this guy?
************************
May 4, 2010. Fred and Flipper are now at Carolina Beach, North Carolina just north of Cape Fear. Here is his track and update (minor edits):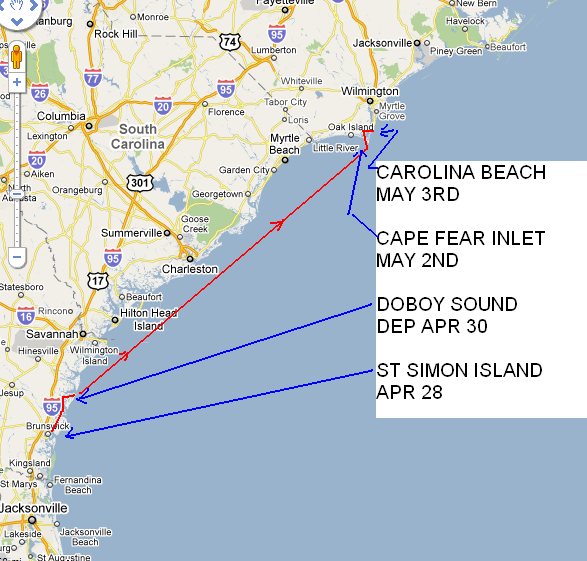 Doboy Sound - Cape Fear Inlet 225nm
Subject: Off-shore leg

A brief up-date on the return voyage. We departed Doboy (yes, DOBOY) Sound the morning of the 30th and had two ideal days with southerly breezes at 10 to 15 knots over the starboard quarter. Forecast looked dodgey so we put in at the Cape Fear River Inlet where things got a little dicey.

The breeze piped up to 20ish as we headed past Southport with a full main and 100% genoa wing and wing in channel traffic. When I finally got some sea room up-river I rounded up to reduce sail and a jib sheet got fouled in the prop. I dropped the hook which, in the 3 knot adverse current, immediately fouled on the centerboard. Stress on the board was immense. Cast off the anchor rode with a fender/float and attempted to unwind the sheet by advancing and reversing the shaft. A little luck but to no real avail.

A delivery guy on a power boat stopped to help but was a complete waste of time, damaging two stanchion supports in the process. Harbor Police boat came alongside to offer a tow to calmer waters but, wracked by indecision and general uselessness, managed to let me drift onto a convenient shoal where I dropped my storm tackle and "dove" on the prop in three feet of water with a kitchen knife clearing the prop. This is all after two and a half days off-shore. What an arrival!

I ultimately retrieved the first anchor at dusk and proceeded up-river to Snows Cut out of the wind and seas and am now at Carolina Beach where I was about six week ago. 34 02.800N and 77 53.438W. The board pennant parted from the stress and I'm going to have to dive on it to attach a new one. Meanwhile I'm hunkered down riding out this current mess at the same marina (Mona Black's at left) where I stayed headed south.. Whew.

Fred

******************
May 7, 2010. Update from Fred.
We're back in Beaufort anchored in Taylor Creek almost exactly where we were on the way down. Great sail again overnight from Masonboro Inlet. Leaving for Ocracoke and Oregon Inlet soon. Out of beer. Going shopping.

Fred

Same 'chart' as March 18 above but with Flipper's return track from Masonboro Inlet superimposed. See March 14 'chart' above for Taylors Creek.
May 21, 2010 - Fred and Flipper are in Sinepuxent Bay, Maryland on the DelMar Penninsula - Cape May, New Jersey next stop. Here's his update.
Re: Chincoteague

Let's see... I left Beaufort, NC on Saturday amidst all the boaters, what a nightmare, and went outside around Hatteras to Chincoteaque Inlet. The breeze was out of the south-west right up to when I got to the Diamond Shoals Light Tower when it turned out of the north-east at about 18 or so. That was no picnic. I was headed straight for the "Graveyard of the Atlantic" on my old Admiralty chart and had to tack three times. Then the thunderstorms came through.
At any rate I made it to Chincoteaque before dark on Tuesday and left there today after cleaning up the mess. I am now anchored in Sinepuxent Bay at 38 14.547N and 75 09.370W and cooking a marked down porterhouse steak and mashed potatoes. What a ride! I may be in Maine by July. I have to shingle a roof on the Vineyard as soon as I get there. Bucks Harbor is really "Maine". Great little restaurant there. Webmaster Note: This a reference to Marionette's plan's to be at Bucks Harbor in July. Restaurant's name, Bucks, of course!)

I have to eat!

Fred

*********************
May 25, 2010 - Here's Fred's update, minor edit. Last time Fred and Flipper were here was in late November.
Subject: Now in Shinnecock Bay, Long Island, NY

We left Ocean City, MD at 1300 hours on Friday (May 21) and were bound for Block Island when the wind veered into the north-east and fog set in. Was lucky to find the Shinnecock Inlet. Anchored here in Shinnecock Bay in the lee of the Shinnecock Indian Reservation. 40 52.126 and 72 26.777W. The fishing has really picked up with one keeper for dinner and several catch and release bluefish. Headed either for Block Island or Menemsha with the falling tide this evening. Webmaster Note: Picture of 'highway' GPS to Block Island - distance 233nm, bearing 56 degrees

Oh, and heres a quote I found while Googling used marine stoves;

"Twenty years from now you will more disappointed by the things you didn't do than by the ones you did. So throw off the bowlines. Sail away from the safe harbor. Catch the trade winds in your sails. Explore. Dream. Discover."

I'm not sure how much Mark Twain knew about sailing but it sounds good to me.

Fred

***********************
He's baack! Fred and Flipper are safely back at Menemsha Harbor on Martha's Vineyard. Flipper is tied up in her old spot next to the Bike Ferry. Thanks to both of you, from all of us, for a great trip!
********************

| | |
| --- | --- |
| | July 27, 2010. On July 26 your webmaster, yielding to the excessive heat wave and afternoon thunderstorms, left Marionette in her slip, drove the 2 1/2 hours to Woods Hole out on the Cape, took the ferry over to Martha's Vineyard, and then the Island Bus to Menemsha, arriving at this place - the beautiful Swordfish Harpooner sculpture on the beach at Mememsha (photo at left - and eventually the Bike Ferry (above photo). |

This is the western end of Martha's Vineyard

Menemsha's narrow channel, fast currents - the Bike Ferry saves many miles to bikers

| | |
| --- | --- |
| Bike Ferry east side, Flipper's slip | Bike Ferry west side (Bill driving) |

Flipper from the channel

Ok, we got the geography done. Fred is well. We delivered a welcome home package of Chris' world famous chocolate chip cookies, and some pictures of Fred's model of Quartet (see above), and got a ride on his Bike Ferry. We got the timing right as Fred's relief, Bill, arrived and took over driving the ferry so we could go to lunch. Fred drove us out to Gay Head where we sat out on the restaurent deck on the top of the cliff, in the shade, with cold beers, fresh Striped Bass 'burger' filet sandwiches and fries, talked about sailing dolphins, and enjoyed what has to be one of the most beautiful views anywhere.

Cuttyhunk in the distance, 'Sun Tea' mellowing on the railing

***********************
August 23, 2010. Jay Picotte, (Recovery) got this picture on his iphone yesterday in the Canapitsit channel between Cuttyhunk and Nashawena islands
No breeze
February 7, 2011. Last night your webmaster was getting ready, with 100 million of his best friends, to watch the Super Bowl. The stories about all that snow on the Dallas SuperDome got me thinking about Fred's affinity for snow and I wondered what was up with him. A year ago today Fred checked in from Little Creek/Norfolk, Virginia. Flipper was hauled out waiting for a new motor. Remember these?
In a quick exchange of emails Fred advised Flipper was tied up in Menemsha Harbor on Martha's Vineyard, and he was hauled out and living ashore. He attached the following picture. Seems some things don't change.

*********************