The Museum of Yachting, Ft Adams, Newport, RI - the Dolphin 24 as part of a Sparkman & Stephen Designs Exhibit, and Cherokee, 1930 6-Meter Class Champion, designed by Olin Stephens (updated October 10, 2011)
On September 4, 2008 your webmaster visited the Museum of Yachting (MOY) in Newport, RI. The Museum (click here to go to their web site) is located at Ft Adams in Newport on a spectacular point of land overlooking the harbor and the Newport bridge. Its curator is Jay Picotte who owns Recovery, a Tripp built 1965 Dolphin, moored right there in the harbor. A major exhibit this year is Evolution By Design featuring Sparkman & Stephen designs over 80 years, and a celebration of Olin Stephen's 100th birthday this year..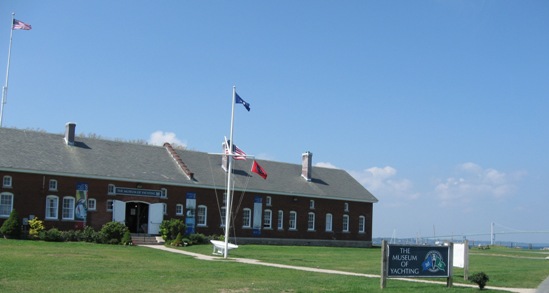 MOY is building an exact replica of Cherokee in one of its demonstration rooms as part of the Olin Stephens 100th yr commeration activities. The project is sponsored by Boothbay Harbor Shipyard, Boothbay Maine, who has provided a master shipwright to work with with MOY shipwrights.

Cherokee's design by Olin Stephens, then just 28 years old, was published in 1928 in Yachting Magazine and she was the Class Champion in 1930. It established Olin's reputation as a first rate marine architect and it broke the stranglehold European designers had on this highly competitive Class. The S&S firm went on to design 39 6-Meter boats among its 2600+ designs over its 80 years in business.
| | |
| --- | --- |
| | This picture at the left is of the male plug being faired for the mold that will be cast for Cherokee's 6000+ lb lead keel. The wood in this boat weighs about 3000 lbs. The boat is being built to the exact specs of the original Cherokee and will be ready to compete in the 2009 6-Meter World Cup being held in Newport. |
6-Meter boats are spectacular looking boats. I was trying to get a good picture of the original Cherokee but in the meantime found a picture of another 6-Meter, Bonite, sailing in a spectacular location - the Lake of Thun in Switzerland with the Alps in the background.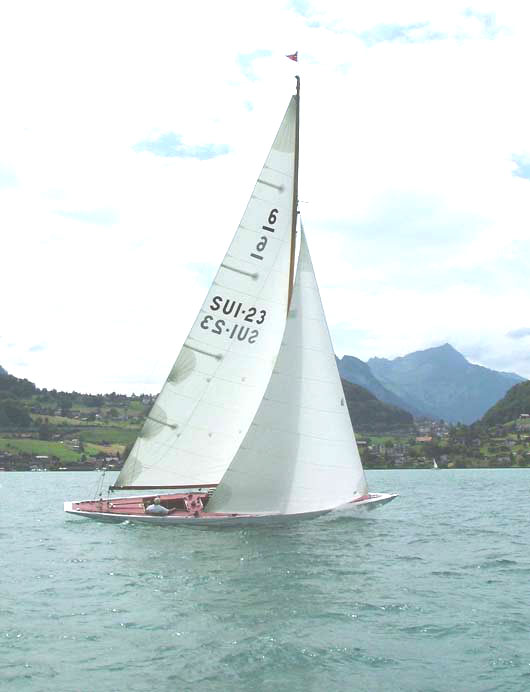 Later, we actually found a picture of the real Cherokee, sail # 53, and she is here below. The above 6 meter Bonite looked so good I did not have the heart to drop her from this story..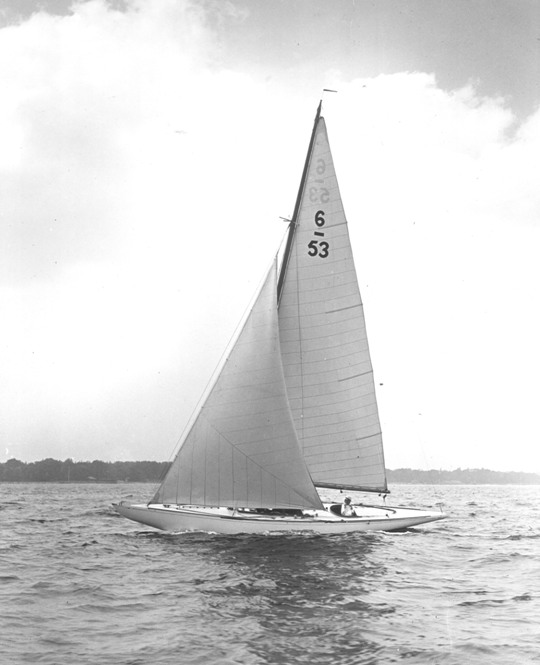 Eventually, Jay led me upstairs where there was an exhibit featuring many of S&S's most famous designs. Try as hard as we might to join the elite classes the reality is that we have a boat designed to be economically affordable and we are one of those Classes for the Masses - but that did not mean we could not look good and be fast - thank you Olin.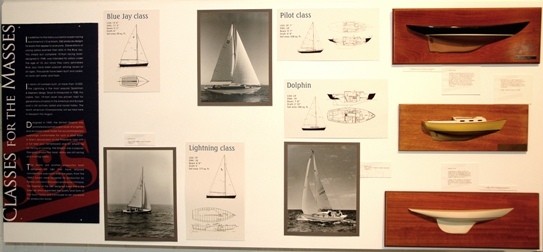 We are up there in pretty good company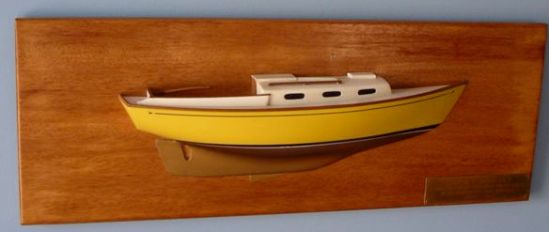 Jack Hubbard lent his beautiful half model of his Tripp built Dolphin (Hornet).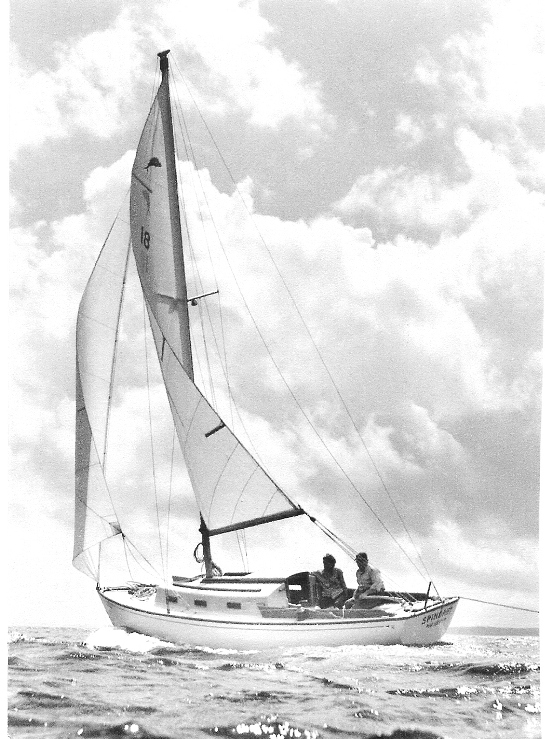 Ok, we've got the Dolphin 24 exhibit at the Museum of Yachting, the obvious connection to S&S and Olin Stephens, and the fact that the museum's curator is a Dolphin guy. They make for good reasons for this visit to MOY. But what's the connection to Cherokee?
| | |
| --- | --- |
| | Remember this photo from our visit with Olin Stephens on January 7, 2008? This is the gold embossed, leather bound, then just published book about the Six Meter Class that was laying on Olin's coffee table. A major reason for your webmaster's visit (click here for the details of that visit) was to discuss with him a very rough draft of a Dolphin 24 book based on this web site's content. |
This is the draft of that spiral bound, clear plastic cover Dolphin 24 book we showed to, and left with, Olin. At that point it was just a series of screen print pages of the web site. Looking at the 6-Meter book next to the Dolphin book was a humbling experience. The game plan changed.

We vowed to have at least one, hard cover, leather bound, gold embossed version of our Dolphin 24 book and planned to give it to him on or before his 101st birthday in April, 2009. As Olin passed away in September this year I guess the time pressure is off - but the goal is still on - Stay tuned.
*******************
October 10, 2011. a Postscript. We have one, hard cover, leather (simulated) bound version of the Dolphin 24 book. And I have it, signed by the Author, book #12, gold embossed on the spine Marionette, Dolphin 24.org