February 18, 2008. Jack Hubbard has checked in with Hornet. He picked up his Dolphin at F.L. Tripp & Sons in Westport, MA in the Spring of 1966. This boat was reportedly the last of 4 or perhaps 5 boats built by Tripp with fiberglass parts provided by O'Day.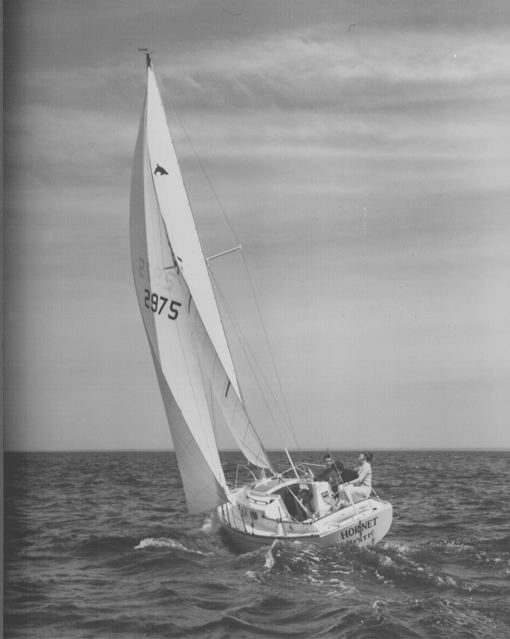 Jack told us that the 75 in the sail number 2975 was because he was told that the hull # was 75. It seems O'Day assigned their hull numbers even though the 'builder' was a contractor. It gets a little awkward but until we work out a better system Hornet has 2 hull numbers but one builder? or one hull # but 2 builders?
Jack was very much aware of the Dolphin's racing success in the area - Andy Anderson's Tigress had just won the 1965 combined Spring and Fall Off Soundings Koch Trophy in Class B and Ralph Heinzerling' Jack Rabbit was tearing up the Long Island circuit. This was a boat apparently built for Sham Hunt, O'Day's sales manager, and when the acquisition of O'Day by Bangor Punta was announced early in 1966, he decided to sell it.
Jack raced Hornet successfully for several years then lost her in the Essex (CT) Marine Railway fire in 1971. The boat was a total loss, however he sold it to a guy who worked in the QC department at Pratt & Whitney and it has since 'disappeared'. Hornet had a 'killer', foil shaped, forward inclined centerboard that acted like a jibing board. The original board that came with Hornet was a fiberglass wrapped steel plate that, as per the original S&S design, did not fully drop to the vertical position. The board began to delaminate which provided the stimulus for the new go fast board.
Jack has a beautiful half model of Hornet that he got for winning the MORC Class at the A. Howard Fuller Memorial race at Watch Hill, RI in 1970. He sent in the following photo.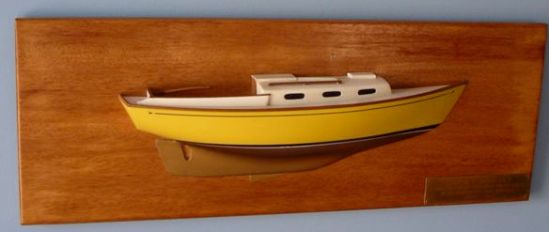 In the Summer and Fall of 2008 this half model was on exhibit at the Museum of Yachting in Newport, RI as part of their Olin Stephens' 100 yr celebrations and the designs of the firm he co-founded, Sparkman & Stephens. For more on this exhibit, click here.
*********************