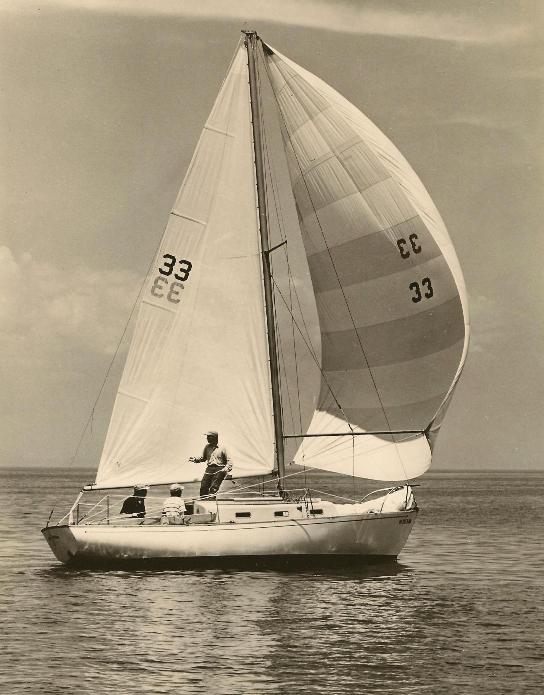 1967 Block Island Race Week
Ralph Heinzerling's Jack Rabbit was a consistent winner in MORC regattas on the east coast in the 1960's. When we first got in touch with Ralph by phone on September 8, 2008 he told me a very interesting story about buying her. He bought Jack Rabbit new directly from O'Day - it was their New York show boat in 1961. The O'Day salesman was a Dick Sheenan. This boat had 2 large windows cut into the starboard side of the hull so interested show go'ers could look into the boat without getting aboard. This 'feature' of Jack Rabbit needed to be removed so it could be sold after the show. Ralph negotiated a discounted price and had the boat shipped to Port Washington.
The second part of this story - Ralph had planned to do the fiberglass work himself but Lunn Laminates, a fiberglass laminating company located in the same town that Ralph lived, contacted him and offered to do the work at no cost to him. They told him that they were going to be building these boats under a contract from O'Day and it would save their people a lot of time to have his boat to look over and measure. Ralph said they did a great job of filling the holes and fairing and finishing the hull. They also told him that they were going to build the boats because O'Day could not make any money building it themselves!
We got in touch with Ralph's son Steve in December, 2012 as a consequence of a visit to the website by a friend of the Heinzerlings. This led to an effort to dig out some old photos and a transcribed note from Ralph describing the above incident (minor edits)
"This photo was taken at the NY Boat Show held at the NY Colosseum in 1961. In the cockpit facing the camera is Dick Sheehan demonstrating the Dolphin. He had cut away window ports into the starboard side of the hull so that people could look into the boat without going onboard. Someone else had offered to buy the boat as is but Dick sold it to me because he knew that I would be racing it.

After the show I had the boat hauled out to Long Island. Shortly thereafter, O'day decided that they weren't making any money on the boats and wanted to contract out their production. They contracted Lunn Laminates on Long Island to build the Dolphins. Lunn asked to borrow my boat so that they could copy it without following the blueprints. I said ok but there was just one thing they had to do, fill in the holes. They did a perfect job, you couldn't see any marks where the ports had been cut. This was the early days of fiberglass and they built the boats thick. The boat was very fast in spite of the weight and won everything entered. The Dolphin was an outgrowth of the Shaw 24. Sparkman Stephens cleaned up the lines and it was a winner! The Shaw 24 a wooden boat had proved to be a very fast boat the previous year in MORC. I picked the number 33 because it was a lucky number to me." Ralph Heinzerling
Ralph sold his boat in 1967 and believes it was shipped out to the midwest somewhere. While we don't know Jack Rabbit's hull number it seems it would have been one of the last boats built by O'Day in 1960.
Ralph told of a boat named Akela owned by Dave Knickerbocker that he raced against in the early 1960's. It was an O'Day built boat hull on which Dave built a wood deck and cabin. Bingo!! We know this boat. She is now in California and has quite a story. Dick Galland who owned Kestrel, which has a wood deck and cabin, told us that he bought his boat in 1972 and her name then was Akela. This boat is now 'Petaluma" and owned by Tim Blair. Click on Akela to go to her, Kestral to go to her, and " Petaluma" to go to her.
In June, 1967, Ralph wrote a long and very interesting article for One Design & Offshore Yachtsman about racing Jack Rabbit.


You can go to it by clicking here.
In October 5, 2012 we came across another article in One Design & Offshore Yachtsman, this one written about Trina, the primary gene provider of Dolphin 24s. It speaks of Jack Rabbit's sucess as a MORC racer. To go to the full article, click here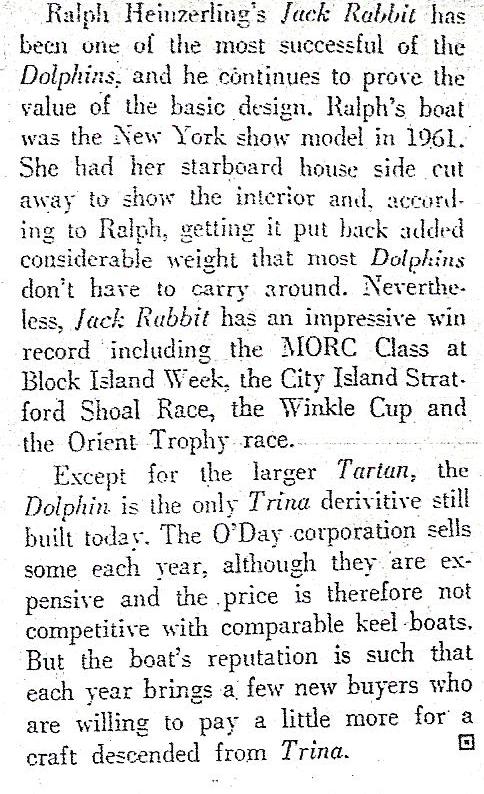 Steve Heinzerling sent in a number of copies of newspaper clippings which highlight Jack Rabbit's truly amazing racing record. Her trophies are all around Ralph's home. His daughter chipped in on this project by listing the inscriptions on the trophies for us. Here's her handwritten note.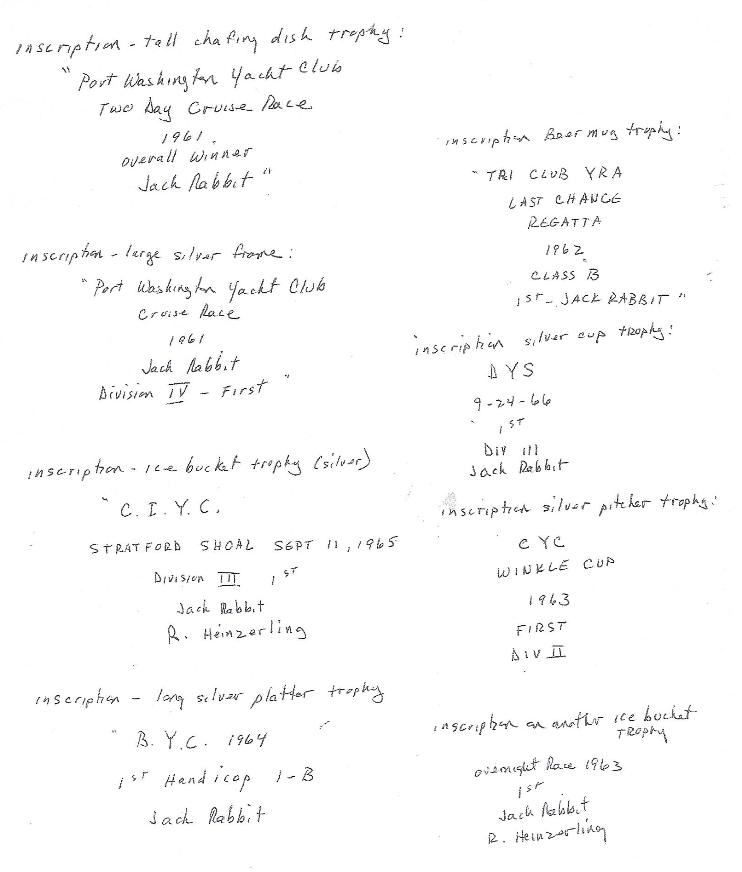 Every one is a First!!
The newspaper clippings can be seen by clicking here.(updated January 29, 2013) Some show results and there you can see the names of other Dolphins racing in these events - En Charette, Akela, Tigress, plus Trina, Shaw 24 #1, and maybe other Dolphins whose names we currently don't recognize.
****************************
Ralph Heinzerling was racing in other one design boats - Comets, Lightnings, Snipes and Interclubs. He was a Snipe National champion. Here is an interesing article that appeared in the Long Island Press, January, 1962. Click on the article for a larger version.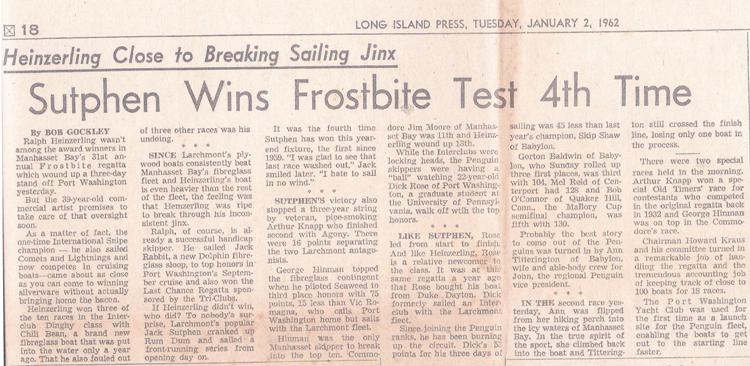 ***********************************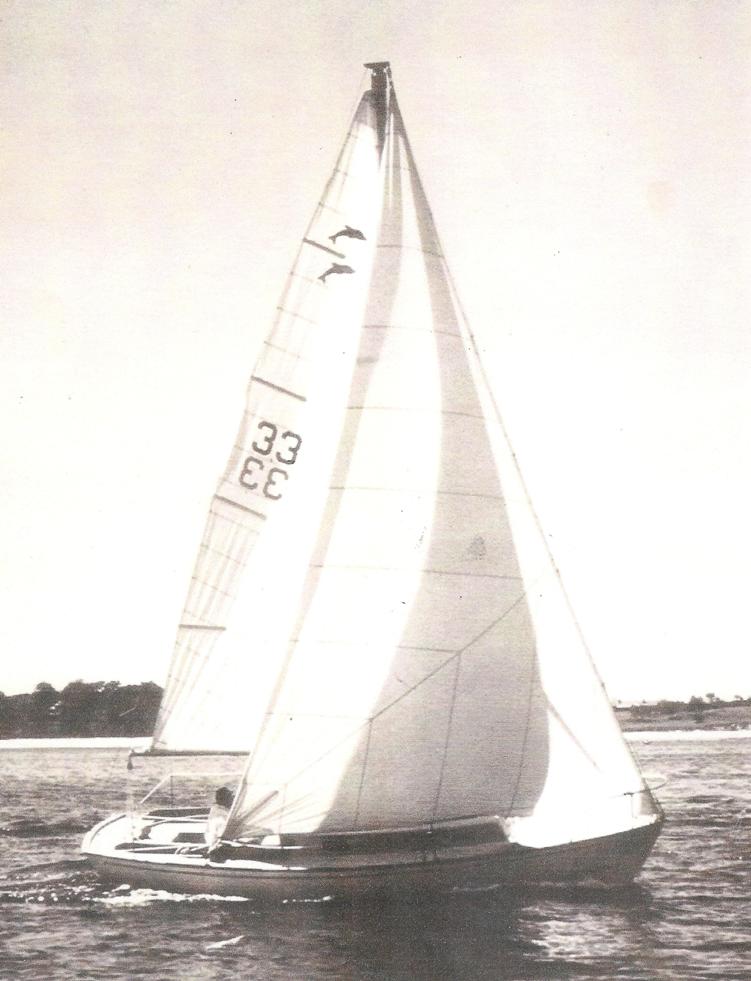 Jack Rabbit in her first race
In Ralph's words:

Jack Rabbit's first race was the Port Washington Yacht Club Cruise. She won overall, beating the class before mine. Subsequently they made MORC ineligible for the overall prize. Typical!

After our first day of sailing the fleet had a raft up in Cold Spring Harbor. Cocktail hour and snacks where shared as we socialized from boat to boat. Dick Wagner of the Port Washington Yacht Club didn't believe that the Dolphin could be so fast with a fixed propeller as required by MORC rules. He had to see for himself and dove overboard to confirm the placement of a fixed propeller."

********************************************
February 13, 2018. We got this sad, but beautiful email from Steve Heinzerling.
Ralph E. Heinzerling, 94, of Port Washington, passed away peacefully on Jan. 25. Ralph was an accomplished and lifelong sailor. Ralph and his brother Cliff were the 1942 Snipe World Champions, and Ralph won countless races in the Midget Ocean Racing Club (MORC), in Manhasset Bay One Design (MBO), Frostbiting for Manhasset Bay Yacht Club, and at Block Island Race Week. Ralph also crewed on winning sailboats in ocean races to Hawaii, Buenos Aires, and Bermuda.

Hello Ron,

I want to inform you that my dad Ralph Heinzerling of "Jack Rabbit" has set sail for the other shore. He passed peacefully at home on January 25th. The Saturday prior I had a wonderful time with him.

Following lunch I brought up the Dolphin 24 website on my phone and read him the postings you have about Jack Rabbit. It totally lifted his spirits. I then got him singing a few of his favorite tunes like "What do you do with a drunken sailor?". After the last tune I said "That's the ticket" he looked up, smiled and said "That's the ticket". It was a golden moment that seemed to be timeless.

That was the last I saw him and I'll always remember it together with the memories of all the sailing we did together on Jack Rabbit. That boat was all of our families favorite. No boat after that ever felt like home.

All the best to you and the Dolphin 24 community.

Steve Heinzerling

PS I'd like to send you a few Jack Rabbit trophies so please give me your mailing address.

Our local paper's obit you'll find below:

Farewell Ralph

February 25, 2018 Those trophies Steve promised arrived.

We will have to convene the Dolphin24.org Board to decide what to do. Maybe our Dolphin 24 New England Championships in Camden this summer needs something?

Stu Polhamus (http://dolphin24.org/Equinox.html) are you listening?
Left to Right: City Island YC, Day Race, 1966, 1st, Division III, Jack Rabbit
Tri Club YRA, Last Chance Regatta, 1962 Class B, 1st, Jack Rabbit
Jack Rabbit, 1st, Div IV, Port Washington YC Cruise Race, 1962