Dick Galland's Kestrel has a remarkable story, one that came to us in pieces, and is still coming. She became Tim Blair's Petaluma, and is now Robert Young's Erin go Brau. Click on their names to go to their pages.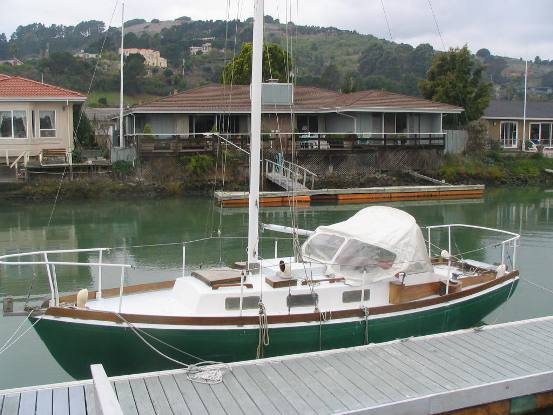 We received the following email from Dick on Dec 4, 2007
This is a terrific site! I'm glad to have found it.

I am the guy who rebuilt "Petaluma" the first time and cruised her in Baja in '78. Then my son did the same thing in the 90's. I've spoken to the current owner and given him the full history. I called her "Kestrel" after the small falcon.

I am considering buying another Dolphin now that I've retired and have both the time and money to cruise again. I'm wondering about how much headroom the Yankee and Pacific Dolphins have. I couldn't quite figure out where to post that question. Kestrel was pretty much crouching/sitting headroom.

I appreciate your advise.

Dick Galland, Los Gatos, CA
Webmaster Note: We are on this headroom question. Marionette, which is a wood deck and cabin structure built on O'Day fiberglass hull #12, has 56 1/2 inches clearance at the center of the main cabin. Under the closed main hatch there is 58 1/4 inches clearance. Passage, O'Day Hull #10, has a fiberglass cabin and deck and has 57 1/2 inches at the center of the cabin and 60 inches under the closed main hatch. We are awaiting info on the Yankee and Pacific Dolphins.
Here are two interior photos of Petaluma/Kestrel that Tim Blair sent us
*********************************
Dick sent us a fascinating follow up email that fills out a lot about why Kestrel/Petaluma looks the way she does. Dick promises a search in the archives for Kestral pictures. His email follows with a few edits by your webmaster.
December 6, 2007

Ron

Here's what I know about Kestrel:

I bought her in 1972 from an ad in Yachting magazine. She was in New Jersey and was, I believe, a one owner boat. I had her trucked to Dallas, where I was living at the time and put her at the Dallas Corinthian Yacht Club on Lake Dallas, about 40 miles north of Dallas. She was advertised as an O'Day Dolphin by the seller. I am a little vague about the year model; it's between '62 and '65. Her original name was Akela.

Webmaster Note: I had some email exchanges with Tim Blair about whether this boat was actually an O'Day or perhaps a kit boat that someone (like John Shumaker of Yankee) built on an O'Day hull. Then Bingo!! In early September, 2008 Ralph Heinzerling (Jack Rabbit) told your webmaster of an early Dolphin he used to race against named Akela owned by Dave Knickerbocker - a boat Dave had built on a bare O'Day hull. Click here to go to Akela.

I saw an interior plan for the O'Day Dolphins on the Dolphin website recently and it is identical to the interior she had when I got her, including the Palmer gas inboard. I don't recall her hull number but she does have a number in the transom. Webmaster Note: I'll try and get that number from Tim Blair.

In 1975 I moved my family to Muir Beach, just north of San Francisco. I had a trailer made and towed Kestrel to dry storage in Sausalito. In 1978, I had a midlife crisis, deciding I needed to sail to Hawaii to clear my head. I rented a large warehouse in San Rafael in the North Bay, and moved in with Kestrel to begin her rebuild. I had become a fan of Hal Roth's cruising tales, which were featured in Sailing Magazine at that time. He and his wife had circumnavigated the north Pacific. His philosophy of boat design and construction guided many of the decisions I made about the new Kestrel.

For example, I removed the mahogany toe rail that covered the hull/deck joint, with it's many fasteners and glassed the joint all around, creating a seamless, leak proof joint. I added the 4" mahogany toe rail, which was set above the deck about an inch and bolted to the stanchion bases. This to keep people and gear aboard but allow water to drain off quickly. I reglassed the deck, (they were glassed over plywood) replaced the coach roof plywood (also glassed over plywood) and reglassed it too, (Webmaster note - Akela has her own story to tell..This is the first example we know of a glassed over wood deck and coach roof - Marionette's wood deck and coach roof were covered with a textile like material - Dynel? which I removed and did not replace. Instead I coated the surfaces with epoxy) replaced the fwd hatch with a mahogany one, plus mahogany dorade boxes, had stanchions and bow and stern pulpits made(of carbon steel and epoxy painted as I couldn't afford stainless.

I added the mahogany bowsprit to deal with the anchor easily. I bought a self-steering vane from a gent in the east somewhere. Most of these exterior additions can be seen in the photos of Petaluma (it should actually be Petaluma if the name is to be true to the name of the town, though I think Kestrel would be more accurate...Webmaster note – changed to Petaluma. Kestrel has, and deserves, her own page.)

Belowdecks, I stripped out the old interior and replaced everything: the v- berth, the main fwd bulkhead, the settee berths on each side of the main cabin with shelves behind, the galley. I built a very well insulated icebox on the starboard side with counter over, a sink and work surface on the port side with storage under. I placed the stove - a three burner kerosene model with oven amidships, directly below the companionway and gimbaled thru the middle of the stove, so regardless of the angle of heel, the stove was always level. I replaced the coamings and the lazarette hatch and the cockpit locker hatches, having refinished or replaced the mahogany as necessary.

I liked the way that Yankee had arranged the outboard in the lazarette so I cut out a hole in the transom and rigged a similar set-up in Kestrel. The only problem was that I had a Seagull which ran only occasionally smoked so badly that the whole lazarette became filled with oily smoke. Webmaster note: Petaluma gave up on the thru hull OB mount in the lazerette and hung the OB off the transom.

I also repainted the hull with LPU in a deep green I replaced all the standing and running rigging, split the backstays, moved the mainsheet traveller to the rear of the cockpit coaming, etc, etc.

After 5 months of work I hooked Kestrel up to my old Suburban and drove to San Felipe, at the head of the Sea of Cortez. There we sailed around for several delightful weeks. I took a job building Moore 24s, the first production ULDB boats, in Santa Cruz. Kestrel sat on her trailer in Santa Cruz for a couple of years. In 1982 I moved back to the Bay Area and put her in dry storage in San Rafael again.

There she sat, neglected, until my brother took her to Minnesota in the late 80s and sailed her around the Apostle Isles and other lakes for a couple of years. Then she went back to Texas for a couple of years before one of my sons towed her to San Rafael once again.

In 1995, another son refinished her yet again and he and his girlfriend went to Baja for about 6 months. He removed the big kerosene stove with oven and tweaked things inside a bit but she remains the same as I rebuilt her.

Returning from that jaunt, she went back into storage in San Rafael. (I had started a fishing lodge in far northern California in the early 80s and had no time for sailing). In about 2000, we decided that we would donate her to a fellow who ran a sailing program for cancer survivors.

I lost track of her after that, until I saw her listed on the Dolphin website and had an "AhHa!" moment. I have spoken with Tim and given him this history. She is one bombproof boat. I recall drilling a hole for the transducer; I bet the hull was over an inch thick there, under one of the settees. I also recall going 7 knots reaching down the Sea of Cortez...

That's what I can tell you at this point. Happy to answer any questions

Dick
**********************
Webmaster Note: January 3, 2008 Cleaning up some loose ends over the holiday I came across this photo sent in by Gordon Thompson (Suzanne) only 6 weeks after this site went up. He described this boat as a Dolphin 28. I had forgotton this picture - and it does look bigger than a Dolphin 24. Here is his email edited by your webmaster, followed by a picture of Kestral on her canal
May 15, 2007

I never got into the Dolphin history. Back when I bought mine, 1979, I did not even know who Sparkman and Stephens were. I had a little history on the boat, which I never read, and I sent it to that person who wrote the story for Good Old Boat magazine...

As far as contributing, here is a picture which I think is a Dolphin 28'. I also have a couple of pictures of the O'Day Dolphin. Both of these boats seem to have been lost in the Yankee/Pacific Dolphin story

Gordon

Suzanne, #299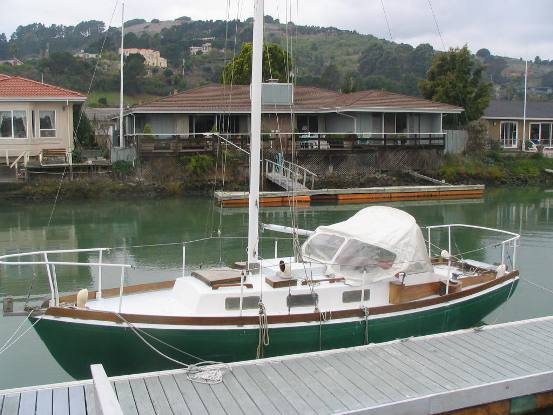 Same as photo at top of page - she really does look longer
Dick Galland sent in an email about this picture, the same photo appears at the top of the page, which is excerpted below.
February 8, 2008

Hi Ron

That's Kestrel as I finished her, though my son Ben had the dodger made. She did not have a port light at the forward end of the cabin when I got her….As for the owner of Akela, I am sorry to say that I think those records are long lost...

Regards,

Dick

******************
January 19, 2013. The Dolphin24.org team, tirelessly in pursuit of the history of our boats, particulary on cold January days in Connecticut, accidently came across a piece of history about Kestrel. Dee Neilson, former owner of Starshine, Yankee #138 checked in with information that her boat had been donated to the Boy Scouts Pacific Harbors Council in Sausalito, California. We spoke with their John Skoriak, Vessel Coordinator, and added a bit more to Starshine's story (Click here to go to Starshine).
John has several lives - one of them was as a writer about wood boats for Latitude 38 Magazine, the sailing magazine of choice for many west coast sailors. Your webmaster asked John if he knew of any other Dolphin 24's, and he did! He recalled a green hulled boat in Sausalito that, some years ago, a young couple named Ben and Rebecca took down to Baha, Mexico - and that Latitude 38 magazine had done a story about the trip! This 'rung a faint bell' in the webmaster's head, and after a website search we connected to Kestrel. Here is an excerpt of John's email

Ben and Rebeccaa were both very adventurous and also motivated, I am sure they are on to bigger and better things. I do remember a photo that appeared in Latitude 38 sailing magazine when they did the Baja trip. the two of them together on the boat somewhere in Baja. It was a cold winter in Baha, I remember that, I was there at the same time. If you want to try to contact Latitude 38 sailing magazine, try to reach editor La Donna Bubak, she gets requests like this and she is very patient with them. Tell her "Woody" referred you. (that's the nickname the magazine gave me because I used to write a lot about wooden boats). She is a very good friend.

Good Luck, John


We are working trying to get at least one of Kestrel's Baha stories - maybe even her tales of sailing around the Apostle Islands in Minnissota. This is one Dolphin that gets around.
******************************
February 6, 2013. Latatude 38 Magazine came through with a copy of their February, 1995 article Sightings 'generation x' does mexico' Thanks to Annie Bates-Winship, Production/Photoshop Specialist at Latitude 38, and photo credit "Latitude 38 archives/Shimon Van Collie". The article is in PDF form and can be seen in its entirety by clicking here
Ben Galland, Rebecca Wunderlich, and Kestrel getting ready for their trip to Mexico.

Addendum: The ink was not dry on this story when we received the following from John Skoriak, Vessel Coordinator for the Boy Scouts Pacific Harbors Council in Sausalito

Ron

Thanks for finding the link. Brings back memories and in fact I am sure I wrote that story- "Gen X Does Mexico" for Latitude 38 and I am almost positive I took the photo of Ben and Rebecca on the dock in Sausalito, the building in the background was where I used to work as a yacht broker (hmmm... photo credit Shimon Van Collie)

I just came from Latitude 38 offices in Mill Valley CA in fact, I will try to research the story but I am sure (when I saw the title) that I wrote it

Good detective work!

John
Now we need Ben and Rebecca's Baha story, and eventually get Dick to tell us about Kestrel's first trip to Mexico
Stay Tuned