October 22, 2017. Its been almost 7 years since we have had any info about Erin. This morning we came across this Craigslist ad and are trying to reach the owner. Here is the link to the ad
https://stockton.craigslist.org/boa/d/1964-ss-dolphin-24/6304627436.html (LISTING EXPIRED/updated July 22, 2018)
1964 S&S DOLPHIN 24'

- $3000 (Stockton)
Leaving California ASAP. ERIN has a new 8 hp Honda 4 cycle. ICOM Ham Radio. Windless. Great ground tackle. 40 gal. water. New center board. I fixed her up to take me anywhere in the world. She's a green Jul led beauty. Age and health have taken over. Buy her for what I paid for the engine.

Email reply

zsc8c-6304627436%40sale.craigslist.org,

****************************************************
November 16, 2010, Robert checked with a short email and this picture of Erin go Brau, formerly Tim Blair's Petaluna, Dick Galland's Kestrel, and Dave Knickerbocker's Akela. Click on their names to find out more about the fascinating history of this boat. She was a 'kit' boat that Dave bought from O'Day in 1962 as a bare hull and he finished her with a glassed over wood deck, cockpit and cabin.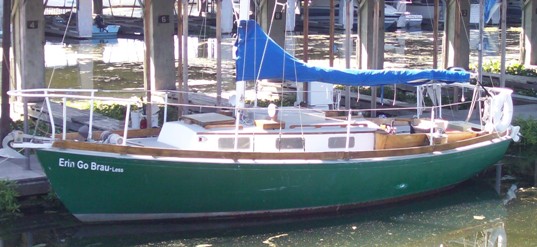 Hello

You have my Dolphin listed as Tim Blairs, No. 67. My name is Robert Young and I bought ERIN from Tim in January of last year. The title says 1964 but I do not know the serial No. Can you help me in any way as to the documentation of my little cruiser?

Thanks,

Robert Young
We are standing by for more about Erin.
*************