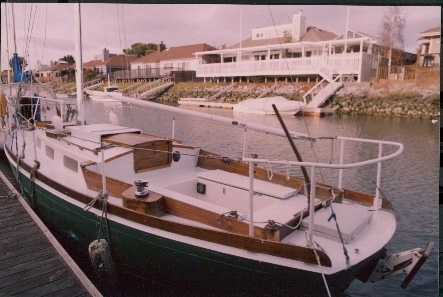 Webmaster Note: Petaluma is not actually the name of this boat. Petaluma is the name of a town near where Tim lives. With Tim's agreement Petaluma, while technically un-named, will be called Petaluma until her new owner surfaces and decides what her 'new' name will be.
Tim was selling this boat for $4500, trailer included.
After 5 years Tim is selling Petaluma and is working on restoring another Dolphin. The following is an edited excerpt from his email September 18.
I am selling my Dolphin 24 . It is a 1965 built O'Day with a solid wood cabin and ply-glass decks. I am the second owner. The son of the first outfitted it for Baja California and took it there for 6 months , 12 years ago. I bought it 5 years ago. She originally came from Minnesota and was trailered to San Francisco Bay

I am enclosing some pics. (see below) Perhaps you may know of a buyer. We are selling it for $5000 with the trailer, or less without the trailer, here in the SF bay area. It has a tabernacle mast.

I am also restoring what looks like a dolphin built in 73 or 74 (Capricorn), though it lacks any quality interior wood work and has rubber gasketed port lites and a port forward. The interior has mahogany bulkheads and galley face, and lacks any headliner or (mahogany) on the cabin sides. The galley extends all the way forward on the port side and has the mainsheet traveler track midmast, Again , I am not sure (of) the builder or exact age.

I am starting in on the renovation. I want to put an electric motor inboard where the Palmer is. Any advice on identifying the year and builder? The inside is very bare. No finish like the other dolphins I have seen. Anyway, I await your response.

Tim Blair
**************************************************
Tim's boat appeared in a Craig's List ad dated July 7, 2007 Posting ID: 368483504; and was on a www.sailboatlisting.com ad at www.sailboatlistings.com/view/7173
******************
Our LA DFI, Erik Evens, exchanged emails with Tim on Petaluma and they are excerpted here.
"... It was refitted and upgraded 10 years ago by the original owner's son who took it to Baja for 6 months. I saw the boat then. The boat was rerigged, mast rewired ,with spreader lights and new antennae, boat rewired, new trim wood outside and in, bulkheads reglassed, chainplates redone, stanchions and pulpits rebolted, outboard mount installed, tabernacle support and mast brace installed, new windows and hatch plex replaced, hull repainted, new outside trim installed, mainsail , mainsheet traveller replaced, bowsprit installed, dodger installed, new paint this summer.

It is the original cabin . As I said, the trim I described would dress up the esthetics to give it that classic look more. I know there is not quite the camber or arch in the cabin top as the first Dolphin had, but there is certainly enough that shows, and with the cabin roof beams , the classic lines appeal is there. The bowsprit is one piece of heavy flat honduras mahogany. It is strong enough with bow roller for anchor and chain use. The cowling vent takes the chain and rode down below. You could easily put in a fitting in the deck . In fact I may have a used one in my boat stuff".
***********************************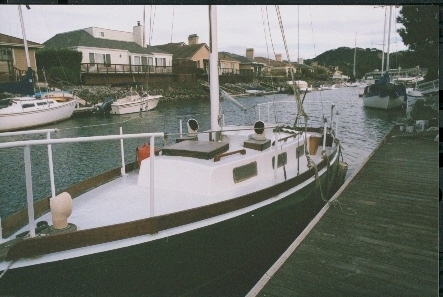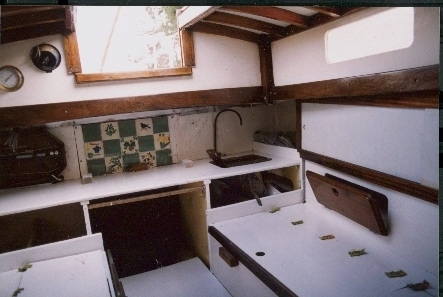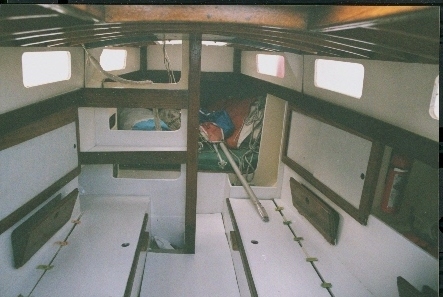 *********************************************
Petaluma was owned in her prior life by Dick Galland who named her Kestrel. There is a fascinating developing story about this boat that you will not want to miss. Click here to go to Kestrel
******************************
November 16, 2008. Robert Young checked in as the new owner of Petaluma. Her new name is Erin go Brau. Click here to go to her.