April 16, 2021. Carter Ott (Duckling #84) tipped us off about this Craigslist ad
https://sfbay.craigslist.org/sby/boa/d/san-jose-yankee-dolphin-24-sailboat/7307365233.html
Yankee Dolphin 24 sailboat with trailer - $4,500 (san jose east)
Nice boat
Heavy duty trailer
New main sail
A couple of jibs
Inboard Palmer P-27 engine, not running
*********************************
June 22, 2016. We found this ad on Craigslist http://sfbay.craigslist.org/sby/boa/5640485169.html (LISTING EXPIRED - updated July 22, 2018)
Nice Dolphin 24 sailboat - $6500 (san jose east)

Paperwork says Yankee but I believe this is an O'Day Dolphin
Has inboard Palmer 27?. Not running
Brand new main sail
Serviceable jib
Nice, heavy tandem trailer
Check the link above for more pictures - some same as those below
***********************************
************************************************************************
February 2, 2011, Tony Silva has checked in as the new owner of Capricorn, a 1962-65 era O'Day (or 1965 Tripp) built Dolphin. Tony bought her in mid 2009 and advises she does not have a nameplate. Tim Blair, the previous owner has done some major restoration on this boat and his emails are at the end of this page. Tony is also doing some work on the boat which is currently in his backyard. He sent some pictures - here they are: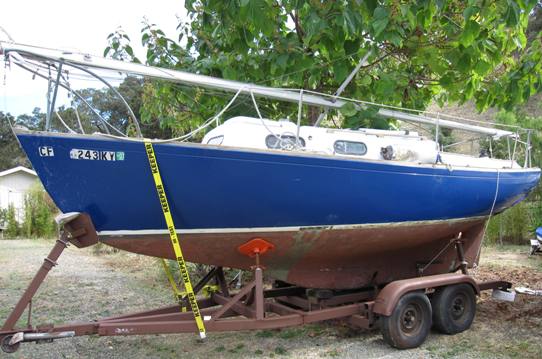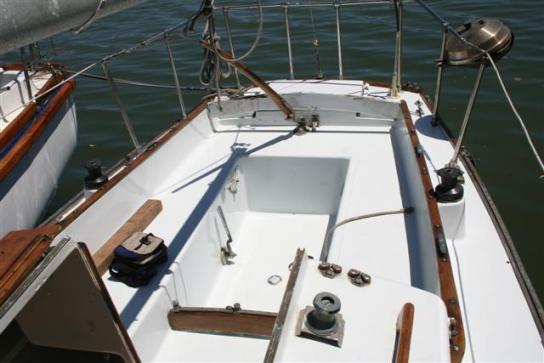 Note the mid cockpit traveller bar, and the teak capped fiberglass combings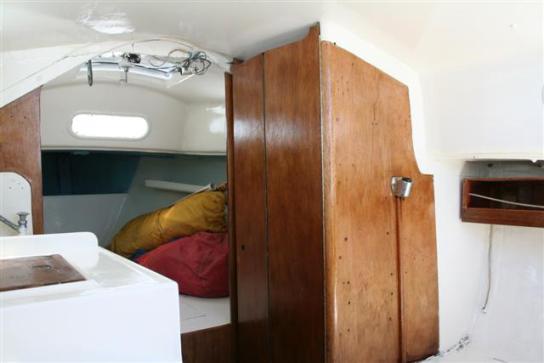 Tim Blair mentions below that this boat has a Chicago YC insignia. Because the boat has a mid cockpit traveller which is consistant with high aspect mains and mid boom sheeting your webmaster checked back with Jack Farley, the historian of the Wilmette, Il fleet of 15 Dolphins. Wilmette is located about 20 miles north of Chicago and years ago this fleet decided to go to high aspect mains. Jack had a vague recollection of a Dolphin in one of the Chicago harbors back in the late 1960's.
We'll keep searching for more information about this boat. Following is what we know about Capricorn from Tim.
***********************
**************************************************
In September, 2007 Tim Blair from Oakland, California checked in with Capricorn, an O'Day era boat he was restoring, along with another O'Day boat named Petaluna, which is also being restored. In August, 2008, Tim advised he had finished the restorations of both boats and was selling them. The hull in picture he sent in looks almost black but she has a dark blue hull. Tim has restored this boat inside and out. The hull has been repainted and she has a Nissan outboard. He was asking $4500 with a trailer. He previously sent in a couple of emails about Capricorn which have been excerpted and edited below:
Hi Ron
I am also restoring what looks like a Dolphin built in 73 or 74 , though it lacks any quality interior wood work. I am starting in on the rennovation. The boat has a Chicago Yacht Club insignia and has a dark blue hull. It has rubber gasketed port lites. It has fiberglass coamings with a teak cap. The interior has mahobany bulkheads and mahagony ply on the galley face, and (it) lacks any headliner or on the cabin sides. The galley extends all the way forward on the port side with the sink all the way forward. The head is on the starboard side. The mainsheet traveller is mid boom, Again, I am not sure the builder or exact age.

The Palmer engine is frozen up. Is a Kubota diesel 10 hp able to take the place of the frozen up Palmer? I want to put a electric motor onboard where the Palmer is. Is there a affordable electric conversion worth messing with?

Also, the centerboard is stuck in place. Could it be bronze, or otherwise likely steel? I am trying to source a used, cheap in cost, mainsail. This one is threadbare. Any other sails from more common California boats like a Cal that might work? Or do you know of a low cost but good condition main from a hard core Dolphin person out there?

Any advice on identifying the year and builder? The inside is very bare. No finish like the other Dolphins I have seen.

Tim
Your webmaster has talked to Tim about some of the questions raised here, including who was the builder. Maybe this boat was one of the Wilmette/Chicago area boats that went to high aspect mains? The cabin window facing forward was in a couple of very early Yankees - 1965-66 then was eliminated in standard production boats. O'Day/Lunn/Tripp built boats had this window. Stay tuned