January 17, 2013. Dee Neilson checked in as a former owner of Carlos Vergas' Yankee, Yankee Dolphin #138. When she had her, her name was Starshine and she had been in Dee's family for 20 years. Here is her email(s) consolidated and edited.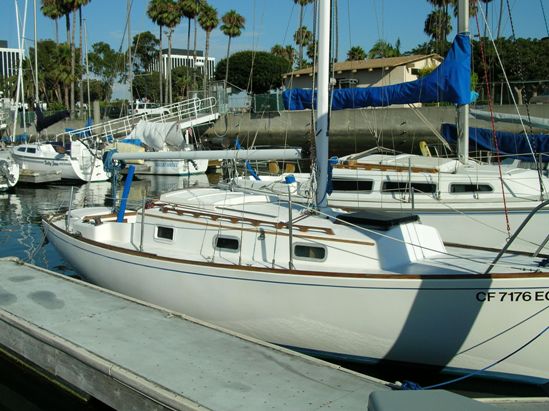 Pending a photo of Starshine, her she is as Yankee
Hi Ron,

I was about to toss some old paperwork on a boat that once belonged to my family, and thought I'd try and track her down and see where she ended up, which in turn led me to your site. I have some of that missing history on hull #138. My family purchased her in July 1981. At that time "Starshine" as she was called then, was docked in Huntington Beach, California. Her name was Starshine when we got her and was, I think, more of an afterthought for the previous owner as the name was just peel-and-stick lettering poorly applied to the stern.

She was brought up by trailer to Northern California, during which time the front hatch was apparently not latched properly, and came off during transit. We replaced it with a tinted acrylic hatch. From what I can tell in the photos, that is the same replacement hatch she has now. She was moored behind a houseboat on Issaquah Dock in Sausalito, CA, where I lived on her for a couple years. In 2001 the title was transferred to myself. She was donated to the Pacific Harbors Council, Boy Scouts of America - I enclosed the contact information for the Pacific Harbors Council.

Sadly, she didn't see much use during those twenty years. I'm thrilled to see she's been beautifully restored and getting out in the open water. As my fading memory serves me, she never went under sail in those 20 years. We did take her out in San Francisco Bay a few times under motor in the early-mid 80s. I know the centerboard wouldn't pivot out, we suspected it was because she sat on mud during low tide and some of it was packed up in there. I did live aboard her in 1982/1983 but did most of my sailing on a Laser racing dinghy.


Somewhere I have a newspaper clipping with a photograph of her taken around the mid-80s, along with a few other photos. If I can locate where they are, I'll scan and send them along to you. The photos I have are at my other home, so I won't be able to send copies until April.

Mark Spector did a real fine job getting her into ship-shape once again, I know she wasn't in the best of condition when I saw her last.


I've scanned and attached what little documentation I have (surveys done in 1981 and 1999), which gives you an idea of her condition those years. The closing statement for the 1981 sale lists Leighton Coats of Huntington Beach as the seller.

I hope this helps with finding out more of her history. I really enjoyed looking through your website, you've done an amazing job collecting and sharing all that information.

Thank you, and best regards

~Dee
Click here to see a copy of the 1981 Survey
Stay Tuned
January 18, 2013. We spoke with John Skoriak, Vessel Coordinator, Boy Scouts Pacific Harbors Council in Sausalito, California about Starshine. He reported that Eric Altree was the the one who donated the boat. After the boat was donated the Pacific Harbors Council sold her to a Stuart Kiehl who it for a year or so, and did some upgrades and then he sold her. He doesn't know to whom she was sold.
This exchange with John, initiated by Dee's email, got us a lead back to another Dolphin - Dick Galland's Kestrel - click here to go there.
****************************************