October 31, 2015. Bob Neches checking in a the new owner of Yankee #138. Click here to go to her new page.
Hi,

Just wanted to let you know that I'm the new owner of Hull #138, which Ipurchased from Carlos Vergas. Carlos had renamed her Caravela and moved
her to Dana Point, California. I believe she was called Yankee when hepurchased her from Mark Spector in Marina del Rey.I'm renaming her yet again
and sailing her back to Marina del Rey tomorrow.

Her new name is, "Knockabout."

Your website was invaluable both in learning about Yankee Dolphins, and in finding mine.So, although we've never met, I need to thank you very much for all your help.

Regards,

Bob
Fairs Winds Carlos
****************************************
Sept 17, 2015. Yankee #138 is still for sale. Here is the updated Craigslist ad
****************************************
March 25, 2015. We've heard from Carlos - she's still for sale.
August 12, 2014. Eric Barnett, Avri Ellis brought this Craigslist ad to our attention. Yankee is FOR SALE.
1. New hull paint
2. New top paint
3. New standing rigging
4. New sails
5. Converted to electric
6. New wiring with house battery and operating battery
7. Fresh varnish
8. New exterior lights hardware
***********************************
*************************************************************
July 2, 2012.

Carlos Vergas has checked in as the new owner of Yankee, Yankee #138, Marina del Rey, California. He sent in a photo of Yankee's nameplate.
Stay tuned
July 8, 2014. Carlos has sent in the following:
Hello - I just wanted to update my information.

1. Located in Dana Point Harbor
2. See picture
3. Just had the following done:
a. New top paint
b. New hull paint
c. New standing rigging
d. New running rigging
. e. New sails
f. Converted to electric - a Torqeedo Cruiser 2.0 with a lithium battery. I can cruise at 6 knots. It works very well.

Please call me if you have any questions. Thanks,


Carlos

************************************

********************************************************************
February 23, 2012. For the last few years DFI Erik Evens (Robin Lee, Yankee# 118) has shared the same dock at Marina del Rey with TWO! other Dolphins. One of those boats is Mark Spector's Yankee, and Erik confirms she has been sold. The ad on YachtWorld link is at the bottom of the page. Here is Erik's email (minor edits):
Hi Ron-

Yankee, Yankee Dolphin #138 has been sold. I don't know the name of the new owner, but I will find out soon and report.

Mark Spector, the old owner, had Yankee on the same dock as Doug Pease (Aspara) and I here in Marina Del Rey (three Dolphins on the same dock!), and had had her up for sale for quite a while. A few weeks back Mark told me he had a buyer. Before you could blink an eye, the boat was gone from her slip, and I thought I might not see her again.

Well, during a walk around one of the boatyards here, I ran across Yankee, in the midst of a nice refit. The new owner had the decks repainted glossy white and a beautiful new nonskid over the old molded pattern. They redid all the teak, replaced the cabin house "eyebrows", buffed and waxed the sides of the hull above the waterline, and repainted the sheer stripe detail a metallic gold. I took the above today - she looks almost brand new. Very pretty indeed! Looks like bottom paint is next.

I'll work on contacting the owner.

Hope all is well on the Eastern seaboard!
Best-
EKE

********************************

**********************************************
We don't know anything about Yankee before Mark bought her. Wrong! January 17, 2013. Click here to go to Starshine. He found her in Napa, California in June, 2007. Her restoration took two years to complete. Mark says
"This is the best boat I've ever owned, and the most classic".
Mark's Yankee is his 2nd Dolphin. His previous boat was Sunchaser, Yankee #118 which he owned from 1981 to 1984, and which is still named Sunchaser. She is owned by Dylan Pfeifer and is the other boat located at the same dock at Marina del Rey. Click here to go to her
Mark sent in the following pictures. The offshore shots were taken on a 2007 cruise from Marina del Rey to Pt. Dume - north of Malibu.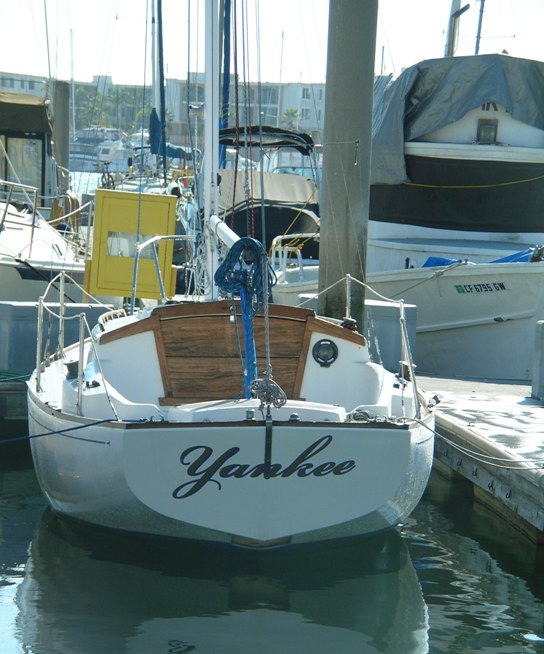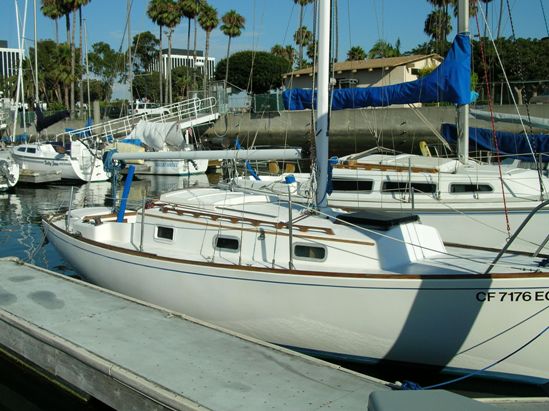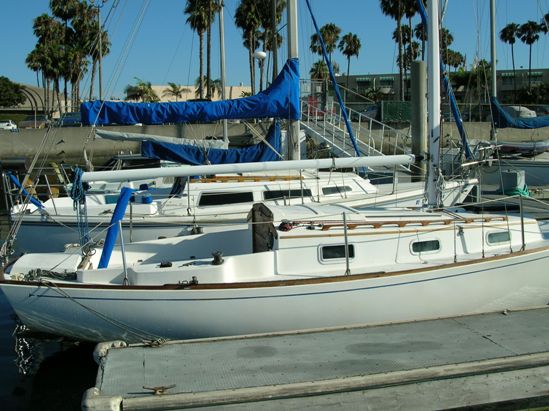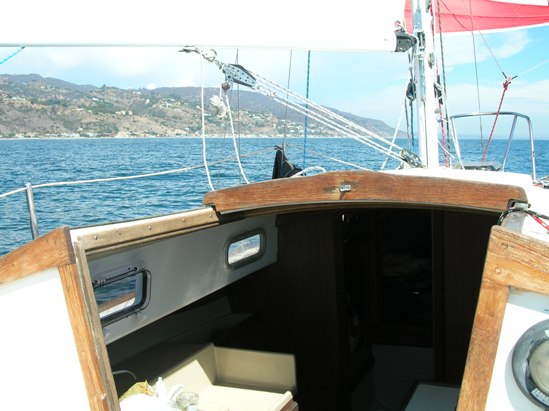 Yankee under spinnaker just visible at the upper right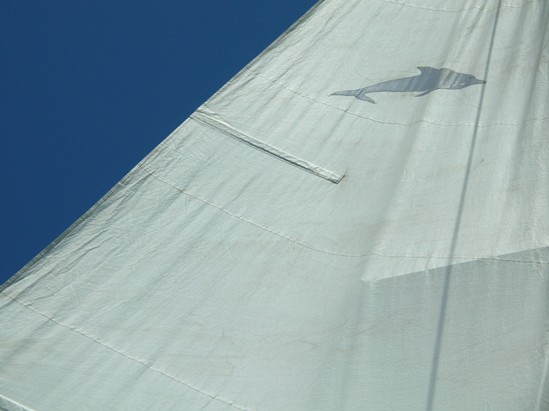 Yankee's 40 year old main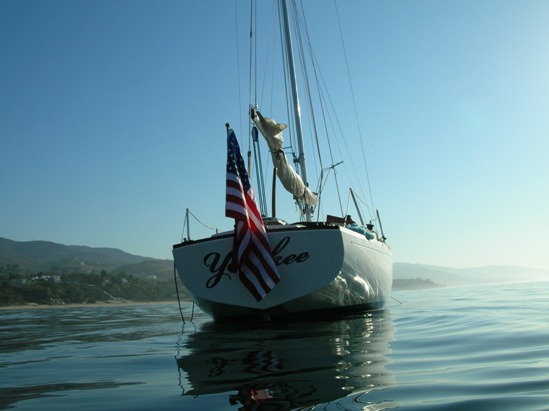 Here is Yankee in the mist
Our LA field investigator, Erik Evens forwarded us our first photo of Yankee from way back when - a picture Mark took while he was swimming around Yankee. Note the adjustable backstay
**********************
January 27, 2012. We learned that Yankee had been sold. We are following up on this - click here for the Yacht World/Mason Yachts ad. Below are a couple of pictures of Yankee's interior from the For Sale ad.
*****************************