October 1, 2020 - Jeff Greenwood has been posting his search for a Dolphin 24 on the Dolphin24Sailboats Facebook page https://www.facebook.com/groups/dolphin24sailboats. He found her and here is his latest post and some photos - more photos on the facebook page.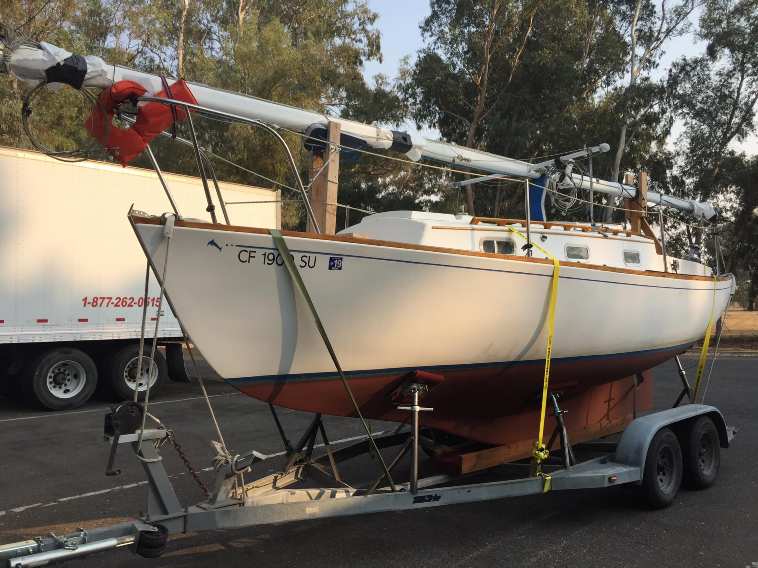 Left - crew in training

Above - stand by for more on the trailer

Stay tuned
**********************************************
October 6, 2020 We got the following email from former owner Doug Pease.
Hi Ron,

Just a courtesy note to thank you for all your input over the years. Aspara sold last week, and as I see from your roster notes, Jeff contacted you and will continue the tradition with that beautiful little boat.

He's got a good trailer for her, and told me he intends some trips in the Pacific Northwest--up the inside passage--and possibly an adventure or two down in the Baja. So, plenty to look forward to in the coming years

.Regards, and thanks again,

Doug Pease

********************************************
********************************
*************************************************
******************************
This is the history we have on Yankee #153 up to this point in time
January 18, 2020. Former owner Doug Pease is helping his friend Pablo sell Aspara. Here is his email followed by the ad, photos and a video.
Hi Ron,

Although I haven't owned the Dolphin for years, I still follow your site - and it always looks great!

My old friend Dr. Davanzo (Pablo), took a staff position up north two years ago, and he just hasn't been using Aspara (Hull#153). I spend all my time and money on my old Pearson Vanguard, and I've learned my lesson about owning two boats, or I would happily take my old Dolphin back...

Would you be willing to list Aspara in your "For Sale" section? I'll paste a brief listing and attach some photo's in a separate email. If you need anything from me, or from Pablo, please don't hesitate; I can always be reached at 310-666-5784, or at this email (packbasket1@gmail.com)

Regards,

Doug Pease

ps I also have a sailing video which I'll send separately...

Click on these photos for a larger image

Aspara, Yankee Dolphin #153 is For Fale

$12,500

She was built in 1969 and launched in 1970. She has been extensively upgraded with the finest marine equipment--from Yanmar inboard diesel to Harken furling to modern Lewmar self-tailing winches, to custom North sails. She sails like a little gem, and she still turns heads...

Yanmar 1GM10 inboard diesel; North sails custom full-batten mainsail and North sails custom furling genoa with sunbrella uv; Harken stainless furling; Lewmar 40 self-tailing winches; Garhauer custom stainless boom vang; Custom sunbrella covers throughout in white; custom sunbrella interior cushions (Forest green); Dual battery banks and dual bank charger; shore power; marine head; Origo 3000 gimballed alcohol stove; Raymarine 2000 tiller pilot with ST60 4000 mounted control head; two anchors, chain and rode. Custom varnish throughout.

The boat was just hauled; brand-new bottom paint with Pettit Trinidad, two new thru-hulls, new battery, and full engine service (Oil change, impeller,etc.) Have yard receipts for $3,200 from last month...

Contact Info - 310-666-5784, or at this email (packbasket1@gmail.com)

***************************************
September 29, 2014. Erik Evens (Robin Lee, Yankee #118) advised us that Aspara, Robin Lee's slipmate has been sold to someone named Pablo. We stand by for Pablo to check in.
Fair Winds Doug, and welcome aboard Pablo!
*********************************
*******************************************************
We first saw Aspara when LA Dolphin Field Investigator (DFI) Erik Evens sent in this photo in September, 2007. We have since been in touch with Doug many times, and Aspara's story with him is below. Aspara shared the finger dock with Dylan Pfeifer's Sunchaser, Yankee # 118 (Sunchaser is now Robin Lee). One will notice that they don't have far to carry the beer and ice..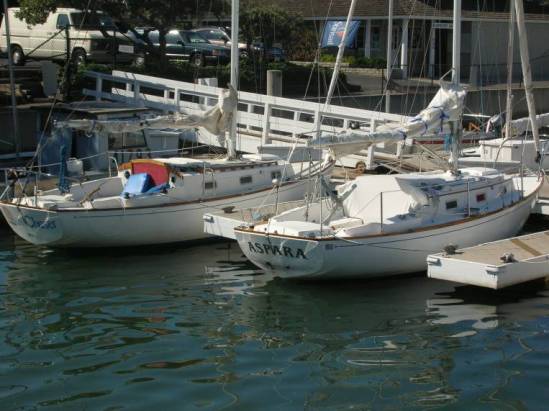 Mark Spector, whose Yankee # 138 is in the same marina, and who is a former owner of Sunchaser, took the following pictures. Click here to see his Yankee.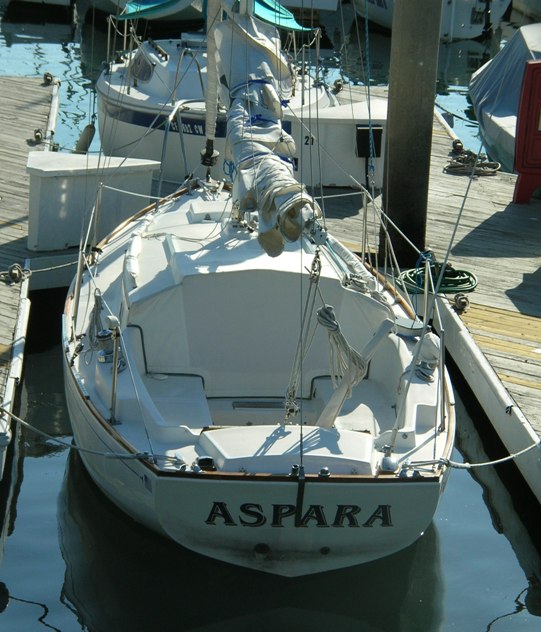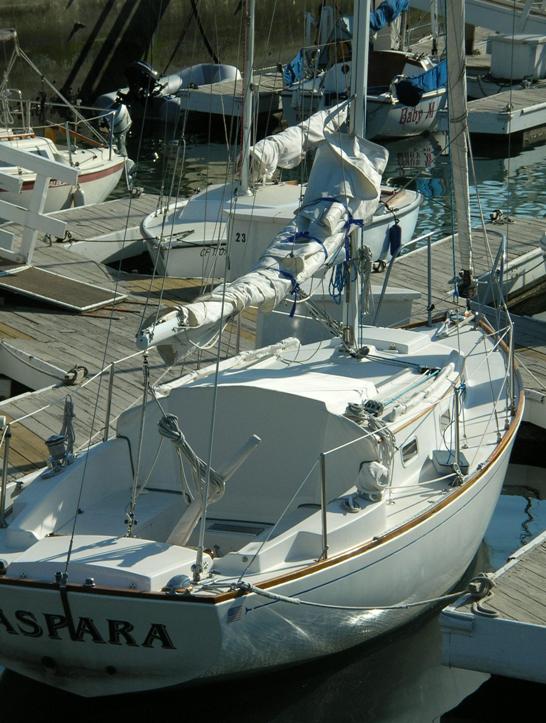 ***************************************
On May 18, 2008 Doug sent in the following email and pictures of Aspara - some pictures Doug sent were inserted in the text by your webmaster.
Ron,

You've really done an incredible job with this site; I was astonished to see how much it's grown since I first checked in—and astonished to see pictures of my boat (and a little ashamed; she was 'put away wet' that day, after a trip to the island, and the lack of sail cover and big diesel smudges on the transom have shamed me into getting off my duff and sending in a long-awaited update and pictures…). I took a year off from work in 2007 and have been caught up with other things (including sailing my boat as often as possible). Here is a bit of information about her.

| | |
| --- | --- |
| | Aspara is a Yankee Dolphin, hull #153, built around 1969, if the title is to be believed. I think she was commissioned and launched sometime around 1970-71. I bought her from a soap opera actor who loved the boat's classic lines and aesthetics, but didn't have a lot of boat knowledge. He wrote a lot of checks, and had some nice cosmetics done, but didn't do much in the way of real boat maintenance. Since I bought her, four years ago, I've slowly gone through her bones, changing thru-hulls, hoses, wiring, engine, canvas, deck set-up, and myriad other things. |

Aspara is a Yankee Dolphin, hull #153, built around 1969, if the title is to be believed. I think she was commissioned and launched sometime around 1970-71. I bought her from a soap opera actor who loved the boat's classic lines and aesthetics, but didn't have a lot of boat knowledge. He wrote a lot of checks, and had some nice cosmetics done, but didn't do much in the way of real boat maintenance. Since I bought her, four years ago, I've slowly gone through her bones, changing thru-hulls, hoses, wiring, engine, canvas, deck set-up, and myriad other things.

I first saw a Yankee Dolphin in my home town of Monterey, California, in the early seventies; the boat's design appealed to me immediately, in part because of her classic lines, but also, to my adolescent mind, because the Dolphin seemed purpose-built for a diminutive eleven year old—something like a scaled-down forty-footer. It appealed to an aspiring young single-hander who had just read "Dove" and was filled with fantasies of rough days on Monterey Bay and beyond. Some folks grew up wanting a '32 Ford to mess around with; I wanted a Yankee Dolphin.

Fast-forward thirty years, skip the part where I went to college, spent a decade in Asia, had lots different boats, sailed all over the place, and got into the boat business...

I was sitting in my office in Marina Del Rey when an older gentleman who was, at best, four feet tall, walked in. He wanted a boat he could single-hand, but he was seventy-five years old and, as I say, only about four feet tall, so his options in new designs were extremely limited. He couldn't raise or lower an outboard safely, and he couldn't handle most day-sailing designs on the market because the line loads were out of proportion to his strength and stamina. But he wanted a boat, and he was very determined (he flew his own airplane all over the country, and drove a large, modified Buick, so he was a force to be reckoned with).

I liked him immediately, and set about trying to find a sailing solution for him. He needed something stable and sea-kindly--so flighty performance designs were out of the question. Did I mention he wanted a deep-freeze for his ice cream, a coffee pot, and 'central heat?' I first thought of a Pacific Seacraft Dana, a wonderfully stable 24-footer, with all the modern amenities, but the six feet of headroom in the salon and all the other 'adult-sized' proportions of the boat ruled it out rather quickly. I rolled the problem around in my head for a few days, then gave him a call. 'Dick,' I said, 'What you need is a Yankee Dolphin, with an inboard diesel. If we can find one, we'll build the rest to suit. What's your budget?" He shot back immediately: "I'm seventy five years old; there is no budget!"

I found a Dolphin for him. It had a Yanmar 2gm mounted under the cockpit, with hydraulic transmission, an arrangement I had never seen before. The owner had installed an automotive-type heat exchanger, with blower and register, and, voila! my 'central heat' issue was off the list. The rest of the boat was pretty rough, but as I say, we were going to build to suit.

I drew up a quick design for him: self-tacking jib on a small furler; full-batten mainsail with battslides and Dutchman system; all lines led aft through clutches; powered self-tailing Lewmar winch on the cabin top, which would do double-duty as a powered sheet winch; dual battery banks; Adler Barbour refrigeration; inverter, shore power, charger, shortened rig with slab-reefing for stability (the Dolphin is a tender boat, in the strictest sense)… The list was long, but the work got done, and in the end I had a very happy client, a new friend, and a renewed interest in the Yankee Dolphin. Dick sailed his boat at least once a week, in all types of conditions. He really could single-hand her with the push of a button--and he had all the ice-cream he could eat and all the coffee he could drink.

Three or four months after his boat was finished, he sent me an autographed copy of his book (he was a successful voice actor). On the frontispiece, he inscribed it: 'To Doug, you make dreams come true…' It was one of the more satisfying moments in a job that, more often than not, might be described as 'Thankless.' (Webmaster Note: Dick is Dick Beals and his Dolphin is Think Big, Yankee # 146. Click here to go to her)

I took away a renewed interest in the Yankee Dolphin, and determined to get one for myself sometime soon. My bigger boat sat most of the year, as I was too busy in the business of sailing to do any sailing myself.

I thought downsizing might increase my personal days on the water, especially if I didn't need thirty or forty minutes to get her ready, get the canvas off, and slip the lines. There was a nice Dolphin berthed at Santa Monica Windjammers Yacht Club and, lo and behold, just when I had begun to put her out of my mind, she came up for sale.

| | |
| --- | --- |
| | Aspara has undergone extensive refitting and restoration over the years. Her rig has been down, mast and boom sandblasted and coated in linear polyurethane, new fittings and hardware throughout, new running rigging, and all lines led aft through clutches for single-handing. Bill Felgenhauer, of Garhauer marine, made me a nifty stainless boom vang (click here for a larger view), with multiple reduction, which improves performance and handling significantly. |

She has Harken furling, with a North Sails furling genoa (130%) and a custom North Sails full-batten main. The jib powers the boat nicely in the light winds of Santa Monica bay, and holds a decent shape when reefed on the furler. I have a mini-jib, a handkerchief of heavy Dacron that I bought used at Minney's Yacht salvage, in Costa Mesa, but I've only put it up once, when going north to the Channel Islands.

| | |
| --- | --- |
| | The boat was completely re-rigged for spinnaker, with all new fittings and running gear, and I have two chutes—a kind of blooper, and a massive conventional chute, that I fly two or three times a year. The sheet winches have been upgraded to Lewmar self-tailers, another significant improvement for single-handing; I have a single conventional lewmar 16 on the cabin top, which does the job nicely. (click here for a larger view of the winch setup) |

| | |
| --- | --- |
| | The teak cockpit grate is an excellent addition; it hides the sludge and detritus that invariably collects there—and I can sail barefoot on a warm day without slipping around, a definite plus. |

Down below, the layout is typical of many of the Yankee Dolphins I have seen on this site: large vee-berth forward, with hanging locker midships to port, and marine head to starboard. There's the useless sliding door behind the main bulkhead; I pull it out once a year to make sure it's still there.

The port side of the salon is all galley; I added a non-pressurized, gimballed Origo 3000 2-burner alcohol stove (works beautifully) in the moulded recess last year, with stainless flashing below and behind, and teak cheeks for the gimbal mounts. (Typically, a much more involved and difficult project than I anticipated, since the corners of the moulded feature are rounded. . .).

To starboard there is a dinette; the table corners have been rounded, a significant modification, since they seemed to hit a special and sensitive place when a man my size comes barreling down the companionway. The interior wood is finished in satin, to cut down on glare and hide inevitable scratches. There are new interior cushions throughout, in Sunbrella forest green tweed, with cockpit cushions to match. Two years ago, I had a custom carpet made to give the sole a more finished look. I debated over putting in a teak and holly sole—am still debating it, in fact—but for now, the carpet is an inexpensive, workable solution, and every time I shake it out after a trip, I think, "Never gonna have to varnish this…" (click here for more pictures of Aspara's interior)

The boat has an inboard diesel, a Yanmar 1gm10--the modern, high-revving version (3,600 rpm), which burns about a quarter gallon per hour at 2200 rpm. It's raw-water cooled, and pushes the boat remarkably well under all conditions. I carry ten gallons of diesel in the aft lazarette (in a steel tank—another project to contend with down the line), which gives me quite a bit of motoring range. The engine was done by a previous owner, but I've met the man who did the job; it was a feat of prestidigitation performed by Robin, at Del Rey diesel; there was a lot of cutting and pasting of the liner and the aft dinette seat, but everything glassed back together nicely, and with the carpet and the cushions in place, you'd never know how much was done (I'll take some pictures for your re-power section).

| | |
| --- | --- |
| | I built a new cover for the engine three years ago; it doesn't do much for the sound, but it keeps the fingers and toes away from pulleys and belts, and it looks clean. The boat has a stainless shaft and conventional packing, a traditional cutlass bearing, and a little three-bladed prop. The fuel separator is mounted along the starboard cockpit wall, just behind the engine panel, and the controls are flush-mounted into the port cockpit wall. It's a very workable solution, and every time I start the diesel and motor away, I get a sense of satisfaction that I'm not squeezing a rubber bulb full of gasoline, or bending awkwardly to get a prop down in the water. (For more on this cover, and Aspara's engine, click here) |

Until this year, I've had no issues with the engine, just oil changes and the occasional impeller, but three or four months ago she stopped pumping, and set off the temp alarm. After two long days of hose-chasing, I finally found the obstruction (typically, again, in the last place I looked; a little feed pipe from the raw water pump into the engine). The pipe was welded shut with calcium—a white concretion of masticated, heat-treated shells and tubeworms, probably ingested from the diver's scrapings inside the bronze intake thru-hull; I banged it out with a screwdriver, put everything back together, and pumped a bit of muriatic acid into the system. If you've ever done this, it's one of the nastiest jobs in boating—and alarming, too, as noxious, smoky fumes come billowing out the exhaust, giving the distinct impression that: 1) the boat is on fire 2) all the seals inside the engine are dissolving and 3) someone from the EPA will be arriving shortly have a little discussion and issue a citation. After a few minutes of the muriatic treatment (which dissolves the scale inside the engine), I hooked up the dock hose and pumped fresh water through the engine for about ten minutes. Not only did it begin pumping again, it pumped like it never has before. Next engine project, long overdue: a tee fitting with a gate valve, for fresh-water flushing.

The boat was rewired before I acquired it. It's a passable job, but I've been cleaning it up, on and off, for a few years, looming things, putting proper connectors in place of electrical tape, de-spaghettifying the back of the panel, etc. The panel was new with the rewire, and though it's very serviceable, I hate the location. I'm over six feet, and two hundred pounds, and getting down on my knees to turn something on is no longer a thrill, if it ever was. Also, when sitting at the dinette, I've kicked on the mast lights and the instruments far too many times.

I added a second battery bank, for longer trips, and a modern charger with shore power. The engine does a great job of recharging on longer trips; I've never been caught out with both banks down simultaneously. I have a Garmin gps/chart plotter, a sparfly, and a compass. With the gps, I don't really need a knotmeter, but I definitely need a fathometer. It's in the box, in the bottom of the hanging locker, waiting for the next haulout. I had a new swing pin glassed in about two years ago, and once it was done painted the bilgebattleship gray. I also replaced the bilge pump and float switch, and decided to put a secondary, high-water pump with float further uphull when I get the time.

The most recent addition, something I always considered a non-necessity, is the Autohelm 2000, a heavy-duty tillerpilot that really drives the boat. It has an authelm 4000 manual control, and in a fit of self indulgence I added the S100 wireless remote control, which I can wear on my belt or put in my pocket. It's a toy that really works, and helps point the boat when taking down the main or pulling up the anchor. Not sure how I lived without it in the past, come to think of it. (Webmaster Note: I have a remote with the long control cable - someday, I'm going wireless too, but I want the voice activated option. I used to have this when the Admiral was at the helm.....).

I put new canvas on Aspara last year. It's white, and suits the boat's traditional design, but it shows the dirt from a Santa Ana wind, or nearby LAX, so I have to scrub it down from time to time. The companionway cover saves me some varnishing, as do the grabrail covers, but I still varnish at least once a year. Some people tell me their boats have twelve coats of varnish, or eighteen coats of varnish. I'm not vain enough to count, but there are a fair number of coats on every bit of external wood. She turns heads, usually when I'm passing someone to windward, and perhaps that's satisfaction enough for the years she's taken from my elbows and knees…(Webmaster Note: Agreed - but I also like sailing thru their lee then pinching up in front. This way I can hear them mutter 'pretty boat')

I sail the boat all the time—perhaps two or three times per week, these days. I've taken her up and down the California coast, and over to Catalina Island many times. I sail a lot of boats in my job, most of them larger production boats. I can honestly say there is nothing quite like a Yankee Dolphin; it handles like a small forty-footer, tracking through waves that should toss its nose, and hunkering down in high winds like a willing pony. Somewhere, the eleven year-old enthusiast is still thrilling deep down—guess I got my '32 ford after all…

People often ask me about the name: 'Aspara' comes from the Sanskrit, the mythical celestial sky-dancers who transformed themselves from guiding stars, and seduced mortals at important moments in their lives. I first encountered their likenesses at Angkor Wat, in Cambodia, and was very taken with the bas-relief carvings of them there:

"Asparas have been variously described as fairies, angels, nymphs and sirens. Actually they are celestial maidens of exquisite beauty and alluring charm, and have the power and will to use both

. . . They often appear to scholars or scientists, seduce and exhaust them, making sure they don't venture into areas that the spirit world deems unfit… ",appear to scholars or scientists, seduce and exhaust them, making sure they don't venture into areas that the spirit world deems unfit..."

I almost sold the boat to Erik Evens earlier this year, as I had another aspara in my life, who couldn't find her comfort zone on such a small boat. In the end, I just couldn't do it: if we were all truly rational beings we never would have come down out of the trees in the first place—and we certainly wouldn't have left the comforts of hard land and taken to the sea…

Best wishes,
Doug Pease

Hope these pictures make it; I don't have a very wide angle camera, so I'm sending lots of shots, to give you some variety. I'll send some engine details later...
Webmaster Note: Thanks Doug - your account of Aspara's life with you was well worth the wait! And, someday we have to get Erik Evens his own Dolphin!!
And we did!! If you not already done so, click here to go to Robin, Yankee # 118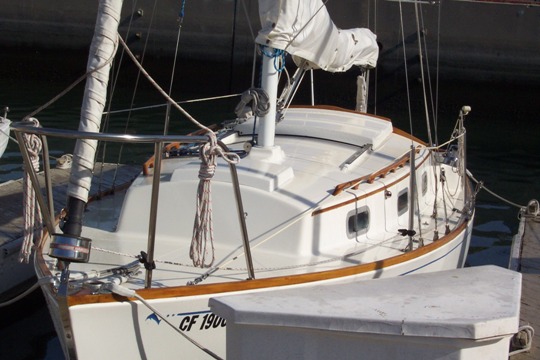 Aspara at her slip - shipshape
**************************************
February 2, 2010 Doug has a filmmaker friend with a new high definition digital camera who made a 2 minute clip of Aspara sailing in Santa Monica Bay. Here is his email, minor edit) and the link
Ron,

A friend of mine from boarding school, Hughes Hall, is a Los Angeles filmmaker; he brought his new high definition digital camera out on Aspara last weekend for a test run. Hughes and I have sailed together, on and off, since we were teenagers in northern California.

There are some good snippets of Aspara in this brief clip, and some bits of Marina del Rey. (Be sure to click HD to "OFF" if your computer is slower; clicking the star at the bottom right, next to the volume level, will expand the image to full screen). I sail year 'round in this forgiving climate, and look forward to the sturdiest winds of late February and March. (Click on the following link to see the boat under sail).

Hope you are well, and best wishes,

Doug Pease
**********************
October 19, 2011 Doug sent in a really interesting video clip of Aspara sailing herself without an autopilot. Here is his email and link. We'll put this up in our Technical Section as well.
Thought I'd pass along this short clip of Aspara steering herself without an autopilot. I've had many people raise their eyebrows when I tell them that the boat will maintain a steady course to weather without autopilot, so I thought I'd take a short film of it, to confirm that it's true, etc. I sheet the jib in fairly close, and crack the main off about 45 degrees; the boat 'walks' uphill all day, even in rough seas, maintaining a very steady course. Here's a link, with pretty dodgy sound quality, for those who are interested:

Regards,

Doug Pease
**************************
December 1, 2011. Doug has sent in a project report - a locker he built under the V-berth accessible through a vented locker door in the head compartment. The locker is shown in the following pictures. These are included along with Doug's report in the Technical Section - Interiors.
| | |
| --- | --- |
| Arrow points to locker | Locker door |
Click here to go to the report