Doug Pease (Aspara) is in boat sales and he sold this boat to Dick Beals more than 10 years ago. They ran into each other recently and as a result we have another Dolphin in our Roster, and as you will find out, another extraordinary story. Webmaster Note. March 10, 2010 Glen Korpi advised today that he bought Think Big in September, 2009. Her new name is AGAPE and she has her own page. Click to go to her.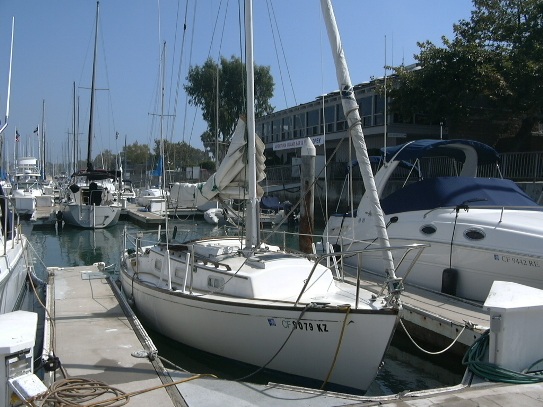 May 18, 2008

Ron,

After several years without much contact, I heard from Dick Beals a few days ago. He invited me to come down and show him a few cosmetic secrets (he's been getting those black specks in the non-skid). I agreed immediately, as I hadn't seen him or the boat in quite a while.

So I had a chance to see Dolphin 146 again. As I mentioned in my post about my own boat, Aspara, Dick was a customer of mine who needed something he could safely single-hand in open water. We found him a Dolphin, and added a few upgrades to make it easier and safer to handle. Did I mention he only weighs 67 pounds?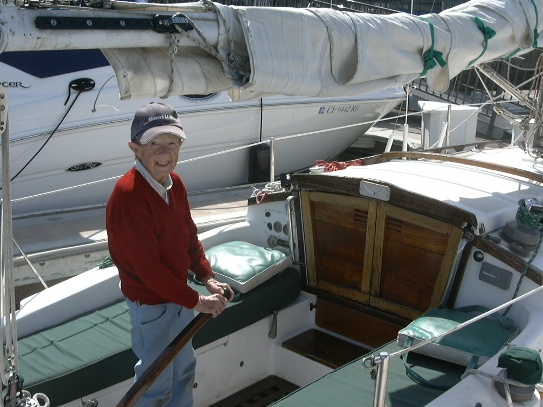 Dick at the helm of Think Big
I was pleased to find Dick as hale and upbeat as ever (he's thinking about getting another airplane so he can fly himself to Michigan State ball games!). He told me he's been sailing the boat religiously a couple times a week--mostly by himself. We had a sandwich and talked about how to get the grime off the deck (he does all his own maintenance), and I showed him a few trade secrets (Trade Secrets?! This sounds to me like something we all ought to know, Doug!!) that I hope will help. I also took the opportunity to look the old boat over, and was pleased to see that she's stayed dry, and that all the gear we added almost a decade ago continues to operate smoothly.

Yankee Dolphin #146 has a Yanmar 2gm inboard diesel, with a hydraulic transmission. The motor takes up a fair bit of space, but it's a willful trade for the added convenience and reliability. The rig is slightly shortened and fractional, to make the boat less tender. Even without her tall original mast, and her masthead rig, (we need Dick to get us a picture of Think Big under sail) Dick's boat goes plenty fast, and points as well as any Dolphin.

| | |
| --- | --- |
| | Because of Dick's size and strength, he has a power winch on the cabin top to raise the main (a full-battened dacron number, custom cut by UK sails); the winch will drive sheets under way or hoist an anchor rode. To facilitate quick dousing, there's a battslide track on the mainmast, which brings the sail down into lazy jacks with ease. |

There's also a Garhauer rigid vang to hold the boom up. The headsail is a small, self-tacking 90% from UK Sails, furled on a Schaeffer furling system. The traveler is a Harken upgrade, and there's an Autohelm 1000 to serve as the occasional extra pair of hands.

Down below, there an Adler Barbour refrigeration system to keep ice cream frozen, a simple butane camp stove, and shore power for the requisite coffee maker. The engine provides exchanged forced-air heat controlled by a fan. It comes out through a regulator in the side of the seat/locker near the main bulkhead.
Dick has clearly used the boat extensively since he first acquired it. I'm pleased and proud to see the wear and tear, as so much of my job has involved selling boats with fifty or eighty hours on the engine--floating condo's that were never sailed, enjoyed, or appreciated. After showing Dick a few deck cleaning secrets, he nearly beamed, always eager to take on a project and do some work. It's a great attitude, and he's a wonderful guy.

Here are some pictures of "Think Big" for the site: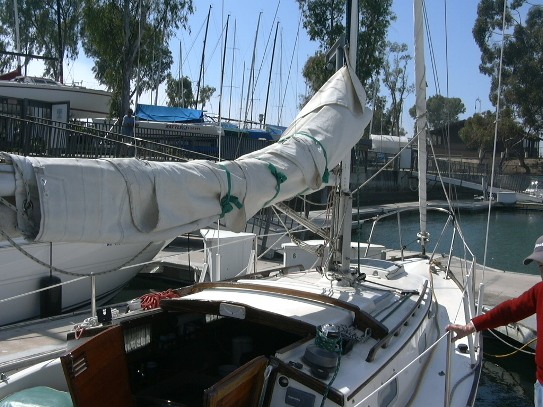 Looking forward - note the power winch and rigid vang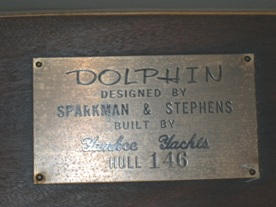 Yankee #146 builder plate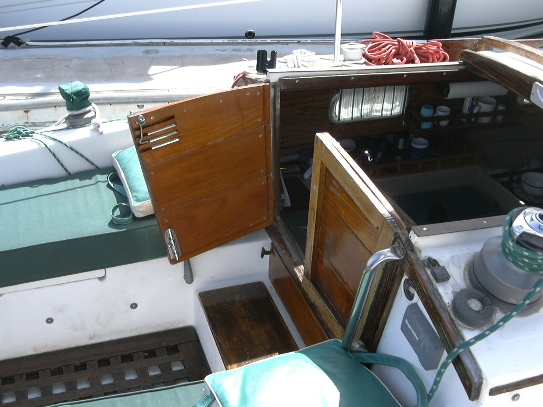 Custom swing doors on companionway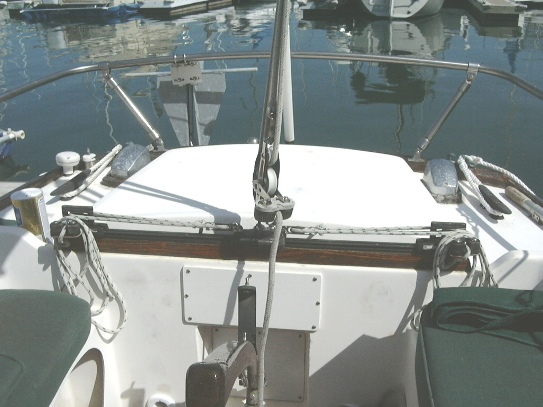 Harken traveler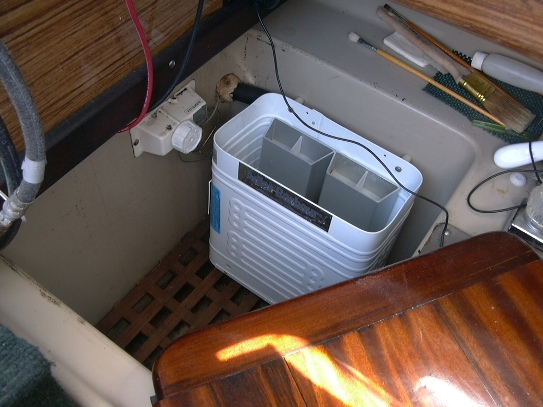 Adler Barbour cold machine fridge/freezer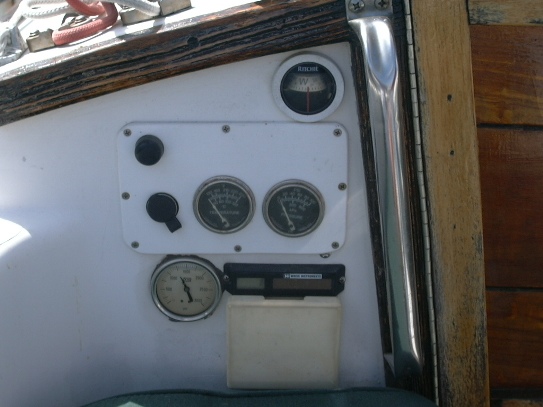 Engine gauges on bulkhead (note the hydraulic pressure gauge for the transmission)
****************************
An important part of this story Doug told us a year ago. The following is excerpted from Aspara's story.
"I was sitting in my office in Marina Del Rey when an older gentleman who was, at best, four feet tall, walked in. He wanted a boat he could single-hand, but he was seventy-five years old and, as I say, only about four feet tall, so his options in new designs were extremely limited. He couldn't raise or lower an outboard safely, and he couldn't handle most day-sailing designs on the market because the line loads were out of proportion to his strength and stamina. But he wanted a boat, and he was very determined (he flew his own airplane all over the country, and drove a large, modified Buick, so he was a force to be reckoned with).

I liked him immediately, and set about trying to find a sailing solution for him. He needed something stable and sea-kindly--so flighty performance designs were out of the question. Did I mention he wanted a deep-freeze for his ice cream, a coffee pot, and 'central heat?' I first thought of a Pacific Seacraft Dana, a wonderfully stable 24-footer, with all the modern amenities, but the six feet of headroom in the salon and all the other 'adult-sized' proportions of the boat ruled it out rather quickly. I rolled the problem around in my head for a few days, then gave him a call. 'Dick,' I said, 'What you need is a Yankee Dolphin, with an inboard diesel. If we can find one, we'll build the rest to suit. What's your budget?" He shot back immediately: "I'm seventy five years old; there is no budget!"

I found a Dolphin for him. It had a Yanmar 2gm mounted under the cockpit, with hydraulic transmission, an arrangement I had never seen before. The owner had installed an automotive-type heat exchanger, with blower and register, and, voila! my 'central heat' issue was off the list. The rest of the boat was pretty rough, but as I say, we were going to build to suit.

I drew up a quick design for him: self-tacking jib on a small furler; full-batten mainsail with battslides and Dutchman system; all lines led aft through clutches; powered self-tailing Lewmar winch on the cabin top, which would do double-duty as a powered sheet winch; dual battery banks; Adler Barbour refrigeration; inverter, shore power, charger, shortened rig with slab-reefing for stability (the Dolphin is a tender boat, in the strictest sense)… The list was long, but the work got done, and in the end I had a very happy client, a new friend, and a renewed interest in the Yankee Dolphin. Dick sailed his boat at least once a week, in all types of conditions. He really could single-hand her with the push of a button--and he had all the ice-cream he could eat and all the coffee he could drink.

Three or four months after his boat was finished, he sent me an autographed copy of his book ***(he was a successful voice actor). On the frontispiece, he inscribed it: 'To Doug, you make dreams come true…' It was one of the more satisfying moments in a job that, more often than not, might be described as 'Thankless.'

I took away a renewed interest in the Yankee Dolphin, and determined to get one for myself sometime soon."
And the rest is history. Thanks Doug, for sharing it with us.
*** Webmaster Note: The title of Dick's autobiography was Think Big. He wrote in this book that his high voice and boyish appearance were due to a glandular problem - he did not go through puberty.
**************************
May 31, 2012/photos updated July 9, 2012. This story has 3 actors, Dick, Doug and Think Big. We now know a lot about Think Big, and we know Doug is the kind of salesman that knows how to satisfy his customers (both for boats, and stories), but who is Dick Beals? We have probably all heard him and not known it. To find out more click http://en.wikipedia.org/wiki/Dick_Beals
Born: Richard Beals, March 16, 1927
Detroit, Michigan, U.S.
Died May 29, 2012 (aged 85)
Vista, California, U.S.
Occupation, Voice actor; Years active 1949–2012

This Alka-Seltzer ad was awarded top commercial of the entire decade of the 1950s. Also selected by Advertising Age magazine - the largest advertising trade magazine - as one of the 50 best commercials of all time.
Dick Beals passed away on May 29, 2012. He was a special guy - a real character, with character. His was a great story, an inspiration and guide on how to deal with what life throws at you. This website has his online obituary and includes his famous Alka-Seltzer commercials. http://www.newsfromme.com/2012/05/30/dick-beals-r-i-p/
More highlights of his acting career can be found at http://www.cartoonbrew.com/classic/dick-beals-1927-2012-63681.html. Thanks to Mark Spruell (Paradiso, Yankee #203) for bringing this to our attention.
****************************