November 25, 2015. Mark advised that the new owner is a David Eagles and he thinks the boat is still on Lake St. Clair, though now docked in St Clair Shores. We are trying reach David.
Stand By
****************************************
May 3, 2014. We spoke with Mark today and found out that he has sold the boat. We'll stand by for more info and hopefully for the new owner to check in
**************************
May 10, 2013. Paradiso is FOR SALE. Here is the link to Mark Spruel's Craigslist ad http://detroit.craigslist.org/okl/boa/3792022696.html. The ad is reproduced below
Classic Sparkman and Stephens Yankee Dolphin 24' Sailboat - $1900 (Harrison Twp)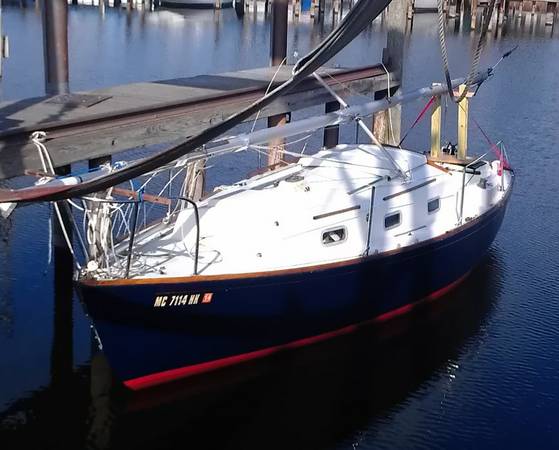 Reluctantly, I am making my sailboat available for purchase. It is a classic 1971 Yankee Dolphin 24 designed by world-renowned naval architects Sparkman and Stephens. If you do not know about this design, or S&S, I suggest you check it out at dolphin24.org, where they have a listing of over 200 Dolphin 24s still in existence of 300 built. Those that are still around are sailing around the globe, from Hawaii to the Mediterranean to the Great Lakes. Many are still being raced; a Dolphin 24 even won the Singlehanded Transpac a few years ago.

The boat is not in perfect condition, but is ready to sail (it was last sailed just before Halloween 2012). I have priced it aggressively because it was the victim of a collision last year and while the repairs are structurally sound, they are not cosmetically finished. You can see a complete sequence of photos of the repairs in the photo links below -- I'm not trying to hide anything and the boat was sailed several times after the collision. A typical Dolphin in good condition (as this was before the collision) sells for $5000 - 7000. Fully restored boats have been known to fetch $20,000 or more.

Included with the boat are: All interior and exterior cushions (as shown in photos), Honda 10hp 4-stroke outboard that runs and shifts perfectly (worth about $700 on its own), all rigging and sails, spinnaker pole, whisker pole, Comnav knot meter and wind meters (about $1000 in electronics), swim ladder, fenders, bosuns chair and sail repair kit. The interior is equipped with: full galley including 2 ice boxes, sink, cabinets and alcohol stove (needs knobs, I never used it), portapotty, hanging locker, 4 person dinette, vee berth, interior lighting, AM/FM CD player with 2 speakers and Aux input.

Sails included: 5 year old main, #1, 2, 3 and 4 genoas (the #3 has reef points, the #4 is a small working jib), Spinnaker, spare older main. The main was new in 2008 and probably has less than 30 sailing days on it. The headsails are in good to decent condition and the owner previous to me has some newer ones available should you want to purchase those as well.

Here's a bit about the boat:

Hull Type - Keel with centerboard.
LOA : 24.17 ft. / 7.37m
LWL : 19.00 ft. / 5.79m
Beam : 7.67 ft. / 2.34m
Draft
Min: 2'9". / 0.85m (Centerboard up)
Max: 5'9". / 1.77m (Centerboard down)
Displacement: 4250 lbs./ 1928 kgs.


Designer : Sparkman & Stephens
Builder : Yankee Yachts Inc. (USA)
Construction Material : Fiberglass

Rig Type : Masthead Sloop
Listed Sail Area : 297 sq.ft. / 27.59 m2
PHRF Rating: 252 (Spinnaker)

Link to photo album with over 50 pictures of this boat, including the restoration and repair process. Please note that the topside paint looks much better in the pictures than in reality: https://picasaweb.google.com/Spruell.Mark/YankeeDolphin24?authuser=0&authkey=Gv1sRgCKqq5K-y4u-E3wE&feat=directlink

Trades considered: I would consider a nice daysailer or dinghy as a partial trade (12 - 16 foot), maybe even a dory / skiff type rowboat / sailboat. I won't trade even up for anything and will only consider trades below $900 (as I really need to net at least $1000 cash in the deal). I'm probably not interested in any other trades, but it doesn't really hurt to ask if you have something you would like to offer.

Mark
248-four67-9six87

keywords: sails, sail, sail boat, Oday, Pacific, Macgregor, Hunter, jib
31300 N River Road (google map)

Location: Harrison Twp
Posting ID: 3792022696 Posted: 2013-05-08, 9:05AM EDT Edited: 2013-05-08, 5:26PM EDT

******************************************************

************************************************************************************
July 13, 2011 Mark checked in with the following email and pictures of Paradiso, a boat in transition - ownership, name, color and location. Previous owner Matt Bemis did a lot of work on Shambles, and four years ago was one of the early Dolphin 24 owners to check into our then newly launched website. Click here to go to Shambles page. Pending receipt of an 'all done' photo, we'll use this photo Mark sent in to start Paradiso's page.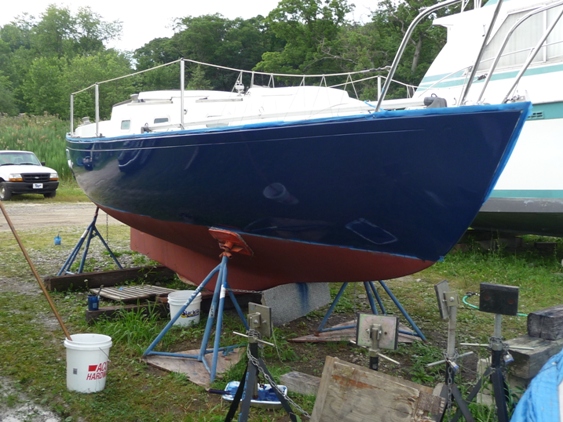 Its all about reflections - maybe we'll keep this one here...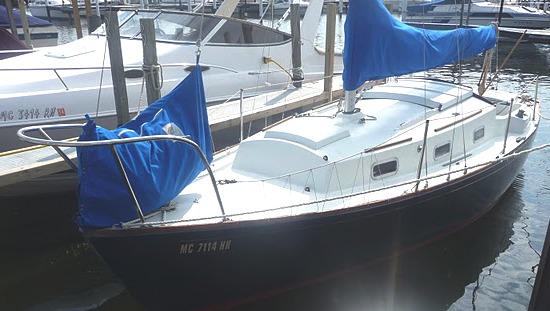 And here with her new , on deck, jib bag
Hi Ron,

I thought I'd write and give you an update on Yankee Dolphin #203 (Shambles). I am currently in the process of purchasing it from Jon Wycoff (who in turn purchased it from Matt Bemis). Jon and I are working together to get her ready for the water, but it is a very low-budget affair. Hopefully, with a lot of sweat equity, I'll have her looking good enough to get rid of the name "Shambles".

The pictures show the process of painting the hull. Jon did the bottom paint and the first coat of primer. The sanding, second coat of primer and topside paint are up to me. It has been a very laborious process. Interlux claims you should budget 80% of your time for preparation and 20% painting. I'd say it is closer to 90-10, and you should expect to spend as much money on sandpaper as paint. It should be worth it, though.

So far it has taken two coats of primer and three coats of Brightside, but I think we're done. The first two coats of topside were done in Interlux Dark Blue, which came out much brighter than I expected (I'm using #166 Mahi Mahi as my guide, I'd like to have my boat looking like that!). For the third coat, I mixed 25% Dark Blue with 75% Flag Blue, and now it looks as expected. The masking tape should come off tomorrow, when the boot stripe and dolphin stripe get added (in red and gold, respectively).

We'll also be cleaning and oiling the teak, cleaning the deck and fairing the centerboard. I've also been working on the cushions, using vinyl paint to make them look a bit more contemporary. If I get a chance, I'll update you on that process as well.

We are expecting to splash her in the next week to 10 days and then Jon is going to bring her up to her (old) new home on Lake St. Clair. She will also get a new name -- "Paradiso", which is Latin for "heaven". I took the name from the 80's band The Chameleons, btw, whose lyrics are ripe with great sailboat names ("Silence, Sea and Sky", "PS Goodbye").

Thanks for your work in keeping this great site alive!

Mark

PS If anyone is interested, there are more photos of my boat here:
October 16, 2011. Here's a couple more pictures from Mark's Picasa page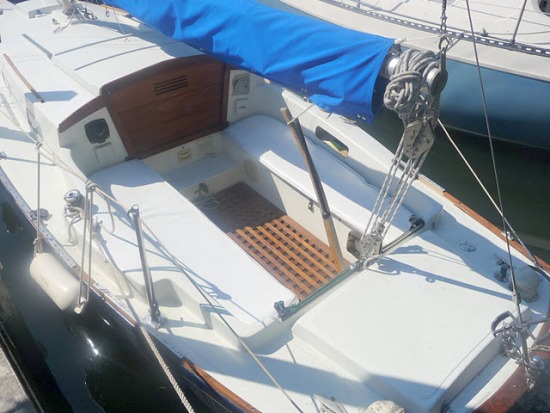 Nice

Also nice