February 16, 2016. We got the following reply from Mark Larson on a follow up:
I traded Agape for a Bristol 22 in 2012 so far as I know she is still in L A harbor/ San Pedro but I have not seen her since spring of 2014. I'm sorry I can't give you any more information or Pictures.....

Mark

Fair Winds Mark
We'll try and track down the new owner....Webmaster Note July 5, 2016. Lauren Palmer checked in as the new owner of #146. We have set up a new page for her. Click here to go there.
*************************************************
July 21, 2011. Mark Larson has checked in as the new owner of Agape
Hi Ron

I am the new custodian of AGAPE, my name is Mark Larson and I bought my first boat the year that AGAPE was built. She is a beautiful little yacht and it was AGAPE at first sight. I have been on the Dolphin website many times it has been a good resource for me. Thanks for all the work you put into it.....

Mark
*******************
We'll reserve this space for Mark's picture of his new boat...
*********************
**********************
The following is what we have about Agape from her previous owner Glen Korpi, and the link to her interesting past as Dick Beal's Think Big
July 20, 2011. Glen advises that #146 has been sold. His email is below (minor edit) We will standby for the new owner to check in. This is a special boat, nee Dick Beal's Think Big. Thanks, Glen, for taking care of her.
Dear Ron,

A sad day……We have sold our Dolphin-24, the AGAPE, Hull # 146. Can you please remove the AGAPE's "For Sale" status?

Thank you for all your wonderful input to the Dolphin 24 website.

Sincerely,

Glen K Korpi

**************************
December 13, 2010. Glen has had a number of inquiries but AGAPE is still available. He is reducing his asking price to $8900.
July 9, 2010. Glen's AGAPE, formerly Dick Beal's Think Big, is for sale due to owner's ill health. This is an exceptionally well equipped boat. Here is the ad.
AGAPE
Yankee #146
Dana Point Harbor, California
FOR SALE
Yanmar 2GM20 Diesel. 3 Self‑tailing Lewmar sheet winches plus powered Lewmar main halyard winch (also used for anchor retrieval and ascending mast). Garhauer rigid boomvang. Harken traveler. Control lines lead to cockpit. New mainsail, full-length battens with slab reefing. 130% Genoa and 80% jib on Schaeffer furler. Galley with DC refrigerator, AC microwave. Hot water heater. Hot air heat. AutoHelm. VHF radio. Wind indicator. Depth finder. Ground tackle. Dodger. Structurally sound. Bottom cleaned monthly. A beautiful pocket cruising sailboat equipped for sailing to Catalina and Channel Islands with crew or solo.
Contact: Glen and Regina Korpi, @ 949‑499‑0035 anytime.
Dana Point East Marina B6 slip available.
Selling due to owners' ill health.
Asking $8900 (Price reduced)
EQUIPMENT INCLUDED

Boarding ladder

Danforth anchor with 20' 5/16" chain

Anchor rode

2-burner propane stove

Refrigeration unit

3 CG approved life preservers

2 CG cushions

Fire extinguisher

Emergency flares

2 winch handles

Docking lines

Spring lines

Inflatable dingy, oars, and air pump

Engine spare parts

AutoHelm autopilot

Cockpit seat cushions

Saloon seat cushions

V-berth and saloon seat cushions

FEATURES

1) Related to sails

Mainsail-

lowers into lazy jacks

raises via powered Lewmar self-tailing winch

fully battened

equipped with slab reefing

like-new condition

rigid Garhauer boomvang

Harken main sheet traveler

self-tailing sheet winch

mainsail cover
Foresails

approximately 150% genoa

approximately 100% jib

Schaffer rolling furling

self-tailing sheet winches

2) Related to Deck

Large lazarette

Large port and starboard cockpit lockers

Three large drains for cockpit

Cockpit floor grate

5" thick, cloth-covered cockpit seat cushions

Hatchway saloon doors

Dodger with protective covers for windows

Stern and bow pulpits

Safety lines

Flag halyard

Shroud protectors

Bow roller

Anchor chock on bow pulpit

120v connector to shore power

3) Saloon (Teak grained fiberglass head liner)

Galley

2-burner propane stove

SS sink

pressurized fresh water

several storage cabinets and drawers

refrigerated ice box

hot water via AC heater or engine heat

AC microwave unit

storage compartments under seats

large chart/dining table

Quarter berth

chart/dining table converts to starboard quarter berth

Head

sliding door provides privacy

shelf storage above head

V-berth

room for two sleepers

hammock net for clothing storage

fitted cushions

Tankage

Diesel- 15 gal stainless steel tank

Water- 15 gal stainless steel tank
4) Power

Yanmar 2 cylinder, 20-hp diesel engine, ca 675 hrs.

Yanmar Factory Manual

5) Electrical/Instruments

120v sockets throughout

2 12-v batteries with selection switch and voltmeter

Auto pilot

Mast head wind speed and direction- digital display

Depth finder (to 200') w/shallow water alarm

VHF radio

Engine RPM, water temp, oil pressure gauges

2 compasses

All required navigation lights, including masthead tri-color light.

Foredeck light

Bilge pump

12v lamps in V-berth, head, saloon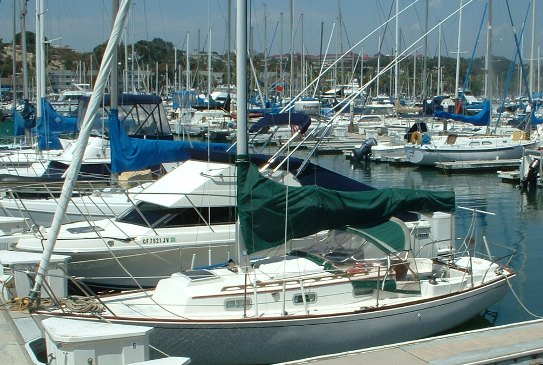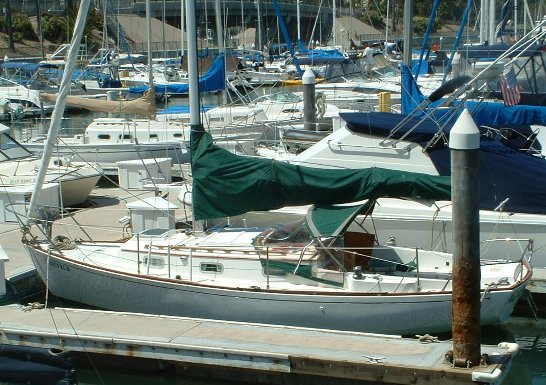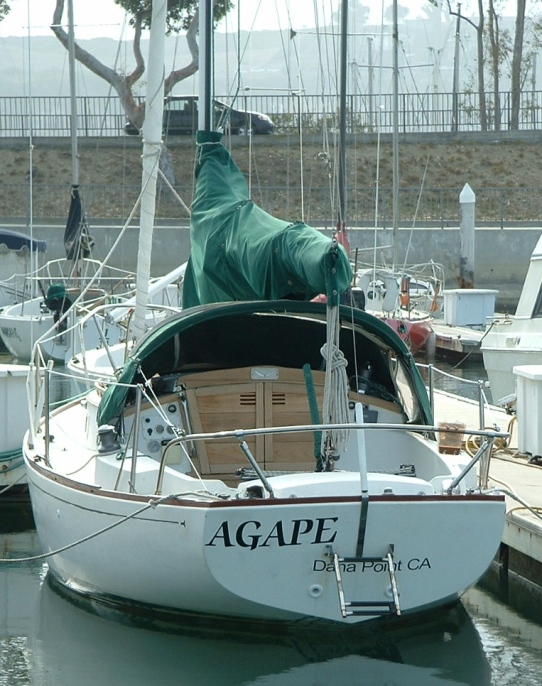 More information at:
http://dolphin24.org/index1.html Web site for the Dolphin‑24.
http://dolphin24.org/think_big.html Web site with story/history of our Dolphin‑24; photos and equipment/fittings.
http://www.dolphin24.org/AGAPE.html Recent photos of our Dolphin-24..
http://dolphin24.org/yankee%20sales%20brochure%201969.html Manufacture's Dolphin‑24 brochure with specifications and drawings.
http://www.sailnet.com/boatchk/showproduct.php?product=1919&sort=2&cat=705&page=1 SailNet reviews of Yankee Dolphin‑24.
*************************************
March 10, 2009. Glen Korpi advised today that he bought Think Big in September, 2009. This a boat with a great story in her past - click here to go to it. While Yankee #146 has a new owner, and a new name - AGAPE, Glen keeps her at the same Dana Point Marina. We are standing by for pictures and an Agape update
*****************
May 18, 2010. Here is AGAPE, and Glen's update (minor edits).
Before

Ron,

Here is a status report about the work we've done to the AGAPE.

So far, I've refinished the wood around the hatch and hatch doors as well as the cabin top handrails; that job required that I sand all surfaces down to bare wood. (I removed everything and took them home and used a belt sander. Then I varnished the many pieces prior to re-installing them.)

The toe rail was in bad shape; I scraped all the surface varnish off, which left dark streaks of old varnish imbedded in the wood's softer grain. Since I wasn't about to remove about a 1/16 inch of wood (to remove the streaks of old varnish), I decided to paint the toe rail. One coat of an epoxy white primer, and two coats of topside paint, having a color called "Bright work Brown."

The above two photos show how I masked the cove stripe and the little dolphin prior to painting. Note that these photos show the color of the toe rail. The transom view photo below shows much of the bright work's new varnish.

While masking the cove strip/line, I noticed the two small "dots" embossed in the hull between the forward end of the cove line and the jumping dolphin. Did you know that the stern-most dot is an "O" and the next one is a "D?" I guess the two dots stand for O'Day. It looks like Yankee used the original hull molds. (Webmaster note: Yes, we knew it! Click here to read all about that story - George O'Day, at the end)

The glossy black cove stripe looks pretty good. No photo yet.

I've also installed a folding bow roller on the port side of the rolling furling gear. (Note the rub strake protecting the toe rail in this area)

On the transom, there was a stainless steel boarding ladder. The ladder's supports rusted and left terrible rust stains dripping down the transom.

Before applying the boat's name and hailing port, I wanted a clean transom. So I removed the supports and used a rust remover compound (FSR Fiberglass Stain Remover from West Marine) that really worked! I've ordered vinyl letters for the boat's name and hailing port.

Now we have a clean field to work with. Once I have her name applied, I'll send you a photo. Planned work includes cleaning the deck and other topside surfaces. I'll probably paint areas on the foredeck that seem to be worn down to the fiberglass substrate.

I've fixed several lights that were not working, replaced the plastic lens in the stern running light, removed miles of unused wire and cables, an unused GPS antenna, and bought a LED-equipped anchor light.

I installed a depth finder, replaced the transmission oil pressure gauge and oil temperature gauge and replaced the diesel engine's water temperature gauge and sending unit. I changed the oil and oil filter and the diesel fuel filter.

That's about it.

Not quite; her bottom badly needs new antifouling paint. Do you have a lead on lowest haul out prices in a yard that I can do the painting myself? Nope! I have a trailer and do it at home.

Stand'n by,

Glen
*****************
May 30, 2010 - An update from Glen - and AGAPE now has her name on her transom.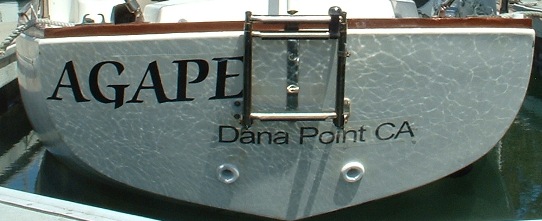 Ron,

Here is a rear view of AGAPE taken a few minutes after we applied the name and hailing port decals.

Also, if you look closely, on the stern rail (blocking a view of my wife's left side) is a small transparent plastic panel attached to the stern rail. Our inflatable dinghy's outboard motor will hang on this panel.

Glen

********************