February 23, 2014. Sad News. Doug Berg, son of Roy Berg advised us that his dad, former owner of Black Dolphin, had passed away on February 17. Roy was working as an engineer at Lunn Laminates when they got a contract from O'Day in late 1960 to build 25 Dolphin 24s. Roy was later to become Lunn Laminates' chief engineer. He, along with son Doug have been great supporters of this website and our effort to document the history of the Dolphin 24, and we re-dedicate this page to him, and to Black Dolphin. Here's Doug's email, edited
Hello Ron,
I hope that you've gotten all of the information you may have needed from my Dad. Dad passed away on Monday Feb. 17th, 2014 in Huntington Hospital due to pneumonia and other complications. He was ready... we were ready.. it was a good as it could be. Dad was 92 years old and will be dearly missed by his family and friends. He was without a doubt, a charter member of the "Greatest Generation."
We are all doing well ... Mom and my brother and sister.
Hope this finds you well.

Best regards, Doug

A pretty boat
Back on December 12, 2008 Doug sent in the above and following pictures. His dad got the opportunity to buy Black Dolphin at a very good price when a customer returned her dissatisfied with some gel coat problems and other construction details now lost in the mists of time. Roy personally made the repairs and she became his boat. He had her for about 5 years, raced her on Long Island Sound, and took her to Maine with his family.
In this early 1960's photo, Doug is one of those kids in the background. Mom is eating her then, and still favorite, meal. Its red, lots of legs and big claws...

That nameplate on the bulkhead had the # 219, built by Lunn Laminates.
Roy sold Black Dolphin to Wally Strang who raced her for many years in eastern Long Is Sound and nearby waters. Current owner, Larry Taylor is undertaking a major restoration of Black Dolphin and sent in the following builders certificate that was on the boat when he bought her.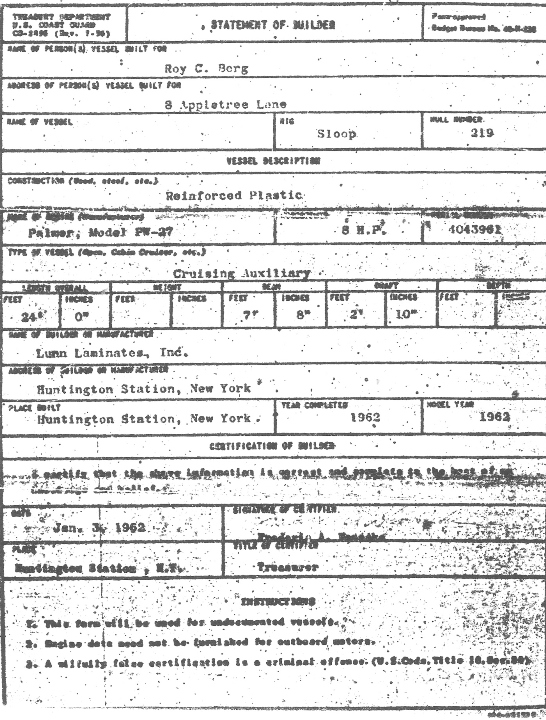 Click here to go to the History Section and Lunn Laminates, and click here to go to Larry Taylor's Black Dolphin.
*************************************
October 14, 2015. Your webmaster met Senior DFI Doug Berg at the US Sailing Match Racing Championship at Oyster Bay a couple of days ago - this after literally years of communicating, but not ever meeting, on various Dolphin matters. (Daughter Nicole, also a senior DFI, was racing and son Mike - his Dolphin is Passage (Nicole and Mike crew on Marionette) and I were there to help her carry the trophy. Alas, this time it was not to be.
After catching up on the regatta results (click these links http://www.ussailing.org/matchracing15-final/ and https://www.regattanetwork.com/clubmgmt/applet_match_race_results.php?regatta_id=10293 ) Doug presented your webmaster with a 1/10 scale model of Black Dolphin that his father, who passed away earlier this year, had built.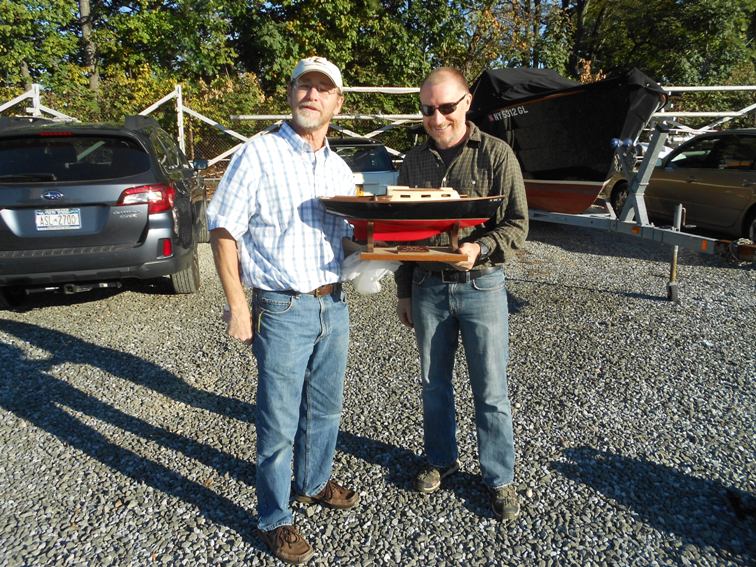 Doug and Mike holding the model - click on photo for a larger image - click the return arrow on your browser to get back here
This is a beautiful model! Roy built a mold to layup the major parts in fiberglass. He built at least one other model for Ron Noe (En Charette. Lunn first boat, hull #200), and perhaps several others for buyers of Lunn built Dolphins. This one he built for himself. It needed some minor restoration effort, the portside toe rail, one of the hatch slides and the rudder rehung - which was completed by your webmaster last night. We have added this rport to our page on Models. Click here to go there.
The end of the kitchen table seemed like to right place for this project. Makes it memorable for the Admiral......
Click on the photos for a larger image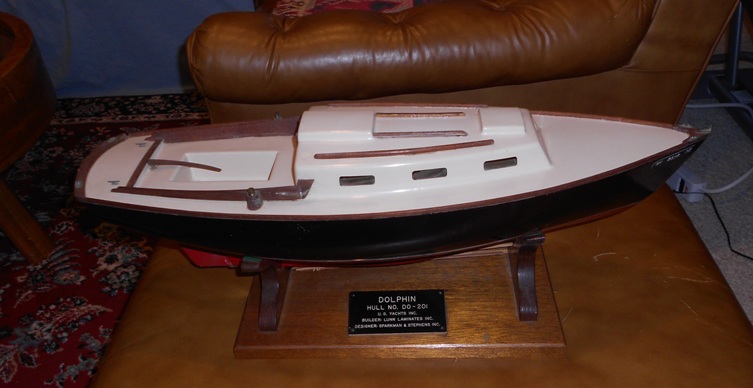 Temporary home on the Dolphin24.org office ottoman (leather, of course!) Click on the photo for a larger image
Related to this project was a commitment to check on Black Dolphin's current status. A couple of phone calls ended up on an answering machine so a field trip was called for. She is in Noank at Jim Hanson's Formula Boatworks in Noank, CT. No one was around so still waiting for a report on her status. Check Black Dolphin's current page

http://dolphin24.org/blackdolphin.html
Stay tuned