The 'plan' was to launch in mid May and race in Marionette's favorite regatta, the annual early June Off Soundings Club's (OSC) Spring Regattta - out to Block Island, Rhode Island on day 1, around Block Island on day 2. Then, on day 3 leave directly from Block to start the 6-7 day trip by sail up to the Blue Hill area of Maine. This is a 300 mile coastal trip - and I don't do overnights short handed.......We had made arrangements to rent a house in Blue Hill, Maine and, as in past years, Marionette's presence adds important dimensions to our family vacation.
Getting that 6-7 days to sail to Maine, and plus this year the 3 days for the OSC regatta, is never easy given life's other commitments. And this year there was an added complication - the need to get to Lagos, Portugal in late May to formally accept the Sparkman & Stephens Association's Global Challenge award, Marionette's 2nd such award, this for performance in the 2015 Off Soundings Club's Spring Regattta. Click here to check this out. Time ran out getting her ready to race so we had to bail on the OSC regatta and concentrate on a Maine plan B.
While getting Marionette to Maine is always a challenge, in recent years it has been made easier (but much less fun) by trailing her on the 5 hour road trip up to Rockland, launching at Journeys End Marina, and then, with the required stopover in Camden (her favorite Maine stop) she sails to her summer base on Eggemoggin Reach - usually at Bucks Harbor at the top of the Reach, but this year at Center Harbor, Brooklin, Maine near the bottom of the Reach. Charts later....
We'll start off with a few pictures......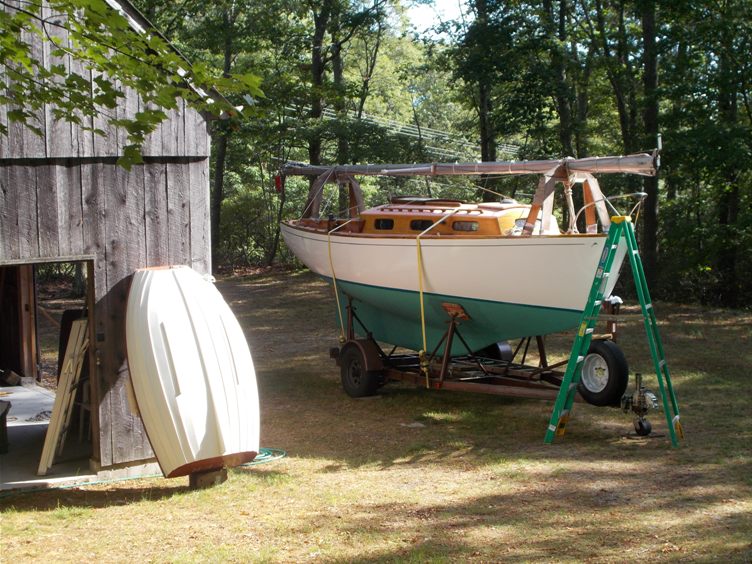 July 12 - Marionette and 'TEER ready for their 5 hour trip to Rockland, Maine - click here for a larger image

For those readers who think this is all fun

To get her ready - sanded and painted the bottom: painted her topsides, 2 coats; taped and painted her boot stripe, and her cove stripe (she has a molded in cove stripe, much harder to paint than the boot stripe - the high visibility problem creates perfection stress): sand and varnish her toe rail.

Then loading, up and down that ladder, 5 bags of sails, 2 bags of lines, lifelines and stanchions, lifejackets, boom tent, cushions, tool and parts boxes, electronics, 2 anchors, 2, Yes TWO! 4 hp outboards professionally serviced then loaded - the primary 35lbs, back up 32lbs - a bad gas (water in) tank fill up can ruin a nice cruise, no car and finding and waiting for a service shop - happened twice.....,no more! Then repairing the broken tiller (click here); - I could go on and on....

Click the photos for larger images
Mark, the driver, has been to Maine with Marionette a few times.

Here, in the rain a couple of days earlier, webmaster following with camera dangerously in hand, the trailer with Marionette aboard, is on her way to the trailer depot to have her Safety Check - brakes, hydraullics, tires, lights, etc. Passed, but that right brake light is still problematic.

Mark's truck is great as its lights are really visible.

Click here for a larger image
July 12 OK, we're on the road - left at 6:15AM. No issues, thankfully, and arrived at Journey's End Marina, Rockland at Noon. 5 hrs, 45 minutes included stops for a safety check, coffee and gas. Follow the blue line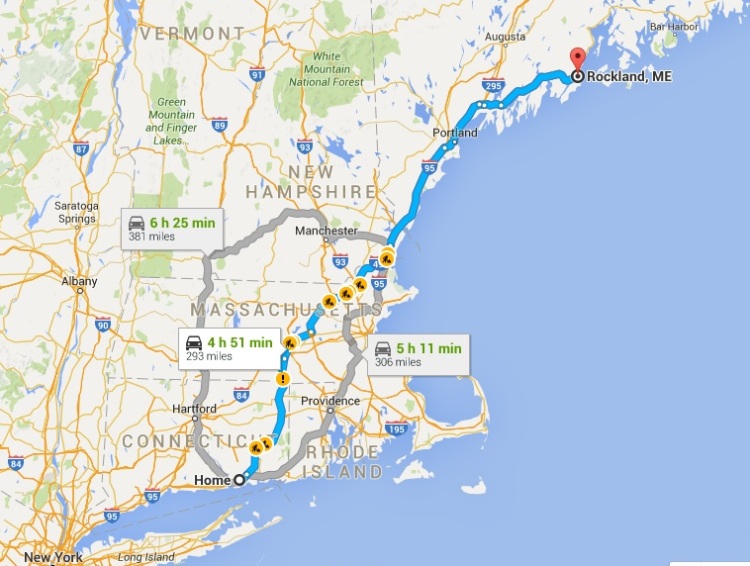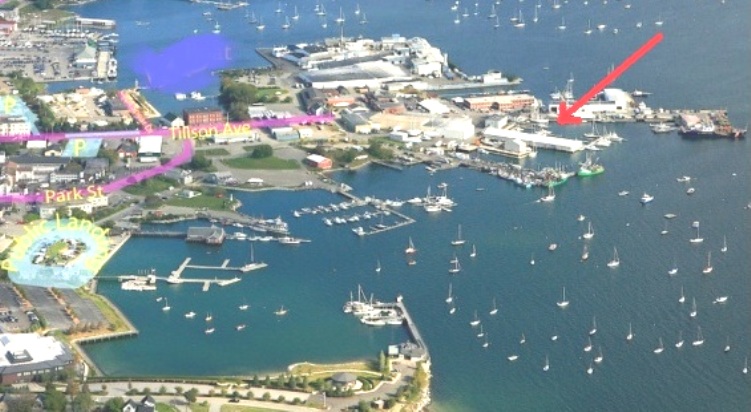 Rockland Waterfront - Journey's End Marina - the red arrow
When we got there I untied the mast and took the straps off the boat, then Mark and I left for our ritual 'lobstah' roll lunch at the Landings Restaurent nearby. The yard crew stepped the mast while we were gone.

Mark helped me get 'TEER, down to the dock, then left to go back to CT.

Oscar, that Frers 40 ahead, makes one feel small...

Click here for a larger image.

This is a file photo from 2011 but is worth repeating - it tells the story. Journeys End Marina, again, did a great job stepping the mast, launching, and in my slip at 2:30.

Then, the hard work in a hot afternoon sun - put in the stanchions and lifelines, set up the boom, rigged the mainsail, organized the halyards, straightened out down below, etc. Showered then went to have a dinner seated at the bar of a nearby restaurent, preceeded by a well deserved Vodka Gimlet, up, a bit of extra lime juice please. Long day - back on board and in the v-berth sleeping bag, fast asleep by 8:30 - honest!
July 13. Up at sunrise, 5AM. Very light breeze from the south. Straightened out down below, removed mainsail cover and set up main halyard, put 'TEER in the water, shaved, drove to the Rockland Cafe for breakfast, had them make me a sandwich for lunch, picked up some ice, put some beer in the cooler and pushed off from the dock at 6:30AM. Motor sailed with just main out of the harbor, past the Rockland Lighthouse then out past Owl's Head and its lighthouse. Light breeze right on the nose - couple of seals watching.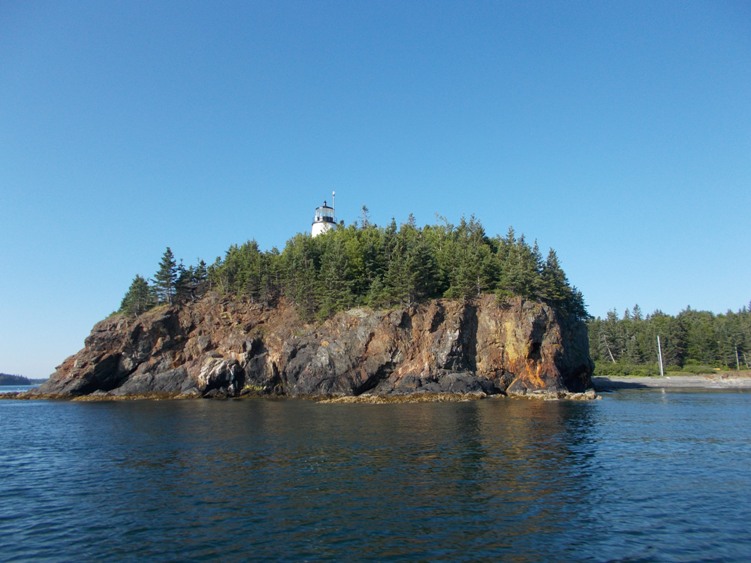 Owl's Head Lighthouse - in close, the seals lounging look like rocks - scary.....
So where are we going? We are motor sailing with a light breeze on the nose, heading south on the eastern edge of Penobscot Bay, around Owls Head and down Muscle Ridge Channel to Spruce Head Island, about 11-12 miles.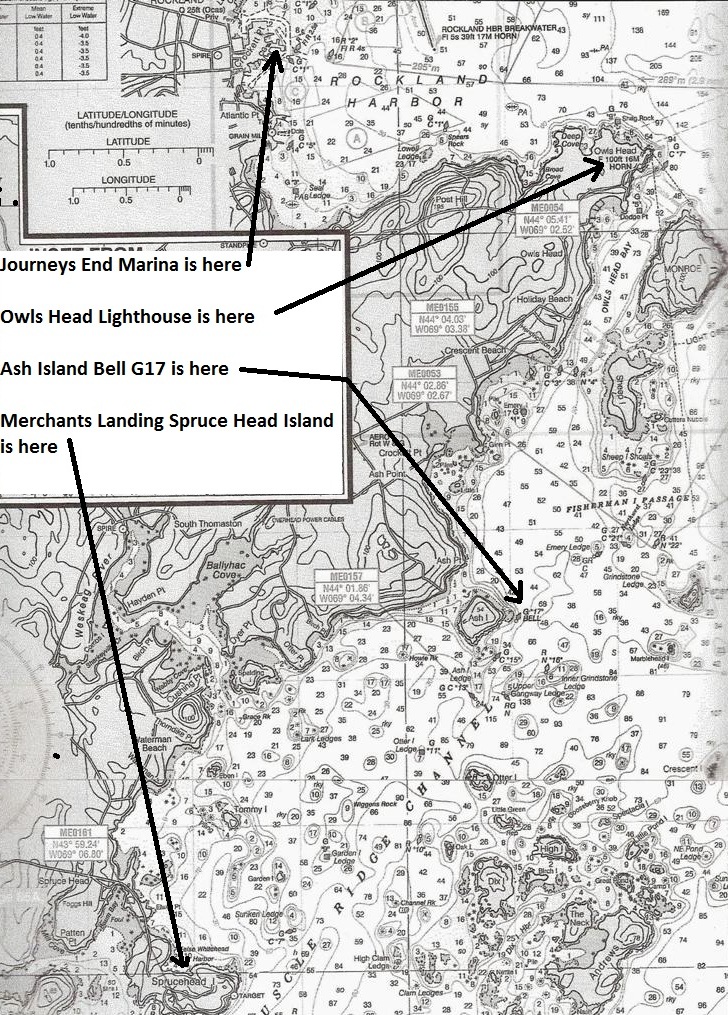 Ash Island's G17 bouy marks the beginning, or ending depending on whether you are heading north or south, of the Muscle Ridge Channel. It separates the mainland's rocky, dangerous coast and a large number of many uninhabited islands - a cruising destination for Marionette this summer - weather and time permitting.

Our destination is Merchants Landing, locally known as Lobstah Cove (below). The mooring area is managed by Skip Connell, a fisherman who lives on the island and just happens to own Abbie Burgess, Lunn hull #212.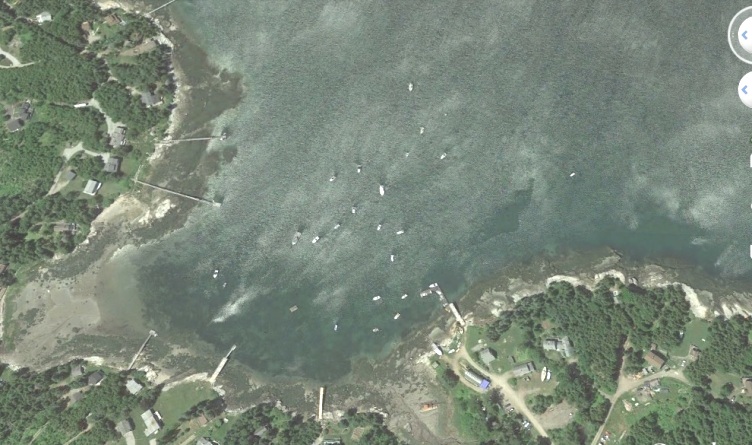 Lobster Cove - Merchants Landing - Spruce Head Island
On approaching Lobster Cove I called Skip on his cell - he was out fishing - he told me to pick up mooring B5. I had some nice neighbors - a Hinckley (below right) , and a beautiful woody (below left) I need to find more about. Click on the photos for a larger image.
| | |
| --- | --- |
| | The reader should know that, other than a Dolphin 24, the Hinckley Bermuda 40 is at the top of my wish list. This is a Pilot 35, 2nd on my wish list. |
| | |
| --- | --- |
| Marionette in the foreground, Camden hills on the horizon | I got into 'TEER and rowed ashore. No bar so I walked up the gravel road and rounding a bend, there in field, I saw Abbie Burgess - and true to my senior DFI status, had my camera and took her picture. A $25 cab ride to Rockland to pick my car. |
July 14 Up at 5, sunrise over the islands - increased my commitment to cruise around those islands. The plan is come back next week and DO IT! I checked over everything and Marionette advised all was well.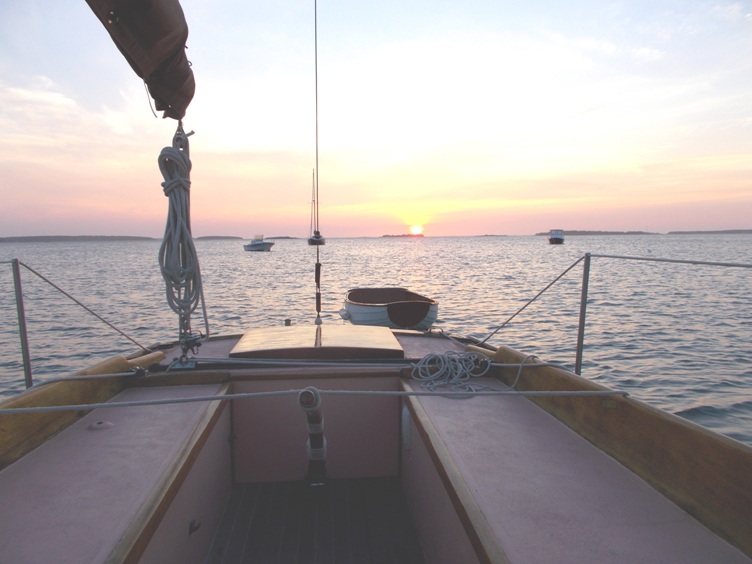 A good reason to get up early
'TEER (below left) took me ashore safely, passing Skip's boat (below right) on the way in. Left Merchants Landing at 6:15AM, back in Old Lyme, CT at 11:30. Baring the unforseen will be back here in one week......
Click on the photos for a larger image
July 22, 2016 A quick trip back up to Maine yesterday to finish (rephrase that - continue) getting Marionette ready for a busy summer - And to check in with fellow Dolphin owners. Its a 5 hours Old Lyme to Camden - left 3:30AM - avoids heavy traffic..... Breakfast at Marriner's, right (Maine's oldest family owned restaurent - table out on the deck overlooking the harbor - Maine blueberry pancakes, crisp sausage patties, Maine maple syrup - alone worth the drive) BTW - next door second floor - Stone Soup - a favorite used book store

Click these photos for larger images

The view - with breakfast
Did I mention that Marionette is entered in the Camden Classics Cup Regatta July 28-30? Part of this trip was to confirm Marionette's slip up at the head of the harbor - got it, and check out registration details. Son Mike (Passage) and I will sail Marionette up from Spruce Head Island July 28.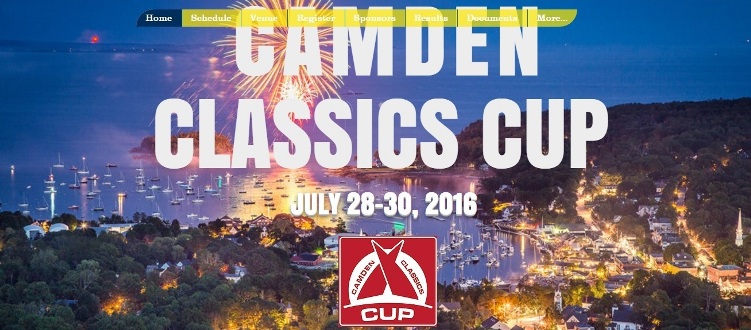 Stay tuned for this report next week
Back to the present, and Webmaster duties. I met with Jamie Wyeth, owner of 2 Dolphins Black Dolphin and Dolphin, and soon the owner of a 3rd Dolphin - more on this in coming weeks! Somehow, missed meeting up with Josh Gardner (TERN) who keeps his boat in Camden - we'll catch up with him next week.
Then on to Spruce Head Island to meet up with Skip Connell (Abbie Burgess) and Cliff Dasco (Maya Elena) - more pictures.
Click on the above pictures for a larger image
AND, finally I got to work on Marionette - get her ready to race. Back home by 10PM. Long day......
******************************
July 26, 2016. The Camden Classics Cup regatta, July 29/30 has 26 entries to date - 6 in the spinnaker CRF "Classic" fleet in which Marionette is entered. The Classic fleet consists of boats designed before 1975. There is a 'Vintage' Fleet that has boats designed before 1948.

At right is the scratch sheet for the Classic fleet - as of this date. Click here to see the full regatta scratch sheet

Click on the boat names to see a photo.

| | | | | |
| --- | --- | --- | --- | --- |
| name | crf rating | type | loa | Fleet |
| Bugs | 222 | Cape Dory 25D | 25' | Classic |
| Marionette | 205 | Dolphin 24 | 24' | Classic |
| Star | 198 | Alerion 26 | 25' 4" | Classic |
| Prima Donna | 157 | Nevins 40 | 40' 4" | Classic |
| Otter | 137 | Concordia 41 | 41' | Classic |
| Mermaid | 125 | S&S Custom | 45'8" | Classic |
************************************
August 2, 2016 - Just back home from Maine. WE WON our fleet division!!! at the Camden Classics Cup regatta. Need to catch up on 'chores' and will have a full report soon. Marionette is now on her August mooring at Center Harbor in Brooklin, Maine. First day - no wind, races cancelled; 2nd day very light wind. Here's the fleet results.

Lets step back a few days. On Thursday morning, July 28, up at 3:15AM, on the road at 3:45 with son Mike to drive to Camden, Maine. Breakfast at the Marriners Restaurent (see above - the oldest family owned restaurent in Maine), met with Jamie Weymouth to deliver his Black Dolphin model, left the car in the municipal parking lot, got picked up by a taxi to take us to Spruce Head Island where boarded Marionette for a 4 hour motor sail (no wind/foggy) to Camden. Click on pictures below for a larger image
Click here to go to Jaime's Black Dolphin

We checked in at the Lyman Morse regatta office, got showers, walked around the docks checking out some of the really beautiful boats in the harbor, and the library lawn - one of the most beautiful settings.

Then a short walk to Francine Bistro, great food, a couple of glasses of wine and in our sleeping bags by 8:30.

A very long day....

Francine - on the list of favorites

Left - Marionette and 'TEER's slip Harbormaster's Dock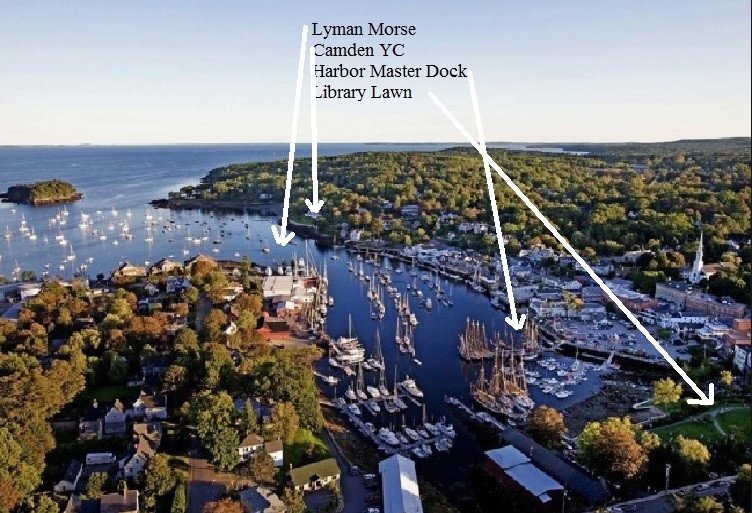 Camden inner harbor - Curtis Island is that little island upper left corner
*************************************
August 6, 2016 We have lots of pictures and at least 2 videos of this Camden event - including their "Parade of Sail" with competitors all dressed up. In order not to 'bog' down' the log I have decided to set up a separate website story page "The Camden Classic Cup" which will take a few days to complete. Pending that here's some links...
1) Video put up on Youtube by Mike Gooch-Breault (Passage, #10) https://youtu.be/J56X2ep6LLM
2) Marionette's Parade of Sail video by Josh Gardner (TERN, Yankee #123) (Technical assistance by Mike) https://youtu.be/lSz_jzkJv10
3) Gallery by Ed Gifford https://www.icloud.com/sharedalbum/#B0dGJDfWGGg9zg8
After the Regatta Mike and I left Camden on Sunday, July 31 on a 25 mile trip to Center Harbor, Brooklin, Maine at the far end of Eggemoggin Reach - no wind, crossed Penobscot Bay by cutting thru the island chain south of Islesboro (thanks to local knowledge from Mike Horn (Avellar2, Yankee #73)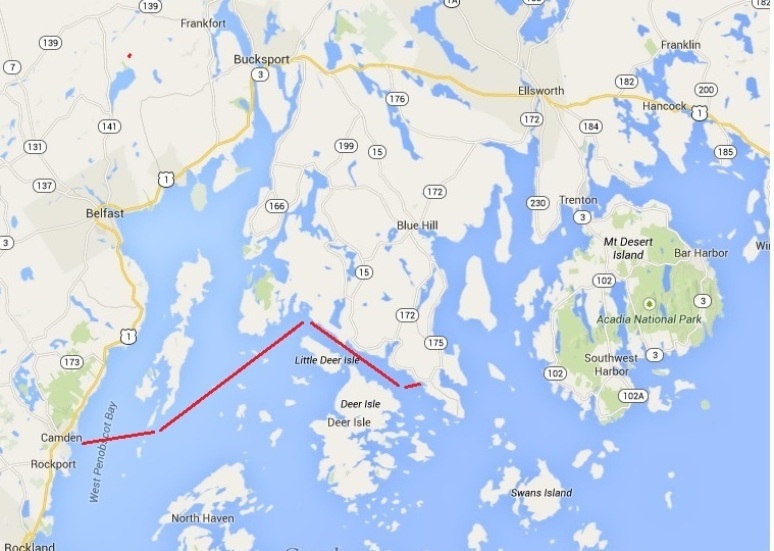 Center Harbor is this neat harbor in Brooklin just before the Wooden Boat anchorage and is home to the Center Harbor YC, and the Brooklin Boat Yard. Marionette has been here many times. A primary motivator - its only a short walk to the village center and the the downstairs Pub at the Brooklin Inn. Owner Chip Angell is a former schooner captain and helped us put together our Yankees story http://dolphin24.org/yankees_johnson.html. The person we have to blame for that story is Terry Glenn and her Porpoise, Marscot/O'Day #15 http://dolphin24.org/porpoise-Glenn.html
Marionette will be 'homeported' here for at least the month of August. Its easy day sailing to Blue Hill, Mt Desert Island, the west coast of Deer Island, Merchants Row off the south side of Deer Island, and even Swan Island and Isle au Haut

Brooklin Inn

The Pub (has a pizza oven too!)

Click on these photos for a larger image
Brooklin Boat Yard is a high end builder with a great history. Owner Steve White raced his Swede 55, Vortex in the Camden Cup Classic, and her mooring is right next to Marionette's.

Click on the photos for larger images
*****************************************************
August 10, 2016. Quick trip back up to Brooklin, Maine Aug 7/8.. Needed to change the sails, clean up the boat inside and outside, and squeeze in a couple of hours sailing. Closing in on 10 years running this website the age old 'a picture is worth a thousand words' saying is permanently impressed on the brain.

Here's at right is the dinghy dock at Brooklin Boat Yard. Marionette is barely visible in the distance (top of middle piling)

A six hour ride from Old Lyme, leaving at 5:30AM on August 8. 'TEER is sandwiched in with lots of dinghies (rubber/padded rails highly recommended!) at the dinghy dock.

Her varnished mahagony rails are going to take a beating here....

Click the photos for a larger image
| | |
| --- | --- |
| Here at right is Marionette on her mooring off Chatto Island in Center Harbor, next to one of those many beauties that populate this harbor. It should be mentioned here that driving into this small town (2010 census - population 824) you are reminded that serious boatbuilding goes on here.... | |
Click the photos for a larger image
Dolphin 24 webmasters are always working - here at right is a favorite working spot, the WIFI and power equipped tent outside the Brooklin Friend Memorial Library.

Besides being the home of Wooden Boat Magazine, and their boat building school and anchorage, the list of builders located in Brooklin is impressive - Brooklin Boat Yard, Brion Rieff Boat Builders, Atlantic Boat Company, D.N. Hylan Boats, Eric Dow Boat Shop, Princell Woodworks, North Brooklin Boats. I'd like to mention here that, as the builder of 'TEER, I feel I am a visiting member of this club.

Click here for a larger image
Part of the worklist on this trip included changing from Marionette's 'racing sails' to her 'new' cruising sails. These were left to her by the passing of Joe Glidden's Fantesy (RIP). Fantesy had a mast that was 18" taller than the standard Dolphin mast, so her sails, in Joe's garage for 25+ years, needed some alteration - done by Kevin Farrar at Farrar Sails.

After a good washing to remove the mouse nest remains Kevin thought they were in good shape and worth re cutting, so $1200 later I had my 'new' cruising sails - main, 165% genoa and small jib. Here's the main - looking good, I think. Testing to follow. Click the photos for larger images.
Enough of the hard work - the 6 hour drive, rowing out to get Marionette, lugging cruising sails down to the dock, luggng racing sails back to the car, rigging the main, etc. Now, 5:30, time for cold one at the Brooklin Inn Pub, dinner, and a well deserved good night's sleep. Tomorrow - testing - the fun part.
August 9, 2016. Up at 5:30, a bad habit, rowed ashore, drove to the library and checked in on Dolphin24.org, drove along Eggemoggin Reach to Bucks at Bucks Harbor for breakfast, back to Center Harbor for the Test. Breeze was coming up - rowed out to Marionette and With 'new' mainsail up and the 'new' 165% genoa flaked and ready, we motored out of the mooring area....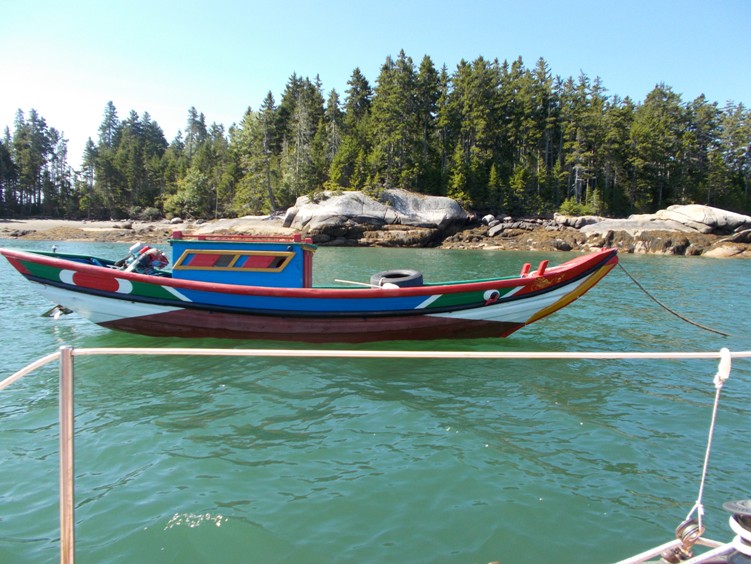 One never knows what one will see - sighted on our way out to test our "new" sails - click here for a larger image
We had 8-10 knots of shifting breeze, some stronger puffs and a nice 2 hours of 'testing' out on Eggemoggin Reach. Back to Center Harbor, derigged, and rowed back to the dinghy dock. A visit to Wooden Boat, followed by a drive up to Blue Hill to check out our upcoming vacation rental, and back in time for 5:30PM opening of the Brooklin Inn Pub, dinner, and another good night's sleep - needed to prepare for tomorrow's 6 hr drive back home.
******************************
August 17, 2017. Unable to report successful circumnavigation of Deer Island - soon, I hope. Meantime, we needed a decent picture of Marionette on her Center Harbor mooring, and, with her big neighbors finally swinging clear got this shot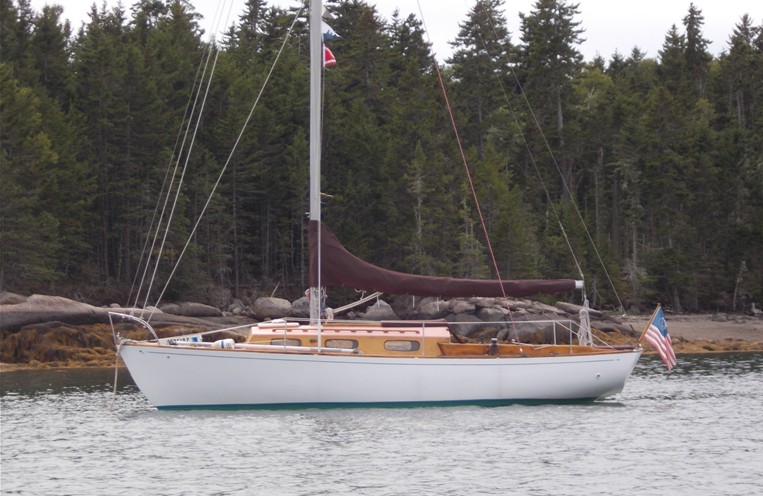 She definitely likes it here, she has good neighbors (below) - click here for a larger image
All is not sailing - Constanza (right) is Maynard Bray's Handy Billy 21', modified with a removable cabin. Maynard is the Technical Editor at Wooden Boat Magazine

Click here for a larger image
*********************************
August 19, 2016. Soooo, not satisfied with a picture taken of Ruby, (Marscot/O'Day #4) from the shore at the Wooden Boat anchorage on a foggy morning a couple of days ago (see chart below, or for a larger area view click here and use your zoom to enlarge), son Mike and I took Marionette out on a DFI mission this morning - we needed a better picture of Ruby on her mooring. It was a beautiful day, nice breeze. We left the Center Harbor and beat up the Reach until we could tack and clear Torrey Castle, rounded, fell off and set the spinnaker heading for the Wooden Boat anchorage inside the Babson Islands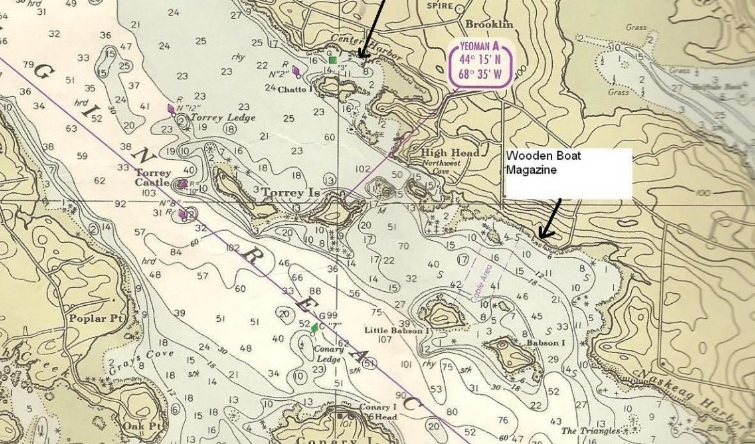 We carried the spinnaker down the Reach and inside the Babson Islands, past the Wooden Boat Dock and Dock House (below - file photo)

We jibed on the other side of that schooner on the right , and sailed past this really pretty Dolphin 24....and got our picture

Click the above photo for a larger image

Now, the interesting part. They have 10-11' tides here and it was coming in while we were doing our work. Now its time to head back to Center Harbor and Marionette's mooring. We rounded the SE end of Babson Island, dropped the spinnaker and started our beat up the Reach, initially intending to round the Torrey Islands on the outside - the way we came out..

We decided to take the Dolphin 24 route (CB up!) - we carried on port tack east of Torrey Island and squeezed between that little rock spur on the east end of Torry Island and the little island in the gap between Torrey Island and Northwest Cove. No sweat, stay with the lobster pots and you are safe.

Just south of Chatto Island we dropped the genoa, turned on the motor, which coughed a bit, ran, then stopped. Removed a big ball of seaweed (normal hazzard....), restarted, rounded N2 at the top of Chatto Is, motored into the harbor to our mooring. A cold beer and we were done. DFI work is demanding, but rewarding.
Almost forgot this one - the breeze was pretty good.

Knotmeters don't lie, do they?
***************************
August 26, 2016. With all the other stuff one has to do on a family vacation in Maine we were lucky to get some day sailing out of Center Harbor - had some windy days, 15-20, reefed main, small jib.

Lots of rowing practice in 'TEER - she has all those fenders because the dinghy dock is so crowded - bumper pool!! She gets lots of compliments too - especially here in the boat building captial of the world....

Click on the photos for a larger image
*******************************
September 4, 2016. All good things come to an end. Planned September cruising in Maine had to yield to life's other demands so, family vacation over, it was time to get Marionette to Rockland where she would be hauled, loaded on her stored trailer and taken home. Continuing to develop the theory that a picture is worth a thousand words here's a photo update.

The usual drill, up at 3:30AM in Old Lyme, 6 hrs later breakfast in Rockland, parked the car at Journey's End Marina, Eddie's Taxi (that's a 2 hr/$200 trip!) picked me up and drove me to Brooklin Boat Yard in Center Harbor, arrived at 11:30, rowed out to Marionette, patiently waiting at her mooring.

Click here for a larger image
This was a 2 leg trip, Day 1, a short 9 mile afternoon sail (no wind - motored) up Eggemoggin Reach to Bucks Harbor, where she has been many times over the years - on Jim Kurt's (The Rachael K) guest mooring off Harbor Island - in the distance.

Today we were at the Bucks Harbor Marina dock - enough rowing for one day!

A short walk for dinner at Bucks and asleep by 8:30 - another long day....

Click here for a larger image

Webmaster Note: A guy (name lost in the Internet....) came up to Marionette and asked "Is she a Dolphin?" The 'guy' is a crew on Homer Lange's Black Dog, O'Day #59. We got to talking about Black Dog's recent incident involving her centerboard.

Click this link for details http://dolphin24.org/technical_centerboard_pin.html

Webmaster Note 2 - 'guy' is Middleton Barrow
Up at dawn for the 22 mile trip to cross Penobscot Bay to Rockland - cloudy, zero wind!! On leaving Eggemoggon Reach, and on arriving at Rockland Harbor 6 hours later, it helps to have familiar landmarks. Click the images for a larger view
Spent the afternoon at the docks of Journeys End Marina stripping halyards, sails and lifelines, stowing the boom and spinnaker pole, hauling and cleaning 'TEER, etc so as to be 1st in line to be hauled the next morning. A lot of work for a single hander......

At right, she's ready - time to go to dinner

Next morning up at 5:30, motor over to travel lift bay (below), pull motor and store below, wash deck and topsides, time to get coffee at the Rockland (fisherman's - open early) cafe in town.
Done at 7:30AM - now to unstep the mast, place it on deck, secure, strap boat to trailer - Click photos for a larger image
*************************************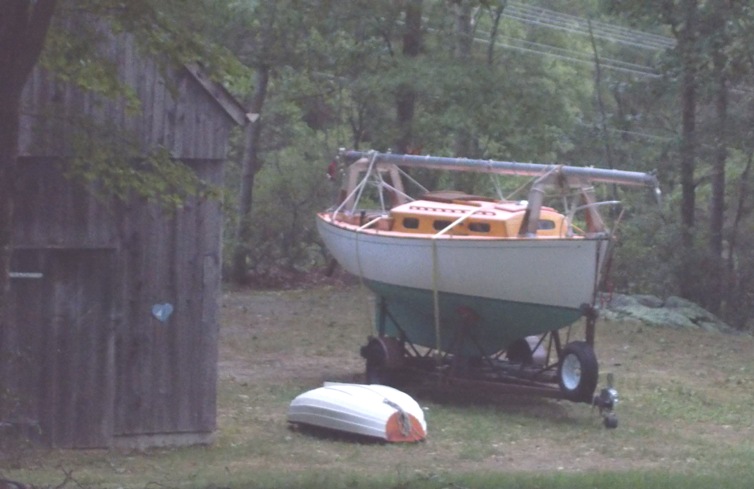 They're baaacck........