This sketch was buried in a bunch of S&S Dolphin drawings. We drove the pin out of Passage wih 3 guys taking turns on a 10 lb sledge and one guy holding a steel drive pin. There were no nuts. We thought it was a tapered pin with the small end on the port side so we drove it out from that side. It was not tapered.
We won't try and slam a pin out again - think about the shock on your 50 yr old keel bolts. Next time, maybe on Marionette, we will find a horizontal drill press somewhere and drill it out.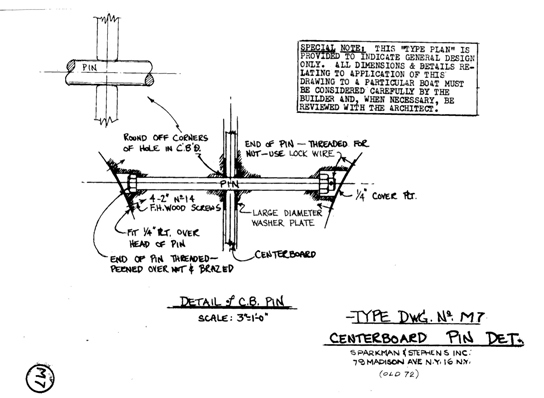 Click here for a larger image To get back here click the back arrow on your browser
October 17, 2009. Depending on the material used to make the centerboard the pin has been made of at least 3 different materials that we know of - bronze, stainless steel and, according to John Shumaker of Yankee Yachts, a very high strength plastic material. This material had very high abrasion resistance and was just about unbreakable, and had no electrolysis issues.
We have a recently reported lost centerboard problem - Ted Prohov (Wada Boat, Yankee # 190). A pin failure is expected. We hope to learn more about this event.
To go to Centerboards, click here.
***********************
July 27, 2016 Homer Lange (Black Dog, O'Day #59) sent in an email that we all hope that we don't have to write. Here it is, along with your webmaster's reply and a picture. (minor edits)
Hello Ron,

Black Dog's centerboard ran into an underwater object with her centerboard down, which bent it. We were able to get it up but cannot lower it. I have read the Dolphin24 centerboard section and my question is there an easy way to locate the pin?

Must it be drilled out through the hull?

Hope all is well with you and you are having a good sailing season.

Homer Lange

Your Webmaster replies (edited)

Hi Homer

These things happen..... My son's boat Passage is hull #10 but I believe the keel/centerboard construction is the same as yours. He had/has a solid bronze CB - do you?. The attached picture marks the location of his CB pin hole. Its 9 1/2" up from the bottom of the keel and 10" back from the forward edge of the CB slot in the keel.

As I recall when removing his pin we knew the approx location and sanded away the paint until we could see the fill/putty layered over the pin head and nut - different color that the lead. The head and nut were inset (see above sketch) and we 'chiseled' out the 'putty' until both ends were visible. Memory fades here but I believe we were able to unscrew the nut (maybe we cut it off? - the 2 guys helping me were 'pros'. Then using a drive pin sledge hammered out the pin.

As I mention on the CB page I was 'uncomfortable' with the sledge impact force on the keel bolts, but the pin came out. I looked for it this morning but could not find it.

The 'pros' told me that I could have used a horizontal drill press and drilled it out.....This was in pre-website days so no pics. If memory serves there was some sign of wear on the pin where the CB rotates on it but no corrosion - it probably was a bronze pin.

Please keep your camera nearby and tell us what happens. Let me know if you have any other questions

Ron

BTW, the S&S dwg for the CB pin above has a 'special note' worth reading. Builders had/took license in building boats, not always following designer plans. O'Day interrupted and restarted its Dolphin production and #59 was one of its later boats. There may have been some construction changes...

Note barely visible white lines - 9 1/2" up from the bottom of the keel and 10" back from the forward edge of the CB slot in the keel.

Click here for a larger image
September 4, 2016. FOUND IT!!!! So, on Wednesday last (August 31) your webmaster's Marionette was tied up at the dock at the marina in Bucks Harber, Maine (click here to check out Marionette's Log). A guy (name lost in the internet) came up to Marionette and asked "Is she a Dolphin?" The 'guy' is a crew on Homer Lange's Black Dog, O'Day #59 and was up vacationing in Maine on a chartered boat. We got to talking about Black Dog's recent incident involving her centerboard. The short report is Black Dog's bent steel center board has been flattened out using a press, but this would not have been possible without finding the pin. (We stand by for Homer's long report.)
It just so happened that this 'guy' had a picture of the pin on his iphone.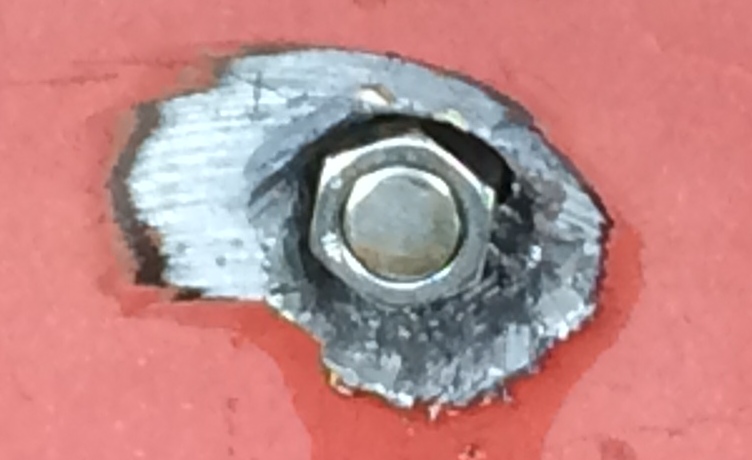 ***********************************