First things first - wa da day, wa da race, wa da crew... = Wada Boat !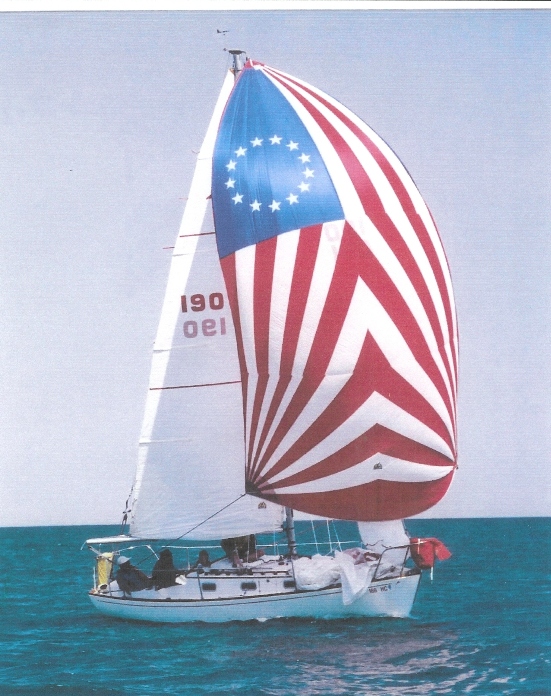 Wada Boat is Yankee #190 and she is a regular on the Wilmette racing scene. She is in
October, 17, 2009. In September Ted reported that Wada Boat had lost her centerboard
"in relatively heavy waves the centerboard gave way, flapped around, slapping the keel then broke off. The line to the board is all that I know for sure is left. I will have to lift the boat out to determine what other, if any, damage was done to the keel."
It appeared that the pin broke but a full inspection a is pending.
Since then a few emails have passed under the keel - with the help of the Dolphin network Ted has connected with George Watts (Odile) and the stainless steel centerboard that has been resting in George's basement closet in Cohassett, MA for 20 years has found a new home in Wilmette, IL.
The next part of the project will start when the boat is hauled. We have asked Ted to have his camera at the ready and we await further news.
Stay tuned
*******************************
October 20, 2009 Ted sent in a scan of an article that appeared in the Sheridan Shores YC newsletter regarding the record rainstorm that hit the Wilmette area in September, 2008. Wada Boat was torn away from her mooring and washed out into Lake Michigan. She was rescued by harbor staff 6 miles out in Lake Michigan! Wada Boat is the center photo in the following article with her bow pad on as she was tied to the wall in the harbor mouth after the rescue.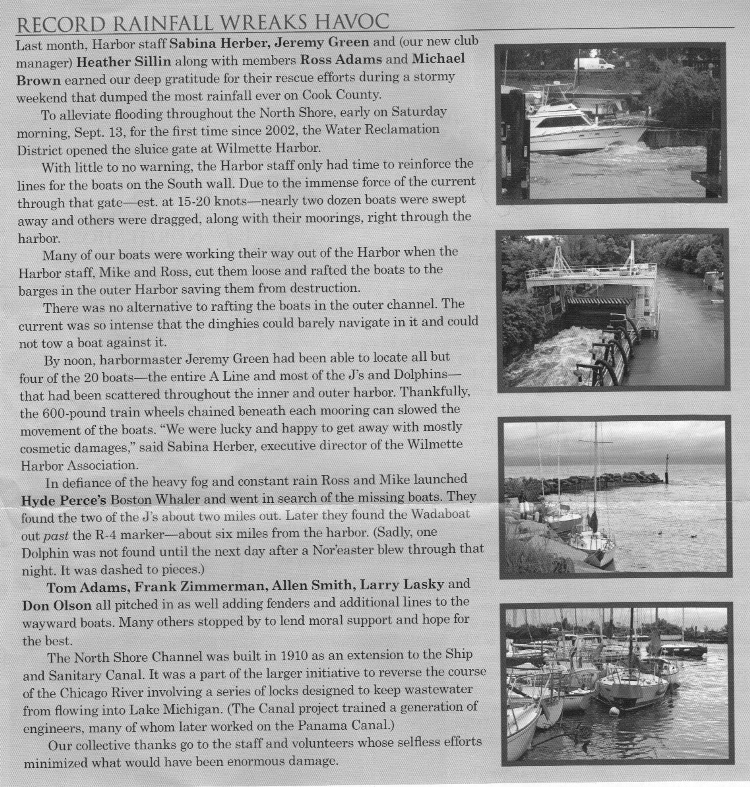 ************************
April 14, 2010. Ted has been working on getting his centerboard replaced. His newly acquired stainless board from George Watt's Odile fits an O'Day built boat but not his Yankee. He has contacted S&S and it seems the S&S drawing showing the design change for Yankee is missing from the S&S files! Fortunately, Ted is working with a builder who is 'reverse engineering' and documenting this project, so with luck we will get some info useful to others. The following is a edited compliation of a couple of recent emails on this subject from Ted, and some pictures.
Well... Spring is here in Chicago and we have Wada Boat up at Hi Tech Boat Works in Waukegan, Illinois Billy McCaffery owns and operates this marine services firm. They are custom boat builders, as well as restoration experts. He has built some well known Mac Race yachts and is a very experienced resource.

In addition to Yankee 190, he currently is working on another Dolphin, owned by Dick Watson (Bodes Well, O'Day #29). So, 2 Dolphins are under restoration in his shop. He takes digital photos to augment his estimates and has assured me that I will be getting a set of the ones for Wada Boats works. Dick Watson's Dolphin is joining us in the fleet at Wilmette Harbor this year. He was the referral that pointed me to McCaffrey. He in turn had been referred by another Dolphin owner. He's having them do some heavy restoration. That's the end of the good news.

The challenges are layering on now that he and his team have tackled the Wada situation. What they have found as of now... First, the S&S specifications are conforming to the O'Day Dolphin execution (as he has confirmed since he has one there now). However, the Yankee execution does not align with the O'Day with respect to the centerboard specs for well, pin location, stop and board design.

So, the board that I got from George Watts from his O'Day Dolphin is not a match for Wada Boat. Although it may be able to be modified. The cenerboard well has no stop. They have also discovered that the board pin not only is not in the same location in the keel as the O'Day, but that apparently there was prior work done on Yankee 190 centerboard... They found a sheered pin in one place and the existing in tact stainless steel pin in another higher up. Another reason why the board that we got will not fit, since the hole is too low. They have ground down to in the cabin to the bolts and are continuing to uncover the area to figure out how the replacement was done previously and consider what needs to be done now. No pictures sent yet, but my mental depiction is distressing.

McCaffrey is going to follow-up with Sparkman & Stephens to find out if they have any information on variations in the Yankee execution of the Dolphin designs vs. the O'Day. There are a growing number of variations that are coming to light as he compares the two Dolphins in the shop... from the board to the keel to the cabin designs. I've known that there were cabin design variations between the Yankee and the O'Day, but these were obvious.

So, the current hail for help is to find out if any one any where has Yankee design drawings that can be unearthed and shared. Especially helpful, of course, would be specifications for the centerboard, the well, the pin placement, etc. A pattern for a Yankee Dolphin Center board would be a true treasure to uncover. (Your webmaster spoke to John Shumaker, Yankee's founder and he advised that Yankee built its own centerboards - a fiberglass wrapped composite. No one knows where those molds/patterns are; and S&S reports that they have lost the centerboard and trunk design drawing for the Yankee - #1497-10)

Well, that's the up-date as of this date. The grinding will continue next week... in terms of fiberglass & metal, as well as time & money! Oh, my... This situation was something that got way out of my DIY domain and I knew it as soon as I got back to the mooring after the heavy weather.

As these chapters unfurl I'll send up-dates. When I do get photos I will send them along to share. When the whole situation is resolved and there is a happy ending, I'll try to put it altogether in a brief to share the agony, the enlightenment and the lessons learned with other Yankee Dolphin owners who may find themselves someday confronting the daunting task and trauma of a Dolphin needing a fin replacement.

Since you want more photos, I am sending along a half dozen from happy times last season including a bunch from the launch after my restoration of the hull and cabin top finish that I completed last spring using Interlux Perfection - the roll & tip way. It was a huge job taking it all down and building it all up again. Most folks are impressed with the result, I was pretty happy too.

Above, I'm in the photo pointing to the job; the other is me with my old pal and partner Wally.

Here's a shot of the lift with the Bahi in the background and another broadside with the board down... last time I ever saw the centerboard.

One more with our new transom graphic and a fine spinnaker run. Well that was last year... you know the unfurling story so far for this. I'll be in touch with more as the pages turn. Fair winds and following seas to you in this new season of 2010.

Ted

****************
May 17, 2010. The Spring boat work police are checking on whose doing their work. Dick Watson, working on his Bodes Well in the foreground sent in proof - see below - that Ted in on it. The two boats are in the same shop in Waukegan, Illinois undergoing some major work.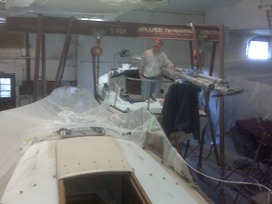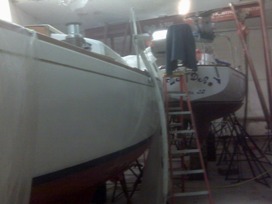 Photo op for Ted Bodes Well in foreground
**************************
June 10, 2010. Former Wilmette Fleet Captain Kristin Keenan advises Wada Boat's name is now Wada.
******************
July 24, 2010. Ted sent in a update on his centerboard project and more (minor edits). More pictures to follow.
Hi Ron,

I eventually will get to the write up with pictures of the complete centerboard and rebuild of the cabin floor saga for Wada Boat. We finally got WADA back and in the water on July 2nd, then rigged and had our first sail of the season on 7/3. We have all kinds of wind and shifts... The centerboard works great!

Thanks again for your help connecting me up with George Watts and his O'Day, (Odile's) stainless steel board - shown here on the left, photo taken at George's house in Cohasset, Massachusettes.

While the board required minor modifications to fit the Yankee centerboard well, the boat itself required a major job to install it according to the S&S specifications for the original Dolphin designs. Yankee had drifted significantly and upon consultation, the variations were not endorsed by the S&S architect for this retrofit.

Billy McAffrey, owner and operator, and chief of High Tech Boat Works also did not want to do the work unless we followed the design specifications... and so a long and expensive task was undertaken. This included boring a new pin hole through the lead in the keel. The drilling turned into a time consuming job requiring special bits and tooling to drill out the lead. After much measuring, figuring, jiggering and consternation the final result worked out well. The old board now has a new life in old Yankee 190. The boat handles better, too in my estimation... just as the designer planned for the hull.

While the boat was in the shop for months I took full advantage of the situation and completely redid the decks and cockpit with a full 2-part Perfection prime and coat, plus new nonskip. It was a big effort, but it has renewed the Wada wonderfully.

Working with Billy was an education. He is a perfectionist and very deliberate about the jobs he and his team undertake. He did take photos of the centerboard work, but I have yet to receive them. I gave him a Flash stick to put them on and await them still. However, I know he is currently focused on his prep for this year's Mac Race. So, I don't aniticipate getting anything from him for a few weeks.

I'll get back to writing up the centerboard saga when I get the pix. However, one thing is certain, it sure is not something that I would ever recommend undertaking on your own.

Fair winds and following seas,

Ted

*************************