September 21, 2012. We received an email from Homer Lange announcing that he has purchased #59 Harbor Rat (ex Duet) from the Keenans in Wilmette, Illinois. Click here to go to Harbor Rat's old page..
Hello Ron,

Yesterday, I went to Wilmette, IL and purchased the above Dolphin and will arrange transportation to Washington, DC next week. I will be racing her next year with the Dangerfield Island Sailing Club ("DISC") next year in the non-spin fleet and the following year with the spin fleet.

Homer Lange
*************************
October 18, 2012. Homer advises that #59 is now safely in his driveway in Washington, DC awaiting her new slip at the Washington Sailing Marina.
*******************************
March 2, 2012. DFI David Blakey was wandering around the Washington DC waterfront and happened upon the Washington Sailing Marina, and there was Harbor Rat!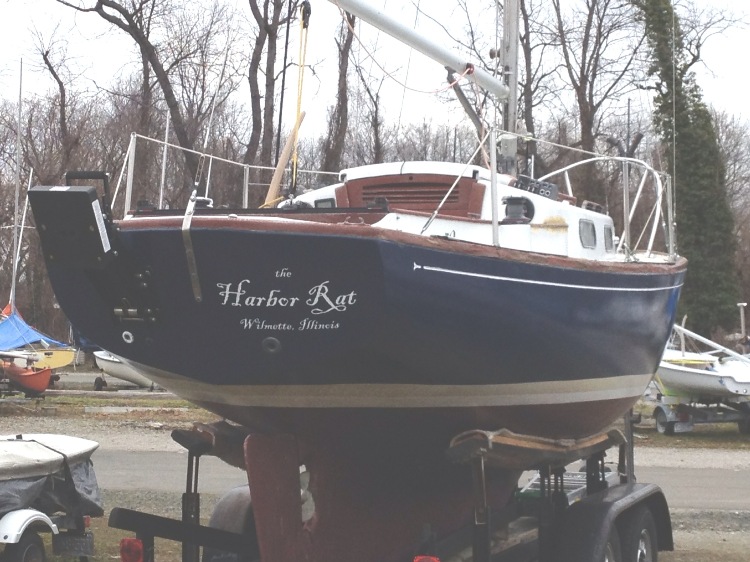 Homer advised today that #59 will have a name change soon - she will become The Black Dog. Her top sides will remain blue
******************************
April 4, 2013. We got the following update from Homer (minor edits)
Hello Ron

Everything is creeping along.

> Mast is up
> getting the information for the PHRF Chesapeake filing
> sail measurements have been taken, delivery sometime before the end of April/early May
> installed a in boom outhaul system and single line reef
> through hulls are being sealed
> manual bilge pump being installed
> new traveler has been installed
> eight rope clutches installed
> deck organizers installed; new halyards installed
> 4 to 1 purchase system for the centerboard installed
> depth sounder installed
> new compass installed
> tiller from a O'Day hull 16 installed
> and the list goes on.

Thinking about having a longer tongue installed on the trailer for launching and retrieving. No final decision on that yet. I have put the boat on the waiting list for yard work for painting, name change and new registration numbers. It also is required that skipper of all boats registered in Washington, DC must take a boat safety seminar - just one more thing to do before getting to the starting line, hopefully sometime in May. Black Dog will be sailing non-spin for 2013 and then spin next year if all goes well this year.

That is it for now.

Homer

*********************************
April 9, 2013 - Introducing Black Dog, Washington, DC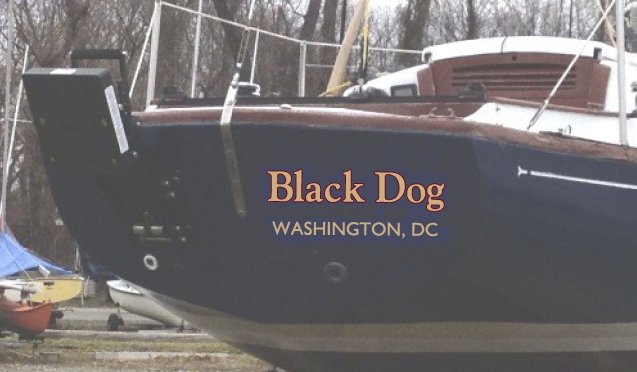 Hello Ron,

This is what the name will look like once it has been put on. I have the lettering and will be installing it soon.

Homer

*************************************
May 17, 2013. Black Dog is getting ready, has read the "Dolphin mast tuning bible", has new sails!! and adjustable rigging screws.
Hi Ron,

Thank you fort he information on the rigging tensions. The sails are new from North. The main is full with 4 battons, a 155 geneoa, and a 120 jib. I have the old storm jib from The Harbor Rat. Larry Lenard from North came out to measure for a mainsail cover and took the main back to have it modified because the foot was too long for the outhaul to work properly.

I have decided to use STA/MASTER for the turnbuckles on Black Dog. I like them and have used them in the past on the Westphal 28 I used to race on Chesapeake bay.

Homer

*******************************
July 8, 2014. Homer sent in the following update
Hi Ron

Off hand do you know if a polar diagram has been made for the O'Day Dolphins?**** If so how could I get a copy? Last year Black Dog completed six races; 4 firsts and 2 seconds non-spin B Fleet which had PHRF ratings of 240 to 300.

Black Dog's PHRF (Chesapeake) is 258. This year they combined the non-spin into one fleet and we have completed three races (4th one this afternoon) and have two 4ths and one 2nd. I know we can do better if we had a copy of the Polar diagram.

Homer

****

Webmaster Note. re Polar Diagram - Have not seen one - Has anyone?

*************************
September 30, 2014. Homer sent in the following email and really super photo! Note Black Dog's main sail cover.
Hi Ron,

The attached image or BLACK DOG was taken by a Washington Post photographer on September 9th and appeared in the WP front page of the Metro section on 9/11/14. That evening BLACK DOG had come in first in the non-spin fleet. She went on to capture a first place for the non-spin fleet Fall Series in which 18 boats competed. BLACK DOG is dry sailed and was on her trailer waiting to be hauled out.

Homer Lange

Click here for a larger image - And congratulations to Black Dog and her crew!!!

*****************************************************
October 2, 2014. We asked Homer for some more details on this race series. Here is his reply, a link to a page we set up for the sailing/racing venue, and a copy of the race results.
The web site for our sailing club is www.discsailing.org and the results of the KISS Fall Series for the non-spin boats are listed below. Wind conditions varies from 0 to 15-20 with some chop at the higher speed. However, the Potomac is tidal and has a current that also needs to be taken into account as does the channel.

Click here to go the Potomac River and the race results
********************************
February 24, 2015. We got the following update from Homer.
Good Morning Ron,

Black Dog won the Fall Series again last year, second year in a row. It was the only series she raced in. This year she will race in the two summer series and again the fall series.

Homer

Click here to go the Potomac River and the race results (again)

*************************************************
July 27,2016 - Homer checked in with a centerboard problem (its stuck up inside the trunk - thats another story). Here's the start of the technical discussion re getting the centerboard pin out - http://dolphin24.org/technical_centerboard_pin.html
***********************************************
September 4, 2016. Update on finding the centerboard pin http://dolphin24.org/technical_centerboard_pin.html
*********************************************
April 30, 2017. Latitudemakes a difference. Up in New England we are just getting our docks in and getting our boats ready. In the mid Atlantic states they are already racing. Black Dog is racing in the Kiss Series, a Tuesday night held at the Daingerfield Island Sailing Club in Alexandria, Virginia. The back drop is the Washington DC skyline.

This Sailing Club has been home to Dolphin 24s for quite a while. Here's a history link that connects to Timesweep and Marcia Greene, past Fleet Captain. Click here to go to her 'Reflections", click here to go to to her Club history page for Timesweep, and click here to go to Timesweep's page on this website. Now, back to Black Dog.....
2017 KISS Spring Series
Daingerfield Island Sailing Club (DISC)
Results are provisional on April 29, 2017

After 3 weeks Black Dog is in 2nd place
Stay tuned
October 7, 2017 - So, for those of you who have been waiting and staying tuned, check out the KISS Series results below. Homer and Black Dog had a
pretty good racing season.......!!
In addition to her performance in the KISS non spinnaker Spring, Summer and Fall Series, Black Dog was recognized for best overall performance in the combined, non spinnaker fleets, Summer Series I and II, and she will also be recognized for her season combined fleet results.
Webmaster Note: KISS is a term with historic significance, applying to many of our life activities (hint - famous 4 word phrase with the same 1st letters KxxP IT SxxxxE SxxxxxD). The Dangerfield Island Sailing Club connection to this term can be confirmed by reading the history of the Club, which is on their website, and is titled 'Relections of Marcia Green". Click here to read it. Marcia owns Timesweep, Yankee # 214, and has had her nearly 40 years! - another great story....
DAINGERFIELD ISLAND SAILING CLUB
DISC KISS Series Final Results Below

2017 Spring Series

2017 Summer I Series:

Summer II Series

Black Dog wins Overall for the combined Summer Series (I and II)
Fall Series
Well Done Black Dog and crew!!
March 28, 2019 We got an update from Homer, thank him for his nearly 7 years as a contributer, wish him our condolences and Fair Winds on the Aegean. Our exchange of emails started March 26 and follow
Ron,

This is an update on Black Dog 2018 Racing on the Potomac. She raced in 4 series which had 6 races per series and received 2 third places and two 1st places. She won for the main part not on time but first over the line. She raced in the non-spin group which had up to 20 non-spin boats registered for the series.

In November last year, I lost my wife after 55 years and have decided to move to Turkey where we have a house on the Aegean. I have given Black Dog to the crew who will continue to race her on the Potomac. The contact in the future will be Pope Barrow.

I want to thank you for all your assistance since 2012 when I bought her. At that time her name was Harbor Rat and she was the winner of all fifteen Dolphins racing in her one design class.

Homer Lange

***********************

Thanks Homer

Sorry about your wife.

I'll update Black Dog's page in a couple of days. Busy times - today is my/our 54th anniversary - she decided to celebrate by falling and breaking her hip last month so webmaster duties are compromised by home health care duties.....

Another Dolphin update I need to get to - A couple of days ago I had a surprise visit by Tom and Helen Delamarter (Montenegro - KIWI http://dolphin24.org/kiwi.html). They have a place in Brooklin, NY. He fell down a flight of stairs last year and has lasting consequences - sailing not in the cards. . KIWI is in a barn in Sweden and she will be looking for a new home. She's been set up to cruise the Scandanavian coasts, the canals of Europe, and has experience on the Adriatic - interested????

Check in once in a while, past owners are life members

Fair Winds Homer - and a formal WELCOME ABOARD! to Pope and crew

Ron

********************************

Ron,

I can imagine what you are going through in the home care department as I recently went through it.

As for Kiwi I would be interested in using her for weekly races in Ayvalik. Unfortunately, there are none and I have had no
interest in cruising. Therefore, I will take a pass on making an offer for Kiwi.

I hope your bride makes a rapid recovery releasing you from your present duties.

Homer

Webmaster note: Maybe Homer can set up a Dolphin charter business? These look like our kind of cruising grounds...

And, as this page attests, Black Dog is a racing boat. Below is the DISC Spring Series Results summary. You can find clearer copies and more of her results by clicking here

FAIR WINDS HOMER!

**********************************
March 30, 2019 - Pope Barrow checking in.
Ron

What is involved in an official check in?


Pope

Its easy - your email - you are in

Ron

***********************************
June 7, 2019 Looks like Homer's back!! Here's his emails (edited/consolidated)
Hello Ron

Black Dog won the B Division of the DISC Spring Series of six races (2 are thrown out) with a low score of 6. Here are the results. We were second overall and 1st in the: B division:

Question: You sail and race with a 170 foresail. Black Dog has a 155. Do you think a 170 would increase our upwind speed? Webmaster note: YES - but the PHRF rating cost is a 6 seconds/mile penalty....Even so, I like it - Dolphins love light air!!

Homer

Click here for the DISC complete results

*****************************************************
June 29, 2019 Homer and crew still at it. Here's his email and Summer Series Results
Hello Ron,


Black Dog has won 1st place in her non-spinnaker B fleet and third place over all non-spinnakers.See below

Thank you for all your help.

Homer

Overall

**********************************
August 11, 2019. Black Dog is on a roll! Here the latest from Homer on her racing results at the Daingerfield Island Sailing Club (minor edit) Note: Webmaster and Dolphin24.org staff thank Homer for his contributions and wish him luck in Turkey, and have to remind him that Dolphinites have 9 lives.....
Ron

Black Dog has now won 3 out of the 4 DISC series - click this link to see the results http://discsailing.org/DISC_Docs/2019/KISS/KISS_Summer_II_Series_Scores.htm

Homer

Postscript: Thanks Ron. I will be leaving for Turkey on August 15th for my third and last life. Pope will be in charge of Black Dog from now on as I gave her to Pope and her crew.

Fair Winds Homer!!

*******************************************************
August 16, 2019 - Pope Barrow, one of Black Dog's racing crew, gave us this summary of Black Dog's summer racing at the Daingerfield Island Sailing Club in Alexandria, Virginia/Washington, DC. The Black Dog Chronicles Click here to go there
*********************************