June 7, 2021 - Tough times - we just received this email from Helen
Hi Ron,

I hope this finds you well and out sailing on this muggy weekend. I have just been re-reading the summary of the adventures we had on Kiwi over the years with tears in my eyes. Tom died earlier this year but always believed he would sail on Kiwi again even when his body was telling him it was physically impossible. Some of the happiest days of our 30 years together were spent aboard Kiwi and, through her, we made new friends and explored magnificent places.

Sadly this spring, I handed the ownership of Kiwi over to Noha Stoltz who is based in Halmstad in Sweden. He has promised to love and care for her as much as we did.

Wishing you the best,


Helen
Webmaster Note: Below is the story of how KIWI made her way from the waters of Massachusetts Bay, near Manchester, to Block Island off the Rhode Island shore, then to Montenegro and the Adriatic, then thru Europe's canals and up to Sweden. We extend our condolences to Helen and wish her FAIR WINDS, and stand by for Noha to check in
Wecome aboard Noha Stoltz!
**************************************************************
January 16, 2008. Simon Graves (Supernova) had reported that he knew of a Dolphin in eastern Europe planning to cruise the Adriatic and Europe's canals. By coincidence Tom found the website and sent us the following email. He was here in the US in January and visited with us. He has provided us with photos (below) and more info about Kiwi and his plans. We have some history of this boat which is at the bottom of this page.
Hi
My name is Tom Delamarter (aka - Richard). I live in Montenegro and have a Dolphin 24 that I have been fixing up and sailing in the Adriatic.

I am on a trip to the US where I came across your site -- bravo.

I have one more week in New York before returning home. I would love to meet and talk with anyone in the region -- maybe over the weekend. I have questions on designs for self raising the mast, for a trailer, for some interior modifications, painting the mast, etc. Would be great to meet people who have done some of this already and not have to reinvent.

When I get back home I will compose some material (ie hull number) on what I have done with Kiwi -- bought out of Newport and shipped to Slovenia a couple of years ago.

Thanks

Tom (Richard Thomas Delamarter)
Webmaster Note: Tom and I did meet in Old Lyme, Connecticut and spent some quality (but cold) time in the barn on Marionette talking Dolphins. The mast stepping question has several solutions/approaches, all with varying degrees of adrenalin producing manuevers. Go to Google and type in mast stepping to see a few.
The Dolphin network has additional input, I'm sure, on all these items which we will consolidate and get up on the site in the Technical Section soon. I'll get the painted mast question up on the Forum and see what comes in. Our unofficial position is we are not happy with painted masts. Stay tuned ...
Postscript - check out http://www.dolphin24.org/mast_stepping_resource.html
********************************
February 4, 2008. Tom is safely back and sent in a few pictures and the following email
Hi Ron

Made it back to Montenegro and will write more later. For just the basics. Hull number is 170.

Attached are some pictures – of boat arriving in Isola Slovenia, and trip down the coast to Montenegro.

Good luck with the site, and thanks for the visit.

Best and more later

Tom
Arriving from the US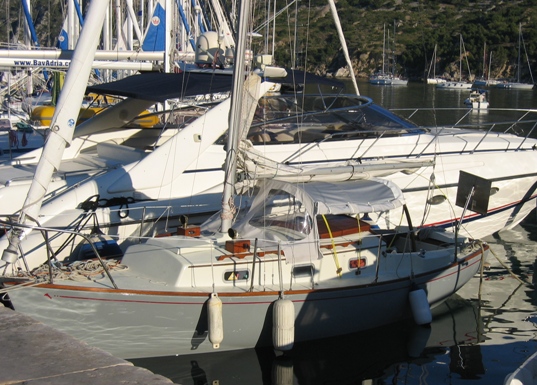 Check out the new paint job, and the dodger. Tom says he did the painting with the help of local workers. They didn't like it, he says, because "it looks like a navy boat, which around here, is not too positive"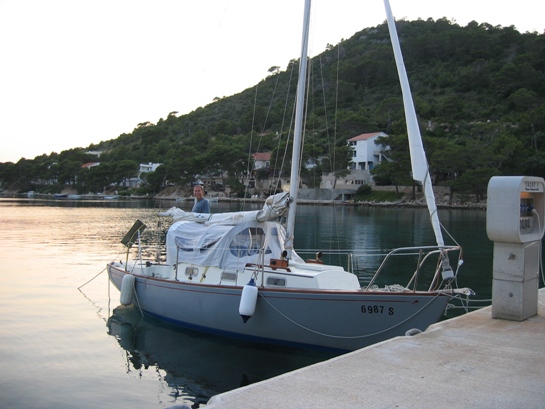 ****************************
December 8, 2008 We got the following email from Tom (edited) and a lot of pictures of Kiwi's interior
Dear Ron;

Back in New York for the holidays and got your email. A little background since we met. The last year was a bit of a bust - sun allergies acting up (finally got a diagnosis -- a parasite I picked up in India several years ago -- so am optimistic) and an accident (lost last digit of third finger in the table saw) making changes in Kiwi (healing took most of the summer). Hope for better next year.

The present plan is to sail around Italy and pick up the midi canal (runs parallel to the border between Spain and France) to the Atlantic, then turn right, another canal across Brittany, the channel and on to Scandinavia until it gets too cold.

I have enclosed some pictures if you think people might be interested.

Some of the changes are:

- a new engine, gearbox and prop (Best marine from UK -- basically a koboto desiel with conversion kit -- a tight fit -- then adding soundproofing even tighter):
- a slide out galley (sink and one burner stove) that tucks under walkway;
- water tank and pump with hide away sprayer and hose outside the cabin inside the cockpit (so can be used for showers);
- new toilet with grinder and holding tank;
- lots of drawers to replace storage through the top (moving the pads in such a small space was difficult for an old man);
- a main hatch cover with screening to let the breeze in and keep the bugs out;
- a complicated storage space under the walkway and above the table and benches (I lost some room on the seats but gained the storage -- forward bit is basically books while back one is electronics (small computer, gps, music, inverter etc)):
- twin fuel tanks (30 liters each from an old Fiat tucked at the rear of each side storage area of the cockpit);
- a music system (jvc car radio that plays DVD music disks and acts as an amplifier for a 500 Gig hard disk based mp3 system and a pair of small Bose speakers -- that can mount inside or outside;
- work outside on plastic and teak (added some to the front and back hatches);
- improved storage for the long fiberglass poles that support the bimini and sunshades under the bench seat
- Several new sails.

Anyway most of it is in the pictures including one with a first draft of a cover to keep it nice over the winter.

If you want more information let me know -- glad to supply.

Among my problems to solve during this trip -- where to get gasket material and glue to better seal the hatches when the wind blows. Still looking for a good plan to self raise and lower the mast.

That is about it -- keep up the good work and good luck

Richard (Tom) Delamarter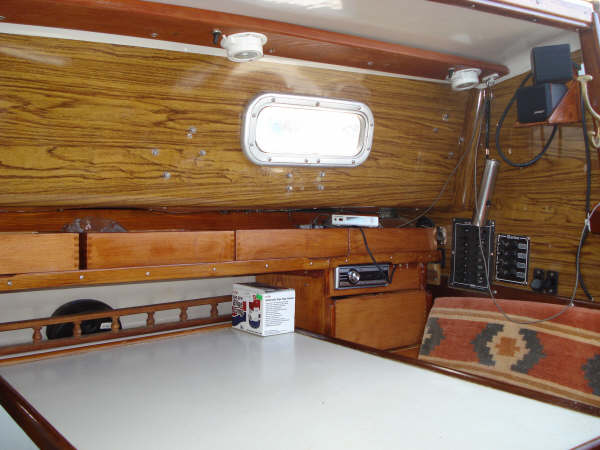 Dinette with panels and music center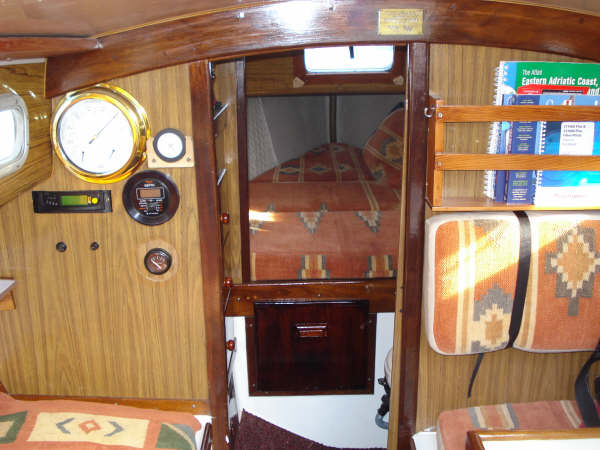 Main bulkhead, head compartment and entry to v berth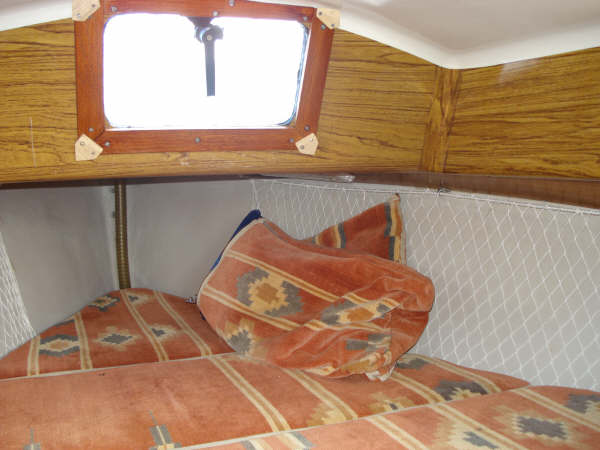 v berth with port light - is that a windshied wiper?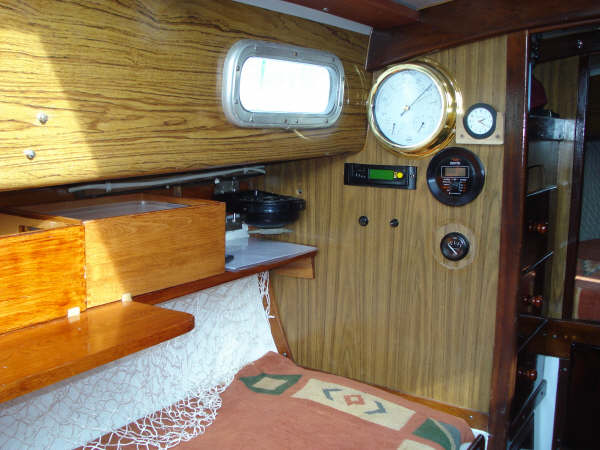 port side settee berth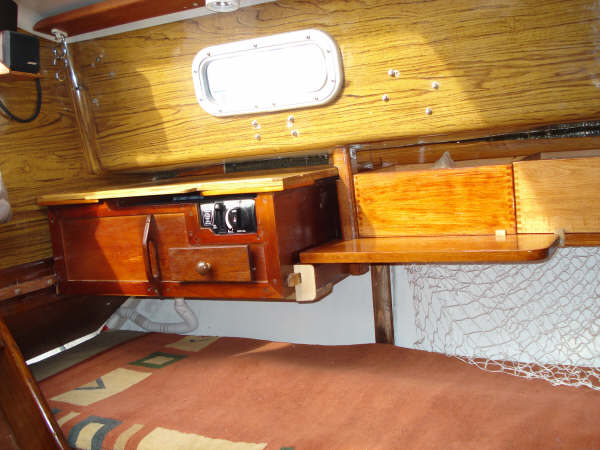 port side galley - tucked in position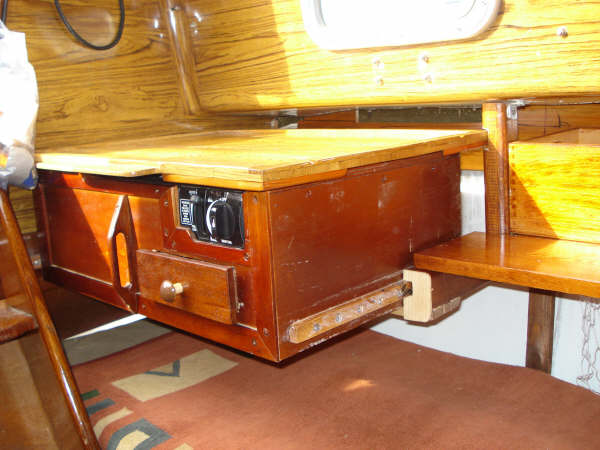 port side galley - out position with work surface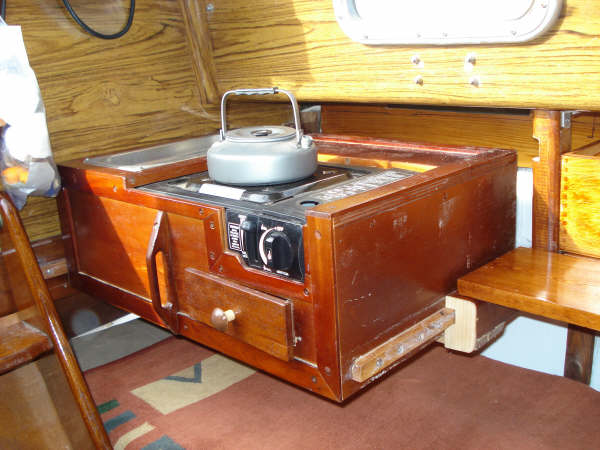 Tea anyone? Kiwi's Sliding Galley is also in our Technical Section - click here to go there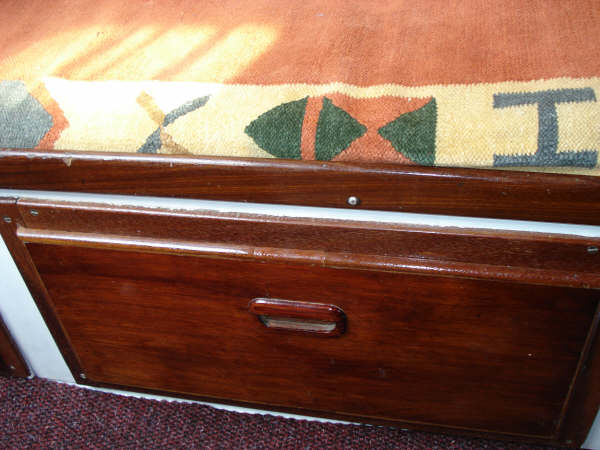 under seat locker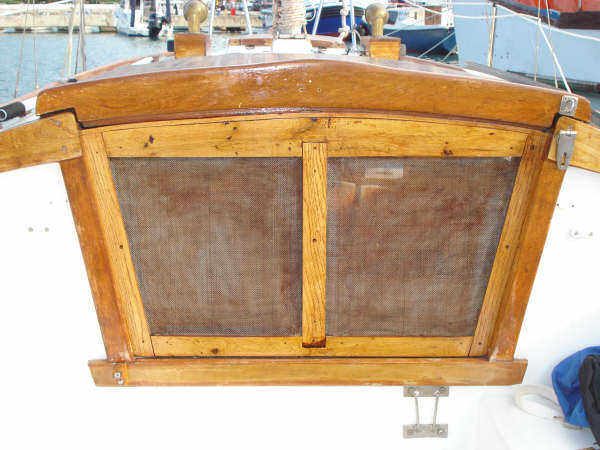 screened companionway doors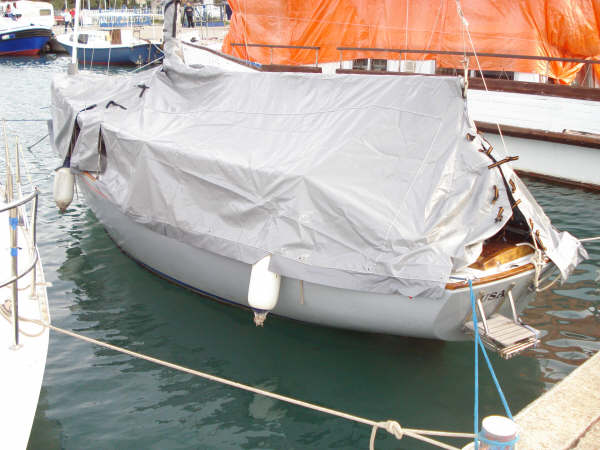 all covered up
************************************
March 15, 2014. Somehow we failed to get Kiwi's history, as we have heard it, up on her page. As is well known to Dolphinites, its never too late. Here is an email from former owner (Dr.) Curtis Prout from Manchester, Massachusetts. (minor edits)
April 25, 2008

Dear Ron…Forgive the delay in replying, caused by pneumonia, which laid me up a long time. When I moved from my Boston office here in 2008 I tried to get rid of as much paper as I could. As I no longer had KIWI, I threw away the file .Sorry! Now, I wish I could remember the details..The previous owner was a man from Beverly, who loved the boat with a passion, but his wife hated sailing. Finally he asked Sam Crocker of Crocker's Boat Yard in Manchester if he could find a buyer. I don't recall the details of the transaction, even the price. He kept the boat in a shed he had built behind his garage in Beverly We lifted the tarp off of it on a freezing day…and I liked what I saw, so we agreed ion a price without much haggling.

When she was trucked to Crocker's yard, I really saw her for the first time. There were many signs that he had loved the boat, because he had made for him a lovely teak cockpit sole grating. There was for the size of the vessel a remarkably complete outfitting. Eating and cooking utensils, life-jackets, two anchors, many extra lines, a compass-holding brace, pulpit, extra gas cans, flag and staff, pennant holder, and other unexpected amenities that I don't recall. I don't know who installed, or when she got her roller furling jib, which is what sold my wife on the venture.

We had many wonderful day sails, but we preferred our king-sized bed and hot and cold running water at home. Almost every good sailing day for several years we went out….. Salem Bay and Gloucester have many wonderful places go to. The reliable engine, which also sold me on her, needed only one repair, the water pump,

As I aged, I developed progressive idiopathic (no known cause) peripheral neuropathy, resulting in very poor balance and leg weakness. Diane loved the sailing ,but only as a passenger, and I became aware that I was no longer the competent single-hander of past years. Finally, I fell overboard on a windy day and was lucky to survive. We kept KIWI for another year, but for the first time in my sailing life, I was apprehensive if the wind was lively .With much regret, I decided to let her go. She went with my blessing to an outfit on Block Island***(see below) where young people could experience of sailing and cruising.

KIWI was a joy for several years, but I no longer regret "swallowing the anchor." ………

Curtis Prout

***" an outfit on Block Island" This 'outfit' is believed to be Block Island Maritime Funding. Your webmaster was at the Portland Maine Boat Builders Show for his annual 'Spring Fix' rites and happened to see the Block Island Maritime booth. The president, Richard Harris was there so naturally I inquired if he recalled a Dolphin 24 in their program some years back. He did and we hope to get more info on Kiwi's life out at Block Island.

Webmaster Notes: its a small world. On a 2008 cruise to Maine on Marionette, your webmaster had an unplanned opportunity to meet Sam Crocker and visit Crocker's Boatyard - one of those classic boat building boatyards. And so, there's another Dolphin story here, of course.

Click here to go to Crockers Boatyard, and click here to go to the related story. This will require a bit of patience because the stories wind around a broken gooseneck!

And, where exacly is Montenegro? See 'chart" at left
*************************
August 12, 2014. We don't know exactly where Kiwi is at this moment but we do know she cleared a bridge somewhere in or near Sweden with the help of the data in the Technical Section/Spars. Click here to go there. Here's Captain Tom's and First Mate Helen's report
Re: Thanks from Kiwi crew

We had rough waters and strong winds two days ago. The choice was to go offshore or take an inland passage with a 10 meter bridge. We looked online to see if the ten meter bridge was possible. Based on your calculations we reckoned our height was 990cm and slipped under the bridge safely!
Thanks,
Captain and First Nate on Kiwi,Tom and Helen

Postscript: Currently in Sweden, heading towards Falkenberg. I will send some pictures and an update when I get back to New York in a few weeks. Helen
We'll try and find out where this bridge is, and Kiwi was......It should be noted that the Dolphin legal counsel has just sighed in relief!
Stay Tuned
August 15, 2014. Helen has got back to us to tell us

"It was on the inland passage to avoid Marstrand where we encountered the 10 meter bridge."

Marstrand is a 'sailing Mecca' located on the western coast of Sweden. Just exactly where this bridge is yet unknown but below is a great picture of the coast around Marstrand and its inland passages.

Click on the picture at right for a larger view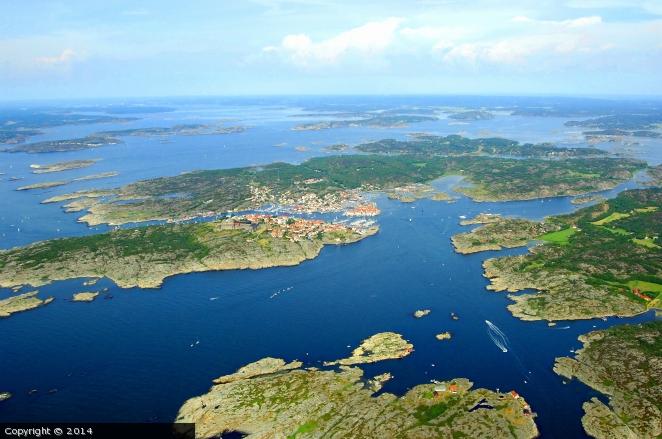 Marstrand, Sweden - Kiwi was here (years ago, so was your webmaster - another story...)

****************************
December 31, 2014. Helen and Tom have been in touch - they are looking for a replacement cowl vent for Kiwi -

- and they sent in this neat picture of the vent with the Telemark Canal in southern Norway in the background. The other picture is of one of the canal locks....

Click here for a large view of the above photo
****************************************
July 25, 2016. Tom and Helen sent in the following pictures of Kiwi in western Norway this summer. Click on the photos for a larger image.
A few pics of Kiwi in western Norway this summer. May be our last big trip on her!

Crew

Postscript: The boat has been in Scandinavia for eight seasons. We usually keep her in Sweden but last winter it was Norway. I plan to send you an outline of all the trips soon and a few pics to go with each one when I get back home.

*************************
August 4, 2016. We got the following outline of Kiwi's adventures in Scandinavia from Helen. When time permits we'll try and get a Google Earth aerial view map of her travels....
Ron

Here is the short version of our trips! I will back them up with some photos in the fall or winter.

2009 - put Kiwi on a truck and moved her to Holbaek in Denmark. Sailed to Falkenberg in Sweden where Tom fell and broke his knee. People were very kind to us and we made good friends there and this has been our home port for the last seven years. After his knee had healed enough we sailed up the west coast of Sweden (Bohuslan).

2010 - Did a house exchange near Stromstad, Sweden for a month and did day sails near the Swedish/ Norwegian border then sailed more extensively in this area and down the coast of Sweden to Falkenberg again. Also visited the quaint Dalslands Canal which is a perfect canal for a Yankee Dolphin. First American boat anyone could remember seeing on the canal.

2011 - Took the Gota Canal (also known as "The Divorce Ditch") across Sweden then explored the east coast of Sweden. Rescued by the coast guards when we lost the use of our rudder - the result of some rocks we had met the year before which had done some invisible damage to the rudder. Sailed round the south of Norway and back to Falkenberg.

2012 - trucked Kiwi to the east coast of Sweden then sailed her round the south coast of Aaland and to Finland. Did some day sails from a cabin we rented in Finland (near Turku) then returned via the north coast of Aaland to the east of Sweden then back to Falkenberg.

2013 - sailed extensively in Denmark.

2014 - sailed part of the way up the west coast of Sweden then cut across to Norway and headed to the most southerly port, Mandal. Gradually sailed the south coast and back up the east coast of Norway. Took a detour up the spectacular Telemark Canal where we sailed in the mountains then returned to Falkenberg.

2015 - trucked the boat to Trondheim on the west coast of Norway. Our trip ended abruptly when Tom tripped on the dock, fell into the water, hitting his head and fracturing his neck on Kiwi's port side. He was taken on an ambulance boat to Kristiansund hospital. People helped us by taking the boat to Kristiansund and after a couple of weeks recovering there we put the boat on land for the winter and drove back to Falkenberg.

2016 - Started our trip just south of Kristiansund in Norway. Sailed down the west coast exploring magnificent fjords and mountainous scenery, huge Atlantic waves, a lot of cold and wet weather, dangerous stretches of exposed sea and tranquil water where we longed for a breath of wind.

**********************************
August 4, 2018. Its been exactly 2 years, and no news, so responding to a follow up today we we have the following update and photos from Tom and Helen (minor edit).
Hi Ron,


Thank you for thinking of us. Attached are a few pictures of us approaching Bergen on our last trip two years ago. Since then Kiwi has been in a barn in Sweden.

On our way back from Bergen to Sweden we were in some very rough seas which left Tom with bad back pain for months. His his mobility and reaction time was much more limited but we were not ready to let go.

After another bad accident in Brooklyn this winter it has become clear that we have to pass Kiwi on to someone else who will love her as much as we have. If you know of anyone interested in buying her please let us know.

She is currently in Sweden but registered still in Rhode Island.

We will be back in Brooklyn by the end of this month. It would be nice to talk Yankee Dolphins with you if you would like to visit.

In the meantime, best wishes from Montenegro!

Helen and Captain Tom

Click here for a larger image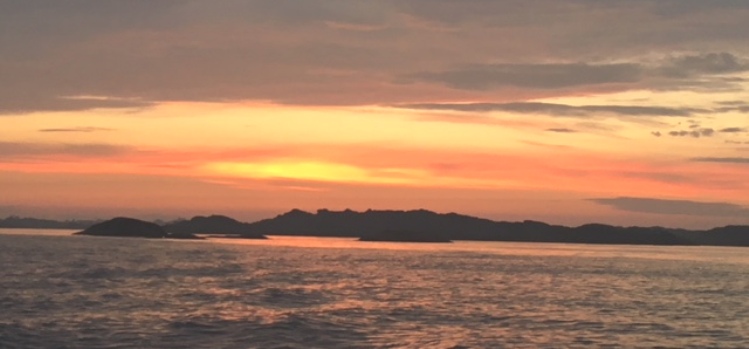 Must be bed time

**********************************************
| | |
| --- | --- |
| March 28, 2019. Your webmaster got a surprise visit from Tom and Helen. They were visting a friend who happens to live in my town (Old Lyme) and it seemed a good opportunity to re-connect a European based Dolphin with Dolphin Central. Dolphin talk commenced over lite bites, IPAs and wine at the Bee and Thistle lounge. | |
Serious conversation was complicated by the live entertainment so we agreed to meet at the Dolphin Barn (http://dolphin24.org/Marionetts_barn.html) the next morning. We followed up with a visit to the Dolphin24.org control center - my home office (over the garages up the driveway); 'filled' with Marionette's photos, books and trophies......

Tom is struggling with consequences from a couple of bad falls so KIWI has stayed in her barn in Sweden. She is looking for new caretakers. She's been set up to cruise the Scandanavian coasts, the canals of Europe, and has experience on the Adriatic - interested????

If interested in connecting with KIWI I can put you in touch with Tom and Helen - RonBreault@cs.com
Standing by