A pretty boat needs a pretty barn, don't you think? Marionette is Webmaster Ron Breault's Marscot/O'Day Hull #12. Click here to go to her page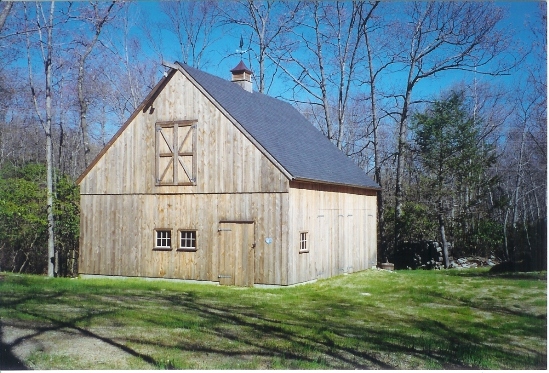 Built in 1997 the barn is 28' deep x 30' wide. All post and beam, pegged construction using locally sawn hemlock and oak. She is on a poured foundation. She was designed and specked out by your webmaster on an inexpensive cadcam system. A proper place for a pretty boat.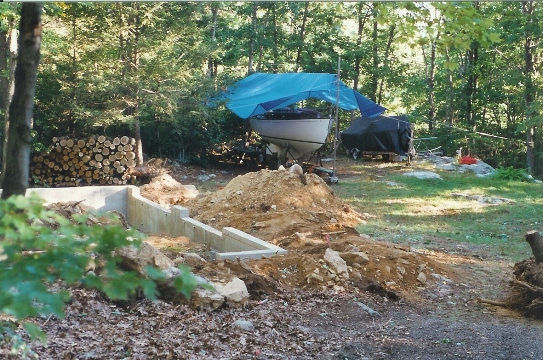 Early days in the project, Marionette under her tarp
| | |
| --- | --- |
| | The first wall looking up toward the house. Barn frames are so neat it seems a shame to cover them up with siding... |
One guy, John, (his last name is classified) working by himself, built this barn. I offered to help but he politely refused saying he did not want me to hurt myself! He used a portable gin pole to hoist the 6x6 and 6x8 main timbers, and all the rafters. It was really unbelievabe to watch him work. Here, he is going to set a pair of scissors which, with the gin pole, forms the tripod on which he will raise a large beam. See next photo..

This is how he did it. See the end of the gin pole in the upper left hand corner nested in the wood scissors? There is a line through the block at the top on the gin pole attached to the balance point of the beam. The vertical post at the right has a peg which will fit into the hole bored in the horizontal beam.

What does this have to do with restoring and sailing our Dolphins? Everything.
| | |
| --- | --- |
| | This is most of the external basic framing and roof rafters. The far bay has a 'third' door opening vertically so you have 10' height clearance. |
The field in which this barn is located is small which made positioning and size of the barn important. The overall length of the trailer with boat is 26'. Its snug but it works. There's enough room to sneak by on either end. It was a lot like trying to figure out the interior of a Dolphin - basically not enough room - plan carefully.
This interior shot shows the steps going up to the shop level. Its pretty neat in that the foot print is small and after the turning landing it follows the roof line. Also, the space inside the stair case allows larger items like dinghies to be lowered and raised without having to stay in the stairway

Update July 27, 2014. This concept was successfully tested. Click here to go there..
This is deep winter and Marionette is hibernating. The inside height is 10'. If I had to do it again it would be 12'.

Want to know what's under that blue tarp in the foreground?

This is AROSA, a classic early '50's built wood runabout getting ready for a new dress - pretty boat!! . Click here for a larger image
The ridgepole has a lobster pot block so you can lower your 42 lb dinghy through your workshop double doors to the ground floor .

This was actually done - one could hope a photographer would be present. Nope..

The back side has some windows and a mast rack. Lest you worry that the top end of the mast is not properly supported, there is a special support post at the top end which likes to slip out when the photographer shows up.

This is a good angle to see that the barn has a proper wind vane (purchased in Maine, of course) . Note: Masts are now stored inside.
The Marionette dinghy section has a few good interior photos of the barn. And if you click here you can see a list and pictures of workshop tools
***************.
October 5, 2008

Storage - that's what barns are all about, right?

We had been storing our masts on a rack outside because they won't fit inside across or lengthwise. So, one rainy afternoon we decided to fix this

Two simple 3 part sets of blocks and a couple of old cam cleats were set up diagonally in the barn
After the hoist a rope loop from the joist is tied around the mast at each end

liberally sprayed with WD40, tightly wrapped - no winter worries.

Booms and spinnaker poles are stored in the loft.
******************
And then we have the space under the stairs.....

This is the wall alongside the stairway up to the workshop. Very neat don't you think?

Once, lying full length on that beam in back of the lines and floats, was a 5' black snake!! Circulating this story is a very effective way to keep control of visiters who don't fully understand boats, barns, and stuff like that.

You'll notice the fender board and its black marks - lying along a fixed dock piling with Maine's 10-12' tides will test your fenderboard.

And notice two, that's 2, bosun's chairs tucked in against the wall. I haven't been up in one of those in 20 years!!
A partial view under the stairs - those blue bags are Rode Bags with a designed hole in the bottom through which you tie off the dead end. I got them for nothing somewhere. They each have 150' of 1/2' nylon line with 10' of 1/4 chain sitting on top.

There's a NEW! 35lb CQR just out of sight that I got from Defender's for $75!! - just waiting for that special hurricane. When we do have a hurricane I go up the Niantic River into a hurricane hole and use my 20 lb hi tensile Danforth. It digs in so deep I can just barely get it up after the event. I am thinking I might use the CQR and some heavy chain as a mooring somewhere..

..
Lets talk about mice. Barns and mice love each other. Mice love nesting in sailing gear, especially sail bags. Mice in barns cannot be beaten. So, this inventory flows to the cellar, more difficult to hid stuff here from prying eyes but it can't be helped. Those are cushions stacked in back of this rack I built. I never lose anything I put on these shelves...

I like hanging sail bags - a cellar floor is a brutal way to treat these things. I've got a folding bike here I last used up in Maine in 2003. My most valuable mechanical accessory is this 12 yr old, 32lb Johnson 4hp motor - if I can keep water out of the gas she never fails.

The next stop inventory location is my office - electronics, charts, books, cruising books, manuals, website files, etc. This is pretty crowded too - not as bad as Paul Ingle's sailing office (Seminole) but close.
******************
May 28, 2011. Clifford Dasco, Maya Elena, advised that he was planning to build a barn in which he would restore his 'new' boat. Others, I feel certain have considered this as well. Here is an edited version my email to Cliff re the design and cost summary for Marionette's Barn, built in 1997. Update: Pictures of Maya Elena's finished barn are on her home page
Cliff
You are planning on building a barn? You must have been reading about Marionette's barn? Also a consequence of buying a Dolphin to restore. The story of Marionette's Barn is located in the Stories Section on the website. Here's an unsolicited piece of information re barns you might find useful.

We have a well respected 'barn" building company in Madison, CT. They quoted me $32,500 for my barn - but not a traditional pegged post and beam, one built using steel hangars, and not including site preparation, concrete foundation or electrical. A really good foundation is an important key to a long lasting, and high utility barn.

I 'designed' the barn on a cheap cadcam system and spec't the timber list. A friend had told me of a guy who built barns as a side business to his carpentry business - that guy reviewed my design and materials list and made a few suggestions. He quoted me $5500 in labor to build the barn, provided he could build it according to his own time table - he would use it as a time filler beween other jobs. We agreed to getting it done in 6 months. I bought the wood at a local mill

Here's a recap - Marionette's 30' x28' barn (I acted as the general contractor)
Survey and Permits - $550 (it was being built along an ill defined property line)
Site work and foundation - $2700
Labor - $6500
Rough sawn timbers and rough siding - $4500
hardware, windows, roof shingles and misc - $2500
Electrical $1800 (extra overhead lights, circuit breaker box and meter
Bronze sailboat windvane $183 (from Maine!!)
Total $19,733 - $20,000

The comparative bid from the Madison company
Barn - $32,500
Survey and Permits - $550 (it was being built along an ill defined property line)
Site work and foundation - $2700 (site work included gravel fill for small field
Electrical $1800 (extra overhead lights, circuit breaker box and meter
Bronze sailboat windvane $183 (from Maine!!)
Total 37,233 (assuming no zingers)

Makes one want to get into the general contracting business. Anyway, the bragging rights are priceless.

Ron

*********************************
October 18, 2011. The barn has, finally, been modified so that two Dolphins can winter inside. All it took was a third door on the middle bay, something that was planned for in the beginning, but put off for reasons that in hindsight made no sense. A second Dolphin, Passage, came into the family and has been on what has turned out to be a long term restoration schedule. When this project got going in ernest a few years ago it seemed that Passage should be in the barn for all this work, and so poor Marionette, as the years went by, spent a number of winters out under a tarp.
The last 'reason' was that Marionette was going to stay up in Maine for a 'few' years, wintering in a boat yard shed - after two years of trying to pull that plan off, and failing, coupled with last year's very heavy snow on poor Marionette under her tarp, outside her barn it was - NO MORE! Marionette will join Passage in the barn. Barnbuilder John was still in the game and came back after 14 years, put in the horizontal 3rd door, and widened the opening with larger vertical doors. The Designer and the Builder complimented ourselves that this was made easy because it was provided for in the original plan!
| | |
| --- | --- |
| | |
| The '3rd' door provides for another 10'x10' bay | No Tarp!! |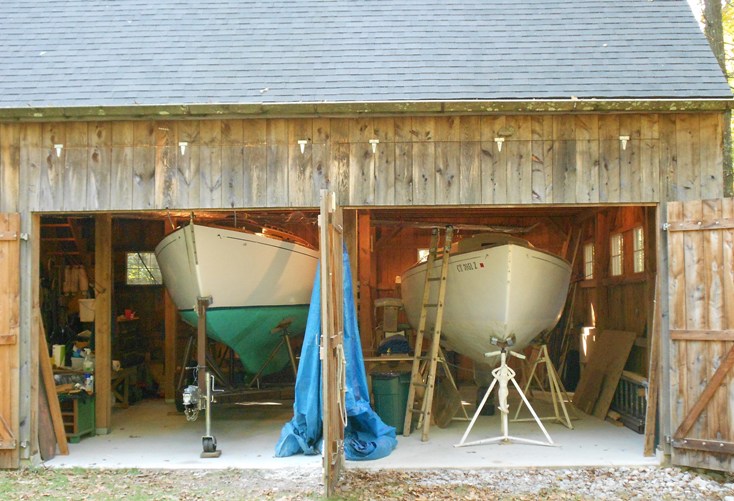 Marionette and Passage

*********************
August 26, 2018. Early Sunday morning, late August, driving up the driveway had to stop and open up the barn (to let her breathe). She asked to have her picture taken - pretty barn. Passage is guarding Marionette's empty bay (she's in Maine)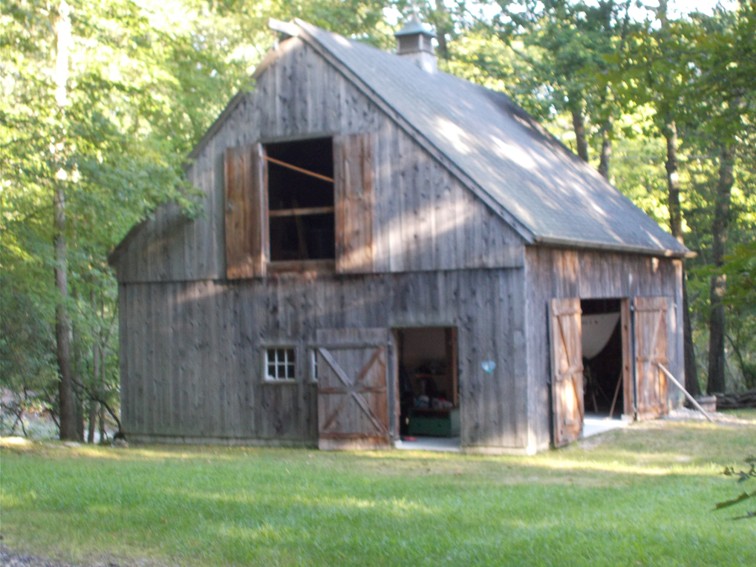 Click here for a larger image
January 22, 2019 - an oversight - click here to go to Marionette's Barn workshop tools
****************************