August 23, 2007. Marcia sent in the following picture and email about Timesweep. She bought her in 1979, clearly establishing this as an enduring relationship.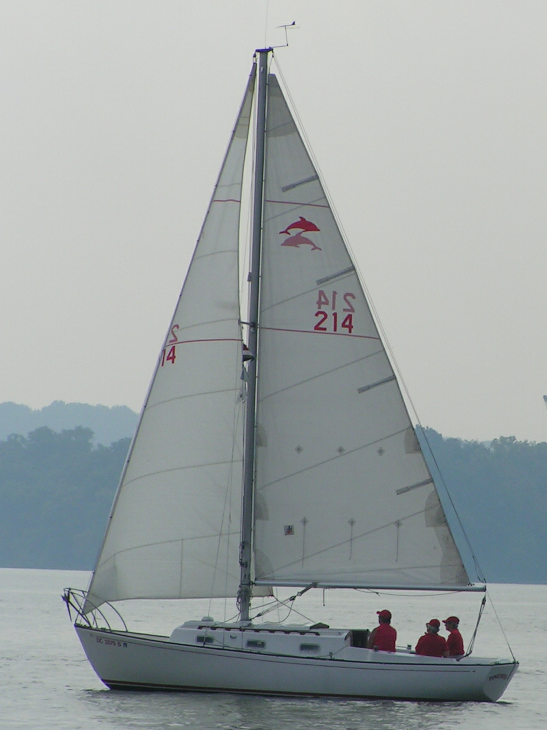 August 23, 2007

The name of my boat is "Timesweep" which is what it was named when I purchased her. I bought her in September of 1979 from Robert de Gast who had written a book with photos, if I recall correctly, about some of his sailing adventures on her perhaps circumnavigating around the Delmarva Peninsula? (Am a bit foggy about that aspect.) Webmaster Note - see below on this

Although I purchased her in Annapolis and brought her around to the Washington DC area I have sailed her almost exclusively on the Potomac River focusing largely on the Washington DC area with a few ventures up and down the river. I keep her at the Washington Sailing Marina which is directly south across the lagoon from National Airport. There are two other Dolphins located here of the same vintage as mine..."Psycho" which is currently owned by the Sailing Club of Washington (SCOW) and "MO-Dean" currently owned by Robert and Frank Deichmeister. It was formally named "Stargazer" and was owned by Pat Saunders. I used to crew for her and fell in love with the boat.

Marcia Green, Hull # 214

ps ( I believe I am the 3rd owner of Timesweep)
Webmaster Note: We have been in touch with Robert de Gast. His book, "Western Wind Eastern Shore - A Sailing Cruise around the Eastern Shore of Maryland, Delaware and Virginia" is now on my reading list. October 13, 2011 - see below.

It was written while he was cruising in his S&S designed Sailmaster 22, "Slick Ca'm", (sometimes referred to as a small Dolphin) and published by Johns Hopkins University press in 1975. Among other works he also wrote "The Lighthouses of the Chesapeake".
He said of his Dolphin:
"In 1976 I asked the naval architect Peter van Dine to design a small sloop for me. I gave him the paticulars I was interested in and he replied within a week that what I should really do is buy a S&S Dolphin 24. Which I did. But in 1979 we bought a larger boat to go cruising full-time. Since then we've owned three other boats, but I remember the Dolphin fondly as a beautiful, fast, and seaworthy vessel. We made many cruises in her…."
Robert told us that the name TimeSweep came from a poem written by Carl Sandberg that his wife especially liked. "There is only one Maker in the world and His children cover the Earth and they are named All God's Children." Carl Sandberg - Timesweep
Robert is a photographer (Slick Ca'm!) and writer, and now lives in San Miguel, Mexico - "500 miles from water". He had a website where you can learn more about his work, which seems to be not longer operative. Webmaster Note March 30, 2016 We have learned that Robert passed away earlier this year. Click here for the link to his obituary in the Washington Post
Click here for our website Stories Section regarding Robert and his boats.
****************
November 14, 2009 - Marcia and Timesweep belong to Daingerfield Island Sailing Club (DISC) which is comprised of sailors from the greater Washington, DC area who enjoy racing, day sailing and cruising on the upper Potomac River. Most boats sail out of the Washington Sailing Marina (Alexandria, VA), Buzzard's Point Marina (Washington, DC) or Bolling Airforce Base.
The club posts members' bios on their website and Marcia has a 'deep water' sailing background.
"In my mid-20's I taught myself to sail small one-designs on man-made lakes near Lawrence, Kansas. After moving to Seattle, I sailed a C-Lark, which is similar to an Albacore. In DC I sailed SCOW's (Sailing Club of Washington) one-designs and cruising boats until purchasing "Timesweep". In addition to the Chesapeake and its tributaries, I have sailed the Intracoastal Waterway and the Bahamian, Virgin and Greek Islands. I was fortunate to crew for Bob Rowland from 1991 to 1994, when he was circumnavigating the globe on his Golden Gate 30. (Ironically, I taught Bob to sail when helping with SCOW's instructional program). The legs when I was the only crew were: Vanuatu to Townsville, Australia; Bali, Indonesia to the Seychelles up the Red Sea ending in Israel; Marmaris Turkey to Gibraltar; and Antigua back to Key West, where he started. The total mileage for me equals one-half of a circumnavigation. We have raced "Timesweep" since 1984 with differing degrees of success. I was Fleet Captain of DICF from 1984 to 1998."

| | | |
| --- | --- | --- |
On the left the DC background; center, Dolphins leading at the mark; and the right, the Virginia background
********************
October 2, 2011. Timesweep has a page on the Daingerfield Island Sailing Club website, Alexanderia, Virginia. Click here to go to it.
*****************************
October 13, 2011. Webmaster Note: My copy of Robert de Gast's book "Western Wind Eastern Shore" arrived today. It is the story of his 24 day photographic cruise in his Sailmaster 22, Slick C'am - a 1974 circumnavigation of the DelMarVa Penninsula - Delaware, Maryland and the eastern shore of Virginia. The book was published by Johns Hopkins University Press in 1975, and he celebrated by buying his Yankee Dolphin in 1976....The book is a log of his cruise and has a black and white photograpic record of what he saw. Click here to go to the Stories Section for more on this book
************************
May 7, 2012. Marcia sent in some technical feedback from suppliers on painting issues. Click here to go there.
*********************
March 31, 2016. The passing away of Timesweep's previous owner, Robert de Gast, gave us an excuse to reconnect with Marcia (who has had her for 36 years!) Here is her email - minor edit
Thanks, Ron. I missed Robert's obit so I appreciate your sending me all of the info. I still have Timesweep and sail her but much less frequently...She is still going strong and her skipper is still doing well but slowing down some

*******************************
June 29, 2019. We're coming up on Marcia's 40th yr anniversary with Timesweep. Here is her update (edited)
Hi Ron

I've been remiss in not keeping in touch. Timesweep is still at Washington Sailing Marina in Alexandria, VA and I'm still the owner. My friend Judy and I continue to maintain her as best we can but the aging process for all three of us is relentless. We sit on her and use her as our floating bar and clubhouse.

While we have been working on her we haven't sailed her in two years. In spite of appearances we haven't given up and still intend to sail her but thus far haven't. At the moment she is without motor.... but tomorrow is another day and in fact we have started redoing her teak.

Marcia
Webmaster Note: Readers may have wondered just where is the Washington Sailing Marina. Click to go to their website
https://boatingindc.com/boathouses/washington-sailing-marina/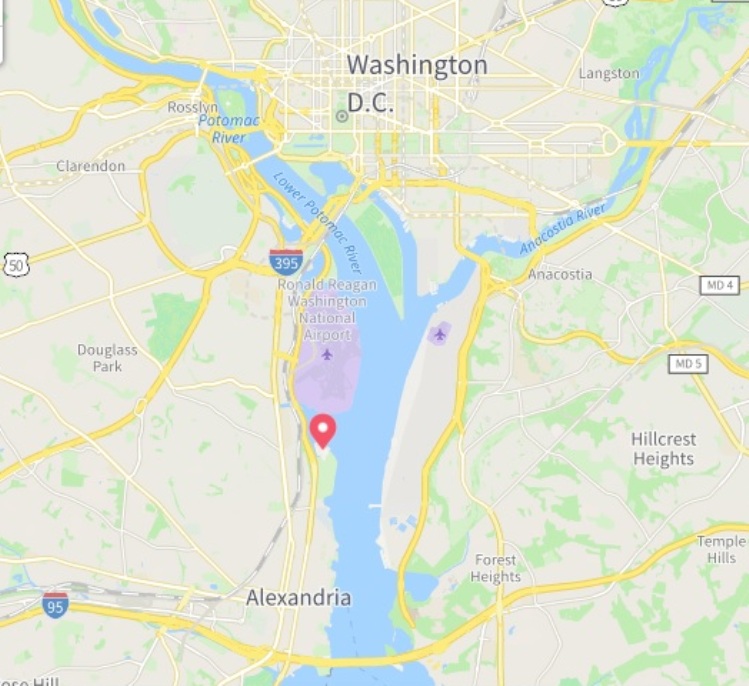 ****************************************