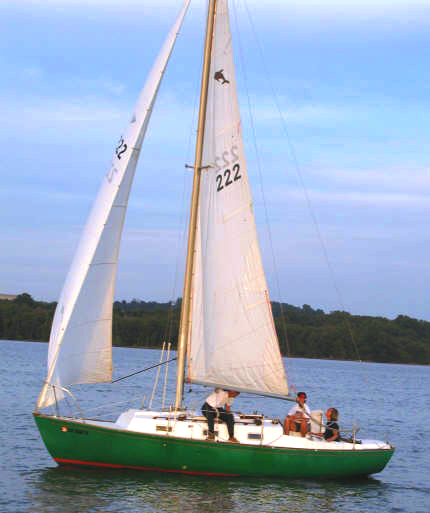 Dorothy Stocks and Henry Cheng sailing Psycho on the Potomac River.

The Sailing Club of Washington (SCOW) has had a 1971 Yankee Dolphin in their fleet since the early 1990's. They decided to sell her (to club member Rob Tassell) and get a bigger boat. Rob has renamed her Tango II - click here to go to her.

SCOW provided the following information about Psycho.
The boat is equipped with a 2-cycle OB, VHF, depth finder, porta-potti head, and stove. Three years ago, the boat was hauled and the members faired and repainted the bottom, repainted the deck, upgraded the electrical system, and installed a new toe rail. The boat has a genoa track on the toe rail, improving sail trim. The boat is rigged with all lines leading aft to the cockpit.

With this recent overhaul, the boat is in better than average condition, although a bit of the new deck paint is peeling. The sails are in good shape as is the running rigging, but a new owner might want to replace both in a few years. This isn't a "fixer-upper" - while any 35 year old boat needs work in some area or another, the boat is being sailed now.

The boat has been kept in fresh water on the Potomac River near DC since it was bought in the early 90's. It was surveyed in 2001, and the survey said the boat was in good shape with plenty of life in her. To our knowledge, Psycho remains sound.

Psycho is very popular with our members and has a great history of successful racing on the Potomac - much better with the engine pulled.
*************************