October 13, 2011. Your webmaster's copy of Robert de Gast's book Western Wind Eastern Shore, A Sailing Cruise around the Eastern Shore of Maryland, Delaware and Virginia arrived yesterday from one of the Amazon.com used book suppliers. Why it has taken me so long to get it is another story. Robert is the former owner of Timesweep, Yankee #214 and that alone puts him on the recommended reading list for Dolphin enthusiasts.

The book was written while he was cruising in his S&S designed Sailmaster 22, "Slick Ca'm", (sometimes referred to as a small Dolphin) and published by Johns Hopkins University press in 1975. Among other works he also wrote "The Lighthouses of the Chesapeake".
Robert de Gast is a free lance photographer and writer born in the Netherlands. In his late teens, he moved to the United States, where he developed a successful career as a photographer. He has worked for many prestigious publications, corporations, and institutions, like Sail, Smithsonian, National Geographic, Yachting, The New York Times, Oceans, Harper's, Travel & Leisure, Architectural Digest, The Washington Post, Audubon, Xerox, the U.S. Naval Academy, Finair, IBM, Perdue Farms, and Johns Hopkins University.

He now lives and teaches in San Miguel de Allende, a picturesque colonial town in central Mexico that has inspired some of his latest publications, where his love of photography has taken him to become a popular lecturer and a patient tutor.
This book is a narrative of his twenty-four day voyage in his sloop Slick Ca'm, which took him not only around the eastern shore of Delaware, Maryland, and Virginia, but behind its barrier island and into its rivers, creeks, and marshlands.

Enhancing the narrative are scores of lovely photographs taken, writes de Gast, "from the cockpit of my little sloop, usually under way, with my foot on the tiller and my hand on the camera."

The photographs are black and white, and gray, stark, haunting, and awesome.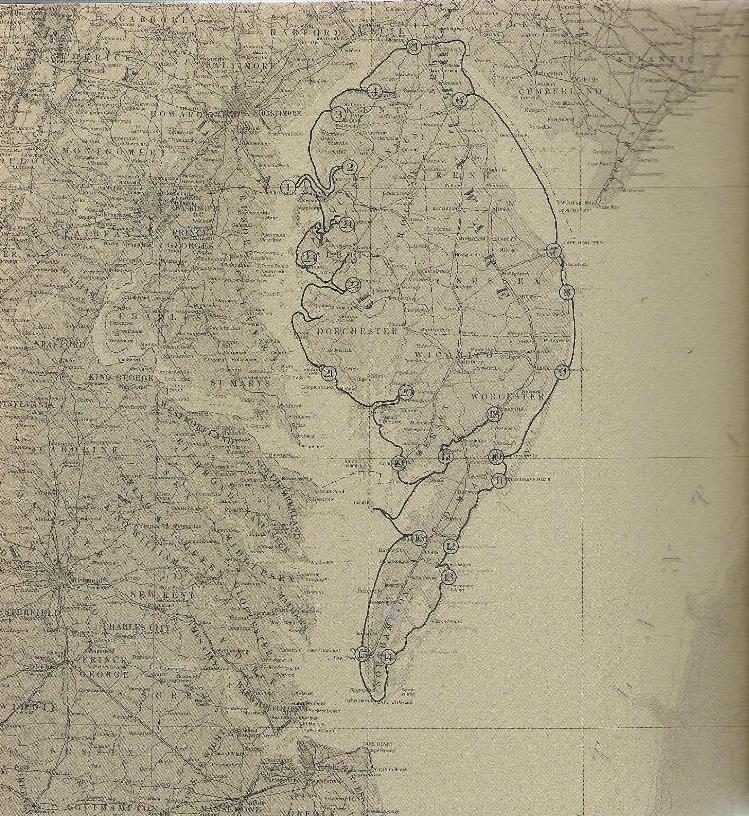 This is a poor quality scan of the detailed map in the book. It shows his day by day clockwise cruise around the Delmarva peninsula starting in May, 1974 at Annapolis, north up the Chesapeake, through the Delaware Chesapeake Canal, down Delaware Bay, down the outside and inside passages on the Atlantic side, up the Chesapeake, and finishing back at Annapolis 24 days later. In the Foreward, John Barth says:
"any competent, imaginative sailor with a shoal draft boat and three weeks on his hands...must surely long to, once he reads this book...He has done the requisite regional-history homework; wears it lightly; invokes it aptly and unsentimentally. This voyager, like this voyage, is quiet, able, self-effacing."

"...It is a world of such ubiquitous horizontality - sand bars, mud flats, the 360 degree horizon itself - that any verticals in it are more or less startling, interesting, even important; ipso facto: a mast; a piling; a heron's legs; loblolly pine trunks; the separate reeds of spartins grass. Even the surface of the water (everywhere!) is prevailingly 'slick calm', at least in the pictures"

Slick Ca'm (as pronounced locally) - a slick calm
A lot of time living aboard a 22' sloop is apt to make one think of 'a bigger boat'. In his words
"In 1976 I asked the naval architect Peter van Dine to design a small sloop for me. I gave him the particulars I was interested in and he replied within a week that what I should really do is buy a S&S Dolphin 24. Which I did. But in 1979 we bought a larger boat to go cruising full-time. Since then we've owned three other boats, but I remember the Dolphin fondly as a beautiful, fast, and seaworthy vessel. We made many cruises in her…."
Robert told us that the name "TimeSweep" came from a poem written by Carl Sandberg that his wife especially liked. "There is only one Maker in the world and His children cover the Earth and they are named All God's Children." Carl Sandberg - Timesweep
******************************
October 14, 2011. Robert responds to our website story (minor edits)
Hola Ron,
Thanks for the kind words! Slick Ca'm, is pronounced (by the watermen) "slick cam." Oh, those windless days...

You might be interested in another book I published: "Five Fair Rivers," also from Johns Hopkins. My wife and I have a book coming out (next month?) about the Intracoastal Waterway: "The Thin Magenta Line." We've made many cruises on The Ditch, often in catamarans, but if I ever had to do it again (and didn't have enough money to buy a cat) I would certainly choose the Dolphin and tow a tiny dinghy.

So, here I am, in wonderful Mexico, 500 miles from the Gulf, and 600 miles from the Atlantic. Go figure!

Fair winds and following seas to you.
Saludos,
Robert

******************************
Webmaster Note: If sailing thin waters in the Chesapeake Bay area is your thing then here's some other Robert de Gast books that should be on your list

Five Fair Rivers - Sailing the James, York, Rappahaannock, Potomoc and Patuxent ( the cover at the left)

"Lighthouses of the Chesapeake",

"Oystermen of the Chesapeake"

"Unreal Estate - The Eastern Shore"
***************************************************
March 30, 2016. We learned today that Robert passed away on January 3, 2016. Click here for his obituary that appeared in the Washington Post.
Fair Winds Robert