December 5, 2015. There have been further developments in the interesting story that Terry got us started following - the Irv and Exy Johnson Yankees story. Click this link to go there http://dolphin24.org/yankees_johnson.html
***********************************
*****************************************************
February 18, 2013. Porpoise has a new owner - Jim Joslyn, from Muscatine, Iowa. Click here to go to Porpoise's new page.
Back on December 2, 2012 Terry Glenn advised us that, due to health problems, Porpoise was for sale. We got a heads up from Kristin Keenan (Yankee #239) about a For Sale new listing, and that the boat has been donated to Nautical Donations Inc., a 501(c)(3) organization. Proceeds of the sale will benefit nautical non-profits in the greater Chicago area. The ad and a group of fuzzy pictures appear at the bottom of the page.
We have found out so much about this boat in the past few days that it has been hard keep a rational webpage presentation. Bear with us as we jump back and forth in time on her story. On February 15 we received the following email (minor edits) from Terry Glenn, with attached emails, regarding the sale.
I had donated Porpoise to Crowley's Nautical Donations program and they came up with this pleased buyer. I requested the proceeds from the sale be used for Columbia Yacht Club's (CYY) junior sailing program. Bruce (Rosenzweig) sent this memo (below) to Nancy (Broekl) who sent it to me. He knows Nancy and remembered her as an owner.


Attached Message
From: Nancy Broeckl

Subject: happy new owner of ND's 1960 Dolphin 24 "Porpoise"

Nice job on the Porpoise deal and thanks everyone who helped make this a very happy experience for the buyer Jim Joslyn, from lovely Muscatine IA. Jim had many nice things to say about CYY making this a fun experience Of course his happy friendly attitude helped us help him.

Postscript: The enthusiasm CYY associates project when people come to select a boat, even a project boat, says a lot about who we are as a premiere top flight boat yard operation.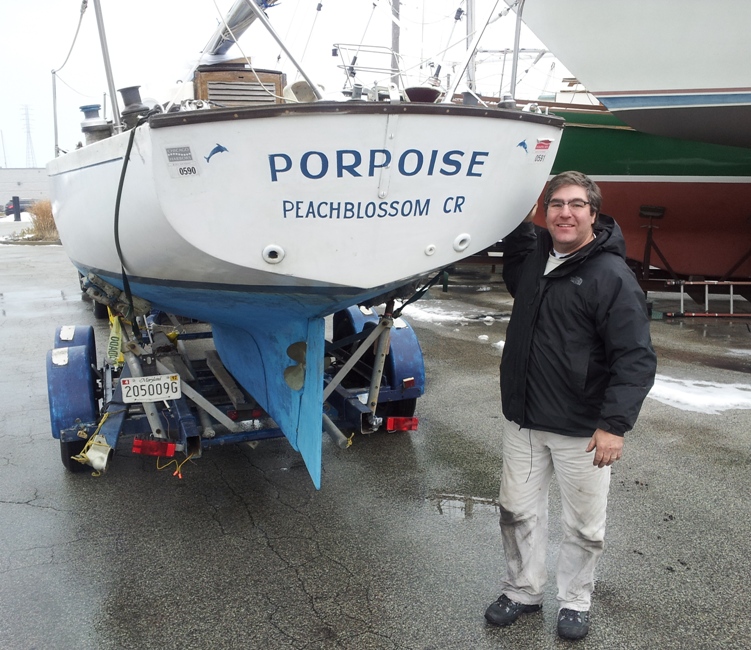 New Owner Jim Joslyn
Webmaster Note: February 16, 2013. Porpoise's hailing port PEACHBLOSSOM CR? Besides introducing us to her new owner we thought this photo pretty much confirmed Porpoise was, in an earlier life, Peach Blossom. NOPE!!
Click here to go to "Peach Blossom's" page and the story of how we came to this confirmation, and how we were wrong!
Terry Glenn was co owner of this boat with Nancy Brockyl when they bought her together in 1992, and she became sole owner in 1996/7. Terry and Nancy sailed together in the Mediterranean on Irving Johnson's ketch, Yankee. Irving and his wife 'Exy' were famous circumnavigators having made 7 trips around the world, 4 of which were on a 96' LOA steel hulled tall ship rigged as a brigantine, also named Yankee. We received the following email from Terry regarding how they acquired Porpoise, and their experience on Yankee. She had told us something about this in her first email to us in September, 2010 further down the page
Paul Cox's son ran a Penguin Regatta on the Md. eastern shore years ago that I sailed in.

I was on Irving and Exy Johnson's fourth world Voyage, Nov.1947 to May, 1949 (18 months) They sailed the original Yankee on the first three cruises before WWII. Irving was in the Navy and at Pearl Harbor on Dec. 7. The last four cruises were on the Brigantine Yankee, a steel North Sea pilot ship. Our cruise was written up in their book "Yankee's Wanderworld" and on 2 articles in the National Geographic. I had never sailed but I realized how enjoyable it was and have sailed until now.

Terry
The Johnson's circumnavigations are legendary and are documented in books, movies, National Geographic documentaries, magazine articles and museums. Irving Johnson died in 1991 at 85, and his wife and First Mate, Exy, died at age 95, in 2004. Click here to see his obituary in the New York Times, and here for hers in the Boston Globe

The photo at left is the 113' LOA Irving Johnson, a brigantine, one of twins, the other named Exy Johnson, built by the Los Angeles Maritime Institute to instill sail training in tall ships to disadvantaged youth. Click here to go to Wikipedia's article on these ships.

Wikipedia has a good article on the Johnsons - click here to go there.
February 27, 2013. Your webmaster has added a couple of books to the growing list of must reads
Terry has been on both these boats, and in both these books. Ever alert for Dolphin related material we came up with the following, on page 116 of Yankee Sails Across Europe. Yankee was moored in the tiny harbor of Ischia, an island in the Gulf of Naples waiting for her new crew. Exy Johnson writes:
"....a most welcome crew since all had sailed in the Brigantine Yankee, three of them around the world; Terry Glenn, lady engineer, sailor, and skier from Chicago; Ruth Donovan, the widow of General 'Wild Bill" Donovan of OSS, and Eric Wolman who was such an advanced mathematician that we had to confine our conversation to his many other interests. The fourth guest was Dr. Bob Goodwin of New Bedford, who had crossed the Atlantic with us. With such a crew a cruise to Greece would be ideal"
Stay Tuned
March 10, 2013. We got these books from our local library and they have been hard to put down. Click here to see a summary and photos of both books.
*********************************
At this point we will go back in time to September 25, 2010 when we first heard about this boat from former Wilmette Fleet Captain Kristin Keenan (Yankee #239). Wilmette Harbor is 20 miles up the Lake Michigan coast from Chicago's Belmont Harbor, and home to 15 Dolphins. Then, we tracked down Terry with the help of DFI Nicole Breault - Terry and Nicole share a mutual friend, Chicagoan Betsy Altman, former chair of US Sailing's Inshore Committee, and I-470, Lightning and fellow sailor. Terry sent in the following report (minor edits).
I am the current owner of the Dolphin 24 PORPOISE, and a member of the Wilmette Dolphin fleet Nancy Broeckl bought the boat in 1992 from C. Paul Cox of Easton, Maryland. I became a co-owner when she bought the boat (and sole owner in 1997).

When I was crew at a Penguin Regatta several years on the Chesapeake C. Paul Cox II was a competitor and ran the regatta. He explained he grew up on PORPOISE, so his father may have been the original owner. (Webmaster Note: February 18, 2013 - Terry may have meant Paul's brother, David - see here) I know it was cruised extensively by the Coxes.

The boat is an O'Day Dolphin, built by Marscot Plastics, Fall River, MA. Hull No. 3235, Class #15 in 1960. The boat has been kept in Belmont Harbor, Chicago since acquired here. Nancy Broeckl is a member of Chicago Yacht Club, which has a Belmont Station, and is their historian.

The boat has been day sailed from the harbor and has never raced at Wilmette or locally. Nancy has not done much cruising, but sailed for a few weeks on the ketch Yankee one summer when we were on the Canal du Midi in Southern France, with Irving and Exy Johnson. I had sailed with them in a circumnavigation on the brigantine Yankee, and then on numerous short cruises in European waters..

I hope this helps in your history of the boat, which I enjoy sailing on Lake Michigan.

Terry Glenn
We mobilized our Cheapeake Bay region DFI staff (Dolphin Field Investigators) to see if we could track down the previous owners of Porpoise, the Coxes, and tried to get Terry to send in a couple of pictures of PORPOISE.
On March 14, 2012. DFI staff tirelessly checking and cross checking our data bases came to the tentative conclusion that Porpoise was once Peach Blossom and sailed by the Cox family out of Fishers Island, New York. Click here to find out how we developed this breakthrough, and for an amusing peek at our investigative process.
***********************************************
This was the link to the ad for Porpoise at Sailboat Listings - http://www.sailboatlistings.com/view/33679 - now expired. Excerpts of the ad, and pictures are below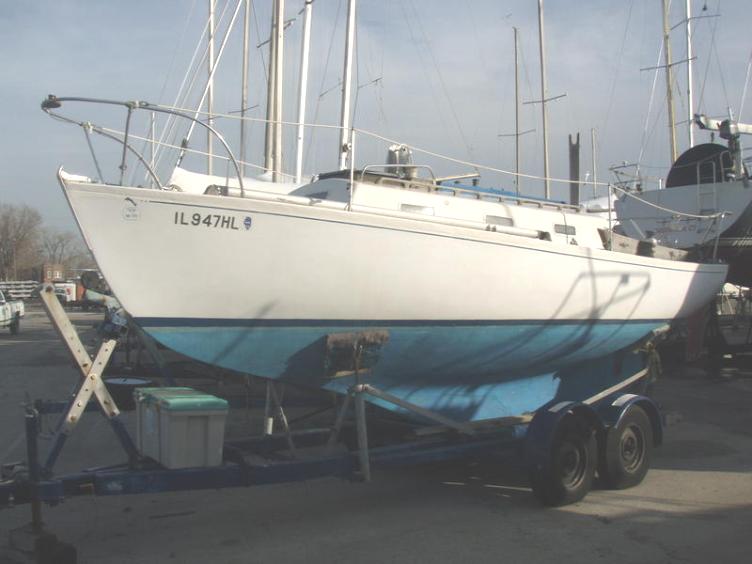 Porpoise, Dolphin No. 15, $3900

This freshwater O'Day Dolphin 24 (sail # 15) comes with a double axle trailer and is in good condition. It is a classic Sparkman & Stevens design- a "junior ocean racer" - and makes for an excellent performance cruiser as well. It promises the new owner many years of successful club racing and the pleasures of leisurely cruises. The greatness of the Dolphin's design is attested to by a very active community of boat owners. For answers to questions or to arrange an appointment, please contact Nautical Donations. AS IS, WHERE IS. This boat has a clear Illinois title and was donated to Nautical Donations Inc. which is a 501(c)(3) organization. See our website for more information. All information included in this listing is accurate to the best of our knowledge. Nautical Donations Inc. will also provide a bill of sale. Purchase of this boat is not tax deductible. Proceeds of the sale will benefit nautical non-profits in the greater Chicago area. TERMS OF SALE: Buyer must remove the boat from the yard seven days after the completion of the sale or make arrangements with Crowley's Yacht Yard for storage or launching. Buyer must pay in full before the boat is released.. Located in Chicago Illinois.

Has an 1965 inboard 9hp Yanmar diesel engine. Double axle trailer has a tongue extension for easier launching.

Nautical Donations contact info http://www.nauticaldonations.org/ phone 312-859-0091

Crowley's Yacht Yard, Chicago - 773-672-2080
| | | |
| --- | --- | --- |
| | These photos are a bit fuzzy as they have been enlarged from the Sailboat Listings ad. If you click the link above and go to the ad, it is possible to click on the thumbnail photos to get a larger and clearer picture. | |
I'm sure Terry would not be happy with those two photos where water and dirt collected in the cockpit before Porpoise got covered. This boat looks like it's a real classic with a lot of extras - note the access panel in the bridgedeck, compass mount on top of the bridgedeck, the boom rest and brackets, hand wheel for the backstay, mast tabernacle, dorade boxes, main hatch hood with winches and cleats, original head location and neat installation, access doors for the V- berth, varnished cabin sole.
**************************************