July 8, 2015 - Yankee #123 has a new owner (confirmed!) Josh was a longtime member of our 'Interested in a Dolphin list' and has finally got his
Ron,

Finally! After a long and Dolphin-less decade, I am the proud new owner of Tern. She is still on the hard in New Jersey but I plan on trucking her to mid-coast Maine at the end of July. More to come but it's official.

Thanks for all your help,

Josh Gardner

Welcome Aboard, Josh!
****************************
March 16, 2016. In response to a webmaster update inquiry we got the following email from Josh.
Ron

Tern is ready for her second season on Penobscot Bay. She'll be moored in Camden Harbor. I was able to trailer her up from New Jersey last July and got in for a couple of months, but this season the fun really begins! She's a great boat and seems at home in her new waters. More to come...

Josh

Webmaster Note July 24, 2016: Josh advised that this year TERN is moored in Rockport Harbor (around the corner from Camden)

Postscript: Josh did send us a picture!

Here is TERN at Journey's End Marina in Rockland preparing for her maiden Maine voyage..
Webmaster Note: While we wait for more of Josh's pictures we are pleased to post a couple of pictures of Camden's harbor - probably Marionette's favorite harbor. The first taken from Mt Beattie (Homeaway.com) the others from Marionette's log, summer, 2011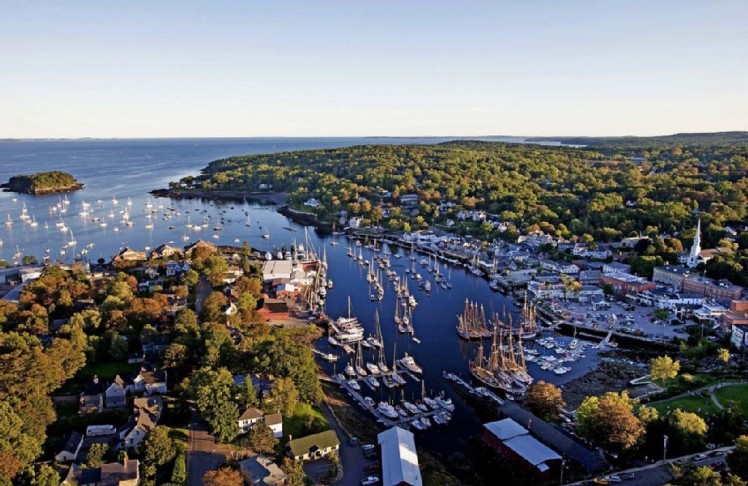 Camden Harbor looking down from Mt Beattie (schooner heaven) - click here for a larger image
| | |
| --- | --- |
| | Camden Library on the hill - perfect for Webmaster duties |
*************************
August 5, 2016 - With the above prophetic introduction to Camden Harbor your webmaster and Josh met for the first time last weekend on the Harbormaster docks in Camden where Marionette was tied up. She was entered in the Camden Classics Cup regatta (She won her division! Click here to see her log). Josh took some video's of the regatta parade which we will link up - as soon as your webmaster can figure out how to do this.
He sent in a couple of pictures of TERN on her current mooring in Rockport - around the corner just visible on the horizon, upper mid left of the photo above. (Emails with minor edits and consolidated)
Ron

Here's TERN, again in Rockport. More photos of her interior to come. We met on the dock in Camden when you and your son were getting the spinnaker ready. Congratulations on the race! Wow!

Yesterday, I went out for sail with a very experienced friend and we had to dump the sail outside of Rockport Harbor as he said it was gusting to 25. I'd say maybe. But we were on the way in and couldn't gain any ground against the tidal current and wind, all on the nose, and we were losing steerage and side-slipping. All of this with winds forecast at 10-15! The buoys were reporting higher gusts but I think it's a feature of outer Rockport Harbor, where everything comes together and the wind funnels down the hills or something. In the middle of the Bay it was much milder, truly 10-15.

We made it in, high-fived and cracked a cold one. I don't think many boats could have made headway into that mess yesterday but we sure tried and we made it back safely,and no worse the wear. That said, my sea legs are still active this morning!

Josh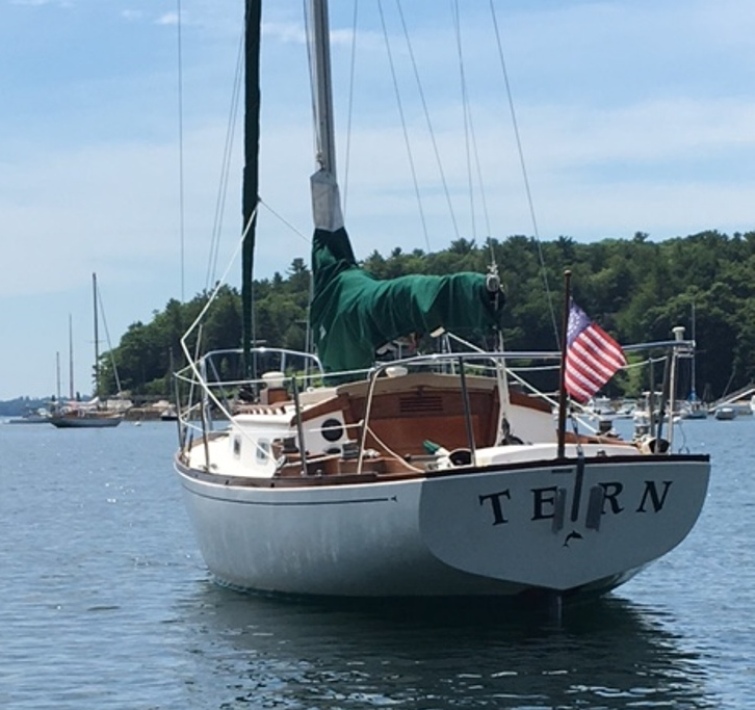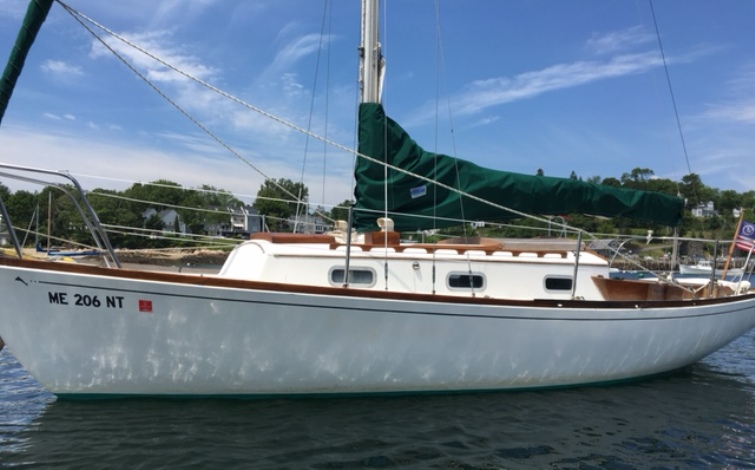 ******************
June 1, 2017 Josh and TERN were one of our early possible entries for the 2017 Camden Classic Cup (also known as the NE Dolphin 24 Championships!). Alas, duty calls - we got the following update (minor edit)
Ron,

Bad news. I don't think I'm even putting TERN in the water this year. I have to work in California for a good chunk of the summer so it doesn't make much sense. It's very painful to type those words but work must come first - so I'm told.......

If there's any chance I'm around, I'll of course be there.

Josh
Lets hope Josh can make it - we need a video expert to record our 'parade' and Josh has the know how - he recorded it last year https://www.youtube.com/watch?v=lSz_jzkJv10
***************************************
August 14, 2017. Soooo.... your webmaster, having nothing to do on Friday afternoon, August 4, driving around Rockport and Camden, was on Route 90 and noticed a small boat storage yard, and then, a familiar shape way in the back of the yard. U turn and stopped to check it out.
This sighting was reported in Marionette's Log, summer, 2017

Postscript/Josh - August 19, 2017

Ron! I have been so harried I just got to checking the site and saw the update. I like to think she is resting but she even looks good when asleep. I'm painting her soon and she'll be back in the water early, early next season.
Now I need to continue reading about the Camden Cup... Webmaster Note - Test next week!

Josh
We missed both Josh and TERN at the NE Dolphin 24 Championships - next year?
***********************************
November 6, 2017. We got a bolt from the past! Previous owner Ken Godfey filled in a few blanks in #123's history - we thank him for contacting us.
Its never too late! WELCOME ABOARD KEN!!!
Ron,

I literally stumbled upon your Dolphin website while doing some research on the demise of MORC racing. I am able to flesh out a bit more on the history of TERN prior to Vince McCluskey's guardianship.

I purchased TERN in 1985 from a gentleman who lived in Rumson, NJ. She was on the hard in the Cove Sail Marina in Sea Bright, NJ when I found her. She was in rough shape and needed much work to sail safely. I renewed her standing rigging, added the RF, rebuilt and re-bed all the chainplates, had a new suit of sails made by Eggers Sailmakers in South Amboy, NJ (we miss you Dave!) and fitted new running rigging the first year. Cleaned her up a bit and sailed her from NJ to Maine on the outside and returned on the inside the first season.

She was initially tender, but if you reefed her like a voter in Chicago under Mayor Daley, early and often, she was better than I at sea. The second season I did my best to restore her beauty, restoring all the deck tree and topsides fiberglass.


Boy was she a head turner, and from the looks of the pictures on your website, she still is. I kept her on a mooring on the Navesink River at the Monmouth Boat Club in Red Bank, NJ. I sold her to Peter Smith, also a member of the Monmouth Boat Club, in 1993 I believe. Peter had her for a number of years and I could see TERN on her mooring in Red Bank as I drove through town.

Webmaster Note: In our continuing effort to familiarize readers with where we sail, here's a Google look

Click on these photos for larger (and better....) images

I do not know when Peter sold her or to whom but perhaps it could have been Vince McCluskey. She also wintered at the Monmouth Sailing Center in Monmouth Beach during my ownership.

A great design except for that motor well (IMHO) and I had the biggest smile on my face seeing that someone else is enjoying and caring for her.

Regards,
Ken Godfrey

Postscript from Josh Gardner

That's great! Thank you Ron. Tern is getting a serious makeover thanks in part to the folks at Epifanes in Thomaston who are providing technical support to the project. Come spring she'll be the belle of the ball...yet again. I love hearing about her journeys too.

Josh

**********************************
June 13, 2018. Responding to a webmaster call we got the following update and pics from Josh. TERN won't be racing in the Camden Classic Cup/Dolphin 24 NE Championships (http://dolphin24.org/ccc2018.html) but she'll be there!
She splashed yesterday (June 11) ! The mast is being raised in a couple of hours. I painted the top sides and stripped and painted the bottom. That was quite a task....

I have a family reunion the week of the CCC unfortunately. But Tern has a mooring right in Camden harbor so she will be close by. I'll send a pic from the white knuckle launch.

Josh

| | |
| --- | --- |
| Yikes! | The Beginning..... |

Ready to Launch - at Rockport Harbor

*********************************************
July 18, 2018 - We got the following update from Josh (minor edit)
Hopefully I will see you at some point in Camden but I am out of town from around the 23rd of July to August 3rd. TERN is on a mooring off of Laite Beach in Camden. I painted her hull (including the transom and the old vinyl letters) - the topsides need some attention. But she's sailing beautifully and I've really enjoyed her for the first half of the summer. An overnight island cruise is forthcoming.

Good luck in the race (Camden Classic Cup), have a fun week and let me know if I can help.

Best wishes,

Josh Gardner
Webmaster Note. Here's a Google view of Camden's inner and outer harbors, and TERN's mooring area off Laite Beach
*************************
August 11, 2018. Your webmaster was in Camden late last week, put on his senior DFI hat, and decided to check out Laite Beach (above Google shot). Sure enough, There was TERN! Laite Beach is a pretty place!!!!
| | |
| --- | --- |
| sorry - shaky hand.....no $$$ for this shot | |
***************************************
November 3, 2018. Responding to a Webmaster update plea we got the following update from Josh (edited).
Hi Ron

Currently, she is on her trailer under the bridge up at the head of the harbor in Rockport for the winter. In the spring I will sand and varnish, install new lifelines, and hopefully get to repairing a section of the interior teak that had de-laminated. I can probably think of a few more things to do…yes, paint "Tern" on the transom!

Thanks for keeping the best site on the web up and running and keeping us all connected

Josh

Webmaster note: As long as she's ready for the 2019 Camden Classic Cup July 25-27!!

***********************************************
September 5, 2019. Your webmaster contacted Josh to try and track down a 'mystery Dolphin'? he saw in Rockport Harbor in late July. We are still working on this but in the meantime we got a TERN update.

Ron,

I went down to the harbor and the assistant harbor master didn't recognize the boat but thinks it was on a mooring owned by Rockport Marine. You could check with them perhaps. (Done - they have no info....)

Hope you are well. I've had some great days and nights on Tern this summer and she's happy to be in her element. More work to come this fall and winter, mostly interior.

Happy sailing,

Josh

The 'Mystery Dolphin'? in Rockport Harbor
************************************
***********************

*************************************

************************
At this point we pick up #123's story before Josh bought her.
July 8, 2015
Hi Ron,

Tern was sold to Josh Gardner on July 1st. Thanks for your help, I wish him well, and maybe when the timing is better for me I will have the opportunity to find another Dolphin.

Best wishes

Dan Liebert

*******************************************
May 29, 2015 - Price Reduced to $3250 - Click to go to Craigslist ad https://newjersey.craigslist.org/boa/5026441643.html
Contact Dan Liebert, (978) 590-5480
*************************************
May 16, 2015 - TERN's new owner, Dan Liebert, did check in but advises things have changed and he is now selling TERN. Here is his email ( consolidated/edited) and his ad. We are standing by for photos - here is the link to his Craigslist ad http://newjersey.craigslist.org/sop/5026441643.html
Hi Ron,

I own hull #123, located in Monmouth Beach New Jersey. I purchased "Tern" last August and things have come up that have unfortunately led me to put her up for sale.

Thanks for your help

Dan Liebert


1969 Yankee Dolphin, hull # 123

Classic Sparkman and Stephens coastal cruiser. In good condition with original interior. Mainsail, roller furling jib and jenniker. VHF, assorted equipment. 2006 Honda 9.9 - 4 stroke motor with very low hours. Asking $3750.00

Boat located at Monmouth Beach Sailing Center, Monmouth Beach, New Jersey.


Contact Dan Liebert, (978) 590-5480.

************************************************************

**************************************************************************************

This is the information we had on this boat up until this point. Dan purchased the boat from

Vince McCluskey, Red Bank, New Jersery
back in August, 2014.
Dan reports that Tern has been in northern New Jersey for the past 25 years at the Monmouth Beach Sailing Center - 15 of them with Vince.
September 1, 2014. We have a report that Yankee #123 has been sold. We'll standby for the new owner to check in.
********************
August 7, 2014. Staff investigators have found out more about this boat - the name of her owner, her hull #, and a couple more pictures including a hint of her name. Those pictures are below. We believe this is a New Found Dolphin, our 221st! We are trying to make contact with Vince. Stay tuned.
August 5, 2014. A website reader gave us a heads up on this Craigslist Yankee Dolphin FOR SALE in Red Bank, New Jersey. A quick search of our Rosters did not find her on the website so this may be a newly Found Dolphin. Staff is working on trying to get more info. The ad and link are below. Stay tuned
Blue water weekender - Sparkman & Stephens design - Fiberglass and Teak -

3' draft shoal keel and additional 3' with centerboard


Main Sail with 2 reefs; 150 Genoa roller furler; Asymmetric Cruising Spinnaker (with Chute Sock)


9.9 Honda (with remote control; approx 25 hours running time)

TERN - Stay tuned....

**************************