Each year this Cup is awarded at the Sparkman & Stephens Association's annual general membership meeting for the best performance submitted by a member's Sparkman & Stephens designed yacht in the proceeding year. The criteria alternate biennially, and the racing has to be organised by a nationally recognised authority.

One year the award is for an offshore race of over 100 NM and an overnight passage, and the following year it is for a race, or series of races, around fixed marks or buoys in daylight of at least 15 NM. A race committee reviews the results of nominated boats, the competiton, and decides the winner. A key measurement to determine the winner is the boat's percent winning margin over her nearest competitor.

Ron Breault's Marionette, a Dolphin 24 was nominated 4 times for this award, finishing 2nd in 2009 and winning the award 3 times- in 2011, in 2016 and 2018!

For 2008 the award was for racing around the buoys. The 2009 Annual General Meeting was held in Edinburgh, Scotland, June 12-14, and the Cup was awarded to Edgar Cato's Dorade, Olin Stephens' restored 1931 transatlantic race winner, for her winning performance in the 2008 Castine/Camden Classic Yacht Race (Maine/USA). In that race She beat the 52 ft Q Class Falcon, followed by two New York 32s. Dorade's winning margin over her competition was 4.6%.

The article in the Castine Patriot covering her win can be seen by clicking here.
Finishing 2nd for the Global Challenge Trophy was Ron Breault's Marionette, a Dolphin 24 racing in a two day event organised by the Off Soundings Club off Block Island/Newport (Rhode Island/USA) for their 75th annual Spring Series. Marionette won both races in her Class of 12 boats which included an O'Day 34, two Pearson 31s, two Pearson 30s, a Holland 1/2 ton, a C&C Redwing 30, a Beneteau 30, a PT 30, a Saber 28 and a Morgan 28. She won her Class in the Around Block Island Race by 7 minutes against her next competitor. Additionally, in this same race, she had the best corrected time in the total fleet of 132 boats. Marionette's winning margin over her competition was 4.425%, a differential to Dorade's winning margin of 18 seconds! The website article covering Marionette's win at Block Island can be seen by clicking here.
Finishing 3rd was Lief Ramm-Schmidt's Tarantella II, a Swan 37 and a past winner of this award. She won the 2008, 26.2 mile Henry Lloyd race in Finland, organised by the Helsingfors Segelklubb, Helsinki, Finland, by 2.02% against modern competition.
The official announcement was posted on the S&S Association website which can be seen by clicking here and scrolling down to June 18, 2009 - or you can read it right here.
Published:18-Jun-2009

Global Challenge Trophy Award for 2008



The S & S Association Annual Global Challenge Trophy Award 2008-9

by Patrick Mathieson

Members will remember that at the last AGM this trophy was awarded for the astounding win by Sunstone two handed round North and South islands New Zealand against contemporary 'go-fast' designs. Last year the cup was designated for an offshore race and this year it is for a round the buoys race of at least 18 Nautical miles. As usual I have had to beat the drums to elicit responses from competitors and this seems strange since it was advertised on the website twice. Nevertheless we received three responses - from Dorade, the redoubtable Tarantella II, and from the diminutive Marionette. Tarantella, a Swan 37 and past winner won the 26.2 mile Henry Lloyd race organised by the Helsingfors Segelklubb by 2.02% against modern competition. Leif Ramm-Schmidt is to be congratulated on his winning ways.

Dorade won the 19.6 mile Castine Classic Yacht Race by a margin of 4.6% against classic competition with the 52 ft Q Class Falcon second, followed by two New York 32s. This win which your webmaster witnessed, was also under the watchful eye of Olin Stephens on the Committee Launch. Olin was celebrating his 100th Anniversary and later told friends seeing Dorade win was the best birthday present he could ever have received!

However, the most remarkable win was made by Ron Breault in his standard Dolphin 24 Marionette racing in a two day event organised by the Off Soundings Club on Long Island Sound for their 75th Spring Series. Marionette won both races decisively first in light air beating a Morgan 28 and an O'Day 34, and won the Block Island Race by 7 minutes against the next competitor in class C6 with a total fleet of over 100. Because of a Dolphin's shoal draft she can go into 'Dolphin Territory' where other yachts follow at their peril – a Dolphin can draw as little as 2ft 9 in. Keel yachts follow at their peril and many tens of thousands of dollars of keel damage have resulted over the years!

In consequence the Cup has been awarded to Dorade.
December 3, 2012 Postscript. Dorade was in San Francisco this past weekend and DFI Nicole Breault was captured checking her out. Nicole was at the helm of Marionette in the above mentioned race. This report needed a couple of pictures - here they are.
| | |
| --- | --- |
| Nicole Breault checking out Dorade in San Francisco | Marionette on north side of Block Island |
April 10, 2012. The winners of the 2009, 2010 and 2011 Global Challenge Trophy were announced. Marionette was named winner of the 2011 Trophy for her win in the Off Soundings Club Around Block Island Race held in June, 2010. This is the same regatta she won in 2008.
Normally, winners of this trophy are announced at the S&S Association Annual General Meeting (AGM) in the year following the year raced. The Trophy (see picture above) will be engraved with the winner's names and presented at the Association's 2012 AGM in Dyvig, Denmark, May 10-13.
Here is a list of winners since the Trophy's inauguration in 1996 to this date (updated August 22, 2017)
| | |
| --- | --- |
| | Here is the link to the S&S Association website |
The following past winners had links specific to their boats


England Prospect of Whitby
USA NE Falcon
USA SE Finnesterre
USA NE Falcon
Finland Tarantelle ll
England Sunstone
USA Dorade
Germany Sasha
USA Marionette
Australia Constellation

June 3, 2012. Below is a photo of the 'keeper' plaque awarded to Marionette for winning the 2011 S&S Association Global Challenge Trophy.

*******************************************
July 27, 2015. Marionette had another good Off Sounding Club Spring Series in June this year, finishing 1st in her class, winning both races in the 2 day series. In addition, she had the best combined time for both races in the entire 118 boat fleet. The first race was from Watch Hill, Rhode Island to Block Island - a shortened course was called because of very light wind. The 2nd race the following day was counterclockwise around Block Island in a good NE breeze - Marionette started with a reef, and her #2 heavy genoa. More on this regatta can be found by clicking here and scrolling down to the June 16, 2015 posting.
Then, a couple of days ago, we received the S&S Association invitation for submissions for the 2015 season trophy to be awarded in 2016. Marionette would feel bad if we did not submit her results. So we did - stay tuned - the winner of this Global Competition will be announced early next year. (Webmaster Note: It must be noted here that daughter Nicole's husband Bruce is currently crewing on Dorade at the Royal Yacht Squadron's Bicentenary International Regatta, Cowes, Isle of Wight, UK. Nicole is crewing on a Beneteau 40 racing in a different class. Normally they crew together as they did on Marionette for the 2015 OSC Spring Series, and on another 'race' up in Maine last August, Click here for that story.)
Marionette's combined, corrected for handicap, time for the 2 races was 6 hours, 39 minutes, 38 seconds. The 2nd best time was by Vitesse, a NY 32, another S&S design, sailing in the same class as Marionette - 6 hours, 45 minutes, 56 seconds. Here is the submission.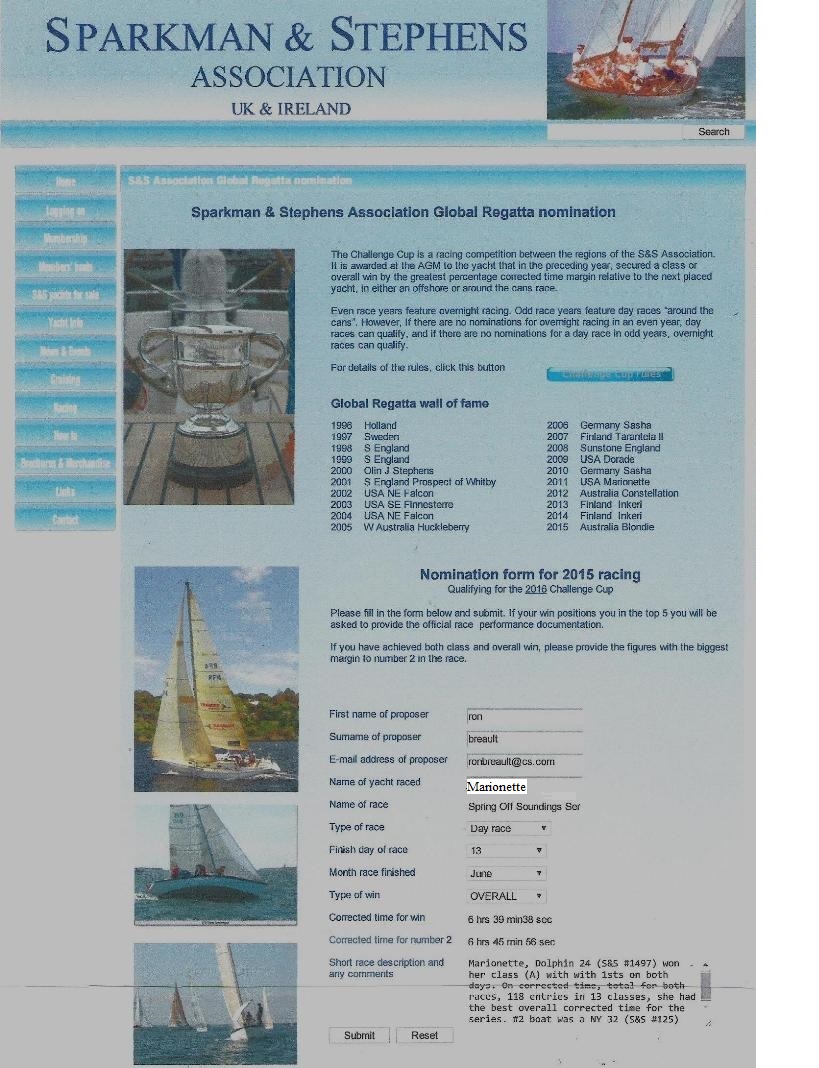 ***************************************
April 14, 2016. We received the following email announcing Marionette as the winner of the 2016 Challenge Cup award. Here is the link to their website page covering this announcement. http://www.sparkmanstephensuk.info/page100.html
Subject: Global Regatta results for 2016

Dear racers,

The final results for the Global Regatta 2016, based on races sailed in 2015, are now ready.

1. Ron Breault in Marionette
2. Michiel de van der Schueren in America Jane Ii
3. Michiel de van der Schueren in America Jane II
4. Lukas B. Venema in Mallard

The presentation of the Challenge Cup will take place at the AGM in Lagos Portugal, May 20-22. It would be a pleasure if you all could be there.

The announcement to the membership will be later this week, but I wanted you to know before the publication.

It is a strong motivation and source of pride to see the S&S yachts still going strong. I thank you for your commitment and great example to us all.

Regards

Steen Riisberg

Webmaster S&S Association UK & Ireland

*********************************
May 25, 2016. The following is a copy of the article about the above appearing in the 2016 S&S Association yearbook.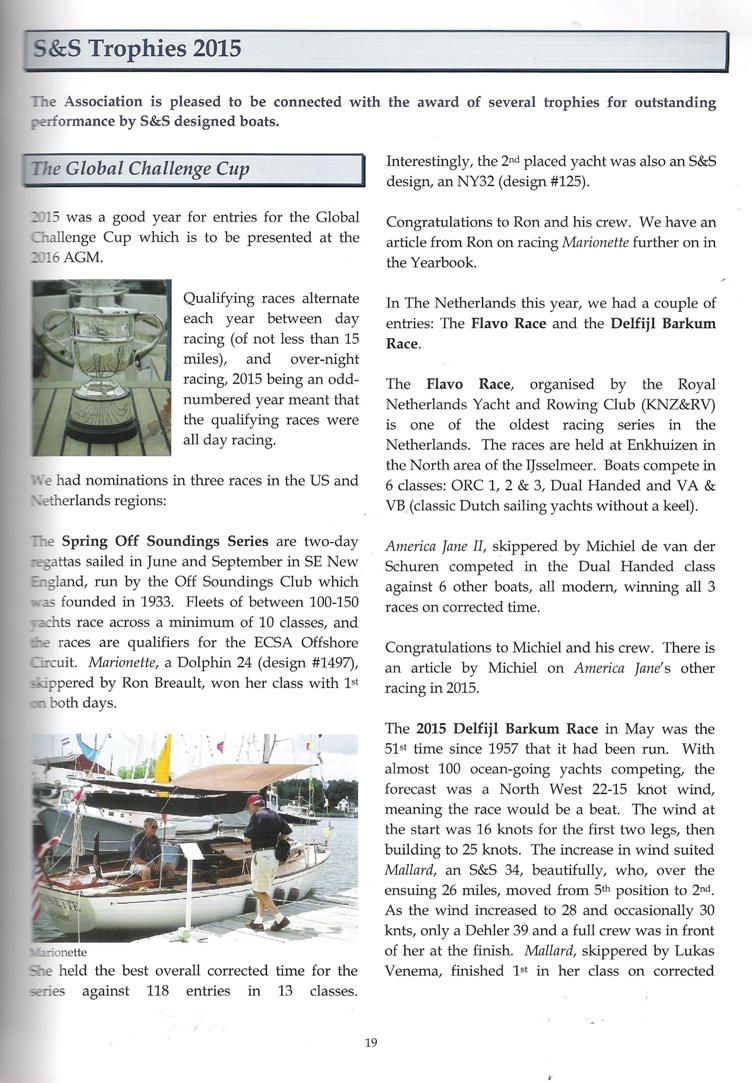 The picture above left is of author John Rousmaniere 'inspecting' Marionette in 2004 at the 75th S&S Anniversary held at Mystic Seaport
The reference in the above article about Marionette racing is here http://dolphin24.org/2016_yearbook_article.html
***************************************
May 31, 2016. Chapter 1 - Finally getting around to this report. Your webmaster, having a good friend in Switzerland who was ill and needed a visit, and combined with the need to more formally recognize Marionette's efforts in winning this award, decided to make a quick Atlantic crossing and accept the award. After a couple of days in the Lausanne area, I took an early evening flight on Saturday, May 21 from Geneva to Lisbon, rented a car and drove down to Lagos in the Algarve - about 3 hrs south of Lisbon, arriving about 12:30AM..... We'll start this chapter with a few pictures to get the setting right.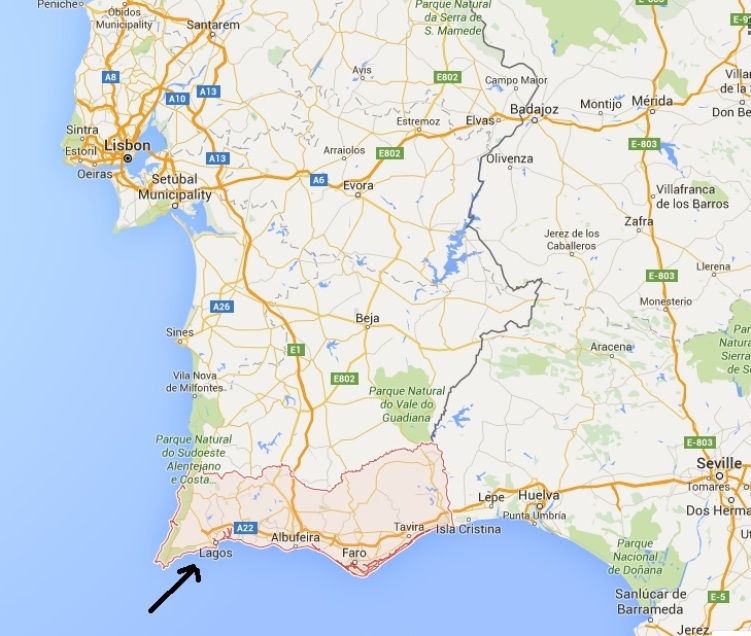 The Algarve above - click on the photos below for a larger image
The AGM Meeting Room - to be continued - big day tomorrow
June 2, 2016. Chapter 2 - Just received the following photos. There were about 50 people in attendance.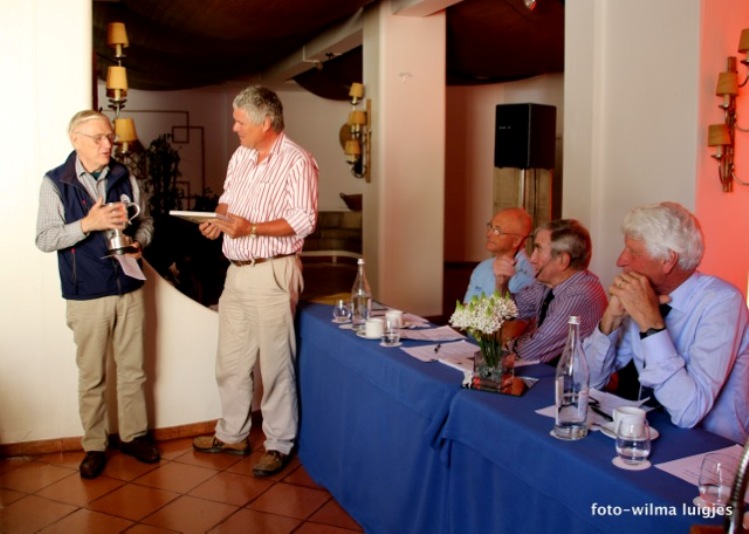 L /R - Ron Breault (Dolphin24.org webmaster), Derek Morland (Race Secretary), Clive Wilkinson (Secretary), David Olley (chair), Rob Snoeks (vice chair)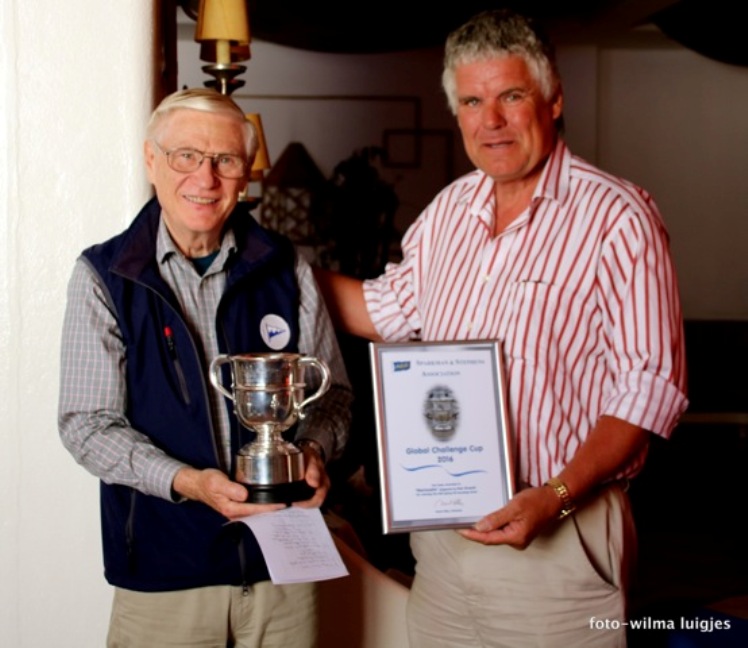 The Cup stays in Europe - the framed print is the keeper
Marionette was very pleased - she would have loved to make the trip with me....
Click here to go to the S&S Association Meeting webpage
******************************************
April 6, 2018/updated April 15, 2018. Just in over the transom - Marionette wins the 2018 Global Challenge!! Below an excerpt from the Sparkman and Stephens Association email to members this morning. More bragging when the webmaster has some time.......
Dear Member

Racing time! This year's winner (based on 2017 racing) of the Global Regatta is no other than Marionette from USA, a third time winner of the Challenge Cup. Well done.

http://www.sparkmanstephensuk.info/page100.html.

Below copied from the S&S Association website
Click Here to go to The 2017 Camden Classic Cup/Dolphin 24 New England Championships

******************************************
December 21, 2018. Just arrived - in time for Christmas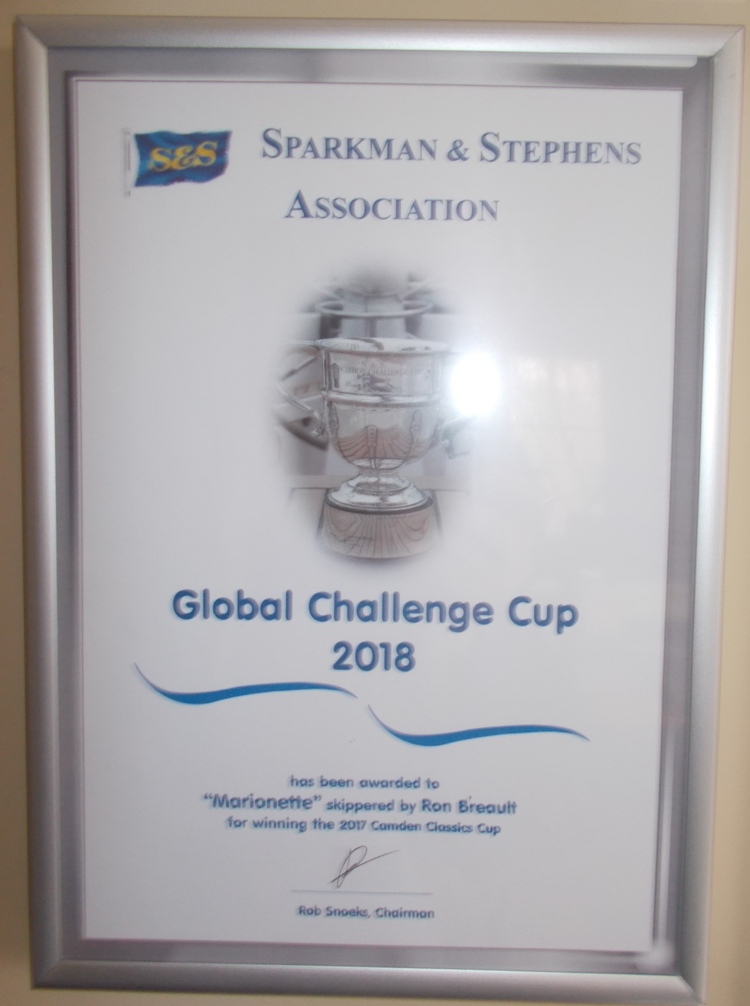 ***********************************