August 9, 2017. Stu and Cathy Polhamus left their Dolphin 24, (Equinox, Yankee # 237) back in Virginia, but brought their cameras to the Camden Classic Cup/NE Dolphin 24 Championships. Here are 'some' of the pictures they took - usually you can click on the photos to get a larger image. We added a couple to round out the gallery. An attempt has been made to organize the boats alphabetically....
| | |
| --- | --- |
| Marionette's Battle Flag | |
And, Lets Not Forget......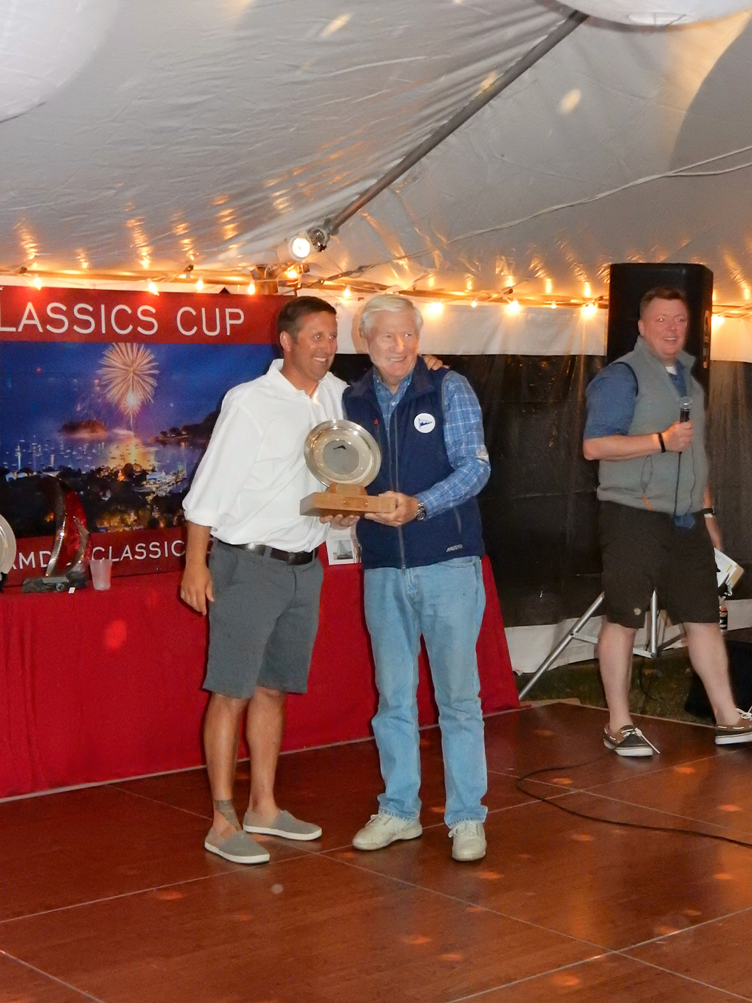 ng
Ron Breault/Marionette accepting the (Ron Noe) Dolphin NE Championship Award for 1st Place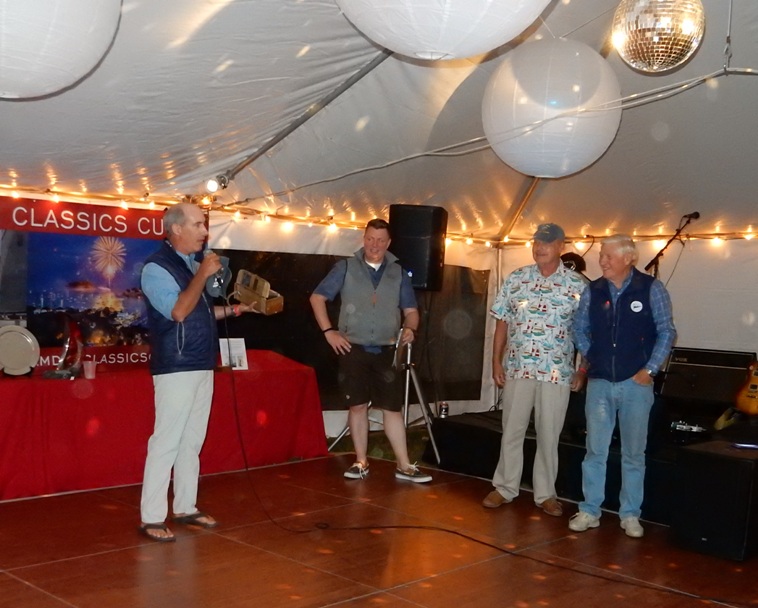 Jay Picotte/Recovery accepting the Ed Glover Trophy for 2nd place.
Webmaster Note: That's Stu Polhamus 2nd from right standing next to your webmaster. Cathy is taking the picture

********************************************
August 10, 2017. Seems like Stu and Cathy are going to have to share this page. Pictures are flooding in over the internet - your webmaster can hardly keep up. We'll start here. Cliff Dasco/Maya Elena forwards a picture of Maya Elena and crew taken by the Camden Herald
Ron:

It was good to see you at the Pod reunion. Although Bill Benjamin and I did not distinguish ourselves by our ability to find wind, we
did make the Camden Herald!


Cliff

****************************
Just in from the Polhamus' files - here's Marionette's and Recovery's crews rehashing race strategy at the Camden YC post race party. Click here for a larger image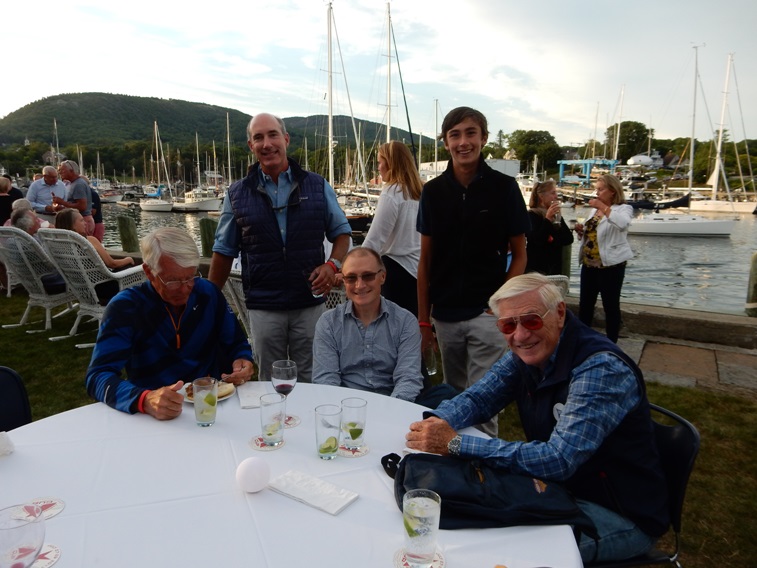 left to right - Recovery crew Michael Burns, Jay Picotte, Michael Gooch-Breault, Ben Picotte, Ron Breault
And, these just in from Jay Picotte and Recovery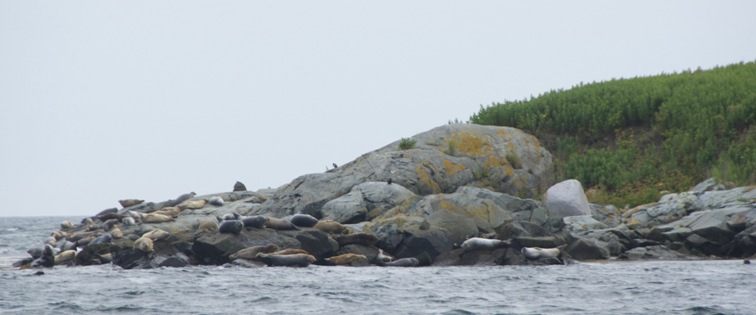 I counted 34 seals - On Marionette we never saw one!!! Click here for a larger image

Measuring Recovery's big genoa on the Camden Library lawn - 158.84% - click here for a larger image

To be continued.....
And these just in - Cliff Dasco sent in a link to that Camden Herald article that had a picture of Maya Elena. Lo and behold they had 2 of Marionette participating in the Parade of Sail! And below them is a photo taken by Ben Picotte on Recovery's Sunday morning crew hike up Mt Battie - look close, 4 Dolphins!
Click here for a larger image
August 12, 2017 Stu sent in a few more. Click on the photos for a larger image
********************************************

September 2, 2017 This Facebook post by the Camden Classic Cup finally got thru Dolphin security. Its just a short video but the 1st act is Recovery, followed by some wild dancing on awards night at Camden YC to the Jason Spooner band. We'll stick with the Recovery part.....

Below is the Facebook video link

*********************************************************

September 13, 2017. The following Marionette 'keeper trophies' just arrived by post. Jay Picotte and Recovery received similar ones - except his plate says 2nd!!

**************************************

https://www.facebook.com/CamdenClassicsCup/videos/vb.159454560780146/1514311318627790/?type=2&theater

*************************