March 24, 2010. Here is the engine as we pulled her out of Passage in the Spring of 2000.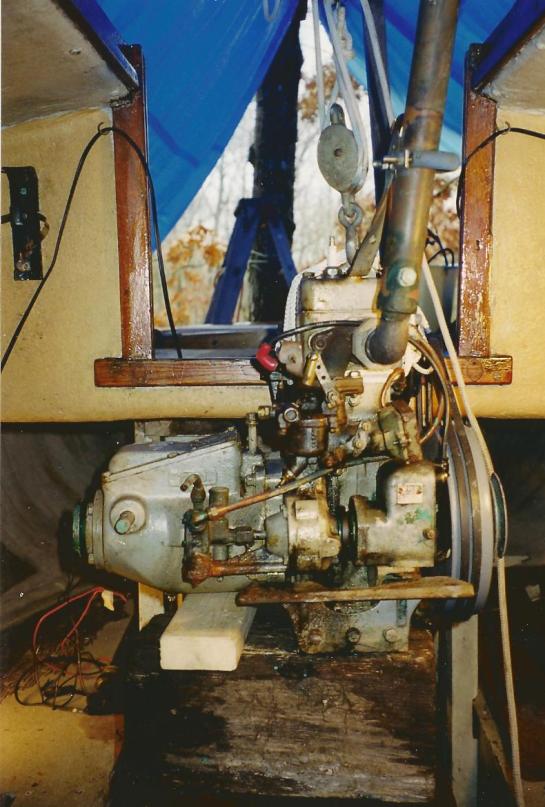 This was easier to pull out than we imagined
The above photo is a shot of us pulling the original Palmer engine. Surprisingly, this was not a big problem. We reinforced the winter cover's (blue tarp) ridgepole with a couple of extra vertical posts, and put a block and tackle on it positioned over the forward edge of the bridgedeck. The tube containing the centerboard pennant was an easily removed heavy rubber reinforced exhaust hose hose clamped to the fiberglass housing on the sole. Apparantly, the 'original' fiberglass tube (?) had been cut out as part of another motor removal project sometime in her past. After removing the engine bolts, and detaching the various hoses and wiring, we attached a sling to the motor, hooked on the tackle and raised/slid the motor up and out. Once out the hatch we bolted a couple of short 2x4s to the the engine mounts, detached the block and tackle, and 2 of us wrestled it over the coaming, on to the back of a pick up truck. Doing this in a barn with a moveable block and tackle might have been easier, but, overall, the operation went smoothly.
We brought it to our local expert on these old motors and he 'reconditioned it, running it on a bench. It cost $1154, including a new shaft and prop. Its been sitting on a bench in the barn for 10 years, liberally coated with WD40 and getting an occasional turn of the flywheel to keep some lubrication on the internal moving parts. For spare parts, we also bought an identical motor that had seized up. A strategic question is whether this motor will ever get back in this boat. Options - convert to a small outboard in a well like Marionette, or a small, used diesel, or electric power, or...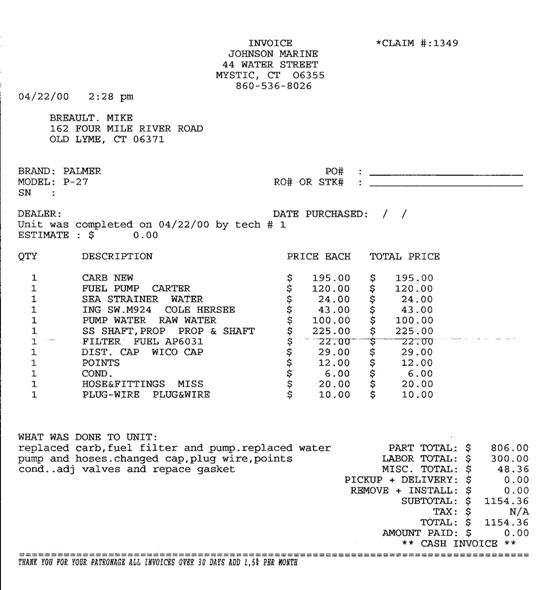 This is a copy of the invoice from Dale Johnson at Johnson Marine, Mystic, CT for the work he did on Passage's Palmer 27 in 2000. That engine was running before we did this work but we wanted it fully checked out. There's 10 years of inflation to be considered, but note that $225 of this was for a new ss prop shaft and a used prop. Dale bench ran this motor for us before we left the shop. I spoke to Dale a few months ago and he still does maintenance work on Palmer 27s - mostly on location - customer boats. Note - a small but important point - these engines run on leaded gas, you need to use a lead additive which comes in a liquid form.
| | |
| --- | --- |
| | We are looking for an 'electronic copy of the following report put together by son Mike. Until we find it below is a scanned copy of my hard copy. Mike refers to a "Passage Book" in the text below. He kept a Meade Composition note book (remember those?) with sketches, notes, etc., of this and other Passage projects, which has and will prove invaluable. |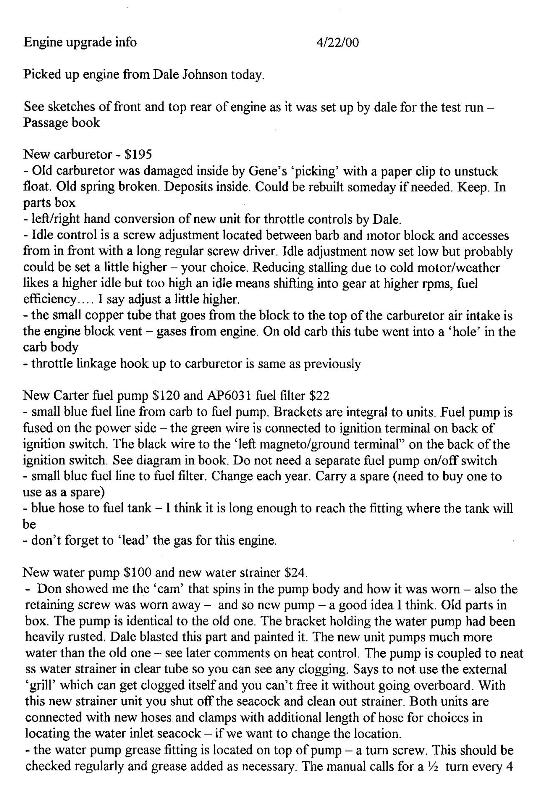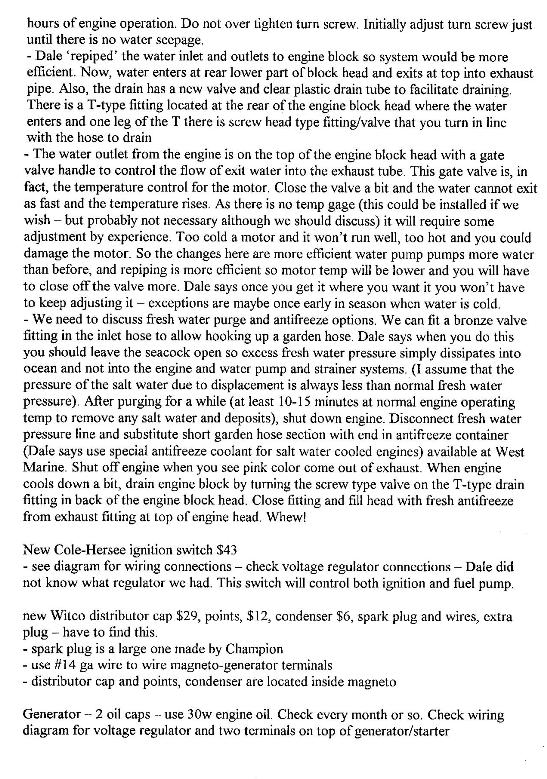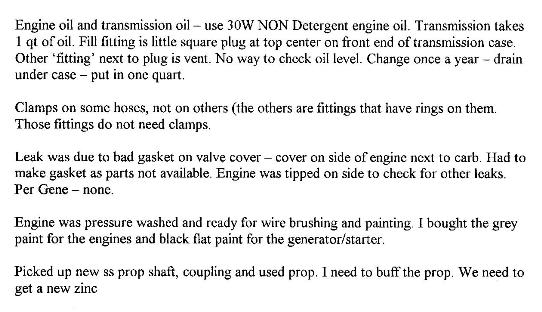 For those of you who are wondering, Passage's engine currently sits on a bench liberally coated with WD40, WD40 soaked rags at her intakes, and wrapped with a tarp. Every so often I pull the rope start cord to turn over the internal moving parts. I just took these picture.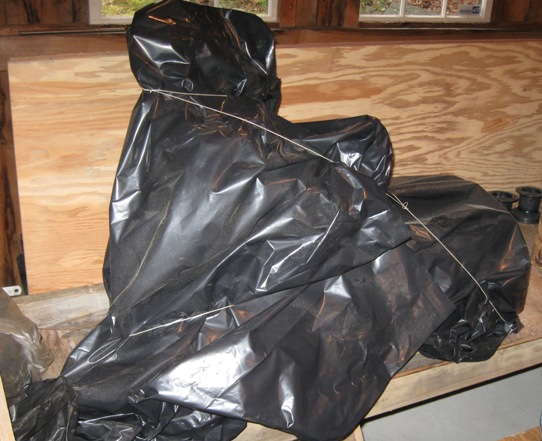 She waits...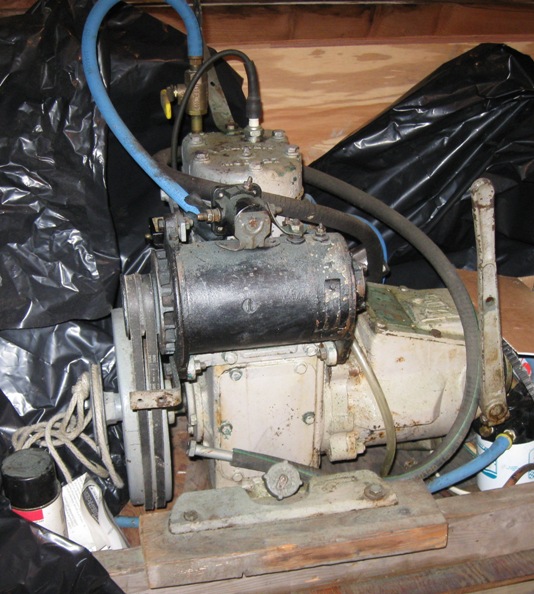 Feeling sorry for her, I uncovered her and pulled her rope. I heard that compression 'pop' and I knew she was happy.
****************
For more on the Palmer 27 engine, click here