March 24, 2010. The initial design for the Dolphin 24 had a Palmer 27 gas engine. Recently, Dolphin owners have either reconditioned or are considering reconditioning those engines. Jim Oppy (Wisp) is one of these owners. This has prompted Mark Steinhilber (Rascal) to provide some insights that have to be shared - see below. First we'll start with some info about this motor.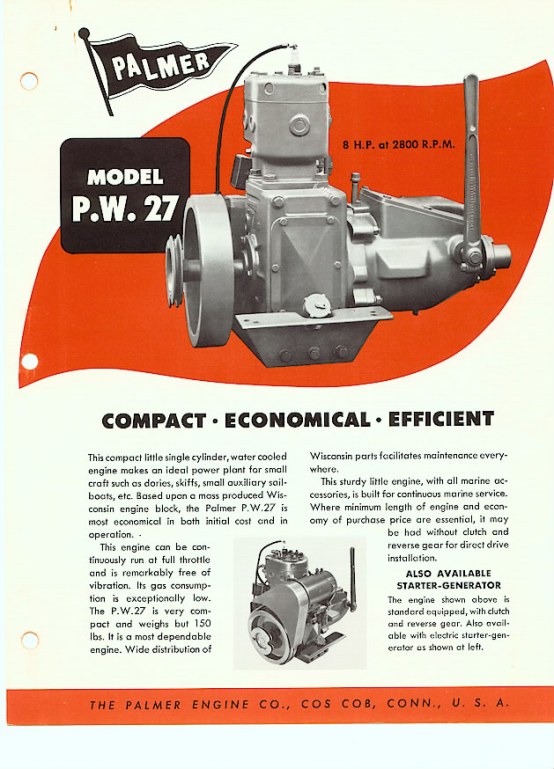 This early motor manufacturer in Cos Cob, CT was started in 1905 as Palmer Brothers Inc., and after a financially difficult period, in 1947 was reorganized by a group of employees as the Palmer Engine Co. They went out of business in the late 1970s.
There is a lot of information online from an antique marine engine website http://www.marineengine.com, a good source for operating instructions, manuals and a discussion forum that will provide comfort, or hard realities, depending on whether you are by nature an optimist or a pessimist. Here are 2 direct links
Their discussion board - http://www.oldmarineengine.com/discus/messages/3430/3430.html
Manuals, operating instructions, etc., http://www.oldmarineengine.com/store/index.html
Webmaster Note: February 6, 2011. Jim Oppy, Wisp, brought this particular discussion appearing on the discussion board. It covers many of the issues Palmer people deal with. The discussion board is a great resource and well worth the time to check out. We have reproduced this particular discussion. Click here to go there, click the back arrow on your rowswe to get back to this page.
Webmaster Note: December 11, 2010. Louis Claassen (Spirit of Fellowship) sent in a copy of his manual. We scanned it and converted it to a PDF. Its a copy of a copy of a 50yr old document - it's light, but readable. Click to go to it.
There are experts out there who know these engines inside and out. One is Dale Johnson, Johnson Marine, Mystic, CT. In 2000 he 'upgraded' Passage's Palmer 27 including a new carburator, fuel pump, water pump, distributor cap, ss prop shaft and new/used prop. To see this well documented project, with the detail invoice and a report on this work, click here.
Jim Oppy's project to resurrect Wisp's Palmer 27 promped Mark Steinhilber comments (minor edits) that appear below. Mark is a marine architect who sailed/raced on his father's Rascal, and follows our Dolphin 24 developments closely.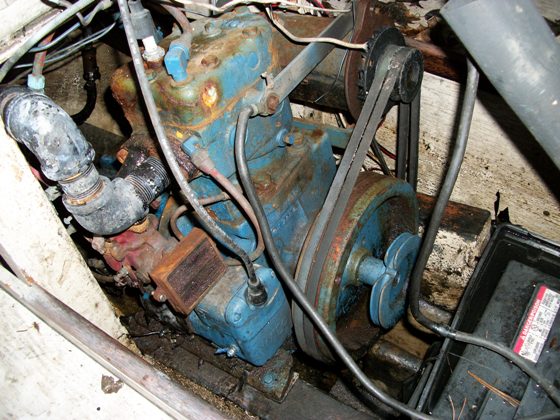 Wisp's Palmer 27
Hi Ron:

Had some thoughts for Jim Oppy, not sure of his background or experience, but he just might take some comfort if my suggestions save him money, time, or are in line with his plans.

The Palmer looks like it was running not that long ago and doesn't look too bad. I'd pull the plug, spray in some penetrating oil and let it sit for days even. Change and flush the engine oil, then see if she turns over by hand with no plug (no compression for ease) then feel the bearings and if the valve train seem to be working.

Next, I'd try to get some cooling water through the system under gravity pressure only, to make sure there's no leaks, particularly into the cylinder because of a bad head gasket or block or head failure. Probably worth disassembling the water pump, cleaning up, greasing, and installing a new impeller.

Then, I'd check or replace the fuel hose from the tank to the carburator, I'm thinking there was an electric fuel pump, and possibly a fuel filter to check out. Probably a flush of sorts of the fuel tank. Take extreme care with gasoline vapors inside an enclosed hull, waiting for an ignition source to go boom. The carburator may come back to working order with some carb cleaner, I'd wait till I was ready to start the engine and hope for the best on that one rather than unnecessarily tearing it apart.

Next, the gearbox needs a lube check and possibly a flush and new oil. A good time to check the gearshift lever function from the cockpit, it's a pretty robust rod linkage. The throttle cable is more likely to be a problem, it is the same thing as a lawn mower cable that will rust, it needs to operate smoothly.

Probably the next item would be hooking up a 12V battery and trying out the starter switch and the starter/generator. If things are good to here, you're getting close. Now, with the engine able to crank, it's time to put the spark plug back in and check for spark. If there is none, start working backwards from the plug to find the problem. Might have to pull the cap from the Wico magneto cover and examine for dirt, oil, moisture, and condition, especially of any contacts. Might be worth changing anything here if you can get parts, otherwise clean up using electrical contact cleaner, and/or ignition system drier/ sealer spray. From here on, it is a matter of getting spark, then getting fuel mixture from the carburator into the engine. Really not much different than playing with an old lawn mower or mini bike. The Palmer is kinda like a large Briggs and Stratton flathead engine.

If you get it to fire and run briefly, then think about letting the water pump draw coolant out of a large bucket of water, possibly up in the cockpit with a longer substitute hose. If you're getting water out the transom with no leaks inside the boat, you may be all set. Still, check the exhaust manifold and entire exhaust system for leaks. The picture makes me think you really need a new spark arrestor on the carburator. Any small hole or problem with the mesh will make it ineffective and dangerous. A little wire brushing and a can of engine spray paint and it'll look a lot better.

Once the boat is in the water and your powering for longer, keep checking the water temp and amount of water flowing out the exhaust. If the engine runs hot and there's a lack of flow, you may have to "cook" out the cylinder head and block with a special acid to get rid of rust and scale. It was called Oakite back when we used it on our PW27. A marine engine shop is probably familiar, if not a good automobile engine shop.

Best of luck, Wisp looked like a great opportunity. Hoping Jim is sailing this summer.

Mark.

*****************