September 12, 2012. We checked with Paster Lui and Mea Li'i Nai'a is still for sale. Here is his email (edited)
Ron, Greetings …

The Mea L I'I Nai'a is still looking for that special person to fill her life with loving restoration. I've had a number of inquiries with an intent to come and take a closer look at my girl, but as yet, I haven't seen any callers. Prayerfully, someone will snatch her up before winter sets in, and the window of opportunity closes for another season. I would consider letting her go for $ 5,500.00 to a serious buyer. She needs to be restored and put back in the water where she belongs. If it wasn't for finances and health issues, that's where she would be now

Thanks for your continued interest …

In His Service, Pastor Lui

************************************************
April 11, 2012. We received the following email from Reverend Classen (minor edits).
Hi Ron,


Circumstances and health issues have made it necessary for me to do the unthinkable, sell my boat, the "Mea Li'i Nai'a" (Little Dolphin), formerly Spirit of Fellowship.

With the unfortunate demise of the original Main sail, the boat has been trailered for the last five years, and I have been unable to fulfill my dream of restoring here. The Little Dolphin, is an awesome project boat for someone with the finances and ability to do her justice. She comes complete with the original Palmer inboard engine, 30 gal. fresh water stainless tank, sink, ice box, stove and head. The trailer was homemade by a previous owner, and I think weighs as much as the boat.

I am asking $6,000.00, but will consider a reasonable offer. Her value lies more in her history, considering she was one of the first produced in the early years after her design. Most of the info on her along with pictures, you have on the web site. Shipping would have to be arranged by the prospective buyer.

Blessings, Pastor Lui

My current contact information:

Rev. Louis L. Claassen
P.O. Box 3095
Chelan WA 98816
Cell Phone: 1-509-683-2113
Email: pastorlui@chelanforchrist.com

******************************************************
February 8, 2008. Literally floating around in the Internet ether we found 2 (edited) emails that Louis Claassen posted on the Sailboat Owners Forum in March, 2003. A little sleuthing and few hours later we found Louis, still with his Dolphin. And, a few hours after that, we got the following pictures. Soon, we will get more of Spirit of Fellowship's story. The emails appear toward the end of this page.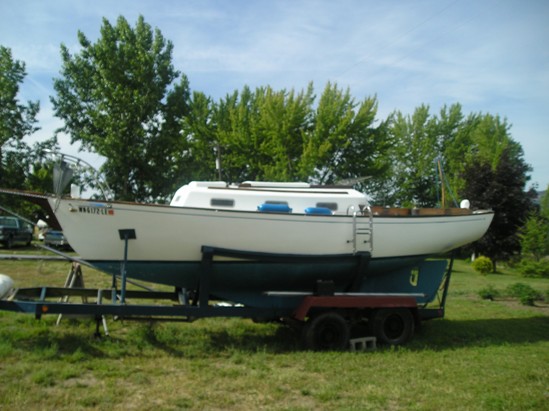 Note the bowsprit. Louis designed and built it himself. Here's a closer look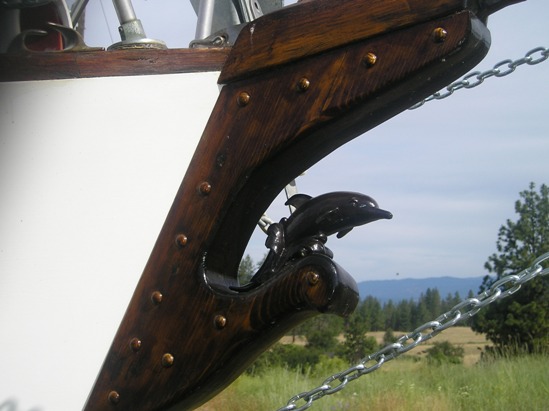 Pretty neat - anybody remember where we have seen one like it before? This is a bit murky but here goes. It was on the page of Chris Vandersteen's Lezah, our Toronto Dolphin - for several months but I took it down. Now its below where it belongs. It seems Gordon Thompson (Suzanne) had seen this picture below somewhere and sent it to your webmaster on March 7, 2007. By mistake I put it in Lezah's file and on Lezah's page, and I got into my mind Chris was going to build a bowsprit like it. Chris never sent it to me. Hmmmm....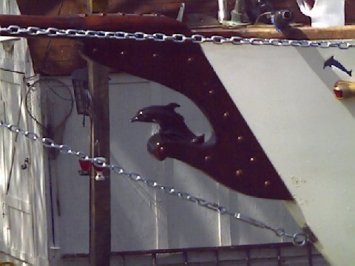 The following are some interior photos of Spirit of Fellowship.
| | |
| --- | --- |
| V-Berth sides lined, hanging locker stbd side | Ice box outboard, sink forward |
| | |
| Palmer 27 under the bridge deck - still running. | The head under the starboard settee |
How this boat made it thru 47 years, travelling from Long Island, NY to the Seattle area, and still be this good looking, must be quite a story
**********************************
The following postings were that were made on the Sailboat Owners website.
March 3, 2003

Looking for information....O'Day/Dolphin 1961-1967

I just purchased a 24' sailboat built by O'Day/Dolphin series, in 1961. I have discovered that there were only 36 boats of this series built between 1961 and 1967. I am looking for information about this boat model.

Can anyone help me?

Louis
***********************
March 23, 2003

According to a placard I found in my Dolphin 24, it was built by Lunn Laminates of Wyandanch, NY in 1961 and marketed by US Yachts Inc of East Norwalk, CT.

The interior of my boat doesn't resemble that of the O'Day Dolphins and has an inboard engine, a Palmer single cylinder 4 stroke which was installed when the boat was built. .. I should have her in the water by mid May.

Louis

**********************************************************************

Louis sent in a picture of his Lunn Nameplate - Hull # DO-223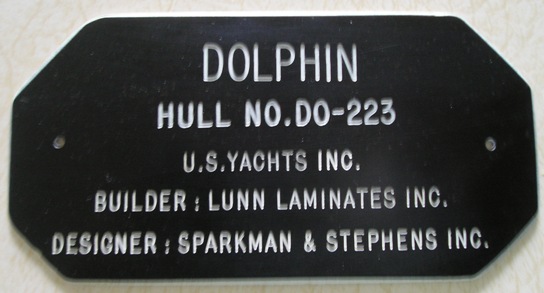 **************
December 4, 2010. The Spirit of Fellowship has a new name, owner and vocation. She is moving from Lake Loosevelt in eastern Washington to Lake Chelan in the Cascade mountains of north central Washington. Here is 'Paster Lui's" email, and a bit of a geography lesson.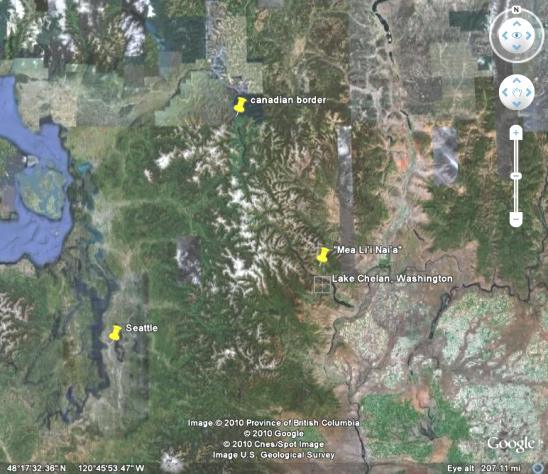 Greetings Ron,

I thought I would drop a short note to let you know that my Dolphin 24 now has a new home and a new name. I am now living in Chelan Washington, here in the Pacific Northwest on the shore of beautiful Lake Chelan, a pristine lake that winds 55 miles into the Cascade mountain range of North Central Washington.

The Spirit of Fellowship will be entering into service as part of a Youth Ministry Program in my Church, to introduce our youth to the challenge, excitement and joy of Sailing. The spirit's new name is now "Mea Li'i Nai'a" which is Hawaiian for Little Dolphin.

My vocation as a Minister has not allowed me to spend much time on the water, prayerfully that will change as this Ministry takes shape in the spring of 2011.

In His Service,

Rev. Louis Claassen

******************
December 11, 2010. Louis send in a copy of his operating instructions manual for Mea Li'i Nai'a's Palmer 27 inboard. We have scanned it, converted it to a downloadable PDF file, and put it in our Technical Section/Auxiliary Power. Click to go to it