September 5, 2013. Marionette didn't get to go to Maine this year, but her crew did. She spent most of the month of August sitting in her slip at Mantic Bay Yacht Club in Connecticut, safe, no hurricanes, waiting. Early this week she got her bottom cleaned and was ready to go - somewhere, anywhere. A planned 3 day trip to Block Island was scratched in favor of a 2 day trip to Stonington, Connecticut, a wonderful little harbor town at the east end of Fishers Island Sound. A few weeks ago we catalogued the lighthouses between Niantic and Greenport, Long Island, New York, and we were overdue cataloguing the lighthouses of Fishers Island Sound.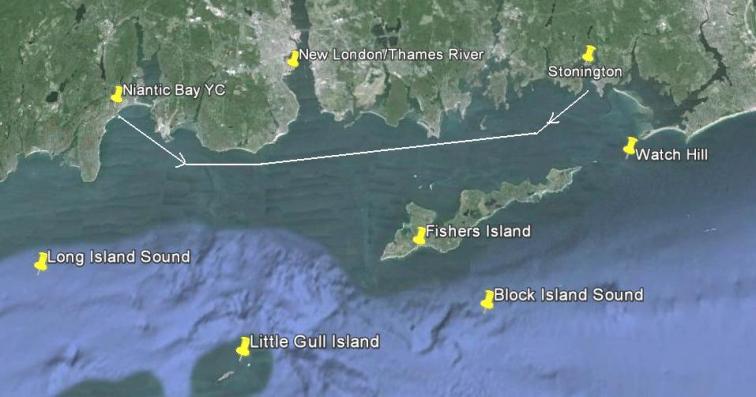 Marionette's Track - about 15 miles, one way
I was on port tack - but motor sailing

Thursday morning, 9AM, September 5. Light breeze from the northwest. Had to motor sail against an incoming 1/1.5 knot current - Marionette's 4hp long shaft Johnson helped, pushing her at about 5.5 knots thru the water, 4-4.5 knots over the ground.

Photo at left - off New London we lost a crossing match with the New London - Orient Point Ferry - it was close but I decided to duck him.

| | |
| --- | --- |
| | The trip was uneventful and took about 4 hours. The Stonington Harbor Yacht Club docks are in front of a series of old mill buildings which have been converted to nice condos, and the yacht club facilities are located therein. |
Docks at Stonington Harbor YC above - long walk

Photo right - the life ring color was specially for us

"Comprised of designer condominiums and seven gracious single-family homes, the residences at Stonington Commons overlook the scenic harbor.

Overlooking the scenic harbor of Stonington, CT, the 34 high-end condominiums and seven single family homes of Stonington Commons are a remarkable redevelopment project that transforms an abandoned, historic factory site into a landmark mixed-use community. The property will retain the architectural integrity of its Civil War roots, while receiving structural updates for the modern millennia. The development will include a 30-boat marina and yacht club and provide public access to the waterfront for the first time in 250 years."
Artist's rendering and above text from Stonington Commons website
This was a Dolphin webmaster working trip so after lunch on the boat the first hour was spent checking website matters (free wireless access available). Handcuffed to my wrist is the blue bag (below left) with laptop and portable hard drive containing all things important to Dolphins.. . Well, maybe not handcuffed but its goes everywhere I do.
Then a long walk thru town up to the head of the harbor to Dodsons Boatyard and Marina, where Marionette usually takes a mooring when visiting Stonington, and home of the largest combined concentration I know, of Concordia and Hinckley yachts.
Then the long walk back to Marionette with a very nice stop for an ice cream cone at the Yellow House....above right. We promised lighthouses on this trip and we'll cover most of them on the return trip. Here's the first one, nearly invisible from the water with so many buildings around her.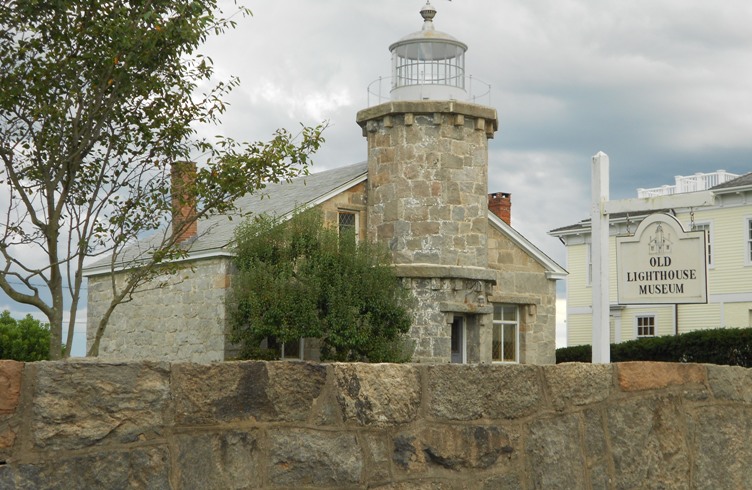 Old Stonington Lighthouse on the eastern tip of the harbor
Walking down the access ramp to the SHYC docks one could not miss the Mystic Whaler just tying up at the next dock to the north. She is steel hulled with wood decks, a reproduction of a late 19th century coastal cargo schooner that was designed for the passenger trade by Chubb Crockett of Camden, Maine. She was built in 1967 in Tarpon Springs, Florida and was rebuilt in 1993 in Providence, Rhode Island. She takes passengers on tours around this area. (click here for her website)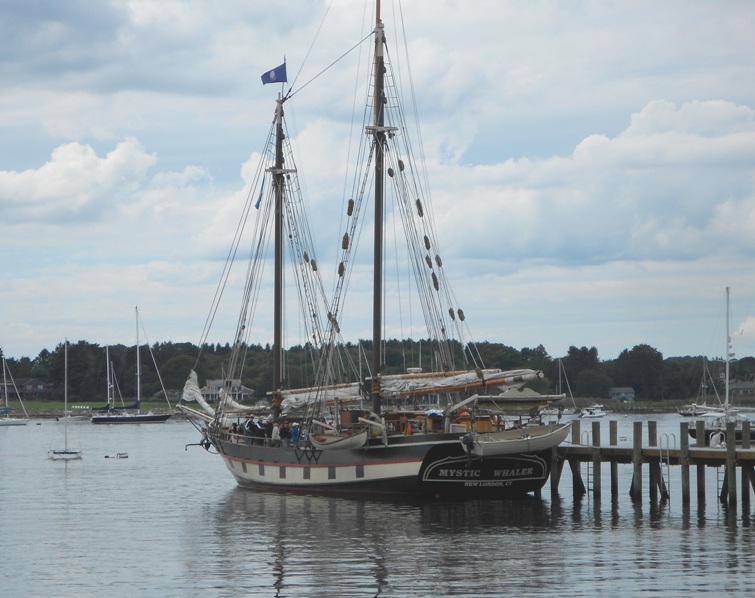 Which reminds me of another trip west bound out of Stonington Harbor more than 30 years ago. We were 3 boats cruising together on our way home (then Clinton Harbor, Connecticut) after a 2 week vacation cruise to Nantucket and Martha's Vineyard.

My wife and our 2 young kids were aboard Marbles, our Alan Payne designed Columbia 9.6 (31.5'), our good friends with their 2 young kids aboard their 30'er, and another couple on their 30'er. We had anchored behind the Stonington breakwater for the night, and the next morning left for our final leg home. It was blowing pretty hard from the east - so hard that eventually the inflatable we were towing 'flew' off the top of a surfing wave. I had to bring it in and deflate it - a real chore. We had only a double reefed main, no jib, making 7-8 knots downwind, sometimes 9-10 surfing. In those days we were fearless, and stupid...

We had passed the lighthouse at the entry to the Connecticut River, and of course, it had been a race between the three boats, and we were leading. Off Cornfield Point, just west of the Connecticut River we saw the Mystic Whaler heading east, close to shore, under power, no sails up. We could see people on board and the bow waves she made were immense.

Then, from our radio monitoring channel 16 we heard several Mayday calls!!! coming from the Mystic Whaler! The Coast Guard came on, and in the conversation we heard she was taking on water and that they were afraid the pumps could not keep up.
Our friends were maybe a half mile back and, looking around, I could see we were the only boat in the immediate area. All of us were in lifejackets and we were passing her on our starboard side, maybe a quarter mile off the beam. I thought that there was no way I was going to be able to do a 180 and sail upwind into maybe 25 knots of wind and those seas. I would have to drop the main and motor, and, imagining that if there were people in the water, how could I assist with the crew I had. That's when I really knew I had no business being out there in the first place.
Anyway, the Coast Guard asked if they were in immediate danger and they advised no. They would stay in touch. It occurred to me, fleetingly, that we should hang around but we could not go up wind motoring as fast as the Mystic Whaler was going. While we deliberated we were sailing away fast and, then, for us, it was over. We did not hear anymore conversation on Channel 16, and we kept an eye on her for a while with binoculars. We got home safely - much wiser. The Mystic Whaler made it home too.
Finally back on track, and the boat, a change of clothes and I was first at the SHYC bar for their 5:30 Happy Hour, barely beating Rod Johnstone. For the few who may not know, Rod designed and built a plywood and fiberglass 24' boat in his garage, named her Ragtime, raced her in a 1976 ECYRA regatta hosted at Niantic Bay YC (yep - my club!) winning by a mile and changed the world of racing sailboats.

Ragtime was the J-24 that led the J boat revolution. While our hour and a half conversation is classified, I can say we talked about sailboats.

Then the SHYC Commodore suggested we join him at his table for dinner - his other guests were the crews who had just come in from Ladies Night races....we had petit filet mignons - followed by chocolate chip cookies and ice cream.

Long hard day at work.
Rod and I met several times over the years - click here to read about the time we met up in Maine and what he told me he thought of the Dolphin 24.
September 6, 2013. Last night the temperature dropped 25+ degrees - into the 40s!!! Despite rumors to the contrary, Marionette does not have a Shipmate wood stove, and its was cold in my 'summer' sleeping bag - the needed heavy duty Maine sleeping bag back home. A 6:00 AM hot shower in the club's excellent facilities was followed by a walk up to the Yellow House for early breakfast. A beautiful day was dawning - some early clouds and a light breeze from the north, then clearing and the breeze building later to 10-15 also from the north, meant a nice close reach back home, and no chop with the wind coming off land. Good Dolphin conditions.

Leaving Stonington Harbor, Latimer Reef Lighthouse at the eastern end of Fishers Island Sound
As we turned the corner at the Stonington Habor west breakwater, I saw a larger, dark hull boat up ahead (a Tartan 40?) off my port bow in the middle of Fishers Island Sound. Naturally, I paid more attention to sail trim and kept an eye on her. She was towing an inflatable, but then Marionette still had her prop shaft in the water (normal race mode is to store the motor below). Marionette, being a Dolphin took the inside, close to shore route. The breeze started to build and little by little - well a couple of pictures will tell the story of the next hour.
| | Now off our port quarter - smoked her! |
| --- | --- |
| At this point she was even with us | North Dumpling Island and Lighthouse in background |
Marionette had her full main and her small working jib and we were close reaching in flat water, and had a clean bottom. The knot meter was pretty much always between 6 and 7 knots, plus there was 1-2 knots of favorable current showing on our GPS.

Maybe the Tartan had less favorable current than Marionette but they could see we were a lot smaller. I'll bet they were not happy campers.

I was thinking of telling a story about how a big puff came up and the knotmeter needle suddenly hit 9 knots and slammed that wasp flying around behind the glass. But probably no one would believe it.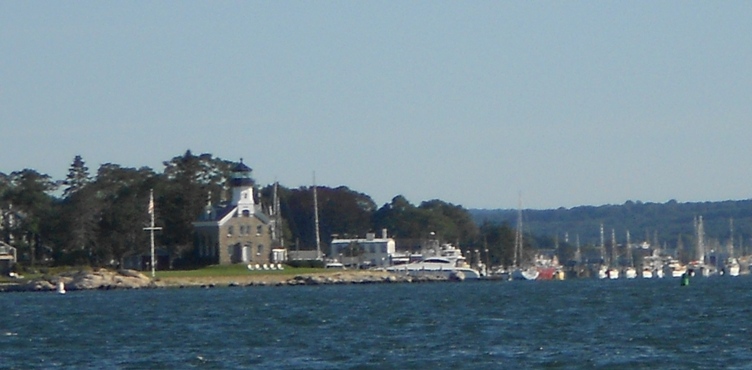 Morgan Point, Noank Lighthouse guarding the entrance to the Mystic River
This lighthouse was on Marionette's starboard beam as we were heading west on Fishers island Sound. For more on the Morgan Point Lighthouse, click here.
We have to take a photographic left tun here to see another lighthouse.

The Mystic River heads north off Fishers Island Sound and leaves the village of Noank on the left, then past a large mooring field on the right, and then up under a RR bridge and the Rt #1 bridge in the center of Mystic. One has now arrived at the home of the Mystic Seaport Museum.

And they have their own lighthouse.

The Mystic River is home to at least 4 Dolphins we know of, and in past years, home to several more. Type Mystic in the search engine at the upper left, or click here and scroll down to see the links to their pages. Do the same for Noank.
Just to the west of Noank is the western entry to Fishers Island Sound. And here, off Marionette's port bow is a particularly interesting shot - of 3!! lighthouses - North Dumpling on the island right, Race Rock Lighthouse guarding the north east end of the "Race" on the left, and in the middle, faintly in the distance, Little Gull Lighthouse guarding the southwest end. The "Race", where flooding and ebbing currents can be 4-5 knots, is the primary entry from the Atlantic Ocean into Long Island Sound.

Click on the picture for a larger view
On the left the University of Connecticut Avery Point campus in Groton is in the background. Just out of view on the left of the Harbor Lighthouse is the Ocean Beach Park in New London.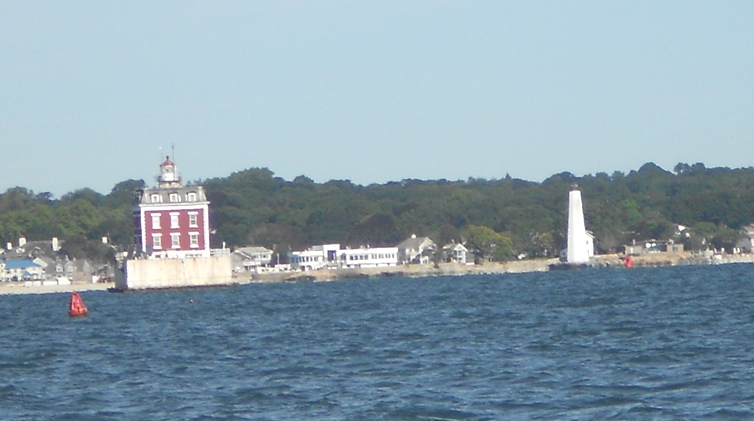 .
New London Ledge Lighhouse in the center of the Thames River entry - Harbor Lighthouse at right.
Half an hour later we were home at Niantic Bay Yacht Club, 2 hours SHYC breakwater to NBYC breakwater, a beautiful close reach sail in a 10-12 knot breeze, no chop. And, I don't think we missed any lighthouses.

On arrival we could not miss Symphoni tied up at the end of the NBYC T-dock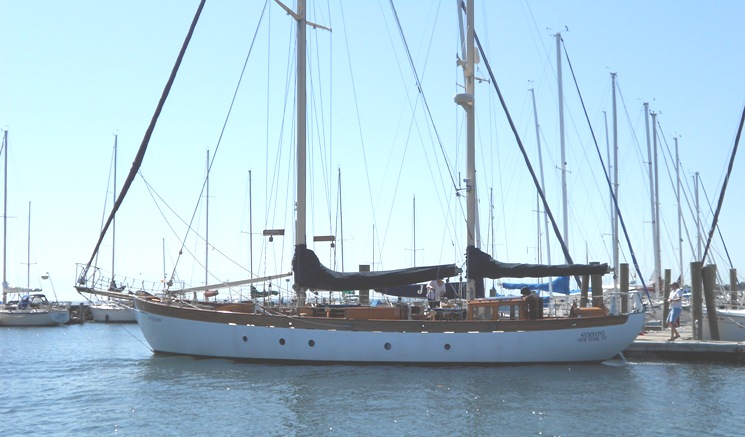 Symfoni, built 1936 Sweden, 55' on deck, 65' LOA - a nice way to end the trip
**************************************************