September 11, 2011. Chad Endres checked in as the new owner of Thumbalina. Here is his email.
Just wanted to you let you know that I have recently purchased Thumbalina. Structurally she is top notch condition, not a single soft board. The varnish and paint is failing everywhere and will required stripping. The Vire inboard is questionable and there are no sails. It would be helpful if you had any info on the motor and measurements for the sails, as I am trying to find used ones. I 'd like to thank you for the web site - it has great info. I will keep you posted on progress.

Thank you,
Chad Endres
Westport, MA

******************************
Here is what we have on Thumbalina prior to Chad's email. On October 22, 2010 DFI Mike Horn (Angel, Yankee #73) told us about this boat. She was then owned by Frank Foiey in Marion, Massachusetts and appeared in a classified FOR SALE ad in Wooden Boat Magazine in their July/August, 2010 issue. She was built in 1961 by Jenson in Denmark.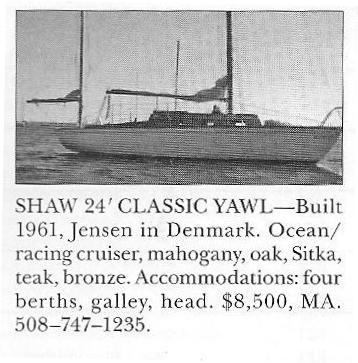 We are trying to find out more about this interesting boat. She was reportedly used as the male plug to produce a hull mold so that a builder in Texas could build Shaw 24s with fiberglass hulls. Al See, who owns Elation, a Shaw 24 in Dallas, Texas, sent in the following (excerpted) email.
I appreciate your including Shaws on your web site. I was interested to read Chip Morris was indeed involved in her building and to learn of the 2 other builders. I heard that the Texas boats were made from a mold taken from "Thumbelina" when she was first at the New Orleans Yacht Club. Sadly the local Houston "Shaw Historian" was lost at sea off the Baja before I learned much more. In the mid 1980's there were two other fiberglass Shaws in the Dallas area. One was at the Fort Worth Yacht Club where I became friends with her owner before she was sold. The other was on the hard in Plano and was interesting because the owner had both added a bowsprit and lowered the centerboard and glass over it to extend the keel.
To see the full text of Al's email, and more general information about Shaw 24's and their relationship to the Dolphin 24, go to Trina, Shaw 24 hull #1, by clicking here.
*********************************************
November 13, 2016. Former owner William Steele sent in the following email.
Dear Mr. Breault:

I recently came across the Dolphin 24 website and noticed the September 11, 2011, inquiry by Chad Endres (the then new owner of the Shaw 24 yawl he called "Thumbelina") seeking information about measurements for the sails.

I believe the Shaw 24 he refers to might be the same vessel as the Shaw 24 jib-headed yawl - then named "THUMBALINA" (note spelling), hull number 12 - that I proudly owned during the period 1972 thru 1975. (By the way, in correspondence from William H. Shaw dated March 13, 1972 still in my files, he too referred to this sailboat as "THUMBALINA" with an "A", not "E".) At the time, "Thumbalina" bore Massachusetts registration #MS8717B

"Thumbalina" was equipped with a 1961 Coventry Victor "Midget" 8 hp gas engine (#MW2/31146) that had been overhauled by the prior owner in 1968. "Thumbalina" was built in 1961 by Jensen & Son in Roskilde, Denmark, of double-planked mahogany over oak frames. She had a copper fuel tank of 9 gallons capacity; water tank of tined copper, 10 gallon capacity.

Standing rigging was 1x19 stainless; running 7x19 stainless. All spars (main and mizzen) were of varnished sitka spruce. Sail area was rated 289 sq ft. and, as originally specified, included a white Terylene main, working jib, mizzen, both a large and small Genoa, nylon spinnaker, and mizzen staysail. However, during my period of ownership, "Thumbalina" had a much larger inventory of various sails - see below.

As a matter of possible other interest, "Thumbalina's" topsides were painted International #220 white; decks International "Dawn Gray"; and boot top, cove stripe name & home port (Padanaram, Massachusetts) International "Malachy Green #341. The rest of the sailboat (cabin sides and interior) was mostly varnished.

"Thumbalina" was stored and/or maintained by both Tripps Boat Yard in Westport, Massachussetts, and the Concordia Company (of the Concordia 40 yawl fame) in South Dartmouth, Massachusetts. She was generally moored near the Concordia Company in South Dartmouth during the summer months.

Following is a listing of some of the sails on "Thumbalina" at the time (1972-1975), which were used for both cruising and racing:

Main (one) - roller reefing - material Terylene - 1968/1969 - Manchester sails
Working Jib (one) - Terylene - 1961 - Hathaway sails
#1 Genoa - 1961 - Hathaway
#2 Genoa - 1965 - Manchester
#3 Genoa - ????
Spinnaker (one) - nylon - 1961 - Hathaway
Spinnaker staysail (one) - ???? - Manchester
Mizzen (two sails) - Terylene - 1968 & 1961 - Hathaway
Mizzen staysail (one) - nylon - 1961 - Hathaway
Mizzen spinnaker (one) - nylon - 1968 - Manchester (?)

My records indicate some other sails also on board in 1972 were 'manufactured' by Rieser and Raymond, in addition to those listed above. By the way, the sail number of "Thumbalina" was 927.

Please note, I HAVE RECORD OF THE SAIL PLANS FOR THE SHAW 24 - it is drawing #24-7-Alt. A (the final sail plan design), which is dated November 10, 1956. The sail plan data includes the foot, luff, leech, and sail area for the initial complement of the Shaw 24's sails.

I also have copies of the "Design No. 24 Construction Plan" and its corresponding "Arrangement Plan" as well as a copy of the "Yacht Ratings Certificate" issued by the Cruising Club of America 1963 Rule, Number 6641, as revised April 1, 1965 (which also provides information on the various sails and other Shaw 24 measurements).

Due to a major job relocation, I regrettably sold "Thumbalina" in 1975. During my relatively brief 4-year ownership of "Thumbalina" I thoroughly enjoyed sailing on her and have very many fond memories of sailing Buzzards Bay, Martha's Vineyard, Nantucket, etc.

William Steele
Peoria, Arizona

***********************************
November 8, 2021 - In over the transom an email from a former Thumbalina 'crew' Jane Hutchins
It's a wonderful surprise to learn that Thumbalina is, as of 2016, afloat and cared for! Her first owners were family friends and we grew up sailing on her in Narragansett Bay. As your correspondents have written, she wintered in Westport at Tripp's and spent some summers in Padanarum, but she spent a number of summers in Sakonnet Harbor as well.

She was christened Thumbalina and her dinghy was Koax Koax, after the call of the frog that followed her through the woods. At some point in the sixties she was photographed under sail by one of the Rosenfelds, although I'm not sure whether the photographer or the owner entitled the picture "Around the Mark at Quisset".

It's a treat to know she's been so well used.

Jane

Webmaster Note: Thanks Jane - WE NEED THE PICTURE!!!

*****************************************