The Midget Ocean Racing Club was formed in the early 1950's and developed a handicap rule for small offshore racing boats up to 24', later raised to just under 30', and still later raised to just under 34'. The original rule was based on the Cruising Club of America (CCA) Rule which encouraged and rewarded seaworthy and seakindly boats with shorter masts and longer booms that kept the center of effort and heeling moment down. Accomodations below were rewarded, stripped out hulls were penalized. Sparkman & Stephens were arguably the technical experts on CCA Rule.
Bill Shaw was a young designer working for Sparkman & Stephens at the time, and a founding member of MORC. He worked with Olin Stephens, and with the help of Steve Corkery who also worked at S&S, and others, developed the MORC Rule. As a personal side project Bill designed a 24' boat to see if the MORC Rule changes actually encouraged development of important safety and comfort factors like pitching and righting moments. Using Finisterre, a very successful S&S designed 38' centerboarder as a model, this design became TRINA, the first (maybe the second actually launched) boat designed to the new MORC rule.
Click here to go to the MORC website http://morcracing.org/index.html
Update April 29, 2017 - Click here to go to a chapter in the book Racing at Sea written by Bill Shaw about MORC
****************************
December 11, 2011. The following 1963 article from Sports Illustrated gives a good summary of the role that MORC boats played in this era.
Sports Illustrated
January 28, 1963
The Toughest Babies Afloat
The tiny sailboats designed to the specifications of the Midget Ocean Racing Club can race with safety on any ocean in the world


Among the 30 different kinds of cruising sailboats on display at the annual boat show in New York's Coliseum last week, 14—all of them under 30 feet long—carried somewhere in their descriptive advertising the seemingly mystic initials MORC. Scarcely noticed by most of the rubbernecking landlubbers at the show, these four letters represent the most significant trend in yachting since World War II. They stand for Midget Ocean Racing Club—an entity which is both a club and a rule. The club sponsors long-distance small-boat racing in all kinds of weather on all kinds of water all over the world; the rule lays down the requirements for safety and seaworthiness that make such races possible.

Both club and rule were the result of one of the most remarkable voyages in history: the crossing of the Atlantic in 1952 by two young Englishmen, Patrick Ellam and Colin Mudie, in Sopranino, a cockleshell which no sensible man would sail across a duck pond. She was less than 20 feet long, weighed slightly more than half a ton and had a cockpit just big enough for two men to put their feet in. Yet she was so well designed and built that she not only sailed safely through the worst the Atlantic could throw at her but demonstrated that size had little to do with seaworthiness.

Safety first

Ellam and Mudie were members of an English small-boat ocean-racing organization called the Junior Offshore Group. Their feat inspired a handful of young U.S. sailors with a yen for ocean racing to copy the JOG idea. This was the beginning of MORC. Its moving spirit was William H. Shaw, a round-faced, thoughtful young naval architect who believed the No. 1 consideration in such sport was safety. The MORC rule he ultimately produced, with the cooperation of Olin Stephens and other naval architects, stresses rigid safety requirements. An approved midget racer must be self-righting if knocked down. It must have a self-bailing or watertight cockpit. It must have positive flotation or must carry an automatically inflatable life raft. It must have lifelines for the crew. Its hatches must be capable of being sealed and, of course, it must carry all navigation and safety gear required by law. Beyond this, the rule takes the various factors that make up a boat's performance—ballast, displacement, sail area, beam, length, rig, and so on—and fits them into a formula which gives the boat her handicap when she races with others of different types. During its first five years, MORC limited itself to boats of 24 feet. However in 1959 the rule was amended to include boats up to just one half-inch short of 30 feet. This was done because many big-boat ocean races barred boats under 30 feet.

The first boat designed to the MORC rule was the 23-foot varnished mahogany sloop Medea. She immediately nonplussed the opposition by sailing right past several 36-footers in a 1956 overnight race, and she has continued her winning ways ever since. In 40 races Medea has won 27 times and finished second 12. Most of the races she lost were won by Trina, a fabulous 24-foot yawl designed by Shaw himself, which appeared the following year. The older Medea had bunks for two, minimal cruising gear and no engine. Trina, about four inches longer and six wider, had bunks for four, a full galley, an engine and all the cruising facilities anyone would want except full headroom. Webmaster Note September 5, 2017 Dick Carlson, also a founding member of MORC, was the designer of Medea. Click here to go to his page.

Trina made her debut in the Spring Off Soundings Race in June 1957. Two days after her launching she was famous. She had won her class by a total of 44 minutes for the two days and had beaten, boat for boat, such able larger craft as Sou'westers, Pilots, a Gulf Stream 30 and an Oxford 400. In a race to Block Island later that year Trina maintained an average speed of 5.33 knots over a course of 164 miles.

While she was in the open ocean during the race, winds blew up to 35 knots and the seas were large and cresting; they bothered her not a bit. Three years later, in Trina's sister ship, a German named Wilhelm von Stumm demonstrated just how seaworthy MORC boats are. He was crossing the Gulf of Taranto in the Mediterranean when he was hit by a hurricane, with winds up to 65 knots—so strong they overturned streetcars in Milan and sank two 90-foot fishing trawlers. Von Stumm ran before it for two nights and a day under bare poles; once a breaking sea filled the cockpit, but no damage was done. When he returned to port the village fishermen, convinced the boat must be blessed to weather such a storm, kissed it.

Since Trina and Medea, so many small boats have been designed to the MORC rule that the club officers have lost track of them. But they include such familiar names as Cap Horn, Ariel, New Horizons, Tartan, Triton, Schock 22, Cal 24, Maya, Electra, Marlin and Meridian. Despite great difference in size and shape, the rule handicaps them all well enough so that in last year's Block Island race, for example, a 25-foot New Horizons finished 40 minutes behind a 21-foot Cap Horn and four minutes ahead of a 22-foot Schock on corrected time.

A distance race in a tiny boat is rugged duty. Because it is bouncing around so much, you get little sleep. While less brute strength is required to change headsails than on a 40-footer, you have to do it oftener and if there's a breeze you get wetter doing it. And once wet it's harder to get dry.

No matter. In the words of one skipper who has put in time on both Bermuda racers and MORC boats: "In MORC boats you're on much more intimate, personal terms with the sea. Your boat is more responsive. Wind puffs flatten her faster, so you have to keep alert. Big waves stop her, so you have to help her over them. Moving a man forward slows her down or speeds her up more, so you have to trim her more accurately. Because of all this you get a greater feeling of mastery, of command, and when the race is over, an acute sense of accomplishment. I don't know any man who doesn't get a charge from that kind of ego-building—especially today."

**************************
January 29, 2017 In the past few weeks we connected with Steve Corkery who was a MORC founding member, and its 1st Commodore. He was on the scene as the MORC rule was written, and when TRINA was designed. We discovered we were both members of the Off Soundings Club (he - 60 years, me - 20 years). Steve wrote an article on the founding of MORC for the August 1954 issue of Boats Magazine which we have reproduced below.
Your webmaster was trying to get more information about MORC and the times leading up to TRINA, and Steve suggested a book "Racing at Sea" written in 1959 that has chapters written, respectively, by Bill Shaw and Blunt White.
Webmaster Note - patience here - there is a Dolphin 24/Shaw 24 connection. Blunt White was a past Commodore of the Cruising Club of America, and of the Off Soundings Club. The library at Mystic Seaport was named after him. His boat, White Mist, was in the evolutionary design path that led to Finisterre, the Shaw 24/TRINA, and our Dolphin 24. Research in matters like these can take you down many strange paths that sometimes cross - click here for one - http://dolphin24.org/yankees_johnson.html)

Ron,


I think if you haven't got - or can get - the book RACING AT SEA by Ev Morris & Bobby Coulson from 1959 published by D. VanNostrand - you will find your answer. Bill Shaw wrote the Chapter #13 - The Midget Ocean Racing Club.


I couldn't tell you more except for some personal memories. If you can't find the book I can try and copy my book and sent the excerpt along. It is a book worth having your library anyway, with some other good stories.

Steve
I got a copy of the book at the Blunt Library at Mystic Seaport and will do a 'book report' when I get thru it. The Seaport Library, a research mecca for many in the nautical fields, is the repository of the Olin Stephens papers and the Sparkman & Stephens collection. Among many other notable collectibles the Library has copy #1 of the Dolphin 24 Website Book.......
Here is the first part of the above referenced 1954 article by Steve - we are working on getting "page 66".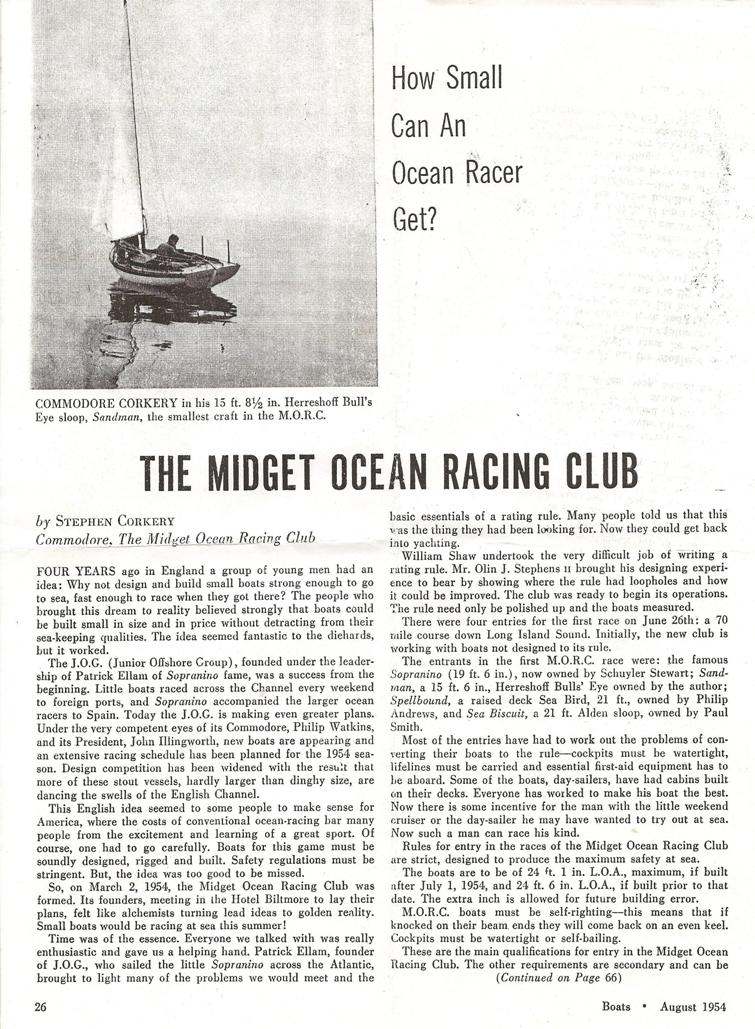 Click here for a larger image
Webmaster Note January 30, 2017. Here's an interview the East Hampton Star (eastern Long Island, New York) had with Steve http://easthamptonstar.com/Archive/2/Star-Talks-Steve-Corkery. And Steve and wife Maureen's boat SHELDRAKE is pictured at her launching at Coecles Harbor/Shelter Island in May, 2015 in this Shelter Island Reporter article http://shelterislandreporter.timesreview.com/2015/05/12/smooth-sailing/. And, here is a link to the builders' launching out on Martha's Vineyard https://vineyardgazette.com/news/2015/05/04/gannon-and-benjamin-launches-sleek-new-design
Cruising around the Internet/Google Books on this matter your webmaster found an interesting article pertaining to our MORC effort written by Nancy Trimble, Associate Editor of Yachting Magazine, for their November, 1983 issue. It is excerpted below - note Bill Shaw's comment re Steve Corkery.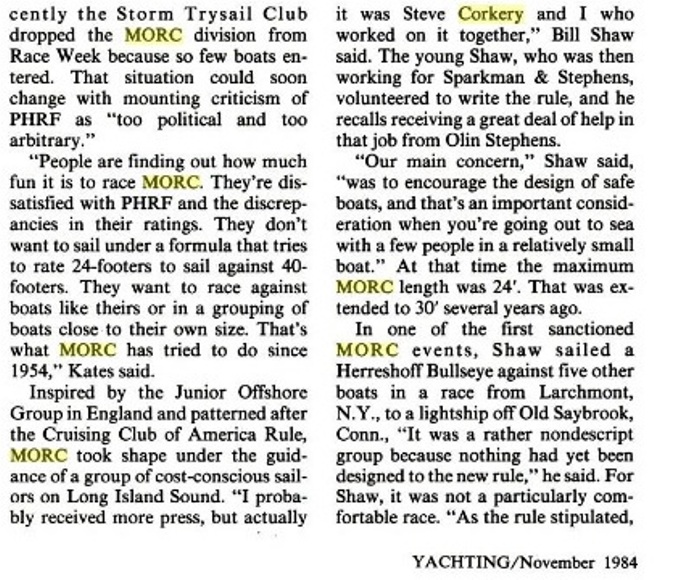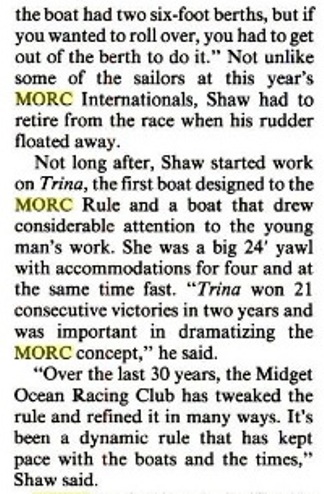 To be Continued