May 11, 2010. This important cover issue has several solutions. To get us started on this subject Jay Picotte sent in the following regarding Recovery's Winter Cover System. He is an advocate of the pay me now (invest in a quality canvas cover) vs the pay me later approach (new blue plastic tarps every year)
Ron,

A little while back you introduced a page on covers for the Dolphins. It immediately made me think of the canvas tarps I use for covering Recovery during the winter - in my opinion the best way to cover a boat short of spending thousands for a custom made fitted canvas cover. For a long time I used those blue poly tarps and invariably they would be tattered and threadbare after one season. They also were abrasive and scratched up the paint and varnish on boats. I never tried shrink wrap because it seemed too expensive and wasteful. Anyone who roams around boatyards in the spring has noticed dumpsters overflowing with discarded remains of blue tarps and shrink wrap. 10 years ago I bought 2 heavy 16' x 20' treated canvas tarps to cover Recovery and still use them to this day.

These tarps were expensive at around $100 each but after 10 years my annual cost is only $20 and they're still virtually as good as new without any tears or mildew. I don't see any reason why they won't last another 10 years which would bring my annual cost down to $10/year.

I use the mast as a ridge pole supported by 3 pairs of crisscrossed 2x4s in order to get it up high enough above the lifelines to shed snow easily, which it does. The tarps overlap a couple of feet amidships. It takes me about 1 hour in the fall to cover the boat. In the spring I'm careful to uncover it when it's not raining or when the ground is wet so I can fold the tarps up dry. They weigh about 50lbs. each but fold pretty easily to about 2'x3'. Then I just store them in the basement until fall.

I just wanted to share what for me has been money very well spent and a perfect way to keep my boat snug and secure every winter without spending a fortune or being wasteful.

-Jay
*******************
May 12, 2010. Your webmaster has to chime in on behalf of countless blue tarps purchased over 30+ years. While Marionette has the ultimate up front investment in winter covers, we have 2 Dolphins that need protection. A few years ago a partial solution to the annual replacement of the blue tarp came to me. After one winter, at most two, the blue tarp is degraded due to UV light and some of the grommets start pulling out. Here's what we do:
Classic 'low boy' cover, life lines removed Classic 'high boy' Spring Work Tent

The 'double' cover! w/stone modified fittings Another attachment view
At top left is the 'classic' blue plastic cover 20'x30' low boy version, lifelines and stanchions removed - a major contributer to wear. This cover goes up by Nov 1 and is employed when there is a no winter work schedule. The boat is backed up to a tree, the 2"x3" ridgepole afixed thereto with a rope tie, a supporting post on a wood plate on the cockpit floor with guy ropes to the winches, a large wood block support on the mast step, and the forward end of the ridgepole resting on and tied to the bow pulpit.
At top right is the April 1 conversion to the Spring Work Tent. The ridge pole is moved up the tree to the #2 position - also used in the winter work schedule mode. The interior supports are replaced with longer supports. The low boy structure is very sturdy and presents a lower profile to the wind. Snow is not a problem.
Now for the 'patent applied for' version. Two plastic tarps are used. The oldest used one is the top tarp and is sacrificial. The newest one is underneath. Here's the program. Buy your new tarp and place it on the ridgepole. Put your old tarp over it. Somewhere I read about folding a used golf ball into a tarp where the gromments had pulled out and tying a small line around it with a loop to which you tie your tie down line. As there are no golf balls allowed in our house I use a small rock of which we have an inexhaustible supply.. The another 'patent applied for' gimmick is to tie a small line between adjacent gromments and attach the tie down line to it! This shares the tie down load and both tarps seem to like it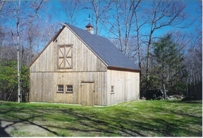 This system has at least doubled and usually tripled our new tarp's life, after which she will go into her sacrificial mode for 2 to 3 years. The double tarp Spring Work Tent system survived the several very windy and heavy rain periods we had this Spring - it helps to be surrounded by lots of trees.
I must admit that Marionette probably deserves the heavy expensive canvas cover that Recovery enjoys, especially since she has given up, for a while, her place in the ultimate winter cover to Passage. For more on this ultimate winter cover, click here.
*****************