This bracket was made so that an Autohelm ST1000+ tiller drive module could be mounted on Marionette's cockpit seat on the starboard side. Since Marionette's tiller comes up from the cockpit sole the issues were that 1) it had to be mounted far enough forward so it had leverage, 2) have the potential for a tighter adjustment range, and 3) the drive shaft in operation had to be high enough to clear the trim on the seat. Also, I did not want to mount the unit on the combing, and I wanted the drive unit's base pin socket as flush as possible so that when the unit was not in use the pin socket was unobtrusive.
Each tiller seems to have its own set of curves so tiller brackets have to be custom made to meet individual requirements. Marionette's is very simple and made of stainless steel.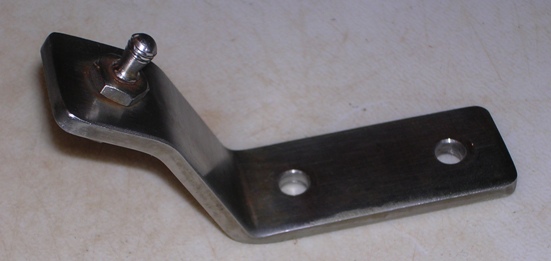 A thing of beauty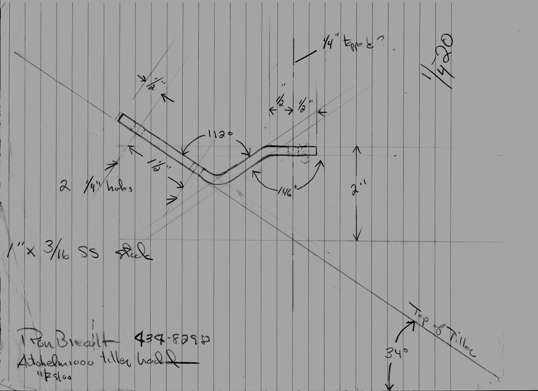 This is a dimensioned sketch for the part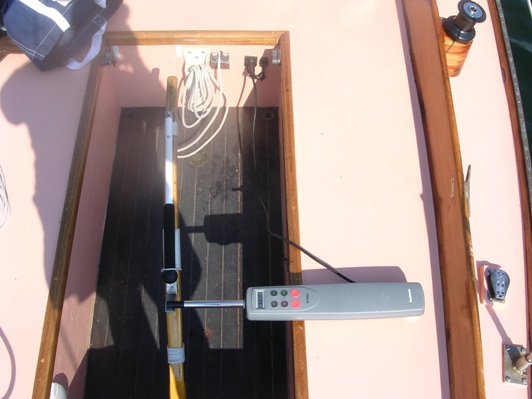 Autohelm ST1000+ looking forward
The biggest problem with this set up is that I occasionally kick out the power cord, sometimes without realizing it. As Marionette then starts to wander off course I yell at Otto to 'Mind your helm"! After I plug him back in, reset his course we go on without further comment. He holds no grudges. One can imagine a better or neater power cord situation - I am thinking on it.
This unit operates with an average draw of 2 amps/hour. It will use a lot more when there is a following sea, quartering/beam seas and shifty wind conditions. It is at its best when under power in the early morning in a flat sea, or holding the boat near head to wind while you are hoisting/dousing sails. It is invaluable when you need to hand over the tiller to someone while you need to do something.
That little receptacle next to the power cord 12v source is for the wire cord for the remote. When I bought this in 1999 or 2000 I don't think they had wireless. I don't use the remote often - usually just when trying to show off.
I am told this unit is waterproof but I don't believe it. On a long, single handed sail, Otto is a critical crew and deserves foul weather gear. For operation in the rain I poke a hole in the corner of a clear plastic storage bag, slip it over the shaft and use an elastic band to hold the bag on the body shielding the control buttons. Works fine. In largish waves or following seas Otto hands the tiller to me, goes below, keeps his mouth shut, and most importantly, does not drink the beer.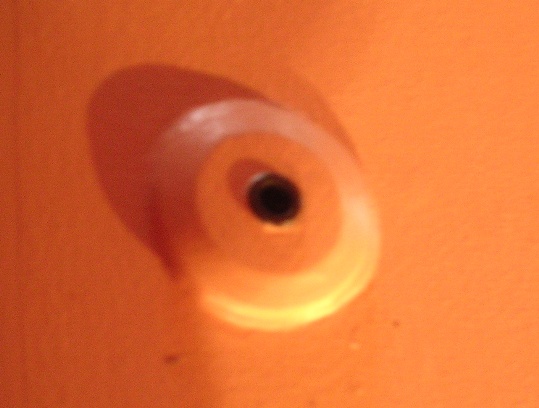 This is the seat socket in which the Autohelm ST1000 pin sits
*********************
June 23, 2017. Paul Lugin (Windswept, Yankee #245) sent in the following comments and photos of his Autohelm setup.
I did finally get the tiller pilot operational. I am very pleased and thankful for the extra help. Below are a few pictures that show the installation. Click on the photos for larger images. I put the connection in the cockpit cubby to protect it from harm. I have little doubt that sooner or later a line or a foot would otherwise reap mortal injury upon it. I would like to be able to quickly attach the cord to the side of the cockpit but have yet to get that figured out.

I made the bracket that connects the tiller arm to the tiller because I knew it would be easy to make changes to. It actually fit pretty well on the first attempt.
*****************************