February 9, 2016. Paul Lugin is checking in as the new owner of Windswept (too). Click here to check out Windswept (too's) past.
Hello Ron,

My name is Paul Lugin and I'm the new owner of " Windswept too ", hull # 245, built in 1971 by Yankee Yachts. I purchased the boat a few weeks ago from Clinton Hodges of Anchorage Ak. Clinton bought the boat in 2010 from the estate of Paul Arnold in Bremerton Wash. Clinton managed to do a near complete refit before he succumbed to the charms of a larger boat . " Windswept too " is my 4th sailboat, having owned an Islander 36, a Pearson 30, and a West Wight Potter 19. I still own the Potter and may keep her for local lake sailing. I plan to keep the Dolphin in Seldovia Ak. which is 3-4 hours from my house . I'm retired now and can make long visits to the boat so I hope this arrangement works out pleasantly.

I'm getting familiar with the site and fully appreciate how valuable it is to us owners. Thanks for all your efforts,

Paul
Webmaster Note: So where is Seldovia, Alaska? Click on photos below for larger images.
Welcome aboard, Paul!
February 18, 2016. Paul advises that he has settled on a name change - in this case back to her original name Windswept (no too). We've checked with higher powers and this is technically not a name change as it was her original name - thus Paul avoids all the rituals ordinarily associated with this change.
**********************************
March 13, 2016. Paul has been working on Windswept's trailer and has sent in a lot of interesting stuff and pictures. We set up a page for this trailer in our Technical Section. Click here to go here.
June 18, 2016. Paul sent in another report on his trailer project - click here to go there. And, at the end of that report, he had a photo of Windswept in her slip in Seldovia - that needs to be here.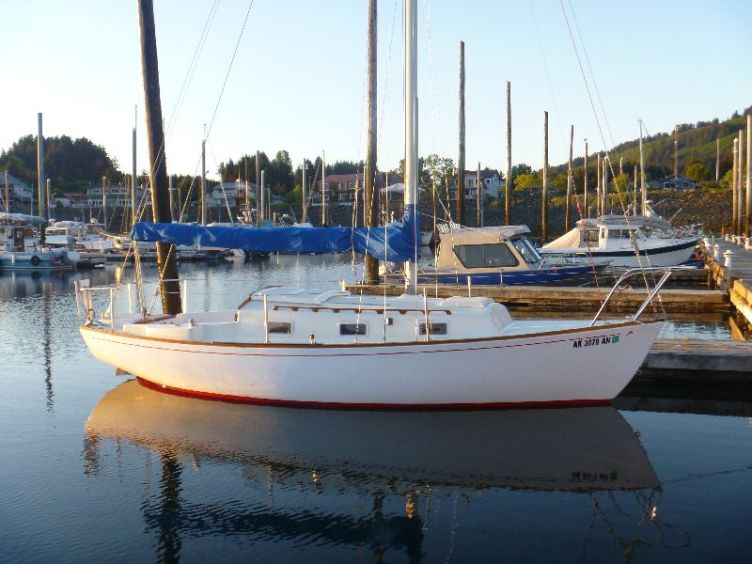 **********************************
July 20, 2016. We got the following update and photos from Paul
Hi Ron,

Update on Windswept's new sailing grounds. Seldovia Alaska has turned out to be one off my favorite sailing grounds, rivaling The Sea of Cortez, Mexico and Puget Sound. The community itself is an eclectic mix of Alaskan end of the road individualism, hard working fishing village, and very small tourist mecca. It has real charm.

I'm not much of a writer so here are a few pictures: (Webmaster Note - Click on the photos for a larger image)

Seldovia can't be driven to because there are no roads there from the road system. I have taken air taxis and the fast (45 minutes) ferry there. You can also take a car or truck if you take the state ferry system. The town and harbor are shadowed from cell towers on the north east side of Kachemak Bay so only one provider has cell service in the town and harbor. My provider does not, so I have to ride my bike to a beach north east of town to get cellular service. Several restaurants, a bar and the public library provide internet access in town. There is a bench in front of the library where seekers can sit when connected to the web at anytime of the day or night.

The latitude of Seldovia is 59 degrees 26 minutes north, about the same as the southern tip of Greenland. This creates very long days and short nights which is a delight to experience. Also, the temperatures in good weather resemble those of a nice New England fall day or a mid winter day on The Sea Of Cortez. This reminds me, would Windswept hold the title of Farthest North Dolphin?? Webmaster Note: Claim it and see if anybody challenges

I'm just getting familiar with Windswept and getting her set up the way I would like so I haven't done much exploring with her yet, but hope to do so soon. The waters here are relatively shallow and rocky, and with some tides running + 21 ft. and -5 ft. anchoring in the many small bays can be a challenge. Ripe tides are common and the weather here can change quickly. That being said, so far I really like this place.

Paul

***************************************************
August 6, 2016. To those of us that think we have the misfortune to have to deal with tide and current issues, Paul provides a visual that shows what tide and current are like in Seldovia.
Hi Ron,

Another update from Seldovia. Two pictures taken Aug 3rd, a high tide of 20.2 ft and a low of -3.5 ft. Can you tell the difference??


Paul

Click on the photos for a larger image

Postscript Responding to a webmaster comment - Thanks Paul - Marionette is currently up in Maine - Penobscot Bay. The tides there are 12 ft +/- vs 5-6 ft on Long Island Sound. Last weekend we were racing outside on Camden in very light air - Tide/current issues are a multiple of wind speed....

Thanks Ron, Very true about current in northern lats, lots of water to move in six hours.A few years ago my wife Carol and I were moving our old Pearson 30 from Washington State to Alaska on the inside passage and ran a strong westerly moving current in the Johnstone Straight which separates Vancouver Island from Mainland B.C. We were motorsailing downwind because we had about 65 miles to cover that day and were sometimes reaching 12 knots on the gps. Remember to always go in the same direction as the current. ( racers not included )

Another note, I've now been down to Seldovia 4 times, each lasting 7-8 days, sometimes with 2 on board. I sleep only on board and cook most of my meals onboard and must say Windswept is more comfortable than I expected. Part of the reason is that I'm much shorter than I once was but still manage to thump my head on a daily basis which interferes with short term memory.

Paul

August 7, 2016 Postscript 2 We were sailing our Pearson 30 on the Johnstone Strait. The scariest thing about that trip was all the logs in the water because of very high tides just before we entered the strait. They were quite numerous and large and surprisingly hard to see because of the confused sea conditions .

A large Ericson sailboat traveling then hit a large log and drove over it, the keel pushed the log deep into the water and when the log cleared the keel it shot up toward the surface and struck the bottom of the rudder which drove the rudder shaft up into the boat. The rudder was thus drriven against the hull and couldn't be moved. The boat was eventually towed to a settlement where the top of the rudder was cut off with a sawzall which freed the rudder and the sailors were able to continue their trip.

Here is a picture of my wife Carol steering us through some rough stuff that day.

********************************************
September 23, 2016. Paul has sent in a report on his new mast raising system. We have a special section in our Technical Section dealing with mast raising and lowering systems and his full report is there. Click here to go there. Here's a teaser picture.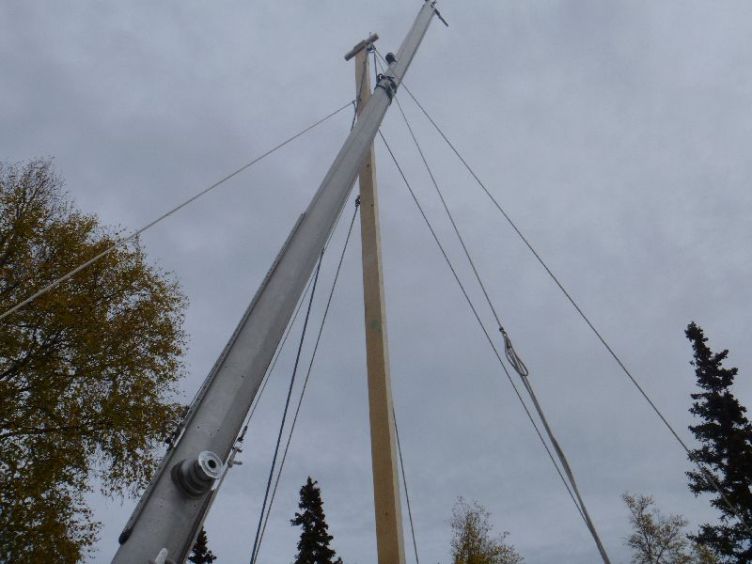 *****************************
November 22, 2016. Update and lots of photos on Paul's mast raising system - click here to go there.
***************************
December 3, 2016. Paul is building a barn for Windswept (too). We put his report in the Technical Section/Barns. Click here to go there. Here is a work in progress photo.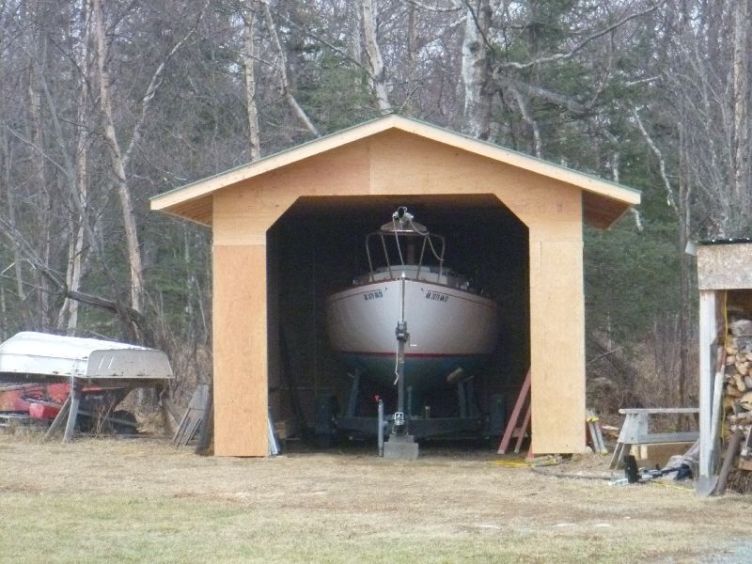 A work in progress - stay tuned

**************************************
December 20, 2016. Paul sent in some comments regarding his outboard motor, fouling from being left down in the water, and an idea about how to pull it from the transom well. We put his comments here and in the Technical Section. Click here to go there.
Hi Ron,

I would like to add to the comments about outboard motors. Presently I am using a 4 hp Tohatsu four stroke which weighs about 58 pounds .This past season I kept the motor in the well and did not pull it until I got the boat home at the end of the season. There was more growth than I can tolerate and I worry about corrosion so I plan too pull the motor at the end of each visit ( about 1 week ).

Pulling the motor wasn't all that hard for me but the process is awkward as you have to spin the motor to get it out. I worry about injury and being 67 years old I expect I'll be less strong as time moves on. I've been thinking about a small lightweight crane similar to my mast crane.Click here to go there.

I think that would work and could probably connect to the genoa winch also, but this would have to be stored on board and would take up some space and add a little weight.


I was looking at this picture of Windswept and from the photo it looks like I could raise the boom a bit with the topping lift, disconnect the mainsheet blocks from the traveler, connect the mainsheet lower block to a strap ( or straps ) on the engine, and then use the mainsheet blocks to lift the engine out of the well. You could then lower the engine to the cockpit sole and go from there.

I think it would be wise to tie off the boom so it doesn't swing away once the motor clears the well. Do you know if this has been tried?? (Not that I know of) If not, maybe someone lucky enough (or is it smart enough ?) to still have a boat in the water can try this out.

Thanks Ron for all you do

Paul
Webmaster replies:
I think your idea of using the mainsheet system to raise and lower the outboard has merit. Lets see if anyone responds.

Pulling the motor from the well and easing it into the cockpit may be easier than pulling it from the cockpit and positioning it to lower into the well.

My thought - a removable (ss) steel rod maybe 1/2 dia, 3' to 4'? long, gets suspended below the boom - from eye at the end of the boom to a forward strap around the boom. Maybe, if necessary, some kind of roller 'block/car' with an eye slides on it, to which is fastened the main sheet system. After the motor is pulled up from either location it is slid to the new location and lowered. Maybe a pre-positioned set of cushions and a tie down strap (with lock?) in the cockpit.

A second thought - the main strap on the motor probably gets secured to the head so that the motor hangs prop down. But when its pulled it would neat to have a second strap (system) linking the head to the lower unit so that the unit goes horizontal instead of vertical when pulled from the well, and vice versa when pulled from the cockpit.

******************************
March 31, 2017 In response to reported record snowfall in Anchorage Dolphin Central Global Weather Monitering staff asked our nearby staff for a report on any effect on Dolphin related activities. Here is his report on the storm's interuption of work on Windswept too's barn.

Ron

Progress on the doors for Windswept's barn was delayed due to snow removal operations on the driveway. See photo

Paul

Click here for a larger image
Webmaster Note: Paul is at least partially responsible for Dolphin Central's increased sensitivity to weather effects on our Dolphins. He sent in the 'heads up' on the wind/weather website NullEarth that we posted on Whats New, March 10, 2017. http://dolphin24.org/nullearth.html.

Following thru on this effort we obtained a report from Alan Mountford (Blue Gum) on Cyclone Debbie hitting the northeast coast of Queensland, Australia http://dolphin24.org/blueGum.html

Given that Spring is here readers might wonder why staff is not out working on Marionette - at right is the weather map in Marionette's New England states area of the US - heavy rain, winds 15-25 knots...
********************************
April 2, 2017. Paul's barn report continues, only temporarily delayed by a bit of snow. The full report is in the Technical Section.
Hi Ron,

First, I would like to congratulate you on our 10 year Dolphin website anniversary. No small accomplishment!!!

Secondly, I would like to clarify that where I live in Palmer, Alaska we did not get the record snowfall that Anchorage did this week. We received about 4 inches, being about 35 miles east of Anchorage. The snow storm and a couple of hours plowing did delay this report.

Click here

to go to Paul's barn report in the Technical Secton

*************************************
April 7, 2017. Must be something in the air in Alaska. Paul has sent in a report on his modified cabin table - details and pics (#1 - #6) we have included in the Technical Section/Interiors. Click here to go there
Hi Ron,

One thing that I've contemplated in the year I've owned Windswept is the length of the cabin table. It was great when I was seated but it really pinched off the standing room in the galley when I was standing. I don't think the bunk created when the table is lowered is large enough for two people, so I decided to cut 3 1/2" off the length of the table. Having done it I think it will be an improvement over the original.

Pic #7 Table with the drawer operational. I'm hoping to get the galley doors and drawers freshly finished before launch but It's not a priority right now. Webmaster note: That leftover end piece looks like a nice little shelf

Thanks Ron,

Paul

****************************
May 4, 2017 - We got the following update from Paul which we have also added to the Technical Section on Mast Raising. Click here to go there.
Hi Ron,

Finally after a long winter I'm scheduling my trip down to Seldovia and hope to launch May 19th or 20th.

I've got a little update on the boat crane. I had not yet used the crane to raise the mast with the standing rigging attached so I thought I'd try it at home instead of entertaining the good people at the Homer Marina. Well, I must admit that so far the crane is a smashing success. The only problem I've had is after raising the mast I had the forestay inside the upper shroud but on the wrong side of the spreader.

The problem is that there are more wires and crane support lines than my brain was designed to manage. I now have a telescoping pole to correct this type of management failure. But the actual raising of the mast - and lowering also - was the easiest part of the whole process.
Another reason to raise the mast at home was to set up some new reefing lines, test out the new masthead sheaves I installed ( going from wire and rope to low stretch line) and install some lazy jacks. I'll update about the sheave replacement after testing them out, but I think they will be a real improvement.

I wish you all a well deserved summer.

Paul

********************************
May 19, 2017. Paul has a report on his Barn lift system. Click here to go there.
********************************
May 21, 2017. Paul's been busy - check out his 'how to' bleed your trailer's brake lines - without drips. Article appears in our Technical Section - Trailers http://dolphin24.org/brake_lines.html
********************************
June 1, 2017 - Paul has an update on his mast raising system. Click here to go to the Technical Section where we have the detail. He also commented on his Lazy Jacks - click here to go there.
*************************
June 7, 2017 - Paul has a project going on re-aligning his spreaders, about which we will report in coming days. Meantime, he has been doing some research on Windswept's past. Here is his email - for the record. (minor edits)
Hi Ron,

Thanks for your help with my spreader issue. I'll do a close inspection and get measurements and pictures on my next trip down to the boat and come up with a plan to correct same.

Today is a rainy day (same here in webmaster territory) so I decided to go through all the Dolphin documentation I have. I've discovered some history I'd like to share.

Most distant owner I can record, from sail purchases and bottom work receipts, is Mr. Pat Regan of Carmicheal, California - at least from 1977 to 1987. Then she was owned by Bruce and Donna Williams based on a survey report done at Anacortes, Washington, in Sept 1993. The boat still had a California registration at the time so I think it was newly purchased at that time.

Also, I have a 'release of interest' for the boat trailer from Paul Skidmore of Sacramento, California for Nov 1993 - I believe post sale so the Williams could register the trailer. The survey states the name as" Windswept ". When the Williams sold the boat they stated that the trailer was built specifically for this boat, so Paul Skidmore could have been an owner. Paul Arnold bought "Windswept" from the Williams in April 1998. When he bought the boat she was moored at Winslow Wharf Marina on Bainbridge Island, Washington.

You know the rest of the story Thanks Ron, for all you do.

Paul

**********************************
June 23, 2017. Paul sent in the following updates on his new lazy jacks, auto tiller and the spreader problem. We have also put these comments and relevant photos in the Technical Section that deal with these subjects
Hi Ron,

I've spent some time contemplating how to correct my swept back spreader. The plan became complicated and time consuming and because Windswept is in the water - I think too risky due to the ease of getting her to roll. So, I will wait until I get her home to deal with that problem. I had reinforced said spreader before we left for Seldovia and feel it is stable enough to serve for now. I'll keep a close eye on it.

I did finally get the tiller pilot operational. I am very pleased and thankful for the extra help. Below are a few pictures that show the installation. Click on the photos for larger images. I put the connection in the cockpit cubby to protect it from harm. I have little doubt that sooner or later a line or a foot would otherwise reap mortal injury upon it. I would like to be able to quickly attach the cord to the side of the cockpit but have yet to get that figured out. I made the bracket that connects the tiller arm to the tiller because I knew it would be easy to make changes to. It actually fit pretty well on the first attempt. (Click here to go to our tiller pilot/Auto Helm page in the Technical Section)

| | |
| --- | --- |
| | |

Lastly, the lazy jacks.

I like them, I kept them simple and low and they work well without causing any serious problems. The connecting points on the boom are at 2' and 4' from the mast. They support the bulk of the sail and the rest is easily handled by a few quick sail ties. I wouldn't use more connections at the boom because I think what I would gain for that would not be worth the extra complexity.

(click here for a larger image)

and

click here to go to our Lazy Jacks page in the Technical Section

Thanks Ron, for all you do.

Below is a picture of some sea otters who share my dock - but not their dinner.

Paul

********************************
June 30, 2017. Paul is on a wildlife kick. Here's the latest in Alaskan wind indicator technology....We would be remiss in failing to add this to our Technical Section/Hardware
Hi Ron,

Who needs a Windex when you have two bald eagles telling you which way the wind is blowing. A boat in the Homer Alaska Marina

Paul

******************************************
November 6, 2017. Paul sent in the following update (edited)
Hi Ron,

I enjoyed reading your latest post, and congratulations on another successful racing season. I love to see boats in a snug home for winter. I'm presently insulating Windswept's barn and will send a few photos when it is finally done. For now she is shivering outside and covered with our first snow.

Thanks for all you do,

Paul


Postscripts

I also want to say that I really enjoyed reading about Lezah (http://dolphin24.org/restorations_lezah.html) and reading the story of her original owners. It was very touching. Well done.

And, responding to a webmaster plea for our 1st season snow report.....

Here's Windswept patiently waiting for me to get the insulating done. Second picture shows progress on vapor barrier and insulation

Click on the above photos for a larger image, and click here for more on Windswept's barn project

*************************************
December 18, 2017 - Paul sent in another update on the barn project. Its in the Technical Section - click here to go there.
**************************************
February 18, 2018 - Paul sent in an interesting report on his mast/spreaders. We've posted it below and when he gets it all done we'll put it in our Technical Section/Spars
Hi Ron,

I hope you are well and hope Marionette is nearing completion (patience.....) Here is an update on Windswept's progress.

I brought the mast into the house to asses the problem of the spreaders not being aligned with the upper shrouds. I originally thought the port spreader base was installed too far aft on the mast causing the mast to twist. What I found out after much measuring and contemplation was that a twist in the mast was causing the port spreader to fall too far aft and consequently, the starboard spreader to be too far forward. I have a plan to address the problem but will run it by a professional rigger first to see if the plan is sound or if there is another way to improve the situation.

I brought the mast into the house because at 29.5 feet it would not fit into the boat barn and I was not wishing to spent the hours figuring this out in the driveway during the winter months. It was worth the effort.

I have a general warning about the stainless bolts that pass though the mast at the spreader bases and upper shroud tangs. There is a compression tube over the bolts inside the mast that helps prevent the mast from getting compressed at the spreader bases and tangs. What I found is water collects inside the tube and, over time, corrosion between the stainless bolts and aluminum compression tubes welds the two together.I was able to drive the spreader base bolt out but the upper tang bolt and tube are seriously bonded and will have to be cut out. That will be possible because they are accessible at the top of the mast. The bolts at the spreaders would not be accessible and would have to be abandoned

If anyone is inspecting these bolts, be careful when pulling the bolts for inspection to not lose the compression tube inside the mast. As you pull out the bolt you should insert a bolt from the other side in order the maintain control of the compression tube.

Thanks for all you do, Ron

Paul

*******************************************
December 1, 2018 Responding to a webmaster request for an Alaskan earthquake report (https://www.cnn.com/2018/11/30/us/alaska-earthquake/index.html), as well as an update on #245, we got the following email from Paul
Hi Ron,

Nice to hear from you. Yes,we are well. That was quite an alarm clock we had this morning. The strongest earthquake we have seen here since the 2002 Denali quake which was a 7.9. We lost some glass and pottery but had no serious damage.

I'm changing harbors this year as I was just awarded a slip in Seward after a 10 month wait on their waiting list. I loved Seldovia but the winds were disappointing and Seward is reported to have much better sailing. Also, it is 1 1/2 hours closer and no 45 minute ferry ride.

I just finished insulating the barn and have enjoyed spending time out there. Much warmer now. I have some boat projects for this winter and will share them if I manage to complete them. I hope to launch in early May and am looking forward to new sailing grounds.

My best to you and Marionette and thanks for all you do.

Paul
Webmaster Note: We have a continuing effort to familiarize readers with our sailing waters. Here's the latest for Windward (too)

Seward Harbor Marina
*******************************
December 10, 2018 We got the following post earthquake report from Paul.
Hi Ron,

It's been a week so here is an update: there was a lot of damage to buildings in this area (Anchorage, Wasilla). There are some damaged schools that won't open again until fall of 2019. Some schools may not be fixable. Also there are some houses that are beyond repair. It appears that the ground under some of those houses failed.

The failed roads were repaired very quickly, in just a few days, including new pavement. We are still experiencing lots of aftershocks, most are too small to feel but we've had about a dozen of them that registered 5 or higher, those are large enough to shake the house for a few seconds. It gets your attention.

I have a brace that is attached to the wall of the boat barn (see barn photos and text above) and which extends over to the toe rail of the boat. I noticed yesterday that the brace didn't line up anymore. The boat must have moved sideways about 1 inch during the quake.....

I hope you are well, and thanks for all you do,

Paul

*******************************************
May 31, 2019. Here's an update from Paul, and Its the little things that count - here a 'helpful hint' re your mast. This hint has been added to the Technical Section. Click here to go there.
Hi Ron,

Been very busy on the boat. I've installed a vented propane heater and moved the battery forward to compensate for small propane tank aft. I'll let you know how that works out.

Picture shows easy way to stabilize mast on saw horses, easy to set up but very solid.

Thanks for all you do,

Paul


************************************
June 10, 2020 - We got the following update from Paul.
Hi Ron,

Here is a picture of Windswept at the dock in Seward. This is our second season in Seward and it is a fine town to hang out in and sail from.

Last spring I installed a vented propane heater and this spring I refinished the galley drawers and doors which turned out much better than expected. Hope you have a pleasant summer and thanks for all you do.

Paul

*********************************