September 27, 2021 - check out this Dolphin 24 Facebook post - https://www.facebook.com/groups/dolphin24sailboats - stay tuned!
************************************
November 4, 2020. Just in over the transom - Blue Gum is FOR SALE. Here is the ad and contact info
https://www.boatsonline.com.au/boats-for-sale/used/sailing-boats/sparkman-stephens-24/253538
SPARKMAN & STEPHENS 24
Price AU $16,000
Length 25' - 7.62m
Usage Cruising
Location Port Macquarie Region MIDDLE BROTHER NSW
Launch Year 2013 approximate
Hull Material Fibreglass/GRP
Don't let its size fool you - this little boat has been designed and set up to go anywhere in the world. Please see this website..http://dolphin24.org/blueGum.html for information about this boat - an absolute gem.
Anchor winch plus 2 Delta anchors with heaps of chain and 12mm rode...
Toilet with holding tank..
Good Headroom in the main Saloon....
7 horsepower Yanmar diesel with header tank...
150 litres of water....
Autohelm and wind vane steering...
GPS map plotter..
Depth sounder...
Wind generator and solar panels..
200 amp hour house battery plus 75 amp engine battery..
Good sails.. 2 main 1 heavy with 3 reefs, the other with two reefs, 3 headsails + storm sail...

I'll let the photos do the talking if you're interested give me a call William 0401430374

************************************

May 27, 2019 - Just in from William and Alan - we'll start Blue Gum's page with this photo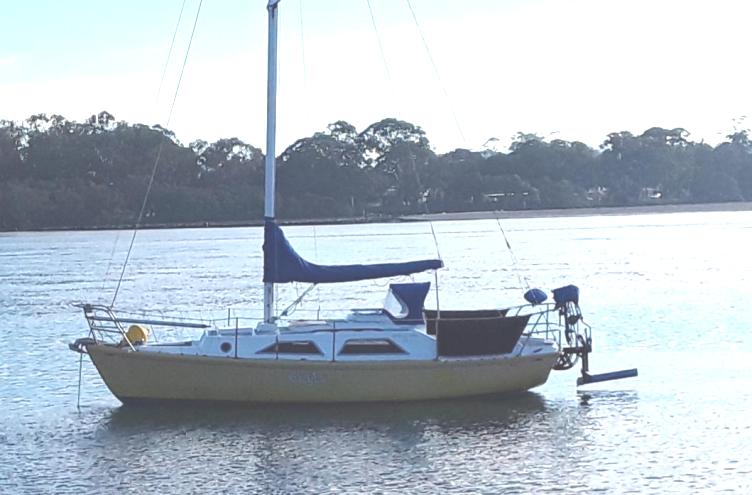 Blue Gum on her new mooring
May 25, 2019 - We got the following update from former owner Alan Mountford (minor edits). He's been keeping track of Blue Gum and her change of owners. Click on the following pictures for a larger image
Hi Ron

Just got off the phone to the new owner of Blue Gum. She has been sold to a guy in Port Macquarie in New South Wales. What I said previously was incorrect regarding location and I wonder if you could correct it please.The new owner is William Prior and he lives in a little town called Laurieton – which is in the district
of Camden Haven in New South Wales. He will be keeping Blue Gum on a mooring at Port Macquarie, a bit north of Laurieton.

Blue Gum has been berthed at Manly Marina ever since William purchased her.He had initially planned to sail her down – but because of a number of factors that hasn't happened. So he decided to truck her down.I was down at Manly Marina with William on Wednesday morning (22nd May) to watch her being hauled and put
on the transporter.They arrived at Port Macquarie later in the day and yesterday morning Blue Gum was re-launched and mast
re-stepped.

I may not see her again.

.Regards

Alan

Postscript: Here are the pictures William sent of Blue Gum being hauled and loaded onto transporter at Manly Marina ready for trip south. Just pick the ones you want to use.

Postscript: Hi Ron, Here are photos from William of Blue Gum in Port Macquarie .Regards, Alan Webmaster note: We will regard this email from William to Alan and his official Check In!

Good morning Alan

Boat is now in the water with the mast up and the sails on ..here's some photographs of the launching ...and the first mate and captain

Talk to you soon

William
Webmaster Note: In keeping with our continuing efforts to familiarize our readers with our sailing waters here's a couple of 'charts'. Click on them for a larger image
*********************************************************************************
********************************************
*********************************************************************
May 28, 2018 Things move fast down under - we got the following update from Blue Gum's former owner Alan Mountford (minor edit).
Hi Ron,

Hope all is going well with you? It is now a little over a year since Blue Gum was sold. I still had several items for the boat here – so managed to track down the new owner through Facebook and managed to catch up with him in person yesterday.


She is currently back in Manly Marina where I had her when sold,. Seems he has not used her much and has spent some of her time on a mooring up the Brisbane River at the Botanical Gardens where he has used her for accommodation when he is in town.

Apparently earlier in the year he had the engine overheat due to a water pump failure just as he was exiting the channel into the marina – but is going again OK now. He managed to hoist the mainsail and sail her back into her berth without incident – not the easiest of things to do!! Anyway he tells me he feels she is too small for him and has put her on the market again very recently. Here's the link to the ad (lots of pictures!)

https://www.boatsonline.com.au/boats-for-sale/used/sailing-boats/sparkman-stephens-24/217550


So shall wait and see what transpires.


Regards,


Alan

*********************************************************
September 22, 2018. Thanks to former owner Alan Mountford we are keeping up with what's happening in Blue Gum's life. Here is Alan's latest update.
Hi Ron,

Just got off the phone to the new owner of Blue Gum. She has been sold to a guy in Port Macquarie in New South Wales. He told me he wants to do some offshore sailing to places like Indonesia.

Blue Gum is still in Manly Marina, Brisbane and he plans to sail her down to Port Macquarie a little bit later on. He said he will be back up here in about 3 weeks time and wants me to meet him and go through details of the boat with him – so looking forward to that.

Best wishes,

Alan

****************************
May 25, 2019 - We got the following update from Alan (minor edits)
Hi Ron

Just got off the phone to the new owner of Blue Gum. She has been sold to a guy in Port Macquarie in New South Wales. What I said was incorrect regarding location and I wonder if you could correct it please.The new owner is William Prior and he lives in a little town called Laurieton – which is in the district
of Camden Haven in New South Wales. He will be keeping Blue Gum on a mooring at Port Macquarie a bit north of Laurieton.

Blue Gum has been berthed at Manly Marina ever since William purchased her.He had initially planned to sail her down – but because of a number of factors that hasn't happened. So he decided to truck her down.I was down at Manly Marina with William on Wednesday morning (22nd May) to watch her being hauled and put
on the transporter.They arrived at Port Macquarie later in the day and yesterday morning Blue Gum was re-launched and mast
re-stepped.

I may not see her again.

.Regards

Alan

****************************************

*******************************************************

*************************************

This is the history we have on Blue Gum
May 1, 2017. Alan Mountford advises Blue Gum has been sold. She's a special boat and has had a truly amazing 20+ year cruise with Alan, as her story below attests. Here is his email (edited) and we stand by for the new owner to check in.
Hi Ron,

This is to let you know Blue Gum has now been sold. The new owner seems a nice guy and is happy for me to come sailing with him occasionally.
He will keep it in Manly Marina for the time being at least.

I had planned on taking her back to my mooring today with a mate of mine, staying overnight at one of the islands on the way down – but had to cancel that at the last minute. Mixed feelings about seeing her go. She is a beautiful boat – but my energy levels are such that I often can't be bothered getting out to her often to sail.

Son Dave was interested in taking her over at one stage – but after doing their cruise (Fiveon24) decided she was a little small for his growing family.

Best wishes.


Alan

Fair Winds and Calm Seas Alan,

and thanks for all your contributions to our website!
April 17, 2018 - We have been standing by waiting for Blue Gum's new owner to check in, and so we followed up with Alan for any news (former owners have lifetime membership....) Here is his email - minor edits.
Hi Ron,

Lovely to hear from you :-)

The new owner of Blue Gum said I was welcome to do some crewing for him when I was going through the details about the boat – but never heard a word from him after the first few weeks since the sale. I know he moved her from the marina at Manly to a mooring off the Botanical Gardens in Brisbane City shortly after purchase but I have not been into the city since then. I have not heard a word during the intervening time so have no idea where she is or how she is. I did give him the details about your website at the time of sale. I do look at your website from time to time to see if he has made contact – but nothing.

Good to see you are still sailing and racing your boat. I don't have a lot of energy anymore – so the decision to sell has been good in that respect – but I do miss her as well and would have loved to have been able to do some extended cruising in her as I had originally planned if I had good health. I think they are the best boat ever designed in that size anywhere in the world – and NZ has some world renowned designers too that designed some really wholesome boats.

I have got myself involved with flying radio controlled model planes and having a lot of fun with that. Thanks for all your interest in my project over the years and wish you many happy hours sailing.

You have done a really wonderful job of putting together the website for this design and it will always be a treasure to Dolphin owners I am sure.

Best wishes,

Alan

****************************************

*************************************************************
February 4, 2017. Blue Gum is FOR SALE. Manly Harbor Yacht Brokers is listing the boat. Here is the direct link to their ad and contact information.
http://www.manlybrokers.com/list.php?dealer=manlybrokers&cate=Sail_mono&de=197148&ToDo=show_details
Below are the details of the listing, which has several pictures, many of which have been here on Blue Gum's page

1978 Sparkman & Stephens 24FT - Price: AU $20,000
Length: 24' 0" (7.32m); Beam: 7ft 9 in; Draft: 4ft 2 in; Displacement: 4,600 lbs
Description: A great pocket cruiser which has been well maintained and presents in excellent condition. This vessel underwent an extensive refit between 1998-2013 & was ashore undercover during this time and relaunched in September 2013. She has accommodation for 5,5'8" headroom and just completed a 3 month cruise. Please call to arrange an inspection. Reference: S-105Name: "Blue Gum"


Location: Manly (Brisbane) QLD Region:Queensland; Designer: Sparkman & Stephens Builder: Professionally built McDell Marine, New Zealand

Hull Material: Fibreglass/GRP; Deck Material: Glass/Balsa/Ply
Engine Make: Yanmar; HorsePower: 7HP Fuel Type: Diesel Fuel Consumption: 1/2 Lt hour; Max Speed: 5Kts; Propulsion: Two Blade fixed prop
Thrusters: Nil; Genset:Nil
Fuel: 45 lts including header tank
Water: 2 x tanks - 70 lts each tank
Galley: Fibreglass sink, manual foot pump in galley. Refrigeration: Ice box; Stove: Kero 2 x burner S/S stove
Berths: One double + 3 x singles
Shower: Solar Shower; Toilet: Brydon Boy Manual Toilet with holding tank
Air Conditioning: Nil
Dinghy: Fibreglass 8ft sailing dinghy; Outboard: Yamaha 2HP
Covers: Boom tent, Dodger
Ground Tackle: Three anchors + Rope and Chain, Manual anchor winch
Bilge Pumps: 1 x manual + 1 x electric
Epirb: Yes
Fire Protection: Fire extinguisher, Fire blanket.
Electrics: Batteries 1-3 years, 2 x Solar panels 40 watt, Switchboard.
Electronics Navigation: VHF (Main and hand held) Compass, Clock, Sounder
Sail Inventory: 2 x Mainsails, #1 Jib x 2 (heavy & light) #2 Jib x 1,#3 Jib x 1, Storm sails x 1,(2 months old) Jockey pole
Mast / Rigging: Rigging age - 3 years
Deck Gear: Bill Belcher Windvane self steering, Folding removable cockpit table.


Remarks: Every care has been taken in compiling the above information however, we cannot guarantee its accuracy or warrant the condition of the vessel. Purchasers are advised to verify all details by an independent survey prior to completion of the purchase.

*****************************************************

*******************************************************************************
Alan was our first 'downunder' contact with the fixed keel Dolphins. Logan City is on Australia's east coast in the southeast corner of Queensland between Brisbane and Gold Coast. His Blue Gum has been undergoing a major refit/tranformation at her new home in Australia. Alan has been very helpful in getting information on these Dolphin cousins. To find out more about these boats click here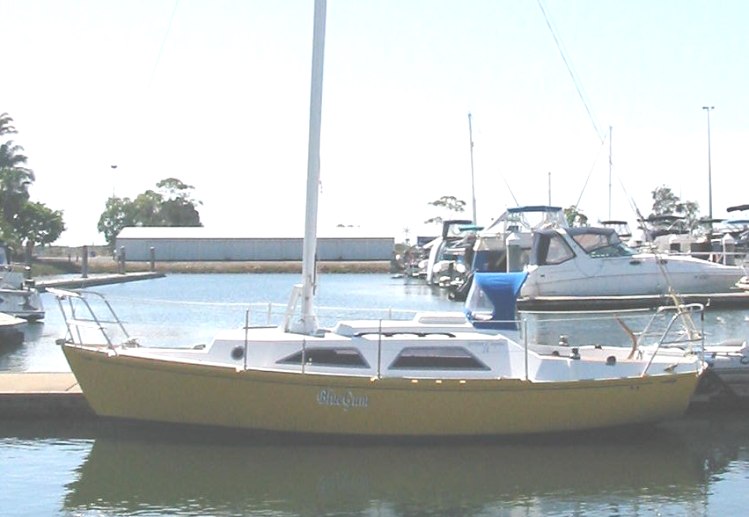 Blue Gum's 'restored photo' after her re-launch on September 30, 2013 (posted October 12, 2013)
**********************************************
Here is Alan's first email contact with the website followed by our chronological record:
July 20, 2007
Dear Sir,

I have just come across your Dolphin 24 web site. One of the headings says "Dolphin with fixed keel" and gives a small amount of information.

I really don't know very much of the history of this design but can tell you that quite a number (over 50 I think) were built in New Zealand in fibreglass. The first ones had the conventional coach house, essentially the same as the Dolphin, and were simply called an S&S 24.

A little later a new deck and coach house was designed (I don't know who by - but not S&S) which looks more racy and has a little more headroom. This model was called an S&S 24 Falcon. Up until about ten years ago there was an active owner's assoc for these designs in the Auckland area.(NZ)

I purchased a S&S 24 Falcon about 10 yrs ago when I was living there and sailed it around the Auckland region for a number years. When I came back to Australia to live I shipped it back with me. Currently I am in the process of doing a major refit on it inc installing a Yanmar 1GM diesel engine instead of the outboard it had. The design of the Falcon deck/cabin had a number of major flaws.and part of the refit I am doing is to correct them. I will have 5ft 8in headroom in the main cabin when finished.

S&S 24's are a beautiful little sailing boat and they don't change hands very often as a result. As you will no doubt be aware NZ has a lot of heavy weather and they easily handle anything the weather there throws at them. Really great sea-boats!! Comfortable and fast for their length and displacement.

See attached (below) photo of mine taken in NZ a number of years ago.

Yours faithfully,

Alan Mountford.
***************************************
Blue Gum is a work in progress. Here is an interesting photo of BlueGum's changed cabin and deck followed by his report on the project.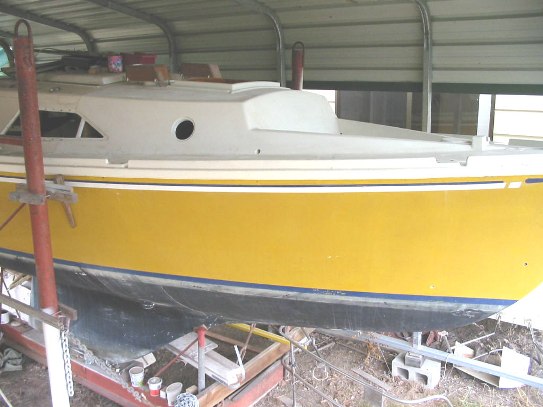 Note the higher extended cabin forward

July 24, 2007

Hi Ron,

Thank you for your e-mail. I had a look at the web-site you sent me. Yes - those photos are of the S&S 24 Falcon - same as mine.

You will note from the photo of the boat in the water (green hull S&S Falcon 24 at left - (Webmaster note: Later on we found out this boat is Maneri) how the cabin front slopes down forward of the mast. Looks quite racy - but it takes out a lot of the headroom in the forward cabin. Attached (above) is a photo of the front of mine as it is now as a result of the upgrade I am doing. Much more practical!!

The cockpit design meant water lay on the seats and sole if the boat was not trimmed dead level as they were built flat both ways. I have rebuilt it so that the water drains off the seats through tubes into the cockpit well, and the well now drains out through two 2 inch tubes through to the transom from an aft sloping sole.

I replaced the aluminium toe-rail with a wooden one and glassed the underside of the hull / deck joint which only had mastic in the joint and held together with the bolts holding the toe rail on previously - not a very good practice in my book.

I found the article about the Auckland Fibreglass Boat and Caravan Show interesting (see below). Must have been quite sometime before I became an owner as I don't remember it.

The list of boats on the NZ Yachting Assoc register are only some of the boats that were built. There was is no requirement to register with them as an owner, and consequently a lot never did. Even though I became a member, I never really got involved with the S&S 24 owner's assoc since the owner's assoc of my previous boat were very active and a great crowd to socialise with. The S&S 24 assoc folded due to lack of member interest shortly after I purchased my S&S. Hence my lack of knowledge of the history of the S&S 24 class unfortunately.

I will be taking a trip to Auckland, NZ mid August for a week. While I am there I will see what I can dig up for you. I still have a number of good friends there involved in the yachting scene and I think the builder is still in business - but trading under a different name, which I cannot recall.

Kind regards,
Alan
************************
August 30, 2007. Below again is that first picture of Alan's Blue Gum. Receiving it prompted an exchange of emails that appear below. note the high aspect main - also adopted by the Wilmette Harbor Dolphin fleet."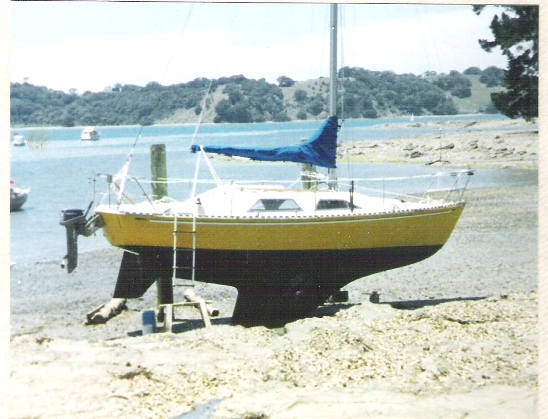 I have seen this set up several times and have always wondered how one paints the very bottom of the keel. Usually, I fall asleep before I find a solution. So I asked Alan how do you do it? His reply came in a couple of days ago.
Hi Ron,

Just had a look at your website again.

I see you are asking a question about cleaning the bottom of the keel. Most marinas in NZ today have a travel lift for hauling boats out of the water so it is easy to have the bottom of the keel water blasted along with the rest of the hull. The boat is then set up in a steel cradle ashore or put back in the water.

The set-up in the photo I sent is as follows.

A couple of heavy hardwood posts (piles) about one foot in diameter are set permanently in the sea-bed. Next to these piles are a number of spaced hardwood beams running at right angles to the piles to form a grid on which the keel sits when the boat dries out. This grid is permanently fixed to the sea-bad so that it doesn't move or float away when the tide comes in.

With this set-up one ties the boat to the piles at about high tide and movable weights (eg jerry cans of water) are moved outboard so that the boat lists slightly towards the piles as she settles on the falling tide.

It is not possible to get to every single square inch of the bottom of the keel as where the keel sits on the grid, the bottom is inaccessible, but you can reach between the wood beams of the grid and get some of the fouling off. The rest you don't worry about. The amount of fouling left is quite insignificant to performance and you just learn to live with it.

Most of these grid set-ups were free to use in NZ when I lived there. As more marinas have been built the number of grids has declined.

There has been some terrible accidents where boats have fallen off grids in the past, usually due to not taking care that the boat is leaning towards the piles as it settles.

I saw a forty - odd footer once with a ferro hull that had fallen off when the ropes tying it to the piles broke. It had been leaning away from the piles. A guy was water-blasting the hull when the lashings let go. He had the presence of mind to dive under the boat as she came down and he escaped because of the space between the curvature of the hull and keel gave him sufficient room.(full keel yacht)

The side of the boat was stove in where it hit the sand. They managed to get it afloat again later using fire pumps to hold the water level down in the hull.

Kind regards,

Alan

************************
Sepember 28, 2008. Alan checked in with the following progress report and picture of Blue Gum. Judging from the redesign and refit projects he has going with Blue Gum, it looks like Alan is a very short step away from going into the professional design and custom boat building business.
Hello Ron,
It is quite a while since I last visited your web-site. I think you have done a great job of it with lots of very interesting information and have really enjoyed going through it again

I have been spending most of my spare time working on my boat. Thought I'd send a pic of the modifications done to the aft end of my boat to date. The internal corners have now been filleted and the plywood is now glassed over but not painted yet. The cockpit sole has a teak overlay and will also do a similar overlay on the cockpit seats and coaming tops.


Regards,
Alan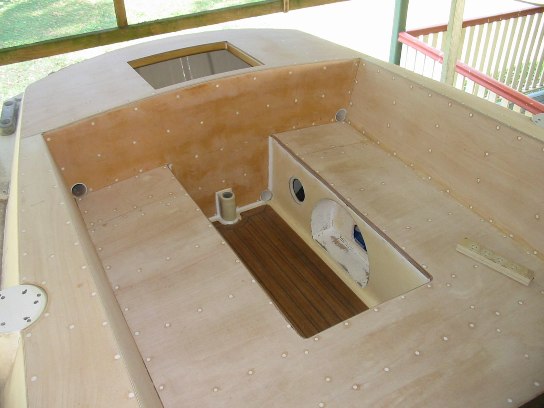 Pretty impressive work - like those cockpit seat drains
***********************
September 30, 2008 - David Le Mestre, who is from Brittany, France, but currently lives in Morocco, took this picture of Natine, a sister of Alan's Blue Gum. Natine was sailed from New Zealand to Brittany, France (a story we must get!! AND DID!! - click here), and is for sale there.

David wanted more information on Falcon 24s to help with obtaining the necessary European certifications should he decide to buy her. In his search he found our website. In response to our request Alan has helped with this effort and provided info on accommodations, sailing characteristics and construction that can David can use.

His email is below.ember 30, 2008 - David Le Mestre, who is from Brittany, France, but currently lives in Morocco, took this picture of
Hi Ron,

When I had my S&S 24 in New Zealand and was sailing with my former wife and our children we had 6 people on board.sometimes for weekends and holidays. The children at that time were 10 and 12 yrs old. My boat had a double V berth forward, 2 single quarter berths, a settee berth and a pilot berth. It was rather crowded with 6 on board I must admit - but as the kids were young we managed OK. Personally I wouldn't want more than 3 adults if away overnight.on a boat that size. As far as I can remember most S&S 24's in NZ only ever raced with 2 or 3 people on board generally, but most had 5 bunks. With family on board we only sailed in relatively sheltered waters although we quite often sailed in winds of 25 to 30 knots.

It is not the height of a wave that is a problem - it is the steepness of it. The S&S will handle some pretty rough water but I wouldn't like to try and handle a 2 meter breaking wave on a bar for example. I came out of the Bay of Islands on the East Coast of New Zealand (single-handed) one day and headed south down the coast. The day before had been blowing about 30 knots from the South East and there was a 3 to 4 metre SE swell still running but the wind had dropped to about 6 - 10 knots,.still from the SE to E direction. Close hauled on Starboard tack I sailed out past the E end of Cape Brett before tacking over and heading south. The big swells were stuffing the wind direction around as each swell passed. Blue Gum rode through the seas easily.

Another day, (again single handed), I left Whangarei and headed north up the coast. There was a 25 knot easterly blowing and a good 2 m sea running.(unlimited fetch) I beat out around Bream Head towing two fishing lines and in the process of tacking the lines became tangled together. It is a several mile dead beat to windward from the mouth of the river out to Bream Head and Blue Gum footed it through the seas at hull speed without any fuss. Once around the Head I eased sheets as I headed north, put the autopilot on and made an effort to untangle the fishing lines. I was about a mile off the coast and the seas here were normal ocean waves. Blue Gum rode very comfortably on a beam reach and I had no difficulty working untangling the fishing lines.

I don't know if any of this information will help David? The S&S 24 is a very seaworthy design but also the Falcon model does have some design faults with the deck and hatches which is why I am doing the modifications to mine.(see my comments in e-mails I have sent) The hulls and decks are strongly built - although some of the fibreglassing on mine is a bit rough in places. The other thing I didn't like is that the hull/deck joint is only bolted together on a mastic seal with the bolts that hold the aluminium toe-rail on. It seems strong enough - but there is a potential for leaks. That is why I glassed the whole of the underside of the joint and fitted a solid wood belting and toe-rail instead. Stronger and no possible leaks there now.

As you too will attest they are a beautiful comfortable boat to sail and they perform very well for their length and displacement. There are a lot of bigger cruising boats won't average more than 5 knots on a passage!!

Regards
Alan
*************************
August 10, 2010. Alan's been thinking about port lights - here's what he has in mind. Pretty cool, I think (minor edits). This has been added to our Technical Section - Portlights
Hi Ron

How do you think the attached would look as a glass leadlight in the front windows of my boat?

My thoughts were to have the outside portlight made of slightly tinted perspex as would be normal, and then sit this leadlight inside the window frame on the inside.

What are your thoughts?

Regards

Alan
January 12, 2011. Alan's copy of the Dolphin 24 website book had the longest way to travel and finally arrived. In the past few days there has been some really severe flodding in the area of Queensland where Alan lives, and which has made the world news. He took the opportunity in a couple of emails to let us know what's happening with the flooding going on around him. Your webmaster added the pictures and consolidated the emails
Hi Ron,

The book finally arrived in the mail this morning. Thank you. I have been concerned that it might get ruined with all the rain we have been having of late - but it arrived nice and dry. :-)

The flooding we are getting here in Queensland and northern NSW has to be seen to be believed!! We haven't had the rain here that some places have had thankfully and no real flooding close to us. But around us there is utter devestation.


Here are some links to some pics and video clips of the flood that occurred yesterday in Toowoomba and Lockyer Valley. 8 people so far confirmed dead and 72 missing as of this morning. Toowoomba is about 80 miles west of Brisbane and the Lockyer Valley is in between. I have never seen floods quite like these. The waters from this will end up in the Brisbane River in a day or so.

http://www.brisbanetimes.com.au/environment/weather/fears-for-mother-and-child-in-toowoomba-deluge-20110110-19kti.html

http://au.news.yahoo.com/thewest/a/-/national/8622104/two-dead-others-at-risk-in-toowoomba/

http://www.northernstar.com.au/story/2011/01/10/floating-loo-travels-hervey-bay/


Many cities and towns north of us have gone underwater. One small town was evacuated totally while hundreds of people were evacuated in many other places. Rockhampton - a city on the mid Qld coast went under about 5 days ago with a flood height of 9.2 metres. It is still around the 9 m mark and it is expected to take weeks for it to subside fully.

As you travel west from Brisbane the country is a little hilly initially then it flattens out. Then you come to the Toowoomba Range 80 miles west of Brisbane. This relatively flat area in between is called the Lockyer Valley and is where most people lost their life. It was the water coming down off the range and what fell in the area that caused the flooding in the valley.

The road up the range is very steep and slightly windy. As you get to the top you are in Toowoomba. The city sits right at the top on the edge of the range at an elevation of 2267 feet above sea level. West of Toowoomba is the Darling Downs - an extensive fertile plateau. The city slopes slightly towards the west.

There are no hills around Toowoomba and no rivers. There are a couple of small creeks only. I find it very hard to comprehend the floods there because there is no area around to create runoff. Nothing remotely like this has ever happened there before. The small creeks I mentioned start in the area. The volume of rain that fell there has to be unprecented to generate the flooding that occurred. The wave created by power poles and the huge pressure waves in the flow indicate just how fast that water was running - like a Tsunami coming inland as some have described it!

Brisbane only gets the rain from the foot of the range. What falls on Toowoomba runs west. Low lying parts of Brisbane are under water as I write. The Brisbane River is tidal and king tides have accentuated the flooding which was expected to peak with the early morning high tide. From now or after the afternoon high tide it should start receding. The local river here which is about a kilometre down the road is in minor flood which peaked last night. This catchment has not seen anything like the rain elsewhere fortunately.

It has been fine and partly cloudy since yesterday morning and forecast to stay that way with only the odd shower for the next week which is good news.

The flood has isolated the city. Only route in was from the north and then only to heavy trucks. The rail line also closed and the airport runways under water. None of this has been re-opened as yet. Some towns further west will be isolated for a month or more.

As we are in the early part of the hurricane season one can only wonder if a cyclone were to develop and hit the already waterlogged coast just how much extra damage it would do. It certainly is a real possibility and would generate floods like never seen before.

Not good my friend! I do hope all is well with you.


Best wishes, Alan

chest high water in Brisbane stadium

***********************************
September 21, 2011. Blue Gum's transformation continues with a nice little touch. We have included this item in our Technical Section/Miscellaneous. Here's Alan's Dolphin casting and email.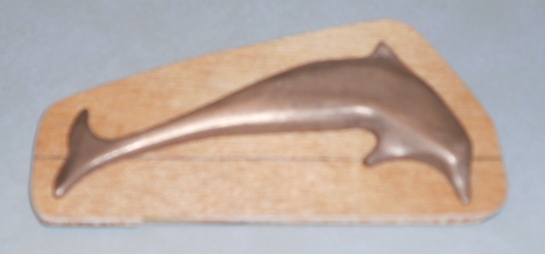 Hi Ron,
Glad to hear the dolphin casting I made for you has arrived safely. The one I made for myself I have glued to the aft face of the main hatch. Looks great!! You have probably seen what appear to be bronze casting figurines in places like big hardware shops. I have commonly seen things like small Buddha's for example. They are made of the same materials as the dolphin and have been treated to give the patina finish (weathered bronze) The composition is bronze powder and epoxy resin and the process is called "cold casting". Being outside on the boat my dolphin casting will eventually get that weathered bronze look too. :-)
Regards
Alan
Webmaster Note: While the pay is not great, being the Dolphin24.org webmaster does have fringe benefits!
**************************************
January 29, 2012. Our effort to update the S&S24/Falcon 24 Section required we check in with Alan. Besides trying to find out if he knew of any other S&S24's or Falcon 24s in Australia we were interested in what it took to get his boat to Australia. Here is his reply (minor edits)
Hi Ron,
Great to hear from you. To answer you question - I am not aware of any other SS 24's or Falcons in Australia. I don't recall hearing of any that made the trip while I lived in NZ and certainly not heard of any since being here.. However that doesn't mean there couldn't be another one or two here? Who knows?

There was an S&S 24 in Waikawa Marina in Picton when I had my H28 charter boat there a year or so before I came back here to live.. Can't remember the name of it now though. It was an S&S 24 - not a Falcon (Webmaster Note: We are following up). Vining Ship Brokers has Coq au Vin (Falcon) listed for sale there at present. Mike Vining of Vining Ship Brokers was the guy who sold me the H28 and he might know if any other S&S 24's or Falcons are in the area? (this too!)

You also asked about getting my boat here. Before I came back here I was living in Whangarei which is about 160 or so kilometers north of Auckland, NZ. I had Blue Gum in a boat yard which was next to the cement works on a side road off Port Road. It was here that I commenced the restoration. I lived in a caravan (trailer in US) in the boat yard at the time. At the point I planned to move back to Australia to live I had the boat at the stage of being stripped out except for the built in GRP bunks and galley. She was sitting on a good steel cradle that the boat yard had provided. And I ended up owning the cradle!

Before shipping I obtained some extra steel and beefed up the cradle arms and welded props under the hull forward and aft of the keel so it couldn't tip forwards or back while in transit. I got some U shaped bar bent up and got them welded to the tops of the cradle arms to act as lifting points for boat and cradle. I put wooden beams across between the cradle arms to take the load pulling the arms inward as the lot was lifted with a crane.

I booked a place on a ship going to Brisbane from Auckland through a freighting agency in Whangarei called Worldwide Freight Management. The shipping line was Wallenius Wilhelmsen Lines and their vessel was named Taiko. This was the cheapest option I could find. Then I booked transport for the boat to Auckland from Whangarei with a Whangarei carrier. Blue Gum was craned onto a low loader truck for the trip to Auckland and the Taiko sailed the next day for Brisbane arriving 3 days later. Blue Gum went as deck cargo sitting on her cradle. I flew to the Gold Coast from Auckland the day the boat was shipped.

A couple of days after I arrived here I received notification of Blue Gum's arrival and contacted a local transport firm who transported the boat to where I live in Logan City. It took several days to organise customs and quarantine clearances before I could uplift Blue Gum off the wharf at the mouth of the Brisbane river where she had been unloaded. The whole exercise cost me about A$6000

Getting closer to relaunching. I can finally see the light at the end of the tunnel. :-) Have just finished laying the teak strips on the cockpit seats. Then I saw that Nadine also had her cockpit lined with teak. Her owner at the time and I obviously have some ideas in common. Haven't seen any other Falcon's with teak overlay in the cockpit....Blue Gum is now all painted on the outside from the waterline up and the computer-cut name is ready to apply. But rain currently slowing things down a bit here at the moment. Over 350mm of rain in the past week here so pretty sodden underfoot.

Hope all is well with you
Best wishes,
Alan

**********************
February 1, 2012. Gerald Sly was a past owner of Blue Gum. Developing....
February 15, 2012. Lest we think that he was slacking on the job Alan sent in the following proof of progress photos. New inlaid teak in the cockpit, painted deck and topsides. Take a peek at Alan's September 28, 2008 email and photo above.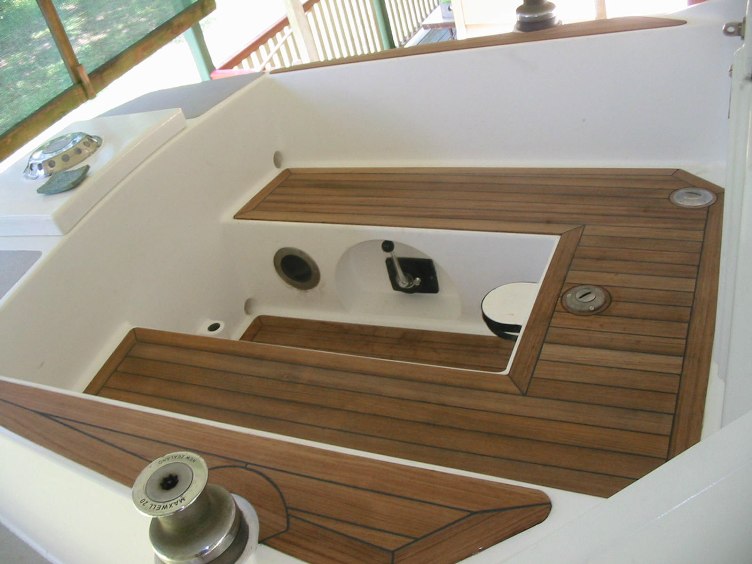 New inlaid teak - this kind of work is is humbling to most of us....
ditto above - but maybe we should have a committee meeting about that hatch handle?
Nothing bashful about this color scheme - this lady is making a statement
*******************************
September 18, 2012. Its hard to find the right words to describe what's going on with Blue Gum. The 1000 word picture is the best vehicle. Here is Alan's latest email and pictures.
Hello Ron,
Attached are several of my latest photos. More coming soon.


>Instrument panel and all electrics are now fully wired
>The holding tank is GRP using Isophalic resin and chopped strand mat. It empties by gravity through a valve and through-hull below it
>The cabin top lining is 4mm cedar glued to the GRP deckhead
>The forward cabin is now finished and just waiting for some repairs to the squabs to be completed by the upholsterer.
>There is a hinged settee back which is ready to be fitted in place against the settee back - you can see the hinge rebates below the locker front
>The toilet is the original Brydon Boy but I have remade the flap valves, replaced the duck bill valve, replaced the seat hinges, repainted the lid and seat and added an adjustable gland to the top of the pump.
>The dolphin windows are the leadlights I mentioned ages ago I was getting made.
>The galley is in the process of being painted and reassembled - photos later.
>Any questions I will be glad to answer


Best wishes
Alan

Note the hand rail above left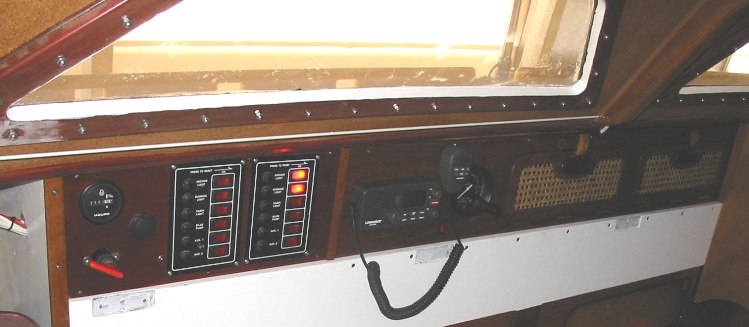 Instrument panel
We'll try and get some more detail on this holding tank - and we did - click here
Click here for larger images of the bottom two photos
********************************************************************************
September 24, 2012. Alan sent in pictures and description of his galley sink, its plumbing, and a really interesting fold down galley seat. We have also set these up in the Technical Section/Interiors with additional detail.. Click on the link below to go there.
Alan comments "The idea of two drains is so that the sink will fully drain whether heeled to starboard or port. With a central drain like most sinks have, you are left with a pool of water to mop out at the end"

For a larger views and additional detail on the plumbing involved we have added a page in our technical Section. Click here to go there.
The fold down seat is really interesting. A larger view and additional detail have been included with the sink and plumbing detail in the Technical Section. Click on the above link to go there.
*******************************************
October 8, 2012. Here's some pictures of Blue Gum's galley - some guys know how to treat their ladies, I'd say - and some comments about a miralcle fuel treatment that he has yet to tell us the brand name - we'll work on it (minor edits). This galley deserves to be in out Technical Section and we have set up a page for it there with some additional pictures. Click here to go there.
Hi Ron,
As promised some pics of the virtually completed galley attached.

What can one say? And this is a 24' er! Note the fold down seat in front of the sink

The area with the odd shaped cutouts you can see clearly above is the plate rack in case you were wondering :-) The rack to the right is a cup rack. The glasses rack is inside the aft rattan cane drop down door at the back of the galley bench. I used rattan cane in the doors to allow good ventilation through the lockers. The stove is the original kerosene 2 burner Primus stove.

I use a special fuel treatment product I get from New Zealand in the kero and I get no sooting on kettle / pan bottoms - even with the burner turned down for periods, so low it is barely going. The kero now burns at least as clean as gas! I also have a gimballed kero lamp with glass chimney (not installed yet) and use the same treatment in it. The glass stays clean very much longer without any sooting unless flame accidently gets turned up excessively high.

I use this treatment also in my diesel fuel and get no carbon build up inside the combustion chamber (will never need de-coking) and engine always fires on first compression stroke. (I had a BUKH 10 HP diesel engine in the H28 that I owned in 2000, and when starting from cold released the starter key as soon as the engine went over the first compression stroke and away it went. There is no glow plug in these engines either. All told I have been using this treatment in engines since early 1998 when I first heard about it). I have used this treatment in my 3 cylinder, one litre petrol powered car for the past 10+ years. It is probably 5 or 6 years ago since I changed the spark plugs and it still starts instantly. No winding over several times to start it even though I now have about 235,000 kms on the clock. The head has never been off - nor has it ever been tuned since I bought it when it had 95 000kms on the clock. It hasn't needed it! I do an oil change about every 20 000kms as the oil stays a lot cleaner for a lot longer. The oil goes dark brown over that time - but no carbon can be seen in it.

And one other good thing is that I get about 10% more power and 10% better fuel economy along with a smoother running engine and about double the engine life. Most wear in engines is caused by acid action - not friction as we have been lead to believe (sulphur in the fuel turns into sulphuric acid when it burns) and this treatment stops the acid forming,

Oh another thing - the exhaust system in my car is original. Still got the original mild steel muffler and exhaust pipe and doesn't look like needing to be replaced any time soon - again because there is no acid action anymore to corrode the pipe out.

Regards,

Alan       
Webmaster Note: I really don't want to buy this stuff as much as I want to buy the company's stock!!! October 13, 2012 update - the name of this additive is Powerpill FE3+
*************************************************
July 5, 2013. Alan sent in a couple of reports and now some photos of his standing rigging project which we have included in our Technical Section on Rigging (Click here to go there). His photo photo of his stemhead fitting/bow roller is so impressive we had to include it here, as well as his comments about it.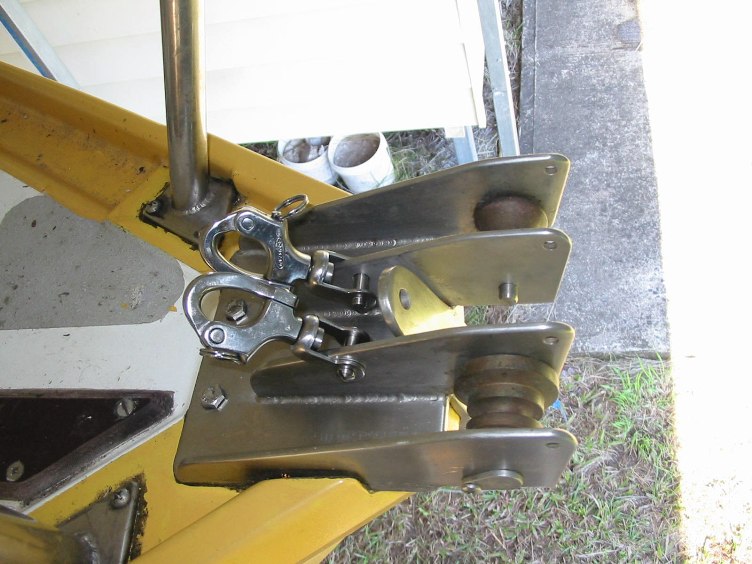 Awesome!
The Stemhead chainplate is original. The rest is what I designed and made and got welded together. The snap shackles attatch to the tack of the head sail. There are two so that I can have a sail fully hanked on ready to hoist as well as the one flying should conditions dictate a possible change up or down.

One bow roller is for all chain rode and the other for rope rode. The pins through the rollers have a flag and screw to hold them in place and to stop them rotating. There is provision to put a pin through the cheeks of the bow rollers to prevent the chain/rope jumping off the roller. The brown plate on the deck behind the stem head fitting is a wear plate made from Tufnol to take chain wear.

********************************************
July 25, 2013. Your Webmaster asked Alan to respond to a few questions regarding Falcon 24 construction - from the above one can see that he has a certain affinity for Falcon 24 technical matters. His answers are shown in a new page in our Technical Section - Falcon 24s. Click here to go there
**********************
October 3, 2013 Blue Gum was launched on September 30, 2013! The easy stuff was all the amazing work you see above. The hard part was getting her insured and on a mooring. This saga is memorialized in our Stories Section. Click here to go there. Pictures coming
*****************************
October 10, 2013. Here's some photos that Alan sent in of Blue Gum's launching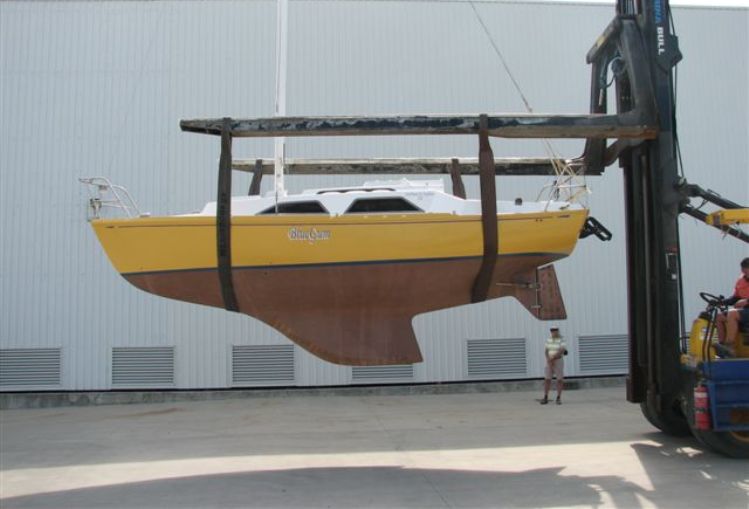 Note her offset port side prop
*************************
October 15, 2013. Blun Gum's relaunching after 12 years of work, and Alan's sharing of the detail of the varions project, is an inspiration to all of us - and your webmaster told him so. I recently got the following email from Alan (edited)
Hello Ron

Thank you for your nice comments on my workmanship. It has been a loooooooooong slog to get there though. Would have been quicker to have built a new boat LOL But one of the secrets of succes is to Never, Never Give Up! At least now I have a boat that is very sound and something I can be proud of being the owner of - and will soon be able to get out and enjoy it. (Got to finish the dinghy first but that shouldn't be more that another couple of weeks)

I think your idea of a (canvas) cover over the anchor is a good one - and I think if I find sheets fouling on it I will do that - but not a full cover - just over the head of the anchor and hold it in place with dome clips. Anyway we shall see what happens.

I'll try to take some photos of the inside of the boat with all the squabs in place and also some of the engine installation. I see you made mention of the port side propellor in one of the launch photos. I used a Gori 2 blade folding prop and also fitted a rope cutter in front of it which is detailed at the quick cutter website: http://www.quickwater.com.au There is a demo of how it works there. Best cutter I have ever seen. I have seen it demonstrated in action at boat shows and it works just like the demo shot - shears any line that gets around the prop.

Regards,


Alan
Alan also sent in some information and comments about his Depth Sounder (down under referred to as an echo sounder) We set up a seperate page for this in our Technical Section - click here to go there.
********************************************
November 7, 2013. Alan is building a wood dinghy and we have set up a page for it in the Technical Section. Click here to go there.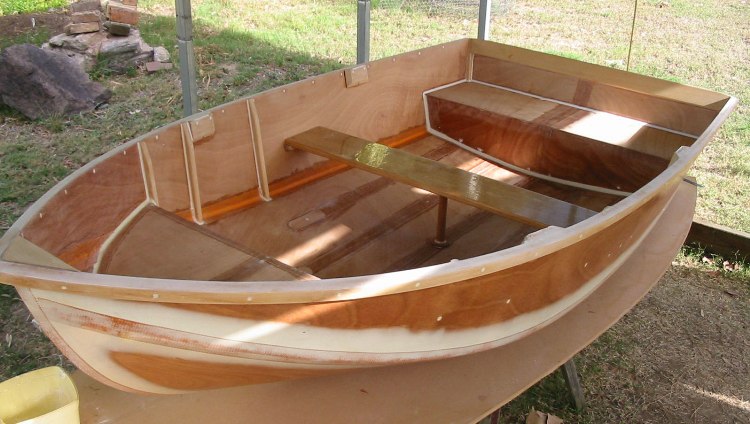 Still a work in progress - we'll put the finished photo right here
June 26, 2014. Alan sent in a update, and a photo of his finished dinghy. Here she is...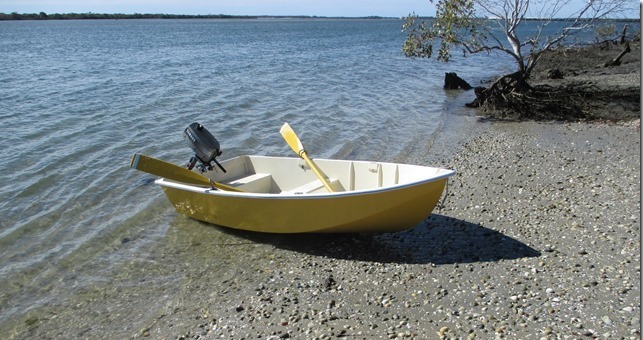 Now we need a picture of her sailing - Click here to go to Blue Gum's Dinghy - Technical Section
Hello Ron,


Finally have got a photo of Blue Gum's Dink while I was out sailing today.


Sadly I have not been able to sail her as much as I would like. I have quite a number of people who say they would love to come for a sail – but trying to pin people down to an actual day has been really difficult. I have tried advertising too without any success at all. I have been out on my own several times – but much prefer to have some company.


I have to say that the Copper/Epoxy antifouling that I used has worked better than expected. I do get some slime – but no barnacles at all. It is 5 months since I hauled and water-blasted and the boat has only been day sailed about 6 times since then. The rest of the time it has just sat on the mooring. Today she was still sailing pretty well so looks like the slime build-up is minimal. Smile

Regards
Alan

*********************************************
March 18, 2016. Its been a while and we wondered what Blue Gum was up to. Here is Alan's reply (minor edits), and a "how to" on compasses.
Hello Ron.


Thanks for your e-mail – nice to hear from you. Poor Blue Gum has not been used very much in the last year due to factors such as difficulty finding crew, the area here consisting of narrow, shallow channels making it not conducive to sailing very much, and my health. I get quite tired at times.

Also I got into radio control model aircraft and joined the local club – an interest I have long had.

However early in the year got an e-mail from my younger son, Dave, who currently lives in Wellington NZ, saying he would like to take Blue Gum cruising with his family for about 6 months on the coast here. So I have been busy building a removable table with hinged sides for the cockpit, measuring up and ordering a cover for over the boom that can be set up either fairly flat or tied down like a tent with gutters on the edges to catch rainwater, along with rebuilding a horizontal axis, wind vane self steering gear that has sat around for years.

I also have covered the paddle-wheel for the log with copper shim to reduce the need for it having to be pulled and cleaned regularly.

The Silva grid compass developed a leak last year as well as having the balance weight drop off the needle.. On pulling the compass bowl out of the gimbals found that the rubberised plastic diaphragm that allows the expansion/contraction of the fluid had split. In fact it had gone completely rotten. I started looking for another grid compass – but alas no one makes them any more. What to do?? I am not at all a fan of conventional compasses. Grid compasses are so much easier to steer a course with and I don't understand why they are not more popular. Anyone who has used one swears by them!

I did a search on EBay and found a second hand Saura grid compass in USA – but then realised it would be balanced for the northern hemisphere – so no good here.Then I was notified of a Sestrel grid compass in Victoria, Australia. The seller told me it was 30 years old but had sat on a shelf in his garage and not been used. He was wanting A$450.00 for it. It looked as good as new from photos so I put in a bid for it and was successful.

On arrival found that in transport one of the grid lines had come detached from inside it and was floating around free. Obviously the glue holding it in place had deteriorated with age. I contacted a compass repairer to see what it might cost to repair and his reply was it would be uneconomical to do so and the seller wasn't willing to pay repair costs. So had to send it back and get a refund.

Then I looked at seeing if there was any way to repair the existing Silva compass since they are a sealed unit held together with a swaged brass band. As I am an engineer and have a lathe was able to carefully machine off the brass band and get it apart. I then got a piece of brass bar and machined it up and then soldered on a corrugated copper shim to the bottom for a diaphragm. I glued on a new balance weight to the needle then epoxy glued the brass base in place. Took a few goes to remove all the bubbles when I refilled it – but seems OK now - and no leaks.

How's things with you and your boat? (response - 2015 was a quiet year - but we did have great start http://dolphin24.org/marionette_osc_spring_series.html)

Regards,
Alan
Webmaster note: My compass on Marionette has a small bubble in the fluid on top - a replacement is about $250 new. I wondered what Alan would do?
March 20, 2016 Alan's reply (also, make yourself a nice drink, type 'air bubble in my compass fluid' in your browser, and read....)

Is there a screw plug in your compass where you could add fluid? You'd need to know what the fluid is to top up with the same type.

The manufacturer should be able to help you there.Some use alcohol or an alcohol/water mix, some use white spirit, some use parrafin oil (lamp oil) etc.

I used a blunt end hypodermic needle and syringe to put the fluid in. I used lamp oil – also called refined kerosene I understand

re: Blue Gum's cruise - Dave and family plan on keeping a log and videos of their trip. I suggested he writes some articles for the local boating magazines detailing their adventures. I think he also plans on assembling the videos he takes.

Regards,


Alan
This subject has made it to our Technical Section - click here to go there
*************************************
October 15, 2016. We got the following update and photos from Alan.
Hi Ron,

Here are several pics of Blue Gum on the hard in preparation for my son Dave and family to take her cruising.

The self steering gear was designed by Bill Belcher who years ago was wrecked on Middleton Reef during a Trans-Tasman yacht race from New Plymouth to Moolooba. Well known Kiwi in yachting circles in NZ. I bought the gear second hand years ago.




"George"


The vane rotating mechanism was way overbuilt and I modified it to make it a lot lighter. Also the vane axis was horizontal originally and modified it to an inclined axis vane of 20 degrees as all modern self steering systems are. While a horizontal vane works OK – it does have an issue of over steering the boat when running before the wind. With the 20 degree inclination of the vane axis it will steer a good course downwind.

Blue Gum is now back in the water and temporarily based in Manly Marina in Brisbane before they take off cruising. Dave, his family and I have done a number of sails to get them familiar with everything and also test out the self steering gear.

I have to say I am thrilled with the performance of "George". On all points of sail it steers a very good course. Even on a dead run which is the most difficult point of sail for a self steering gear to cope with, our heading didn't vary more than about 10 degrees either side of our track made good in 10 to 15 knots of breeze and ¾ to 1 metre seas on Moreton Bay.

The awning can be set up as a tent as in photo (below) or out relatively flat with PVC tube battens. It can also act as a water catcher with a pocket along the bottom edges acting as a gutter. It makes a significant difference to the temperature below in the climate here. Dave also bought a wind chute that catches the wind from any direction which mounts in the forward hatch.





Dave has 3 children all boys aged 8 yrs, 5 yrs and 10 weeks. Their names are Daniel, Finley and Zacharia. Dave is calling the record of their cruise "Five on 24".

The elder two boys have taken to living aboard and sailing, like ducks to water. The last couple of trips out the boys have sat on the lee rail with their legs over the side laughing and shrieking their heads off as the waves wash over their legs - as kids do when they are having lots of fun. Last time when we got back the two boys were in the dinghy with Dad while he rowed the dinghy to a vacant pen to haul it out. After Dave got out of the dinghy and before he hauled it Finley took the oars and tried rowing the dinghy. Dave saw it and put on a much longer painter. I was amazed at how well Finley managed considering this was the first time he had tried doing that. He will be a good sailor one day no doubt ??

Regards,

Alan

WebMaster Note: have included these self steering gear comments and photos in our Technical Section. Click here to go there for latest update December 24, 2016.

And, we standby for "Five on 24"!!

**********************************
November 11, 16 and December 5, and 24, 2016, We got several sailing reports with photos from Alan and the adventures of FiveOn24. We decided that this was more properly set up in our Stories Section. Click here to go there.
*********************
February 3, 2017. Last chapter on the Fiveon24 cruise. Click here to go there. And, Blue Gum is for sale! Standing by for details
*******************************
March 28, 2017. Cyclone Debbie is hitting the Northeast coast of Queensland and Dolphin Central staff issued a 'keep your head down" warning to Alan and Blue Gum. This prompted a down under update.
Hi Ron,


Thanks for the advice LOL.

Debbie is a Loooooong way north of here. There are no effects from it here at this point in time. It is forecast to come south over the next week or so – but will be much weaker by then, hopefully. Blue Gum is safely tied up in Manly Marina still.

Cyclone Debbie location 8PM, Monday, March 27, 2017 east coast US time

Brisbane is 14 hours ahead - Tuesday 10AM

My mate Terry from the back street and I took Blue Gum out to Tangalooma on Sunday (Check it out - Dolphin feeding island east off the coast of Brisbane). It was a totally windless day so motored all the way (5 hours). Watched the wild dolphins there being hand fed by guests of the lodge there on Sun evening. Left about 7am Monday and sailed back to Manly.

Wind 8 – 12 knots from the SE which meant hard on the wind all the way. Had the self steering set and it was a good ride all the way back. Terry caught a small shark on a lure – but the line broke just as he got it to the boat.

Planning of going to Dunwich soon – but next weekend looking like Debbie might put paid to that. Debbie is the first cyclone this year – although they did forecast a more than average number of cyclones this summer. It is almost the end of cyclone season now (Nov – April).

Best wishes,


Alan

****************************