January 3, 2015. Lon Zimmerman (Blue Dolphin, Yankee #246) asked that we put together a page that collects our various comments, to date, of heavy weather sailing. Of course, this is a subjective term, but we all know it when we experience it - even if our blood pressure levels vary. We encourage more Dolphin owners, or their crews, as memory often fails in these matters, to contribute their comments.
Heavy weather sailing probably does not have boat speed as a primary consideration but getting to a safe anchorage before it gets worse might be a way of looking at this matter. Running before a strong breeze might not be an option - usually is not for most of us who are coastal sailing - and, if coastal sailing, we usually have the option of staying in port with heavy weather in the forecast!
Lets ease into this subject with some comments first about sail trim/heeling upwind sailing in a breeze. While not heavy weather per se those of us that race our Dolphins are interested in max speed and a specific destination - and at higher winds this involves reefing and jib selection. We have a page in the Technical Section http://dolphin24.org/sail_comments.html and here we extract/excerpt some of the comments from that section
Stan Secora's 140% genoa and reefing on Long Island Sound and off Block Island
Stan (JATO, Marscot/O'Day #7) was a marine architect, and avid racer in his Dolphin that he bought new in 1960. Locally, he was a friend to many sailors and a 'technical advisor'. Here in Long Island Sound we often have light conditions until the sea breeze comes in - some times, it is a reefing breeze. He told me his favorite sail was his 140% genoa. In a building breeze he liked to progressively reef, then double reef, then drop the main entirely, sailing on the 140 alone. Here is JATO and her perfectly trimmed 140.
Your webmaster experiences support Stan's comments, although I've never taken Marionette (Marscot/O'Day #12) down to no main and a jib. Here what we have to say on sail trim/reefing:
When a Dolphin starts to heel excessively she is 'unbalanced' with too much pressure coming aft - from the main.. As wind increased this is the progression

1) ease off/play the traveler in the puffs
2) put in 1st reef, traveler centered
3) ease off/play the traveler
4) put in 2nd reef, traveler centered
5) ease off/play the traveler
6) drop the main (NOT THE JIB! yet!)

Personally, at this point, I think we would/should have started with our smaller blade sail, about 7/8ths of the fore triangle (picture left) . When I am by myself or short handed, and expect the breeze to pick up I start with this smaller sail. We don't lose much and the mental comfort level makes up for any lost speed.

Marionette does not have a furling jib system. Probably just too cheap but a local story a few years ago of a couple sailing their 35'er on Long Island Sound on their way south for the winter did not help.

Seems they ran into some heavy weather in the middle of the Sound, and their furling system jammed. Then the flogging sheets knotted and the situation turned into a nightmare...
We had, on an earlier boat, a 140% heavy weight jib that was 'reefable' from the cockpit. The jib halyard was led back to the cockpit, a line tied to a tack grommet about 18" above the normal tack grommet and led through a block shackled to the stemhead fitting, and led back via another block shackled to the starboard chainplate fitting to the cockpit. We used a double set of sheets with the second set led to a clew grommet maybe 4' up the leech of that jib. We then could reef the jib as necessary. First, lower the halyard and keep the same lower sheet lead, then as the wind builds, change the sheet leads to the higher clew. That sail had reefing grommets in the sail along the line from the reef tack to the reef clew so an adventuresome crew could tie in the loose foot of the sail. Even if not tied in, with the old lower sheets snugged, the bottom of the sail did not flog - didn't look very pretty but....

If typical conditions in your sailing area lead to 25 knots or so later in the day, then setting up the boat for jiffy reefing from the cockpit would be well worth the effort, and the relatively nominal cost.

Dolphins don't like going to weather in a mean chop - those nasty 2-3'+ steep, closely stacked waves. This usually means there is a reefing breeze, and when reefed, Dolphins often don't have enough sail area up to punch through the waves. Easing sail and close reaching will often give better results but it hurts to see other bigger boats pointing higher. Reefed with less heel but pointing higher is slower and requires closer attention to the helm - steering through the waves is an art form - probably genetically derived..

A comment here on auto pilots - downwind in a big breeze they, at least mine, can't handle the big waves and tendency for the boat slew/surf. The transom gets lifted and the rudder less effective so the auto pilot over compensates to get back on what it thinks the course should be. A helmsman can anticipate the wave action, and go with the surf angle to maintain control then get the boat back on course.

I have practiced lying a hull but not in a really strong breeze. This is now a New Year's resolution....

In researching this practicing bit I found this interesting website article titled

Heavy weather tactics for coastal sailors

http://www.coastalboating.net/Cruising/Seamanship/HeavyWeatherTactics/HeavyWeatherTactics.html

************************************************
Speaking of auto pilots Doug Pease (Aspara, #153) has a short video in which he talks about sailing his Dolphin upwind without an autopilot - even in heavy seas http://vimeo.com/29943157 He comments further about Aspara in a breeze
I think you're on the mark regarding keeping the boat flat. I love to sail Aspara on her ear, with a tuck in the main, and the jib furled nicely. In the winter here we get here (20-25 knots). I think the boat is fantastic on these days.

I'm from the central coast and we only know days like these, so it's a lot of fun. The truth is, she really goes fast when she's flat, when the wind is ten knots, and the roach on the main gives her some lift without torquing the tail and tweaking the rudder.

Fortunately, those conditions are commonplace on Santa Monica Bay, so we go pretty fast a lot of the time, from May to September. However, I only really get that warm reverence for the boat when she's loaded up, when no one else is on the bay, and the gray thunderheads are clambering down, and the toerail is dipping, going "Scoot, Scoot...I can do more, I can do more..." As a Northern'er, that's when I love this boat...

**************************************************
Ok, so we are probably not yet into what real sailers call heavy weather. Here is a

letter was from Charlie Nogel (Kiwi, Yankee #107) published in the January, 1978 issue of Pacific Skipper magazine. It is an amazing account of this Dolphin 24 sailing in the South Pacific. Charlie was a blue water sailer and refers to heavy weather as

'lumpy" enough to "lash down the tiller and lie under bare poles

"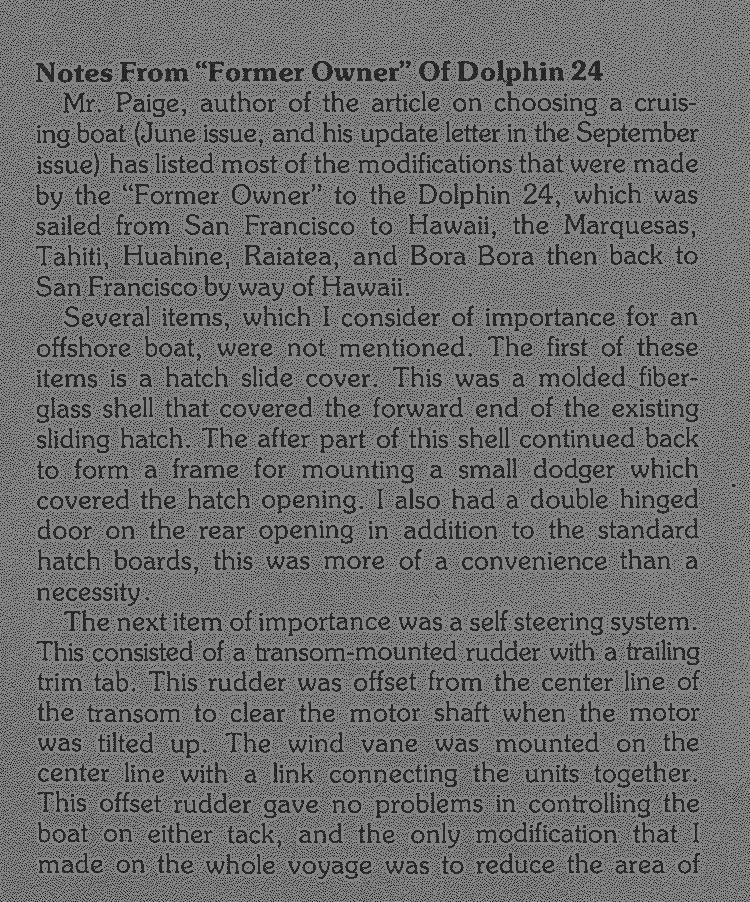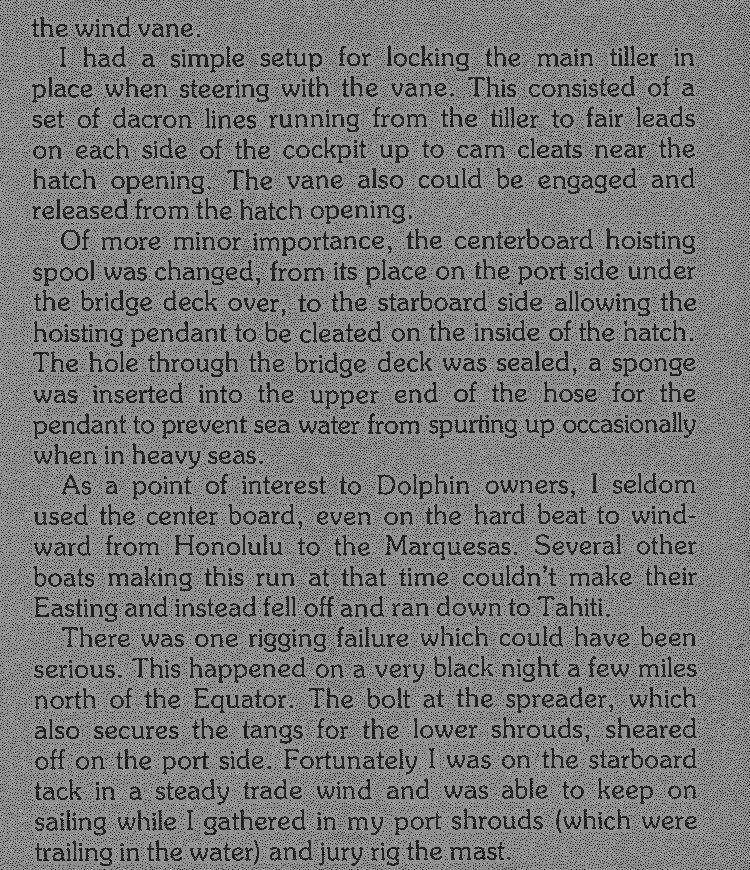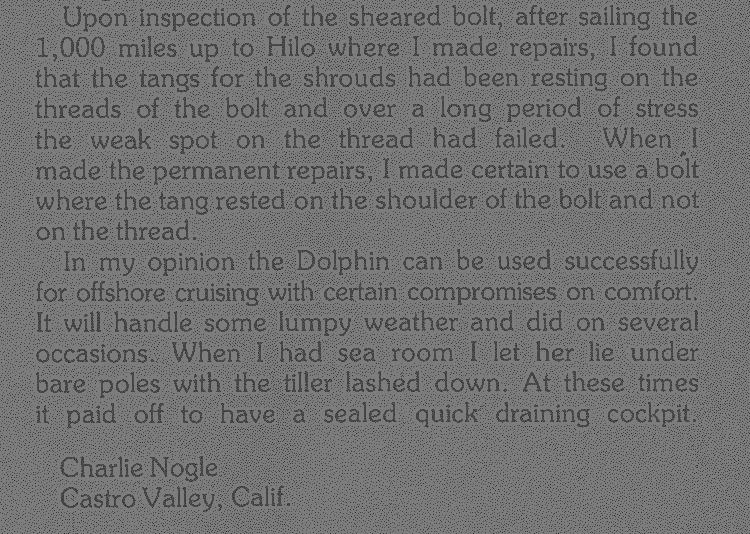 *********************

Former owner Simeon Hyde, Tern, a 1972 Yankee

sent in a short comment confirming Charlie's comment about 'under bare poles

',

and also acomments about furling jibs,

and his 'handkerchief jib'
"...I disposed of the old style wire luff furling jib (Schaefer ?), which I could not carry upwind successfully and was miserable when partially furled. I got satisfying performance with a lapper, non-lapping working jib, an storm handkerchief, used only once with a double reefed main. Lying to in a storm works well with a Dolphin"

***************************
About 4 years ago John Wadmann, whose Barbara Joyce, Yankee #141 is no longer with us, emailed us with part of the story of his cruise from Mission Bay, California to Cartagena, Columbia
I owned Yankee Dolphin hull # 141 which I bought in King Harbor, Redondo Beach, CA in the mid 80's. I gutted the main cabin with a sawzall and built a nice teak interior. I built a propane locker in the forward end of the cockpit footwell with a teak lid which reduced the size of the footwell for offshore sailing. I mounted a Navik self-steering vane on it and got an Autohelm 1000. I added a small solar panel also and rebuilt the entire rig.

The mainsail and working jib were original and I added a 155 genoa, a 120 reefable genoa, a storm jib, and a cruising spinnaker. I also added a set of self-tailing lewmar winches on the coamings and moved the original winches aft a bit as secondary winches. In November of 1987 I set sail from Mission Bay on a five year cruise thru Central America, the Canal and into the Caribbean. What a great boat!

On a trip from Newport Beach to Mission Bay (bouy to bouy) the boat averaged 6.6 knots on a broad reach in light to medium air. In a winter storm off of Isla Guadalupe, Baja California, running under a storm jib alone, the boat took three knockdowns in one night but popped right back up and just kept on going. That was early on in my cruise and really solidified my faith in the construction and design of the boat. I can't think of a better pocket cruiser for the money. . . attractive design, good speed for her waterline, tough.

I'm amazed that Old Boat Magazine hasn't featured the Yankee Dolphin or Pacific Dolphin (they did! - in the Sept/Oct issue 2005 click here to go there) I named her after my mom as a promise to her before she died of cancer. . . Barbara Joyce. She was ultimately destroyed by an arsonist in Cartagena, Colombia.

I would encourage any young person or couple who want to go cruising and go NOW to find one of these boats and do some light modifications and take this boat ANYWHERE! I endured some heavy seas in winds gusting to 50/55 over a 12 hour period while running under storm jib and with the navik self steering vane steering. I was a few miles inside of Isla Guadelupe, Baja California. I averaged just over 7 knots over the bottom for this period. I felt that the boat handled it better than I did.
January 6, 2015. Steve Ludwig, (El Huachinango, Yankee #80) adds the following
Ron,
I just read the heavy weather section you added to the website. Lots of helpful info there. Thank you.

I would like to add my two cents...for whatever they're worth. The Yankee Dolphin was the first yacht I ever owned and she proved to be very forgiving to this newby. I do have an adventurous, stupid nature and quickly put our boat through the paces early on. You and I corresponded a few times when I ask about an appropriate sail plan for 30 knots winds on a close haul. You responded by telling me to hoist the "iron sail". This was good advice.

My point being is the Yankee, being a tender boat, doesn't like to go to weather when the wind pipes up above 25 knots in my experience. She does love to sail off the wind and does so gracefully even in heavy seas. I've had her out in 10ft seas and 20 plus knot winds and the cockpit remained dry, granted these were long period seas not steep, short period seas. I would not feel comfortable sailing her in heavier conditions without making some modifications, like those suggested by some on your website.

What I've learned from sailing her is she likes to sail downwind and can carry a full main and a working jib up to 18 knots while going to weather, before having to reef. After that one should go quickly to the second reef after 22 knots. Remember I'm referring to going to weather, one could probably hold off longer sailing downwind as the relative wind speed is less. I have also found that she likes the ocean and swells better than flat seas when the wind picks up. I'm not kidding. Other people I have sailed with on her have noticed it as well.

I've noticed she lifts up significantly going to weather in 12 plus knot winds. I've had relatively smooth sailing in short period 5-6 ft seas with wind over 14 knots. I don't know if any of this helps, but it has been my hard learned experience that I came to this conclusion.

In a nut shell The Yankee Dolphin is a solid offshore pocket cruiser for coastal cruising that needs to be reefed early and often when the wind picks up. She's tender with her shallow draft and narrow beam, but that is a good thing in terms of less stress on the standing rigging and increased dynamic stability. But by no means do I think she is suitable for serious offshore passage making without making some modifications like sealing the cockpit lazarettes, adding cockpit drains and making watertight hatches that could survive a capsize...God forbid!

The following experience may put things into perspective. I was in heavy weather this summer helping Peter Heiberg, the barn door winner of the SHTP 2014, deliver his yacht from Vancouver, BC to San Francisco. We were 125 miles offshore in sustained 45 knot winds with gusts to 55, the seas were 14ft 9 secs with a significant wave height of 28 ft. We endured those conditions for 24 hours and had to hand steer, just the two of us as the third crew member was incapacitated. We experienced boarding waves that knocked you down and soaked you through your foulies. Needless to say we were all on edge and very tired at the end. And this was on board a S&S designed Palmer Johnson 50 that displaced 35,000 lbs.

After that experience I conclude that there's not many people who could stomach sailing in those condition in a 24 ft Yankee even if it was modified and survived a capsize. I know some people think they know what heavy weather is, but until one experiences it, they don't have a clue.

Sincerely,
Steve Ludwig
Huachinango

To be Continued