November 5, 2021 - William Enoch checking in as the new owner of Blue Dolphn.
Hello Ron-


I'm checking in as the newest owner of Blue Dolphin, Yankee #246. She's berthed in Bellingham, Washington, spends the summer months on a buoy on Lummi Island where I live, and sails among the San Juan Islands.

Blue Dolphin has had many owners over the years, leaving me with a fairly perplexing array of modifications. I'm wondering if the seasoned members of the group might offer some information on the structure of the "shelf" in the attached photo, located mid starboard berth. I'm inclined to cut a slot in the face of this structure to serve as a pocket for charts. The top surface seems somewhat structural, the face not so much. Bad idea?

Thanks in advance,

William Enoch

Webmaster replies - will have to clear this with legal but its probably ok.

I suggest posting this question up on the Dolphin 24 Facebook Forum https://www.facebook.com/groups/752953264811808.

AND

Welcome Aboard William!!

*****************************

*****************************************

*************************

This is the history we have on Blue Dolphin

November 22, 2020. Phil advises Blue Dolphin has been sold. We standby for the new owner to check in.
FAIR WINDS PHIL!
******************************************
November 17, 2020 We have the following update from Phil (also See Oct 31 posting)
Ron,

I would like to make 2 changes to my "Blue Dolphin" ( #246 ) For Sale Ad

1. Lower asking price to $7,000.

2. Add the attached photo of Blue Dolphin being splashed last Friday (11-13-20) after getting a $1,000 fresh professional bottom paint job.

Phil Schofield
360-319-8182; email: philschophoto@comcast.net

******************************************
October 31, 2020. We got the following email from Phil (minor edit)
Ron

I am selling my 1971 Yankee Dolphin " Blue Dolphin". This enduring pandemic economy has been pretty hard on my business and though we are still OK I need to liquidate a few non essentials. There have been more that $14,000 in upgrades and new equipment since 2017. A detailed list is below as well as a couple of photosphotos.

Blue Dolphin is currently Moored in Squalicum Harbor in Bellingham, WA and is scheduled for a haulout and fresh bottom paint.

Asking price is $8,000

Phil Schofield
360-319-8182; email: philschophoto@comcast.net

November 6, 2020 Here's the link to Phil's Craigslist ad

https://bellingham.craigslist.org/boa/d/bellingham-yankee-dolphin-24-sailboat/7222947315.html

*****************************************************************
August 12, 2019. Phil Schofield checking in as the new owner of Yankee #246, Blue Dolphin.
Greetings,

I am now the newest owner of "Blue Dolphin" YD 24' most recently berthed at Port of Everett, WA. Mr. Lon Zimmerman was the owner who made all the modifications and upgrades when it's home port was Port Townsend, WA. On the registration it is listed as Hull # 264 although there is a no builders plate in the main cabin with that information. (Webmaster note: must be a registration typo - we'll go with #246)

I purchased the boat on an eBay auction by a non profit charity that was given the boat as a donation by Eric Gordon. In my 37 years of sailing, this my 12th sailboat: clipper 23, 3 different Ericsons ( 25, 25+ and 28+ ), Compac 23, Yankee 26, Tartan 30, Cape Dory Typhoon, Bristol Corsair, Sea Sprite 23, Townsend 30 and now the Pretty little blue hulled Yankee Dolphin. This boat was featured in an article about Yankee Dolphins in a magazine called "Small Craft Advisor" and it adorns the magazine cover of the Nov/Dec 2015 issue. Webmaster Note - we have it! Click here to see the article

Mr. Zimmerman made some very interesting modifications starting with the transom mounted 6hp OB, roller furling, new custom made dodger, beautiful dark blue hull, Custom engraved bulwarks, round brass opening ports and a composting head. I would like find out how I can become a member of your organization. (Webmaster Note: you're in!!)

" "Blue Dolphin" will be moored at at it's newest home port of Squalicum Harbor in Bellingham, WA. I have attached a copy of the Small Craft Advisor cover featuring the " Blue Dolphin"

Best Regards,

Phil Schofield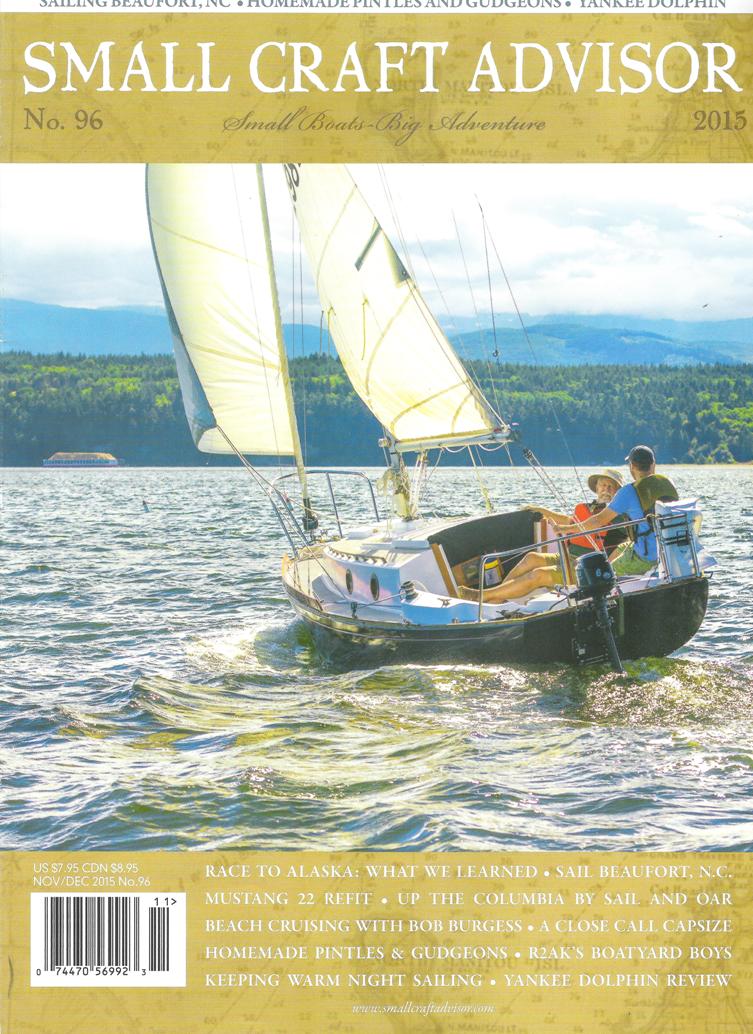 Welcome Aboard Phil!!
Fair Winds Eric!!
***************************************
***********************************************************
************************************
This is the history we have on #246, Blue Dolphin, up to this point - get a drink, long story.....
August 23, 2017. We got the following email from Lon Zimmerman (edited), and stand by for Eric Gordon to check in
HI RON,

BLUE DOLPHIN HAS BEEN SOLD. HER NEW OWNER IS ERIC GORDON. HE PLANS TO MOVE BLUE DOLPHIN TO THE EVERETT, WASHINGTON HARBOR NEXT WEEK. I THINK HE WILL BE INTERESTED IN JOINING THE DOLPHIN WEB SITE.

THANKS AGAIN FOR YOUR HELP IN POSTING HER FOR SALE. MUCH APPRECIATED. I HAVE DOWNSIZED TO A COMPAC 19 THAT SUITS MY NEEDS.

BEST.

LON

Fair Winds, Lon!

Welcome Aboard Eric!
August 29, 2017 Eric Gordon checking in
Hello Ron,

I just went online to do more research of my beautiful new Yankee, (hull #246) and I see Lon already updated you. I was pleased to see my name as the owner, thanks for the warm welcome!

I am proud and truly thrilled to own this classic boat, she sailed beautifully from Port Townsend to Everett on the 8 hour journey. Lon has taken wonderful care in bringing her back to life, and I am looking forward to many wonderful days on the water.

Thanks again!

Eric
Postscript (minor edit)
I plan to keep her name. I have attached a picture of the dolphin sitting in temporary moorage after we arrived, and one from the starboard side during the trip. (A faint Mt. Rainier in the background) I will try to get a nice one of her under sail when I can. I'm excited to be a part of the Yankee owners' group - I didn't realize I was buying a piece of history when I stumbled upon this beauty. Have a great day,

click on the photos, then click new screen picture again for a larger image;

click the return arrow on your browser to get back here

**************************************
*******************************
**********************************************************
********************
This is the history we have on Yankee #246 up to this point
July 21, 2017. Blue Dolphin is FOR SALE. Below is a copy of Lon's Craigslist Ad https://seattle.craigslist.org/kit/boa/d/sailboat/6227024082.html
VERY NICE YANKEE DOLPHIN 1971, HIN#246.
THE PRICE IS $7,000.
BOAT IS IN PORT TOWNSEND , WASHINGTON WHICH IS JUST NORTH OF SEATTLE.
Contact: Lon Zimmerman at zimco@ymail.com
HERE IS A LIST OF WHAT HAS BEEN DONE.
NEW STANDING AND RUNNING RIGGING; BOOMKICKER
Garelick EEz-In Aluminum Auxiliary Motor Bracket for 4-Stroke Motors
BRONZE OPENING PORTLIGHTS -TEAK TRIM W/TWO SCREENS
NEW STANDING AND RUNNING RIGGING; CDI ROLLER FURL; LIFE SLING
BOARDING LADDER; ORIGO STOVE; C-HEAD COMPOSTING MARINE HEAD
6HP LONGSHAFT OUTBOARD; MAHOGANY BULWARKS
CBC (GSP-40) 40 Watt Semi Flexible Solar Panel; MAHOGANY SHELVES W/BRONZE RAILING
TROJAN 12 VOLT DEEP CYCLE BATTERY; NEW DODGER
NEW MAINSAIL COVER; LED INTERIOR LIGHTING

Hull Type: Keel; Rig Type: Masthead Sloop
LOA: 24.16' LWL: 19.00' Beam: 7.67'; Listed SA: 295 ft2
Draft (max.) 2.83' ; Displacement: Ballast: 1650 lbs. .
Sail Area/Disp.1: 18.04 Bal./Disp.: 38.80% Disp./Len.: 276.62
Designer: Sparkman & Stephens Builder: Yankee Yachts Inc. (USA)
Construction: FG; Bal. type: Lead

RIG AND SAIL PARTICULARS KEY
SA(Fore.): 138.38 ft2 SA(Main): 156.27 ft2
Sail Area (100% fore+main triangles): 294.65 ft2
Sail Area/Disp.2: 18.02 Est. Forestay Length.: 32.04'
Click on the photos above for a larger image
************************************************
*********************************************************************
June 12, 2014. Lon Zimmerman checking in as the new owner of Yankee #246.. Our most recent information was that this was Martin Singleton's Alyssum homeported in Olympia, Washington. Lon's email/postscripts are below (minor edits)

HI RON,

I JUST PURCHASED A YANKEE DOLPHIN 24. THE TITLE SAYS IT IS HULL NUMBER 246. I HAVE NOT FOUND THE ACTUAL NUMBER ON THE HULL YET, BUT I WILL.

NO PICTURES YET, SHE HAS SUFFERED BENIGN NEGLECT FOR SOME TIME AND SHOWS THE RAVAGES OF OF MANY SEASONS IN OLYMPIA WITHOUT TLC. I BOUGHT HER IN OLYMPIA AND MOTORED UP TO PORT TOWNSEND WHERE SHE WILL BE BERTHED. IN THREE WEEKS, I WILL POST "AFTER" PHOTOS.

I NOTICED THERE WAS CONFUSION ABOUT HULL #246. JEFF GABLE CLAIMED TO HAVE IT , THEN CHANGED HIS MIND TO CLAIM HULL #267. IT WOULD BE GOOD TO CORRECT THIS IN THE HULL NUMBER ROSTER. ELIMINATE THE ERRONEOUS CLAIM TO HULL #267. DONE!

LON ZIMMERMAN
PORT TOWNSEND

Postscript INTERESTING TO PIECE TOGETHER WHAT EVER HISTORY IS POSSIBLE. THERE IS A PLAQUE IN THE SALOON WHICH SAYS "SECOND PLACE IN THE AROUND THE SOUND RACE - 1973". BE FUN TO KNOW WHO WAS DRIVING THE BOAT AT THAT TIME.

THE STANDING RIGGING LOOKS QUITE NICE. I AM CURIOUS IF ANY PAST OWNER MIGHT KNOW IF IT HAD BEEN REPLACED?

JODY SMITH SOLD ME THE BOAT. HE SAID THAT PRIOR TO HIS OWNER SHIP THE BOAT HAD SAT UNUSED IN OLYMPIA FOR ABOUT TEN YEARS. JODY USED IT OCCASIONALLY FOR THE PAST COUPLE OF YEARS . WHEN I BOUGHT THE BOAT, THERE WAS NO NAME ON IT. APPARENTLY IT WAS NAMED ALLYSSUM AT ONE POINT.

I PLAN TO PUT HER IN FINE CONDITION AND USE HER QUITE A LOT. HER NEW NAME WILL BE "BLUE DOLPHIN".

Post postscript

THE BOAT WILL BE BLUE SOMETIME AFTER THE 15TH. I AM IN THE QUEUE FOR HAUL OUT HERE IN PORT TOWNSEND. I HATE TO HAUL OUT IN THE SUMMER - THAT IS WHEN WE SHOULD BE SAILING, BUT THIS BOAT NEEDS SOME ATTENTION SO I WILL REPLACE THE THRU HULLS, AND DO SOME PAINTING. WE HAVE BEEN WORKING ON THE TEAK WHILE WAITING FOR HAUL OUT.

Welcome Aboard Lon!
January 3, 2015 ppps Lon just sent in these before photos. Click on them for a larger view
June 18, 2014. We got a couple of emails from Lon regarding thru hull fittings and cockpit drains which we have also posted in our Technical Section on this subject. Click here to go there.
I JUST FINISHED READING THRU THE COMMENTS ON THRU HULLS. BLUE DOLPHIN'S THRU HULLS LOOK LIKE SOME OF THE BAD PHOTOS POSTED. I PLAN TO ELIMINATE THE TOILET THRU HULLS AND USE A COMPOSTING TOILET.

HAS ANYONE TRIED PUTTING THE COCKPIT DRAIN VERTICALLY AT THE REAR OF THE COCKPIT SO IT WOULD DRAIN TO THE OUTBOARD WELL? THE FLOOR IN THE OUTBOARD WELL SLOPES DOWNWARD AND AFT AND THERE IS ALREADY A DRAIN OPEING AT THE AFT END OF THE MOTOR WELL. I HAVE SEEN THIS DONE ON MONTGOMERY 17s AND IT WORKS WELL.

I PUT A LEVEL ON THE COCKPIT FLOOR OF MY BOAT AND IT SHOWED IT TO BE LEVEL. IT MIGHT BE POSSIBLE TO CAUSE DRAINAGE IN COCKPIT TOWARD THE MOTOR WELLDIAGRAM BELOW TO SHOW REAR COCKPIT DRAINS INTO MOTOR WELL.

LON
PORT TOWNSEND
Click on image for a larger view
Webmaster Note
: The cockpit drain thru hulls issue is one of my favorite worries. Marionette has a different type of transom well but that's no excuse. More comments on this subject are included in the Technical Section - click link above. And more comments from readers are solicited.
********************************
September 23, 2014. Lon and your webmaster had an exchange of emails - see below. (minor edits)
HI RON,

I READ THROUGH THE CURRENT INFO ON OUTBOARDS. ONE ISSUE NOT MENTIONED IS LIFTING THE ENGINE OUT OF SALTWATER AT THE END OF THE DAY. WHEN I LEFT MY TOHATSU 4HP LONGSHAFT IN THE WELL DURING A FOUR DAY TRIP, THERE WERE SIGNS OF CORROSION. NOW I HAVE BEEN LIFTING THE OUTBOARD OUT AND STORING IT AT THE END OF EACH DAY. I HATE TO THINK OF MOVING THE OUTBOARD TO THE TRANSOM.

THE WELL ON THE DRASCOMBE DRIFTER ALLOWED THE MOTOR TO TILT UP OUT OF THE SALT. HAS ANYONE DEVISED A LIFT OR SLIDE SYSTEM THAT GETS THE OUTBOARD OUT OF THE SALT AT THE END OF THE DAY?

LON
BLUE DOLPHIN, YANKEE #246

Hi Lon


This is the dilemma!! And why I use light weight, 4 hp, 2 stroke outboards. They weigh 32lbs (35lbs for the long shaft) and I can manage the daily, or sometimes, 2nd day lift without over straining my back. Sometimes I just take the motor out of th well and lay it in the cockpit if I don't feel up to storing it below and plan to use it the next morning - risky, unless sleeping aboard.

Check out Steve Ludwig's system http://dolphin24.org/80_steve_ludwig.html . Somehow, I overlooked putting it in the Technical Section. When coupled with his idea of a solar panel mount it seems a good, long term solution

Ron

HI RON,

I HAD LOOKED AT STEVE'S SET UP PREVIOUSLY. I TRIED RIGGING A SNATCH BLOCK OF THE END OF THE BOOM TO HELP ME LIFT THE TOHATSU IN AND OUT. SO FAR NOT A GREAT SOLUTION. I BEGAN LOOKING FOR CREATIVE SOLUTIONS --

HERE IS ONE INTERESTING IDEA -- A SLIDING OUTBOARD LIFT. COULD SOMETHING LIKE THIS BE INTEGRATED INTO OUR OUTBOARD WELL?

I ALSO TRIED AN OLD MINNKOTA ELECTRIC 55 LB THRUST - IT WORKED FINE TO PUSH THE BOAT, BUT IT BARELY FIT THRU THE OUTBOARD WELL OPENING , IT HAS TO TWISTED AND JIGGLED TO FIT THROUGH.

I HAVE A COUPLE OF OTHER IDEAS I MAY TRY AS WELL.

I RECALL TELLING YOU THAT I HOPED TO HAVE BLUE DOLPHIN COMPLETE IN ABOUT THREE WEEKS. THAT WAS BACK IN JUNE SOMETIME. WELL IT TURNED OUT CLOSER TO THREE MONTHS AND THERE IS STILL A BIT OF WORK TO DO.

Click on the pictures for a larger view

-

anybody notice the portlights?

ON THE COCKPIT DRAINS I SIMPLY GLASSED OVER ALL UNDERWATER THRU HULLS AND PUT THE COCKPIT DRAINS AT THE WATER LINE. I CROSSED THE CONNECTING HOSES -- SO THE PORTSIDE DRAIN CONNECTS TO THE STARBOARD THRU HULL. THEY DRAIN JUST FINE. I FILLED THE COCKPIT WITH WATER TO GIVE THEM A TEST.

THE LAST BIG RAIN HIGLIGHTED A PROBLEM WITH LEAKING ALONG THE STARBOARD CAP (TOE) RAIL. I PULLED THE TEAK CAP RAIL OFF AND REMOVED THE CRUMBLING CAULK, RE-DRILLED ALL THE SCREW AND BOLT HOLES , FILLED WITH THICKENED EPOXY. I ALSO EPOXIED THE BOTTOM OF THE TEAK CAP RAIL. THEN 3M 4000 AND REINSTALL THE CAP RAIL. I THEN RAN THE WATER HOSE ON IT FOR 10 MINUTES WHILE I SCAMPERED BACK AND FORTH DOWN BELOW CHECKING FOR LEAKS. NONE! THANK GOODNESS.

LON

Postscript: THE ROUND PORTLIGHTS WERE MY CHANGE.

IT TURNED OUT TO BE MORE WORK THAN EXPECTED. WE CUT OUT THE LINER IN THE PORTLIGHT AREA AS ONE LARGE RECTANGLE AND THEN REPLACED THAT VOID WITH AIREX FOAM. THEN GLASSED OVER THE AIREX AND FAIRED OUT THE WORK.

THEN I WENT BACK AND CUT HOLES FOR THE ROUND PORT LIGHTS.

Click here for a larger view

We have added Lon's comments to the relative articles in the Technical Section - for Thru Hulls - click here, and for motor lift systems click here.
***********************************
October 4, 2014. We got the following email from Lon regarding his new composting head.
HI RON,

HERE ARE SOME PHOTOS OF THE "C-HEAD CUTAWAY BASE MODEL" JUST INSTALLED IN MY DOLPHIN 24. C-HEAD COMPOSTING TOILETS HAS A NEW MODEL COMPOSTING TOILET DESIGNED FOR THE MACGREGOR 26M. IT IS CALLED THE "CUT AWAY BASE MODEL".

THE CUT AWAY BASE MODEL OF C-HEAD COMPOSTING TOILET ALSO HAPPPENS TO FIT THE PEDESTLE FOR THE TOILET ON OUR DOLPHIN 24. I EXTENDED THE PEDESTLE TO THE BULKHEAD AND ADDED 3.5 INCHES BLOCKING UNDER THE FRONT OF THE C-HEAD . I STILL HAVE ABOUT 3 INCHES OF HEADROOM TO SPARE WHEN SITTING ON THE C-HEAD COMPOSTING TOILET. ( I AM SIX FEET)

FOR THOSE ACCUSTOMED TO THE JOYS OF PORTA POTTIS, A COMPOSTING TOILET IS A REFRESHING CHANGE. NO ODORS, NO TRUDGING UP THE GANGWAY WITH A PERILOUS LOAD OF LIQUID/SOLIDS FROTHING AWAY.

LON

Click here for a larger view

Click here to go to the Technical Section

with more pictures of this set up (including dimensions)
******************************************
January 3, 2015. Lon and your webmaster collaborated on a new page we call Heavy Weather Sailing (click here to go there). This resulted in the following email - edited
HI RON,

ARTICLE LOOKS GOOD. I WILL KEEP AN EYE OUT FOR OTHER STORIES ABOUT DOLPHINS AND SAIL HANDLING IN BRISK CONDITIONS.

I NOTICED THAT NOGLES HAD CUT TWO FIVE INCH SCUPPER DRAINS LEADING TO THE OUTBOARD WELL AND THEN TO A RUBBER FLAPPED OPENING. THAT IS SIMILAR TO WHAT I HAD CONSIDERED A WHILE BACK. I DID NOT FOLLOW THRU WITH THAT IDEA. I SEALED ALL BELOW WATERLINE THRU HULLS AND LED HOSES ACROSS TO ABOVE WATERLINE THRU HULLS FOR THE TWO EXISTING COCKPIT DRAINS.

I ALSO LIKED HIS IDEA FOR A COMPANIONWAY WAY TURTLE. I HAVE BEEN GIVING SOME THOUGHT TO THAT IDEA.

ATTACHED (NEAR TOP OF PAGE) ARE TWO "BEFORE" PHOTOS OF BLUE DOLPHIN AT HAUL OUT -- JUST AFTER I BOUGHT THE BOAT. YOU CAN SEE THE GEL COAT WORN THRU, SO I HAD TO PAINT THE HULL.


ALSO ATTACHED AN "AFTER" PHOTO (

WEBMASTER NOTE - SHE FLOATS!

)

I GAVE UP ON USING THE OUTBOARD WELL - MY TOHATSU IS NEARLY 80 LBS. A LIFTING BRACKET OFF THE BACK KEEPS THE OUTBOARD ABOVE THE SALT WHEN NOT IN USE.

I FOUND A STERN RAIL ON EBAY AND IT IS INSTALLED NOW.

THE STANDING RIGGING TURNED OUT TO BE BAD , SO ALL NEW RIGGING.

TURNED OUT TO BE MORE WORK AND EXPENSE THEN EXPECTED, BUT SHE IS A SWEET LITTLE BOAT.

LON
January 13, 2015. Lon sent in an interesting link to a YouTube video on a Triton's modification so its transom well mounted outboard could tip up the lower unit out of the water. Its in our Technical Section - click here to go there.
*******************************
December 16, 2016. Lon has been working on a dodger for Blue Dolphin, engaging some down under technical advice from Nick King (Pelagos). We have added this to our Technical/Dodgers.
Hi RON

HERE IS AN UPDATE ON THE DODGER FOR BLUE DOLPHIN.I DID TRY TO MAKE A PLYWOOD MOCK UP OF A HARD DODGER, BUT I LACK NICK'S SKILLS AND DECIDED TO GO WITH A SOFT DODGER. I USED THE MEASUREMENTS NICK SUPPLIED FOR PELAGOS' HARD DODGER
TO HAVE A DODGER MADE. I LIKED NICK'S DESIGN, IT SEEMED TO COMPLEMENT THE YANKEE DOLPHIN .

JEFF JOHNSON , THE NEW OWNER OF ANCHOR CANVAS HERE IN PORT TOWNSEND, SAID HE COULD DO THE WORK. INSTEAD OF STAINLESS TUBING I SPECIFIED H2UBE. H2UBE IS A THICK WALLED ALUMINUM TUBE WITH A GROOVE TO ACCEPT VINYL BEADED WELT THAT IS SEWN TO THE DODGER CANVAS. THIS AVOIDS THE ZIPPERS THAT ARE USUALLY USED. H2UBE GIVES A NICE CLEAN LOOK TO THE DODGER. JEFF DID A GREAT JOB ON THE DODGER.

PHOTOS BELOW. THE DODGER IS LOW ENOUGH TO SEE OVER FROM THE HELM AND HIGH ENOUGH TO ALLOW EASY ACCESS TO THE COMPANIONWAY.

LON

Click the above photos for a larger view
Webmaster Note

: This one slipped by staff. The last issue of the magazine Small Craft Advisor had a 7 page review of the Yankee Dolphin. Blue Dolphin was the cover boat, and the test boat! While we got this news up on the What's New page on November 10 we failed to thank Blue Dolphin on her page. Update January 8, 2016 - click here to see excerpts of this article.
****************************
January 12, 2017. We got the following update and photos from Lon
HI RON,

I INSTALLED A DODGER AND A COUPLE OF SHELVES INSIDE. PHOTOS ATTACHED.


BLUE DOLPHIN STILL LOOKS PRETTY MUCH AS SHE DID IN THE SMALL CRAFT ADVISOR PHOTOS ABOVE.


LON

HI RON,

I INSTALLED A DODGER AND A COUPLE OF SHELVES INSIDE. PHOTOS ATTACHED.


BLUE DOLPHIN STILL LOOKS PRETTY MUCH AS SHE DID IN THE SMALL CRAFT ADVISOR PHOTOS ABOVE.


LON

Great shot of her portlights - working on a better shot of her shelves....Stay tuned
******************************************************************

****************************

*************************************************
This was the history we had on this boat before Lon bought her. On September 20, 2007. DFI (Dolphin Field Investigator Rowland Thompson (Thistle, Yankee #99) advised the following about Alyssum:
"The third Yankee Dolphin here in Olympia is Alyssum. She was owned by Henry Hansen for many years in the 70s and 80s. He may have bought her new. Art Weatherley bought her in about 81-82 and he has sold her to a guy named Martin Singleton. She is one of the later molded hatches/molded interior boats"
September 25, 2007, From Art Weatherly to Rowland Thompson regarding past owners
Rollo

Found my old logbook.? Hull #246.? I have names of prior owners:
Duane Erickson, Seattle, 1970 - 1977
Henry Hansen, Olympia, 1977 -

AAW
September 30, 2007. From Rowland Thompson
"...the hull number is 246. If I remember right Henry Hansen, told me that he had been told it was the last (Yankee) delivered. Henry wanted a bigger Dolphin so he bought a Tartan 30, which I think he still has. He sails mostly in the winter when the winds blow."

**********************
October 25, 2010. We had a bit of a mystery here regarding hull numbers #246 and #267 but it has been straighten out . We needed an update from Mike Singleton on what going on with Alyssum. Click here to go to Pacific Dolphin #267.
************************